Xiaomi Mi Mix 2 review
GSMArena team, 23 October 2017.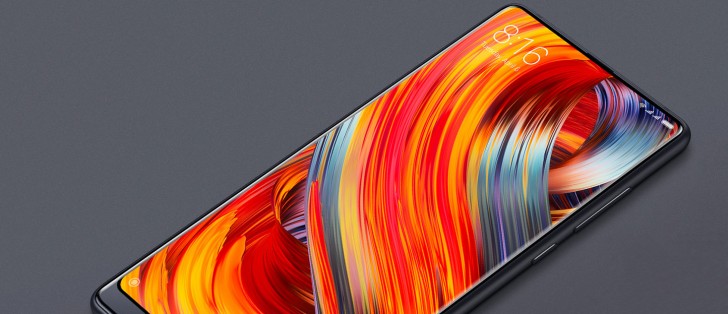 Display
It should come as no surprise that just like the the original Mi Mix, Xiaomi is centering its PR efforts around the impressive nearly bezel-less display, or Full screen display 2.0, as they refer to it. Rightfully so, since even as the trend becomes more popular, few devices can match the pure visual appeal of Xiaomi's design.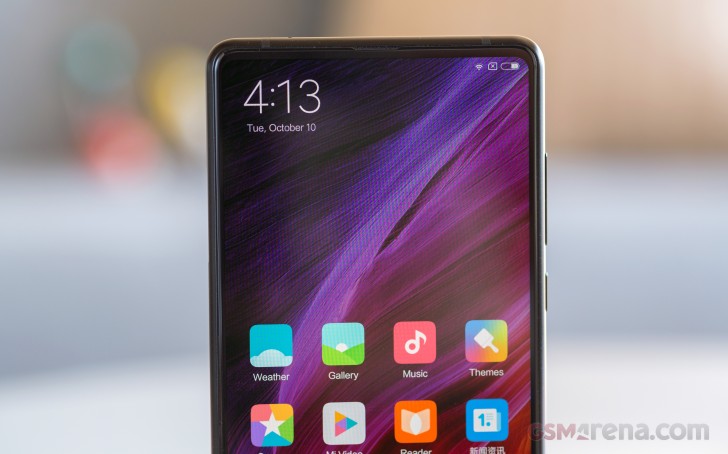 Like we mentioned earlier, the screen on the Mi Mix 2 has been moved down ever so slightly compared to its predecessor in order to accommodate what the company is referring to as a "Sound guided speaker design". So, even though there is a more conventional speaker underneath the display this time around, the cunning design only requires a mm or so of extra upper bezel space.
Another thing that contributes nicely to the overall look of the Mi Mix 2 is the 12% smaller bottom chin, compared to the original Mix. Xiaomi achieved this through Chip-On-Film technology. The actual display controller has been shrunk down quite a bit and so has the selfie camera. Frankly, even if it was technically possible, shrinking the bottom bezel further would leave you with a severely less comfortable grip on the phone, so this feels just right.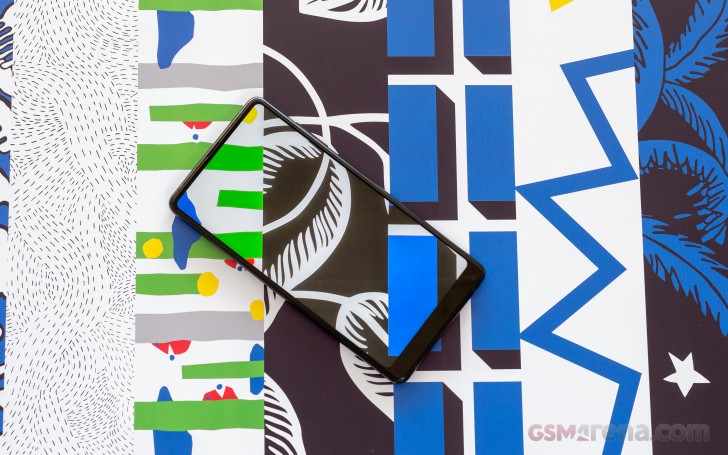 Beyond its nicely rounded and elongated 18:9 silhouette, the actual panel is also impressive in itself. At least in some respects, that is. With a 5.99-inch diagonal and a resolution of 1080 x 2160 pixels, it doesn't really constitute a resolution upgrade over its predecessor. However, swapping the 17:9 aspect ratio for an increasingly popular 18:9 one might prove to be a really significant change in the long run. Judging by the current Android scene, as well as upcoming devices, this 2:1 aspect is quickly becoming standard, which means that appropriate content will follow.
With a pixel density of 403, the Mi Mix 2 is plenty sharp. Contrast is not that great, due to a combination of some light bleed at 0% brightness and only 387 nits at full blast out of the box. It is important to note that this number represents the panel's behaviour with default settings. Xiaomi didn't implement any max auto overburn mode on the Mi Mix 2, but toggling Increased Contrast mode in the Display settings menu does bump up the maximum brightness to a much more respectable 515 nits. The mode increases contrast a bit as well.
Display test
100% brightness
Black, cd/m2
White, cd/m2
Contrast ratio
Huawei Mate 9
0.41
665
1622
Samsung Galaxy S8 Max auto
0
618
∞
Xiaomi Mi Mix
0.45
589
1309
HTC U11 (Max Auto)
0.373
583
1563
Sony Xperia XZ Premium (sRGB)
0.48
576
1200
Sony Xperia XZ Premium
0.463
573
1238
LG G6 max auto
0.277
564
2036
Xiaomi Mi Mix (auto contrast)
0.37
551
1489
Huawei P10 Plus
0.335
547
1633
Xiaomi Mi Mix 2 (Increased Contrast)
0.4
515
1287
HTC U11
0.308
483
1568
LG G6
0.228
468
2053
Meizu Pro 7 Plus
0
453
∞
Samsung Galaxy S8
0
440
∞
Google Pixel XL
0
432
∞
ZTE Nubia Z17 (Max Auto)
0.268
392
1461
ZTE Nubia Z17
0.267
388
1451
Xiaomi Mi Mix 2
0.379
387
1020
Xiaomi Mi Note 2
0.005
341
68200
Viewing angles on the Mix 2 are not great. Color shift starts creeping in at about 30 degrees in any direction. Still, it is not severe and perfectly easy to live with. Sunlight legibility is nothing to phone home about either, although its score is still respectable. In real world terms, the handset remains perfectly usable outdoors. Just don't angle the sun straight at it.
Sunlight contrast ratio
Samsung Galaxy S8
4.768
Samsung Galaxy S8+
4.658
Samsung Galaxy S6 edge+
4.615
Motorola Moto Z2 Play
4.459
Oppo R11
4.454
Samsung Galaxy S7 edge
4.439
OnePlus 3
4.424
Samsung Galaxy S7
4.376
HTC One A9
4.274
Samsung Galaxy Note7
4.247
Samsung Galaxy A3
4.241
Nokia 8
4.239
OnePlus 3T
4.232
Google Pixel XL
4.164
ZTE Axon 7
4.154
Samsung Galaxy Note8
4.148
Meizu Pro 7 Plus
4.147
Samsung Galaxy S6 edge
4.124
Samsung Galaxy A7 (2017)
4.124
Samsung Galaxy Note5
4.09
LG V30
4.022
Huawei Nexus 6P
4.019
OnePlus X
3.983
Vivo Xplay5 Elite
3.983
Oppo R7s
3.964
Apple iPhone 7
3.964
Apple iPhone 8 (True Tone)
3.957
Huawei P9 Plus
3.956
Meizu Pro 6 Plus
3.935
Lenovo Moto Z
3.931
Samsung Galaxy A7 (2016)
3.918
OnePlus 5
3.914
Samsung Galaxy C5
3.911
Samsung Galaxy C7
3.896
Samsung Galaxy A5
3.895
Samsung Galaxy J7 outdoor
3.879
Samsung Galaxy J2 outdoor
3.873
Samsung Galaxy A8
3.859
Sony Xperia XZs
3.818
Samsung Galaxy A9 (2016)
3.817
Motorola Moto X (2014)
3.816
Samsung Galaxy J7 (2017)
3.812
Samsung Galaxy A5 (2017)
3.804
Samsung Galaxy J7 (2016) outdoor mode
3.802
Xiaomi Redmi Pro
3.798
LG V20 Max auto
3.798
Sony Xperia XZ
3.795
Samsung Galaxy A5 (2016)
3.789
Apple iPhone 6s
3.783
Meizu Pro 5
3.781
Microsoft Lumia 650
3.772
Xiaomi Mi 6
3.767
Sony Xperia XZ1
3.765
Samsung Galaxy J7 (2016)
3.756
Sony Xperia XZ1 Compact
3.729
Apple iPhone 8 Plus (True Tone)
3.725
Oppo F1 Plus
3.709
Vivo X5Pro
3.706
Samsung Galaxy A3 (2017)
3.688
Apple iPhone SE
3.681
Huawei Mate 9
3.68
Samsung Galaxy A7
3.679
Meizu PRO 6
3.659
BlackBerry Priv
3.645
Sony Xperia XA1 Ultra
3.597
Apple iPhone 7 Plus
3.588
LG G6
3.556
Apple iPhone 6s Plus
3.53
Motorola Moto Z Play
3.526
Samsung Galaxy J3 (2016)
3.523
Samsung Galaxy J3 (2016) outdoor mode
3.523
Acer Jade Primo
3.521
Microsoft Lumia 950
3.512
Oppo R7 Plus
3.499
nubia Z11
3.466
Huawei P10 Plus
3.456
HTC U Ultra
3.453
Samsung Galaxy J7
3.422
Meizu MX5
3.416
LG V20
3.402
Huawei P10
3.379
Samsung Galaxy J5 (2016)
3.378
Oppo R9s
3.352
Honor 8 Pro
3.341
Oppo R7
3.32
Lenovo P2
3.316
Honor 9
3.289
Xiaomi Mi 5s
3.276
Nokia 5
3.261
Nokia 6 (Chinese version)
3.244
Nokia 6 (Global version)
3.238
Samsung Galaxy J2
3.235
Sony Xperia X Performance
3.234
Xiaomi Mi Note 2
3.228
Motorola Moto X Play
3.222
Oppo F3 Plus
3.218
Huawei Mate 9 Pro
3.206
Huawei P9
3.195
Xiaomi Mi Mix 2
3.19
ZTE Nubia Z17
3.159
Lenovo Vibe Shot
3.113
Motorola Moto X Force
3.105
LG Nexus 5X
3.092
HTC U11
3.089
Huawei Mate S
3.073
Microsoft Lumia 640 XL
3.065
Sony Xperia XA1
3.012
Sony Xperia L1
2.994
Huawei P10 Lite
2.974
Samsung Galaxy Note
2.97
Sony Xperia Z1
2.95
Huawei Mate 8
2.949
Xiaomi Redmi 4
2.92
Xiaomi Redmi 3S
2.913
Sony Xperia XA Ultra
2.906
LG G5
2.905
HTC One S
2.901
Xiaomi Redmi 3s Prime
2.893
Xiaomi Mi 5s Plus
2.884
Sony Xperia XZ Premium (sRGB)
2.877
Sony Xperia XZ Premium
2.877
Sony Xperia Z5
2.876
Nokia 3
2.871
Microsoft Lumia 550
2.851
Lenovo Moto M
2.813
Xiaomi Redmi 3 Pro
2.803
Sony Xperia Z5 compact
2.784
Meizu MX6
2.751
LG V10
2.744
Xiaomi Redmi 3
2.735
Xiaomi Redmi Note 4 (S625)
2.714
Meizu M5
2.71
Sony Xperia M5
2.69
Xiaomi Mi A1
2.689
Huawei P9 Lite
2.679
Xiaomi Redmi 4 Prime
2.679
Vivo V3Max
2.659
Xiaomi Mi Mix
2.658
Doogee Mix
2.642
Xiaomi Mi 4i
2.641
Xiaomi Redmi 4a
2.635
Xiaomi Mi 5X (Standard)
2.616
Sony Xperia XA
2.609
Motorola Moto G4 Plus
2.582
Motorola Moto G4 Plus (max auto)
2.582
Meizu M5s
2.58
Xiaomi Mi 4c
2.574
LeEco Le Max 2
2.567
Microsoft Lumia 640
2.563
Asus Zenfone 3 ZE552KL
2.563
Xiaomi Mi Max 2
2.561
Lenovo Moto G4
2.544
Lenovo K6 Note
2.544
Oppo F1
2.528
Sony Xperia Z5 Premium
2.525
Huawei Honor 7 Lite / Honor 5c
2.506
Sony Xperia M4 Aqua
2.503
Oppo F1s
2.481
Motorola Moto G
2.477
Lenovo Vibe K5 Plus
2.473
Huawei G8
2.471
Huawei nova
2.467
Lenovo Vibe K5
2.459
Meizu m3 max
2.447
Xiaomi Mi 5X (Auto)
2.417
HTC 10 evo
2.407
Huawei Honor 7
2.406
Sony Xperia E5
2.386
ZUK Z1 by Lenovo
2.382
HTC 10
2.378
Oppo F3
2.376
vivo V5 Plus
2.371
Meizu m1 note
2.362
Huawei nova plus
2.329
HTC One E9+
2.305
Alcatel One Touch Hero
2.272
Apple iPhone 4S
2.269
Lenovo Vibe K4 Note
2.254
Sony Xperia C5 Ultra
2.253
Xiaomi Redmi Note 3 (MediaTek)
2.249
Sony Xperia C4 Dual
2.235
Xiaomi Mi Note
2.234
Motorola Moto G (2014)
2.233
LG Nexus 5
2.228
Huawei P8
2.196
Meizu M5 Note
2.189
Huawei Honor 6
2.169
Xiaomi Redmi Note 2
2.166
OnePlus Two
2.165
HTC One X
2.158
LG Aka
2.145
Xiaomi Redmi Note 4 (X20)
2.145
Archos 50 Diamond
2.134
Xiaomi Redmi Note
2.119
Xiaomi Mi 4S
2.095
Acer Liquid X2
2.084
Huawei P8lite
2.078
vivo V5
2.059
Moto G 3rd gen max manual
2.026
Xiaomi Mi 3
2.001
Xiaomi Mi Max
1.996
Sony Xperia E4g
1.972
OnePlus One
1.961
Meizu m3 note
1.923
BlackBerry Leap
1.892
Meizu m2 note
1.892
HTC Butterfly
1.873
Sony Xperia Z1 Compact
1.772
ZTE Nubia Z9 mini
1.759
Sony Xperia U
1.758
Asus Zenfone Selfie
1.68
ZTE Nubia Z9
1.659
Jolla Jolla
1.605
Motorola Moto E
1.545
Sony Xperia M
1.473
Sony Xperia L
1.351
HTC Desire C
1.3
Meizu MX
1.221
Sony Xperia E
1.215
The panel in the Mi Mix 2 is still an IPS LCD, like on the previous model. However, it is surprisingly color accurate this time around. Some settings are required, though. The default Automatic contrast mode works well enough, but results in an average deltaE of 7.1 and a maximum of 8.5. It is also the only mode that allows shifting the gamma to warm or cold, if that is your thing.
However, if accuracy is what you are after, don't fiddle with that at all and simply switch over to Standard contrast mode. Dial the brightness down a bit to about 76% and you can expect color deviations as little as deltaE 0.9 on average and a max of deltaE 2.5.
Connectivity
Xiaomi is marketing the Mi Mix 2 as a "Global bands" device, "great for business professionals", etc. This sounds perfectly believable thanks to the dual SIM support and especially the powerful X16 LTE modem, inside the Snapdragon 835 chipset. 24 LTE bands should have you well covered. If not, there are seven HSPDA ones to fall back to as well. And if all else fails, quad-band GSM support.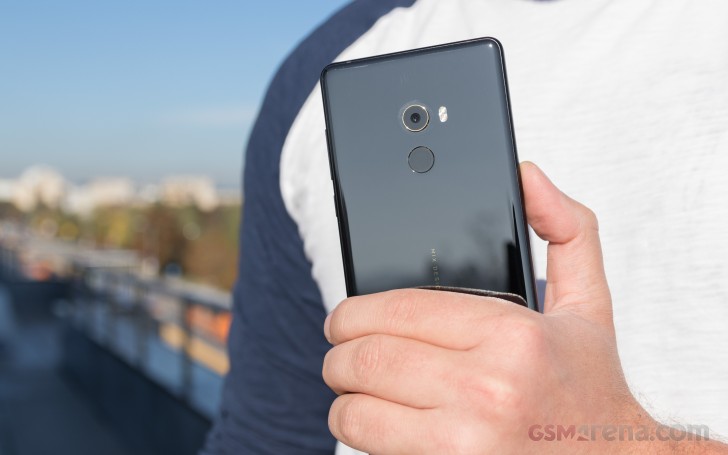 Theoretical download speeds of Cat.16 mean up to 1GBps. 4x20 MHz carrier aggregation is another glorious bonus to enjoy, provided your carrier can provide the network to match this.
On the local side, the Mi Mix 2 is fully decked-out as well. You get Dual-band 802.11ac Wi-Fi and a fresh new Bluetooth 5.0 radio.
NFC support is there too - and full-featured at that - including card emulation support. Sadly, there is no FM radio receiver in the Mix 2 - a pretty typical omission on most current flagships.
We were kind of hoping for an IR as well, since Xiaomi does still offer it on a large segment of its portfolio. Unfortunately, it is missing from the Mi Mix 2.
After the demise of the 3.5mm audio jack, the Mi Mix 2 is only left with a single port. So, connecting more than one thing at a time definitely means living the dongle life. On the plus side, Xiaomi didn't skip on any trimming for the Type-C port. Its audio output is actually analog, as opposed to Type C digital audio. That means you don't need expensive dongles or headphones, but only a passive adapter to get the sound out of the internal DAC. If the latter is not up to your personal audiophile standards, you can still leverage digital audio output through the same port.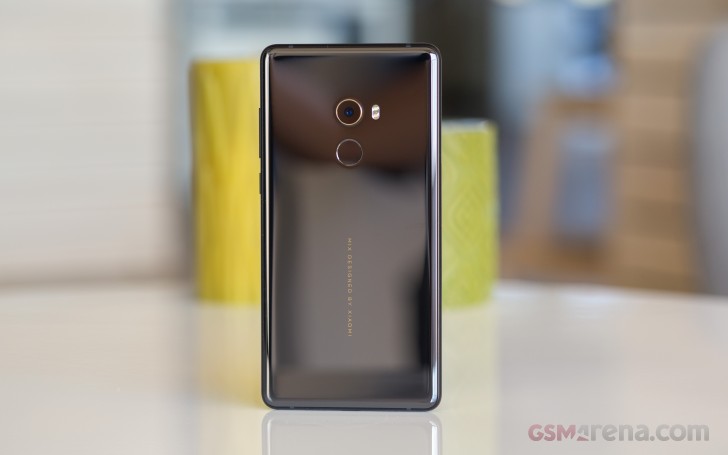 Data transfer reached USB 3.0 speeds in our tests, so you can count on 5Gbps transfers, given the right equipment.
Battery life
While we are sure many users will appreciate the overall shrinking in size and weight of the Mi Mix 2, compared to its predecessor, it does come at a price. We are referring to the significantly smaller 3,400 mAh battery, in particular.
However, that is only part of the reason why the Mix 2 managed a notably lower 65 hour score in our standard endurance test. The X16 LTE model inside the Snapdragon 835 actually managed to hang on to a network signal just as long as excepted in our talk time and standby tests.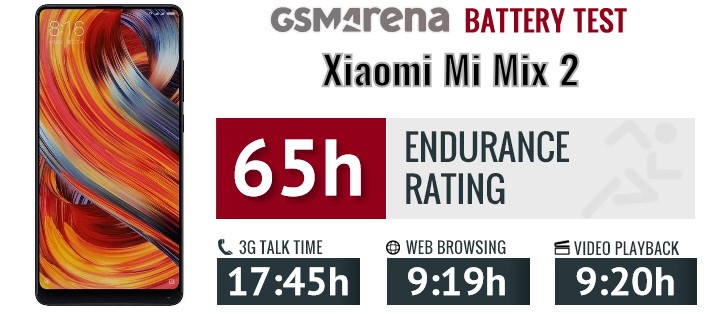 It's the other two scores that actually drag the overall rating down. We are inclined to attribute the poor on-screen efficiency mostly to OS optimization issues.
That being said, a 65 hour rating is not catastrophic. It is actually roughly what the smaller iPhone 8 manages as well. So, we'll just call it serviceable, but not remarkable in any way and hope for better luck with a future update.
Battery capacity aside, it is nice to see Quick Charge 3.0 support, just like on the original Mix. Wireless charging is still a notable omission, but if you hook up the Mix 2 with a proper charger, it can charge from 0% to 47% in only 30 minutes.
The battery testing procedure is described in detail in case you're interested in the nitty-gritties. You can also check out our complete battery test table, where you can see how all of the smartphones we've tested will compare under your own typical use.
AnonD-740699
27 Feb 2018
SYC
Kind of strange. I have the Mi Mix 2 for a couple of months now and while I can see it lasts a bit less than the Mi 5 it replaced, the endurance rating seems suspiciously low - I get 2 full days with moderate usage, sometimes more (the Mi 5 always ga...
AnonD-391304
02 Jan 2018
fsx
I haven't tried it but it should as it's stock with a locked bootloader.
May be gsm arena needs to retest battery life. It comfortably gives an endurance rating of more than 80 hrs and that too on dual sim