Xiaomi Mi Mix 2 review
GSMArena team, 23 October 2017.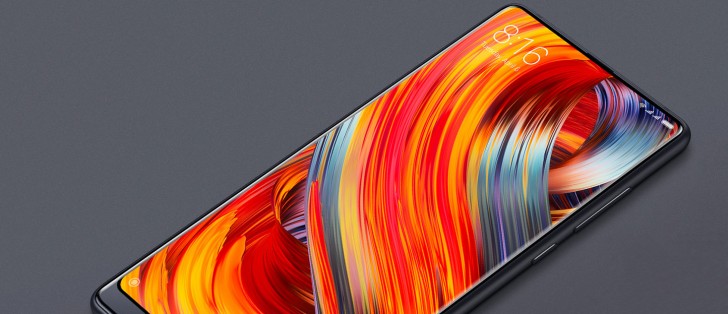 Telephony
The dialer and the phonebook share a single app, but two shortcuts bring you straight to the tab you need. The flat UI fits in well with the rest of the MIUI styling. It uses a tabbed interface - recents and dialer on the first and the contact list on the second.
Call recording is available - the files can be saved either on your device or on your MiCloud.
The dialer looks a little dull on the surface, but is actually packing quite a bit of advanced functionality. It can automatically recognize business numbers, as well as scan contacts thanks to the Xiaomi's Caller ID database. Sadly, the bulk of these features are useful only on the Chinese market.
Loudspeaker test
Not only did Xiaomi include a more conventional earpiece in the Mix 2, but decided to leverage it for multimedia purposes as well. Yes, the Mi Mix 2 actually has a hybrid stereo speaker setup, of sorts. The earpiece does try its best to reproduce a left or right channel, depending on which way you hold the phone, but it is a lot weaker than the main bottom-mounted speaker.
Still, it definitely adds to the media consumption experience, since it directs some of the sound straight your way.
| | | | | |
| --- | --- | --- | --- | --- |
| Speakerphone test | Voice, dB | Pink noise/ Music, dB | Ringing phone, dB | Overall score |
| Sony Xperia XZ Premium | 62.9 | 65.2 | 71.6 | Below Average |
| nubia Z17 | 62.1 | 71.2 | 73.8 | Average |
| Xiaomi Mi Note 2 | 63.4 | 68.6 | 76.4 | Good |
| Samsung Galaxy S8 | 66.2 | 70.5 | 72.5 | Good |
| LG G6 | 66.8 | 68.8 | 74.5 | Good |
| Huawei P10 Plus | 64.8 | 69.8 | 82.5 | Good |
| OnePlus 5 | 69.2 | 72.9 | 77.5 | Very Good |
| HTC U11 (Theater) | 69.2 | 72.7 | 78.4 | Very Good |
| HTC U11 (Music) | 68.7 | 73.0 | 79.1 | Very Good |
| Xiaomi Mi Mix 2 | 67.6 | 71.0 | 82.7 | Very Good |
| Xiaomi Mi Mix | 64.2 | 72.8 | 86.0 | Very Good |
| Google Pixel XL | 73.4 | 72.1 | 84.1 | Excellent |
| Huawei Mate 9 | 83.1 | 74.5 | 85.0 | Excellent |
| Meizu Pro 7 Plus | 87.3 | 72.8 | 90.8 | Excellent |
As for the primary speaker, it can get pretty loud and managed to get a Very Good score in our tests. In fact, only a few points separate it from the Excellent mark. The sound it produces is also pretty clear. Highs tend to get distorted a bit, with some particular pitches coming out on the unpleasant side. Still, overall, its a well-rounded setup.
Other apps
The Mi Mix 2 offers an excellent file managing app called Explorer, which lets you browse the files in its internal storage and group them by type.
MIUI also offers a Security app. It can scan your phone for malware, manage your blacklist, manage or restrict your data usage, configure battery behavior, and free up some RAM. It can also manage the permissions of your installed apps.
The Security app also allows you to define the battery behavior of selected apps and applies restrictions only to the apps you choose.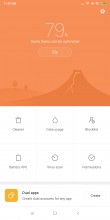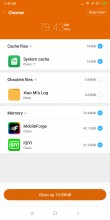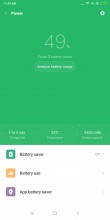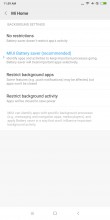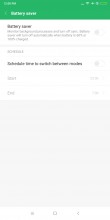 Security app • Cleaner • Battery management • Managing a single app • Battery Saver
Despite some bold claims in the MIUI forum, the Mi Mix 2 does not have an IR blaster. This can be confirmed by opening Xiaomi's MiRemote app. Oddly enough, the software on our review unit got the Chinese version of the app, despite the fact that we have seen an English one on previous devices. It can still be useful, if you have equipment, like Xiaomi Android boxes, which the app recognizes and is more than happy to take control of with no authentication required (though that's just a bit worrying).
While on the topic of non-regionalized apps that somehow made it into our Global ROM, there are quite a few. Our Chinese is not that good, so we only have impressions to go by. One app only has the Xiaomi logo and looks like a hub of sorts. There is also a News feed with various sources. The Reader app might have an English title, but its contents are also not translated.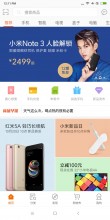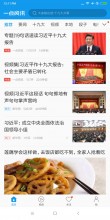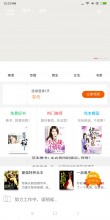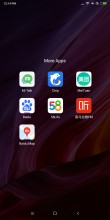 Mi app • News app • Reader app • Other market-specific apps
There are a few other Chinese apps scattered around the interface. Luckily enough, you can simply uninstall them.
One app you might actually consider leaving is Mi Home. In case you own some other Xiaomi devices, that is. It is a really convenient way to manage them, since it operates on a plug-in scheme, simply pulling in any components it needs to manage your hardware. Here you can see it handling a Mi router and a Miija m365 electric scooter.
We like the Compass app. It has a clean interface, shows the magnetic directions, and doubles as a level meter. If you lift the phone up, then you'll get a nice augmented reality view with a real-time overlay of East/West/North/South.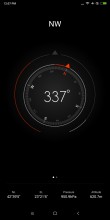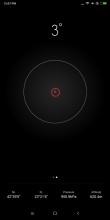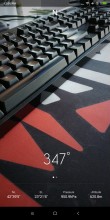 Compass • level • VR directions
The Calculator app supports advanced calculations and conversions, including web-sourced currency rates. And finally, the Notes app offers templates and checklists support.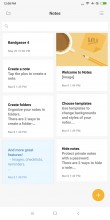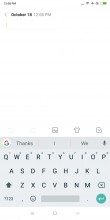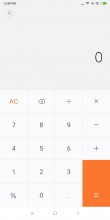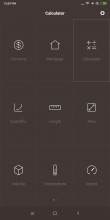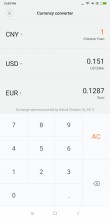 Notes • Notes • Calculator • Conversions Menu • Conversions
Last, but not least, the Mix 2 has a dedicated Recorder app, with quite a few options, and there's a barcode scanner app - it seems kind of redundant, since the main camera can already be configured to handle that as well.
AnonD-740699
27 Feb 2018
SYC
Kind of strange. I have the Mi Mix 2 for a couple of months now and while I can see it lasts a bit less than the Mi 5 it replaced, the endurance rating seems suspiciously low - I get 2 full days with moderate usage, sometimes more (the Mi 5 always ga...
AnonD-391304
02 Jan 2018
fsx
I haven't tried it but it should as it's stock with a locked bootloader.
May be gsm arena needs to retest battery life. It comfortably gives an endurance rating of more than 80 hrs and that too on dual sim