Xiaomi Mix Fold 2 review
GSMArena Team, 12 September 2022.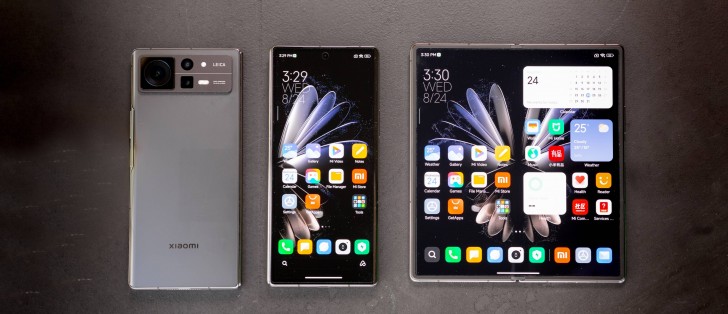 Two flagship-grade screens
The Mix Fold 2 has two OLED displays - a 6.56-inch cover screen and a large 8.02-inch foldable primary one. Both panels support 120Hz refresh rate, HDR10+ and Dolby Vision, and up to 1,300 nits in peak brightness.
The cover screen now has a more traditional 21:9 aspect ratio with extended 1080p resolution - 2,520 x 1,080 pixels. The screen has a small perforation for the selfie camera, and it is covered with a Gorilla Glass Victus sheet.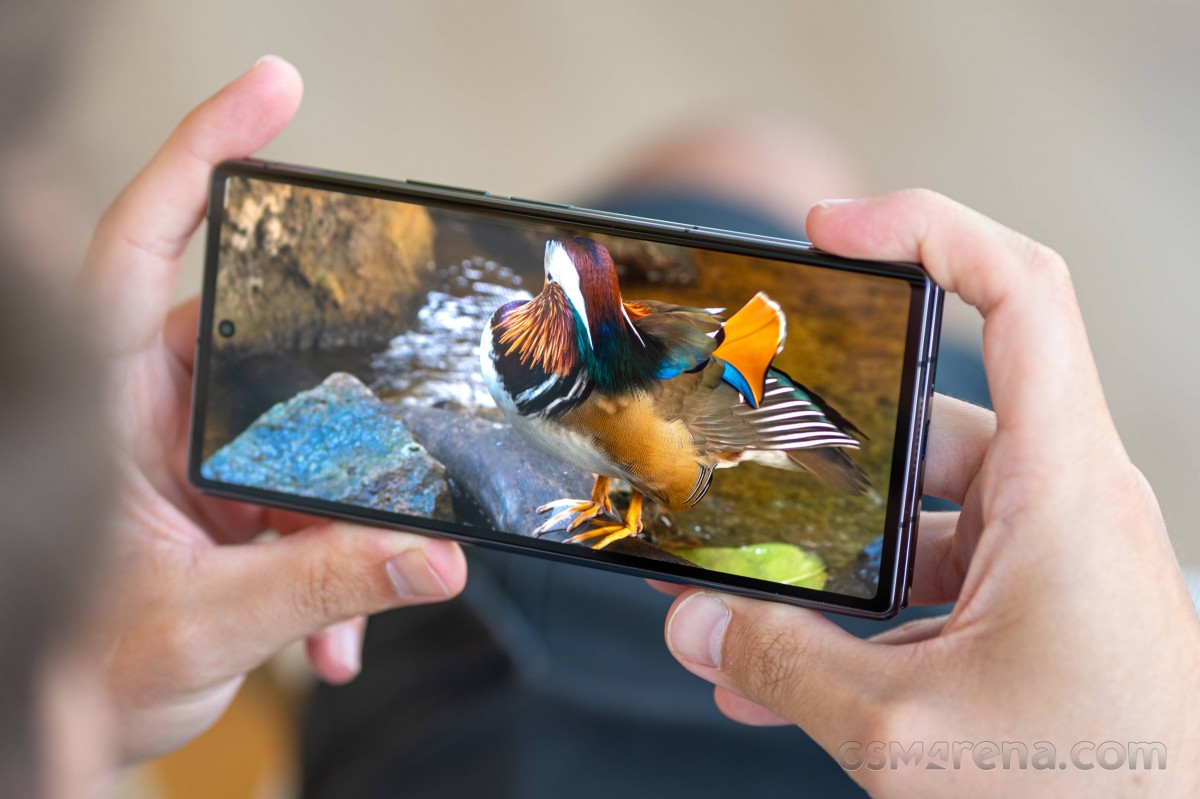 The inner screen has seen an even bigger upgrade - it's now an 8.02-inch LTPO2 OLED with square-ish aspect and dynamic 120Hz refresh rate that can go as low as 1Hz.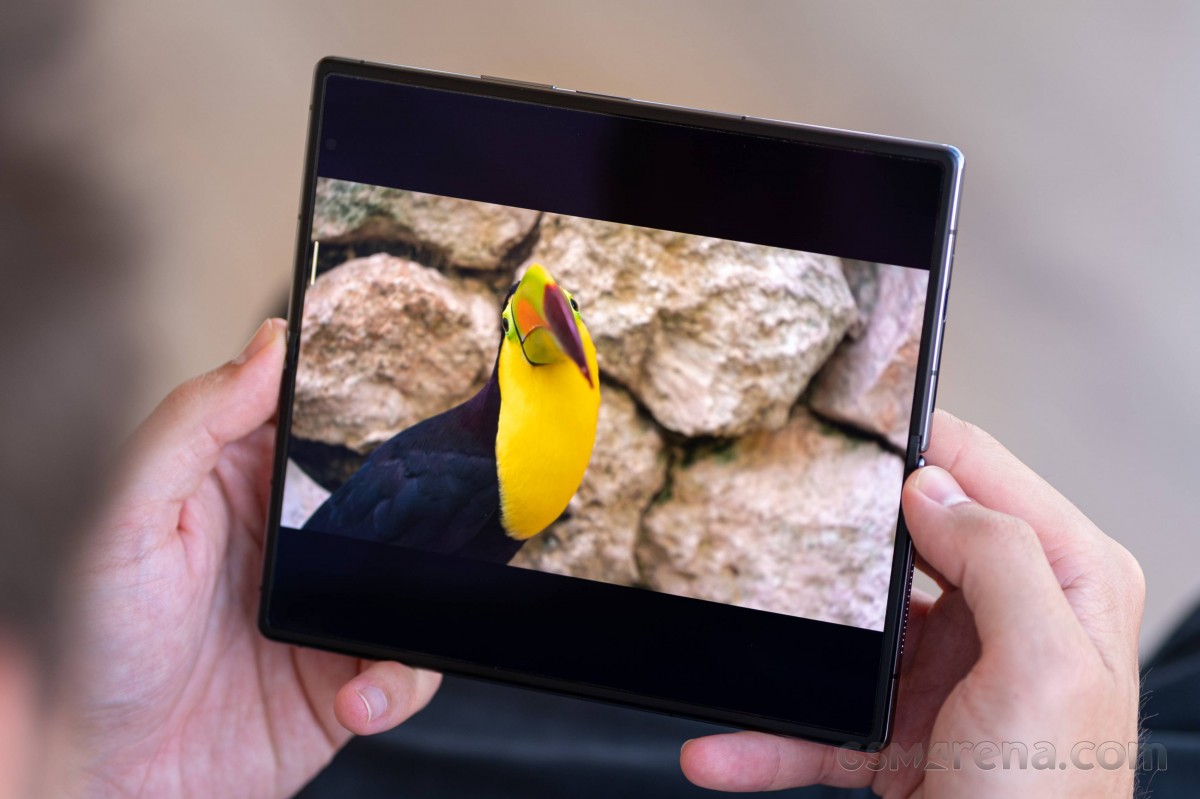 The foldable screen is protected by a Schott UTG glass and has an antireflective coating. It has no interruptions whatsoever.
Xiaomi is promising 1,000 nits of high maximum brightness and up to 1,300 nits of peak brightness. And brightness is the first thing we've tested on the Xiaomi Mix Fold 2.
The cover screen of the Mix Fold 2 offers 501 nits of maximum brightness when using the manual model, while the inner one is a bit brighter at 522 nits.
When the screen is faced with a bright light, the high brightness mode (HBM) kicks in, and the cover display lights up as bright as 940nits, while the foldable panel boost is even bigger at 1,054 nits.
Those numbers are in line with what Xiaomi has promised, and we have no doubt both screens can offer the advertised 1,300 nits of peak brightness within a small patch when showing HDR content.
The minimum brightness on both displays is also impressive - 2.1 nits for the outer and 2.3 nits for the inner screen.
Display test
100% brightness
Black,cd/m2
White,cd/m2
Contrast ratio
Xiaomi Mix Fold 2
0
522
∞
Xiaomi Mix Fold 2 (Max Auto)
0
1054
∞
Xiaomi Mix Fold 2 (Cover Display)
0
501
∞
Xiaomi Mix Fold 2 (Cover Display, Max Auto)
0
940
∞
Samsung Galaxy Z Fold4
0
505
∞
Samsung Galaxy Z Fold4 (Extra Brightness)
0
809
∞
Samsung Galaxy Z Fold4 (Max Auto)
0
1000
∞
Samsung Galaxy Z Fold4 (Cover display)
0
486
∞
Samsung Galaxy Z Fold4 (Cover display, Extra Brightness)
0
802
∞
Samsung Galaxy Z Fold4 (Cover display, Max Auto)
0
1034
∞
Samsung Galaxy Z Flip4
0
505
∞
Samsung Galaxy Z Flip4 (Extra Brightness)
0
802
∞
Samsung Galaxy Z Flip4 (Max Auto)
0
919
∞
Xiaomi 12S Ultra
0
512
∞
Xiaomi 12S Ultra (Max Auto)
0
1065
∞
Apple iPhone 13 Pro Max
0
852
∞
Apple iPhone 13 Pro Max (Max Auto)
0
1050
∞
Huawei Mate Xs 2
0
514
∞
Huawei Mate Xs 2 (Max Auto)
0
725
∞
Huawei Mate Xs 2 (Unfolded)
0
506
∞
Oppo Find N
0
490
∞
Oppo Find N (Max Auto)
0
582
∞
Oppo Find N Cover
0
505
∞
Oppo Find N Cover (Max Auto)
0
785
∞
Color accuracy
The Xiaomi Mix Fold 2 offers the same color settings we're used to seeing on high-end Xiaomi models. There are three immediately available preset color modes - Vivid (default), Saturated, Original color, with a color wheel below for tweaking temperature, in addition to three factory presets - Default, Warm, Cool.
Then there's an Advanced settings submenu where you can choose from three further presets - Original, P3, and sRGB - but there are also RGB sliders as well as sliders for hue, saturation, value, contrast, and gamma.
So, in the default Vivid mode, we're getting vibrant colors and accurate results for our DCI-P3 test targets, with the usual blue shift to white and gray. The Warm temperature preset does improve the overall accuracy across the white and gray hues, even if it still leaves a hint of blue.
The Original color mode offers excellent accuracy against sRGB patterns - we recorded an average dE2000 of 1.7.
Refresh rate
The Mix Fold 2 handles refresh rate like the 12S Ultra. Meaning you get two refresh rate modes - Default, where the phone chooses refresh rate on its own, and Custom, where you get to pick a refresh rate ceiling - either 60Hz, or 120Hz.
The cover display supports fixed refresh rate steps - 30Hz, 60Hz, 90Hz, and 120Hz. If you've set Default or 120Hz, then the cover screen will use 30Hz for the always-on display and video playback, 60Hz for static photos and UI, and 120Hz for everything else. If you've set the RR ceiling to 60Hz, the 30Hz drop remains in place.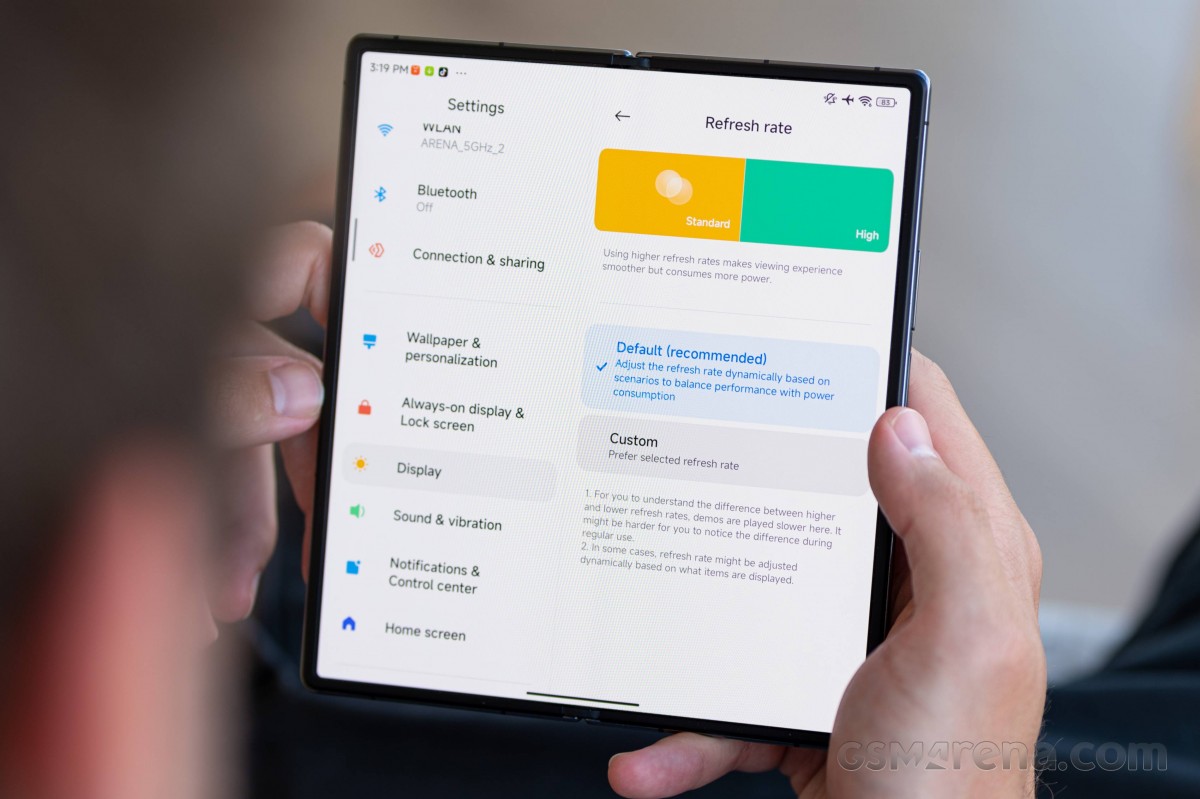 The inner LTPO2 screen is much more dynamic - it drops to 1Hz for static images and static UI. We've seen the Android indicator show 30Hz for video playback, and 60Hz and 120Hz within apps and games. We suspect the indicator isn't that reliable as the display should be using 24Hz and 48Hz for different video content depending on the frame rate. But being able to drop to 1Hz when it matters surely means a highly dynamic refresh rate handling is, in fact, in place as promised.
HDR and streaming
The Mix Fold 2 is the perfect device for streaming, at least on paper. It has HDR10+ and Dolby Vision certifications, comes with the highest Widevine L1 DRM support, and has two great screens.
But being using this device outside China, meaning for Western content, won't give you the best possible streaming options everywhere. Netflix, for example, offers SD streaming only. Prime Videos does serve Full HD content, but still no HDR.
YouTube is the only app that supports all screen perks and can show HDR content in high resolutions.
Other enhancements
The Xiaomi Mix Fold 2 offers four AI Image Engine features (all disabled by default).
The first one is Super Resolution - this feature tries to upscale the resolution of local videos. It could increase battery consumption and may not yield much improvement.
The second feature is called AI Image Enhancement and works only within the Gallery app. It automatically scans and identifies objects across your photos and applies some predefined contrast/color/filter settings when you are viewing said photos.
The AI HDR enhancement uses some sort of processing across SDR content to bring more detail to both lighter and darker areas.
Finally, there is MEMC - motion interpolation from low frame rate footage to high frame rate. This leads to a soap opera-like effect for some movies/TV shows, so if you feel something is off - like objects moving too fast or not looking cinematic, just don't use MEMC.
Battery life
The Xiaomi Mix Fold 2 is powered by a 4,500mAh battery. That's down from the 5,020mAh battery inside the first Mix Fold, but in line with the current foldable competitors - Galaxy Z Fold4, Find N, Mate Xs 2.
The Mix Fold 2 scored an 82h endurance rating for its primary (foldable) display and a 108h rating for its cover screen. The on-screen times on the cover screen are quite respectable, with 15h of web browsing and 18h of looped video playback.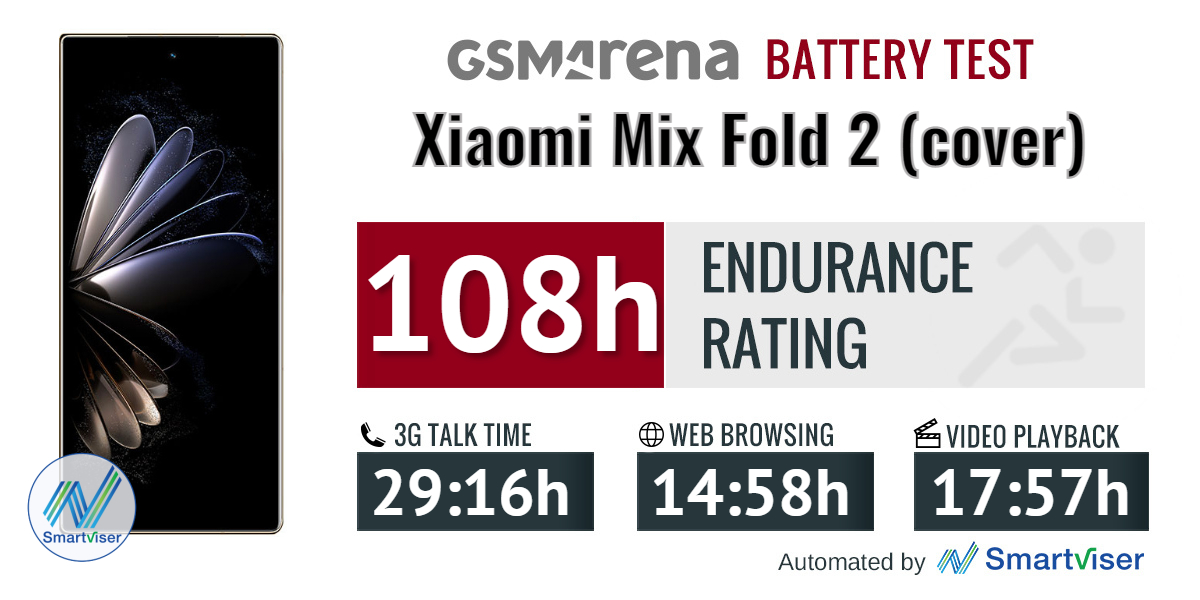 The primary screen offers 10h of web browsing and 10:30h of video playback - pretty good times, too.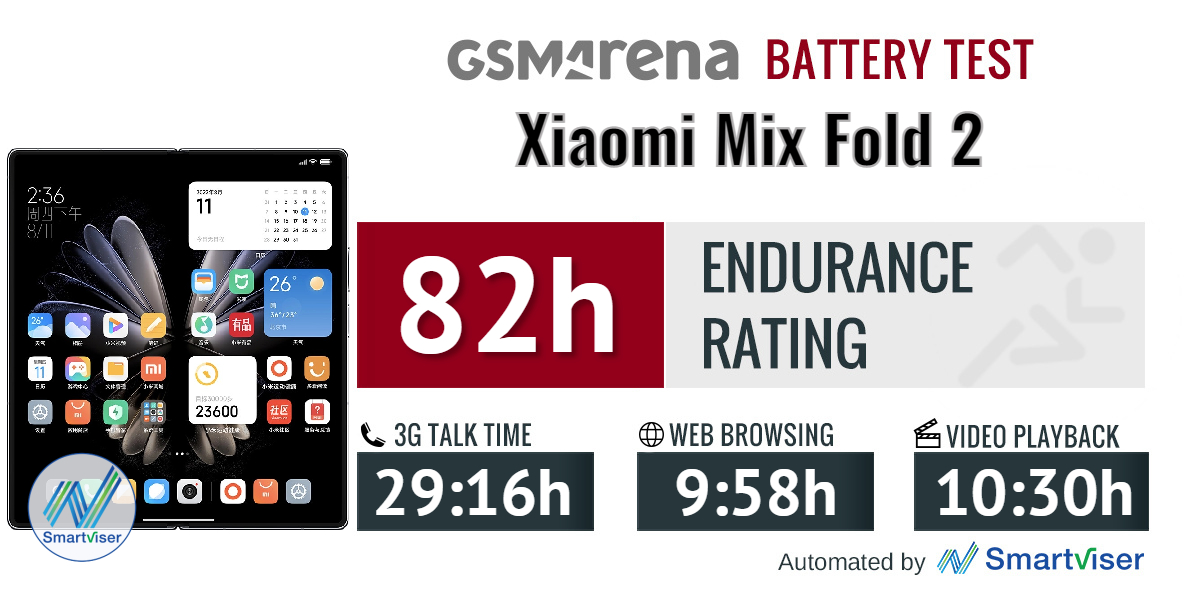 Our battery tests were automated thanks to SmartViser, using its viSerDevice app. The endurance rating denotes how long the battery charge will last you if you use the device for an hour of telephony, web browsing, and video playback daily. More details can be found here.
The call times and even the standby performance turned out pretty good, and thus the higher-than-expected endurance ratings for both displays.
Video test carried out in 60Hz refresh rate mode. Web browsing test is done at the display's highest refresh rate whenever possible. Refer to the respective reviews for specifics. To adjust the endurance rating formula to match your own usage patterns, check out our all-time battery test results chart where you can also find all phones we've tested.
Charging speed
The Mix Fold 2 supports Xiaomi's 67W fast wired charging, and that charger comes bundled with the phone. The maker advertises a full charge in 40 minutes.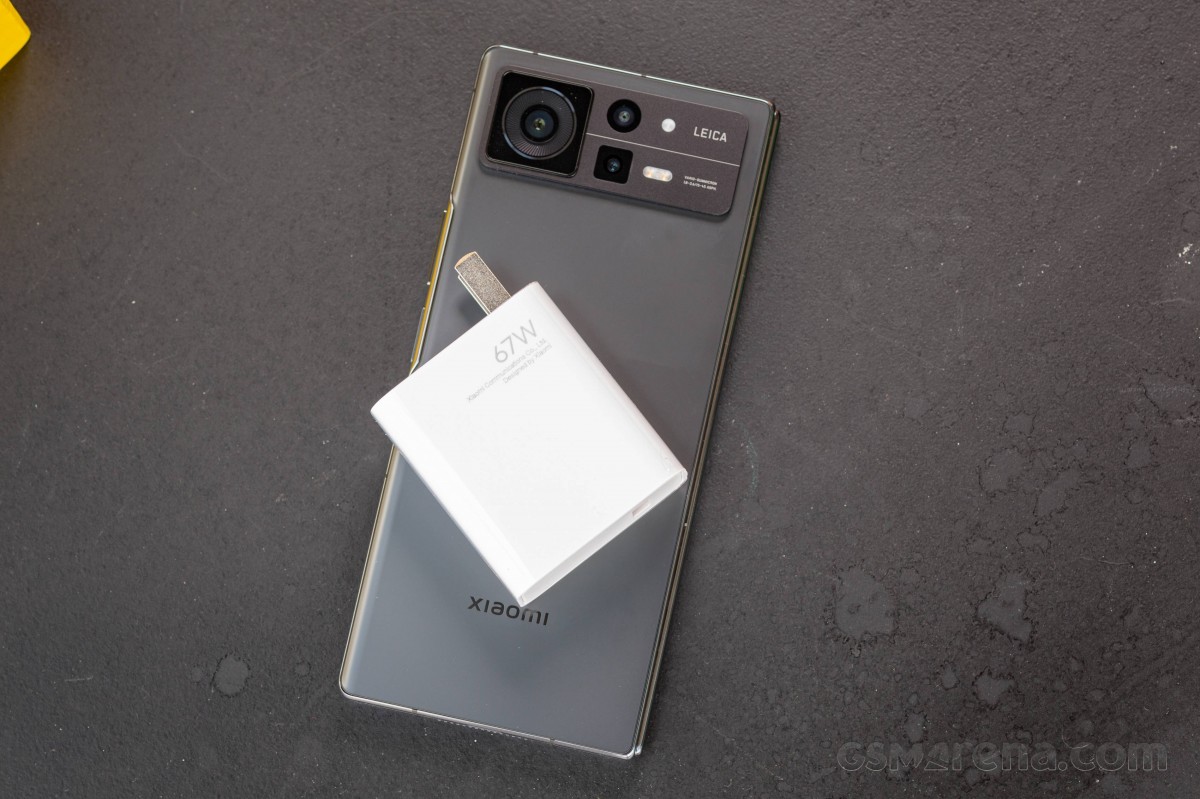 Our test revealed the Mix Fold 2 battery goes from 0% to 77% in 30 minutes when using the 67W charger.
30min charging test (from 0%)
Higher is better
Huawei Mate Xs 2
85%
Xiaomi Mix Fold 2
77%
Xiaomi 12S Ultra
73%
Samsung Galaxy S22 Ultra (45W)
60%
Oppo Find N
57%
Samsung Galaxy Z Flip4
55%
Samsung Galaxy Z Fold4
50%
Apple iPhone 13 Pro Max (20W Apple)
42%
Samsung Galaxy Z Flip3 5G
40%
A full charge took 45 minutes sharp, which is not that far from what Xiaomi has been advertising.
Time to full charge (from 0%)
Lower is better
Huawei Mate Xs 2
0:43h
Xiaomi Mix Fold 2
0:45h
Xiaomi 12S Ultra
0:50h
Samsung Galaxy S22 Ultra (45W)
0:59h
Oppo Find N
1:05h
Samsung Galaxy Z Flip4
1:15h
Samsung Galaxy Z Fold4
1:19h
Samsung Galaxy Z Flip3 5G
1:30h
Apple iPhone 13 Pro Max (20W Apple)
1:46h
The Mix Fold 2 has no support for wireless charging.
Speakers
The Mix Fold 2 comes with stereo speakers placed symmetrically at the top and bottom parts of the frame. They support Dolby Atmos enhancement, which is on by default.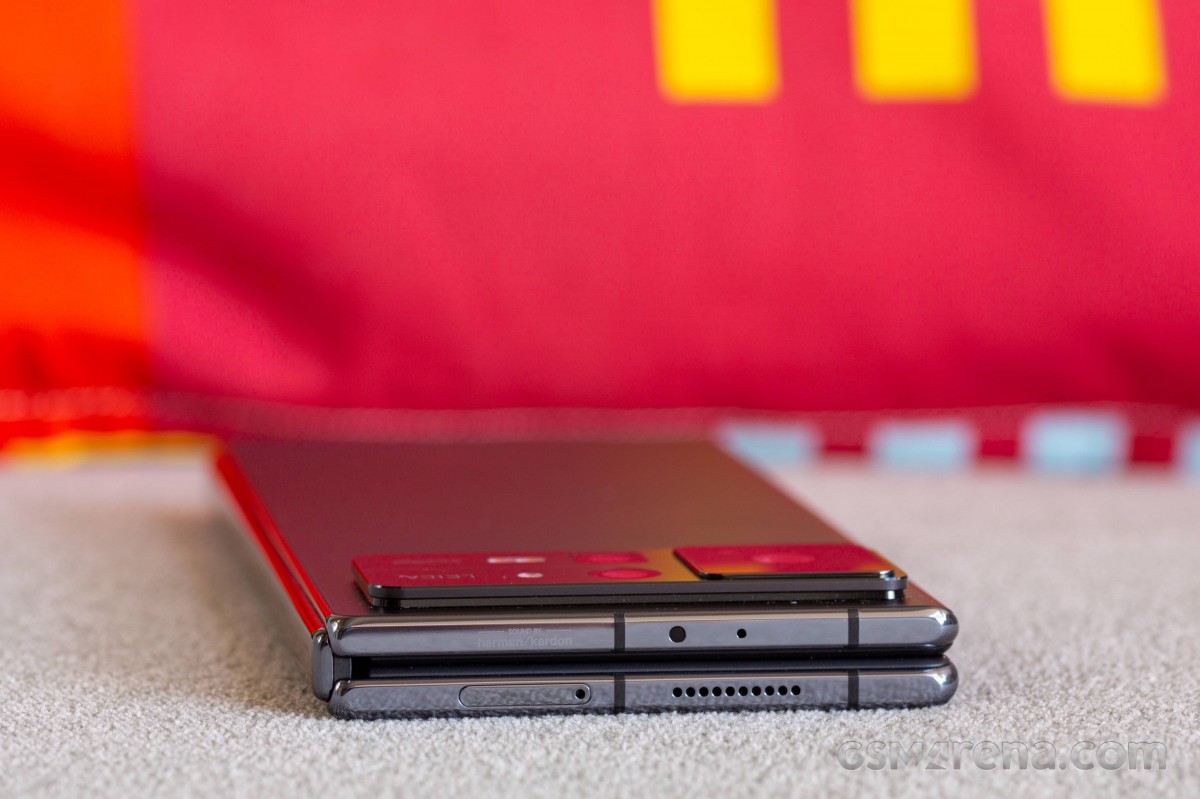 The left and right channels switch dynamically depending on the orientation of the device. When used in portrait orientation, the top speaker plays the left channel.
Both speakers seem of equal loudness and audio quality, which is a rarity these days.
The Mix Fold 2 scored a Good mark on our loudness test, while its sound quality is close to what we'd rate as Very Good. There are well-presented vocals and high frequencies. Bass is present, too, but it's a bit underwhelming.
We've recorded the phone with enabled Dolby Atmos, as this is the default option. You may get a bit expanded tonal range by turning this enhancement off, but the vocals will take a minor hit.
Use the Playback controls to listen to the phone sample recordings (best use headphones). We measure the average loudness of the speakers in LUFS. A lower absolute value means a louder sound. A look at the frequency response chart will tell you how far off the ideal "0db" flat line is the reproduction of the bass, treble, and mid frequencies. You can add more phones to compare how they differ. The scores and ratings are not comparable with our older loudspeaker test. Learn more about how we test here.
"Your first comment was about bigger importance of outer display instead of the inner one. Of course, since Xiaomi's inner display significantly lowered its battery life" "Since"? Your entire argument is based on a basel...
Well said. The software experience (functionality) on xiaomi fold 2 is not close to samsung fold 4. Xiaomi is good for Chinese market and Chinese apps. Fold 4 software and it's functionality is unmatched.
Nandanroy
20 Sep 2022
Dkh
Not aperfect foldable phone, Design, handling ,not half fold, and camera quality concerned For this price tag Xiomi felt impressionithink that's why selling only china.