Poco M5 review
GSMArena Team, 18 November 2022.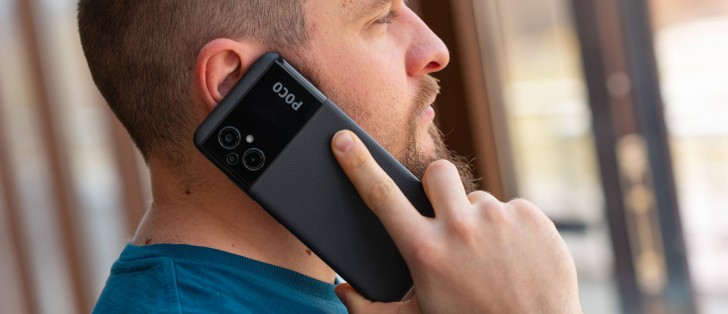 Decent IPS display
The Poco M5 features the same 6.58-inch IPS LCD panel as the Poco M4 5G. The resolution is 1080 x 2408px, and the refresh rate is capped at 90Hz. Of course, there are no HDR capabilities, but you do get the Full HD playback on Netflix as the device supports Widevine L1.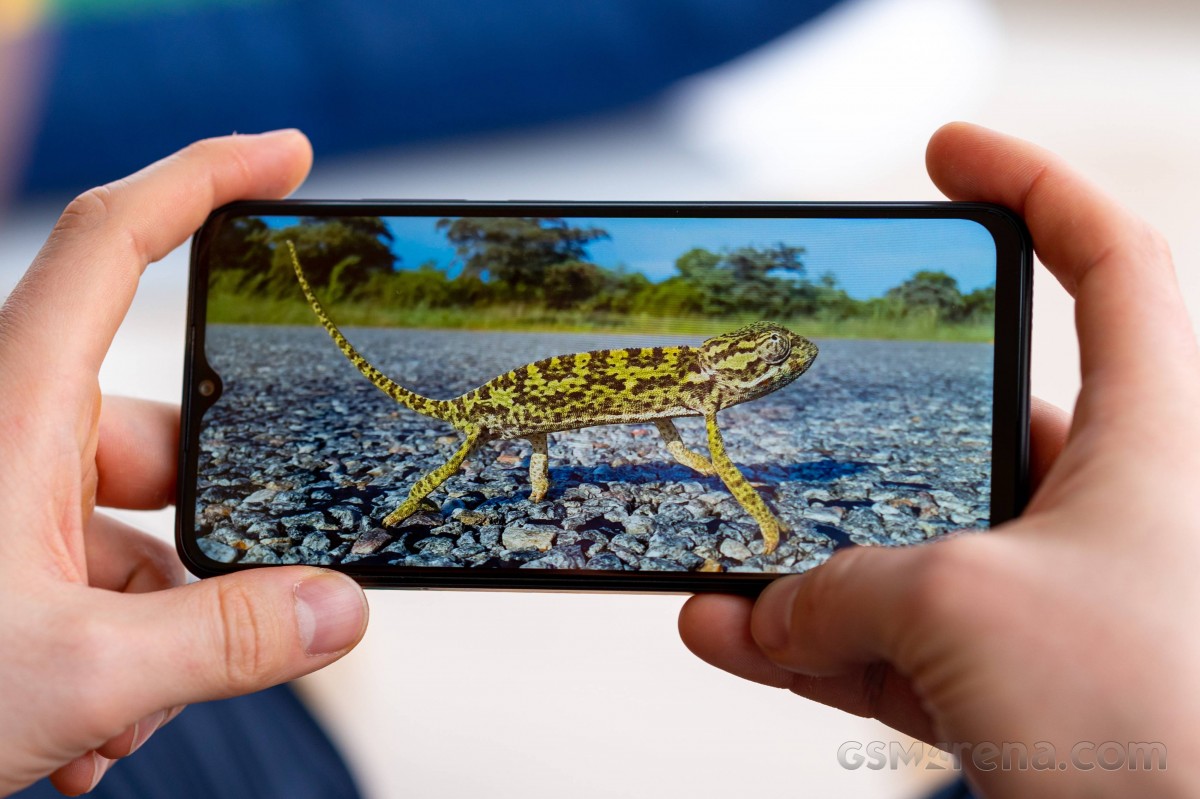 Interestingly enough, we had a tad better experience with the Poco M5 compared to the M4 5G. We didn't have issues with automatic brightness, and the display responded well to ambient light changes. We also got better, albeit marginally, readings in terms of max brightness.
In the default Vivid mode, the display peaked at just 324 nits, while in Saturated mode, we got up to 402 nits. In automatic mode, the increase was modest but still rather higher than what we got on the Poco M4 5G - 448 nits. Still, the maximum brightness isn't enough for comfortable outdoor use on a bright sunny day.
Display test
100% brightness
Black,cd/m2
White,cd/m2
Contrast ratio
Xiaomi Poco M5
0.295
402
1363:1
Xiaomi Poco M5 (Max Auto)
0.337
448
1329:1
Poco M5s
0
473
∞
Poco M5s (Max Auto)
0
756
∞
Xiaomi Poco M4 5G
0.2
326
1630:1
Xiaomi Poco M4 5G (Max Auto)
0.4
410
1025:1
Samsung Galaxy A04s
0.241
389
1614:1
Samsung Galaxy A13
0.376
498
1324:1
Samsung Galaxy A13 (Max Auto)
0.448
587
1310:1
Xiaomi Redmi Note 11
0
465
∞
Xiaomi Redmi Note 11 (Max Auto)
0
736
∞
It's obvious that the two handsets share the same panel, so it's possible that Poco pushed a software update in the meantime to fix the automatic brightness issues, or the M4 5G unit we received was just an odd one.
Color accuracy wasn't the best either. There are three modes to choose from - Vivid (default one), Saturated and Standard. The latter produces the best results in accuracy, but whites and grays have a magenta hue, and it's noticeable even with the naked eye. Most other colors were well below the 3.0 dE2000.
HRR control
There are just two refresh rate modes in the settings menu - 60Hz and 90Hz. Obviously, if you go for the latter, the system will prioritize 90Hz, and we found that almost all system and third-party apps run at 90Hz. Chrome is one small exception. Blur Buster's UFO test shows 60fps rendering in that browser. At least the default web browser saturates the full 90Hz refresh rate of the display, so you can use that one instead of Chrome.
Video players and streaming apps appear to prioritize 60Hz to preserve battery. However, leaving the screen idle didn't trigger the 60Hz refresh rate mode.
Battery life
As expected, battery life is solid. We got relatively the same runtimes from the Poco M4 5G since they both share the same battery capacity (5,000 mAh), the same 6.58-inch LCD panel and similar chipsets (Helio G99 vs. Dimensity 700). In fact, the overall endurance score is the same - 121 hours.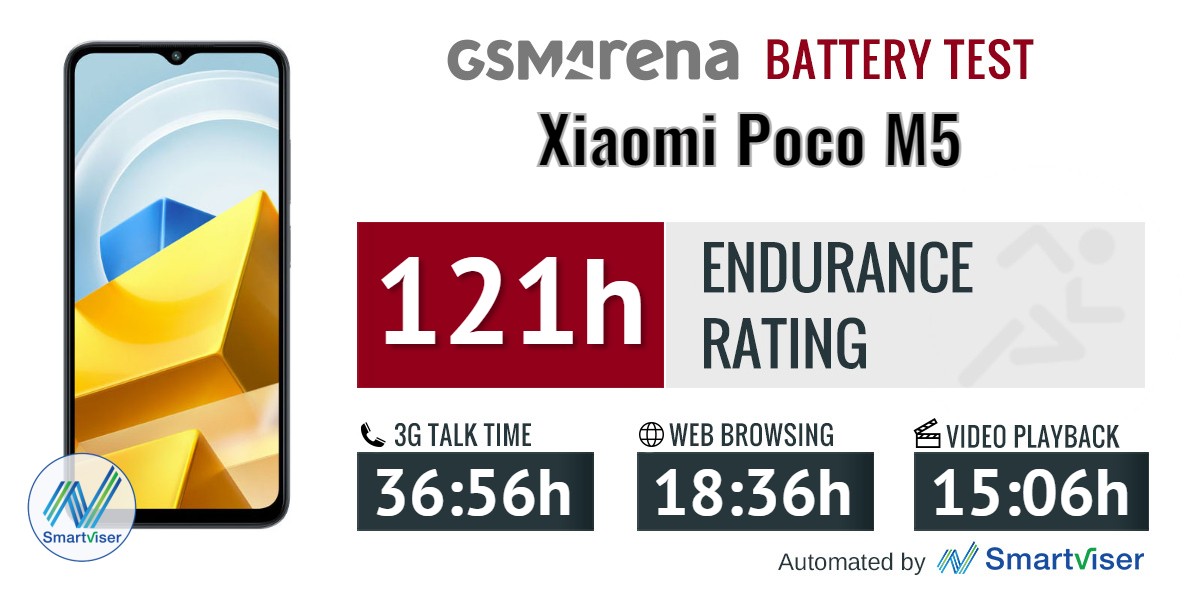 Our battery tests were automated thanks to SmartViser, using its viSerDevice app. The endurance rating denotes how long the battery charge will last you if you use the device for an hour of telephony, web browsing, and video playback daily. More details can be found here.
Compared to other competitors, the Poco M5 edges out by a little and posts impressive screen-on scores.
Video test carried out in 60Hz refresh rate mode. Web browsing test is done at the display's highest refresh rate whenever possible. Refer to the respective reviews for specifics. To adjust the endurance rating formula to match your own usage patterns check out our all-time battery test results chart where you can also find all phones we've tested.
Charging speed
The phone features a big battery and rather slow charging support by 2022 standard, but since this is a low-end phone we are reviewing here, it's hard to complain. The device can go up to 18W with the included 22.5W Xiaomi charger. That's because it's cheaper to produce one type of charger for multiple smartphone lineups.
In any case, charging is really slow. The handset got just 24% of its charge back in the first half an hour, while a full charge took 2 hours and 19 minutes.
When compared to other similarly priced alternatives, the Poco M5 drags behind in both scenarios.
30min charging test (from 0%)
Higher is better
Poco M5s
53%
Xiaomi Redmi Note 11
51%
Realme 9
50%
Xiaomi Poco M4 5G
31%
Samsung Galaxy A04s
28%
Samsung Galaxy A13
27%
Xiaomi Poco M5
24%
Time to full charge (from 0%)
Lower is better
Realme 9
1:16h
Xiaomi Redmi Note 11
1:18h
Poco M5s
1:24h
Xiaomi Poco M4 5G
2:02h
Samsung Galaxy A04s
2:14h
Samsung Galaxy A13
2:18h
Xiaomi Poco M5
2:19h
Speaker
Even though the Poco M5 has a single, bottom-firing speaker setup, we were really impressed with the loudness and overall sound quality. Sure, some competitors offer a stereo setup for the same price, but it rivals them in terms of loudness and quality. A -27.6 LUFS score is pretty solid for one speaker.
Vocals are clear, mids are well pronounced, and there's even some bass. More importantly, there's virtually no distortion at higher volumes. The highs are never tinny.
Use the Playback controls to listen to the phone sample recordings (best use headphones). We measure the average loudness of the speakers in LUFS. A lower absolute value means a louder sound. A look at the frequency response chart will tell you how far off the ideal "0db" flat line is the reproduction of the bass, treble, and mid frequencies. You can add more phones to compare how they differ. The scores and ratings are not comparable with our older loudspeaker test. Learn more about how we test here.
Which type of MIUI13 version comes with this pocom5 from factory
Anonymous
26 Jun 2023
UNA
Performance: 7/10 - The MediaTek Helio G99 chipset and available RAM should offer decent performance for everyday tasks and casual gaming, but it may not match the performance of higher-end devices. Camera: 6/10 - The main camera's 50 MP re...