Xiaomi Redmi Note 10 review
GSMArena Team, 27 March 2021.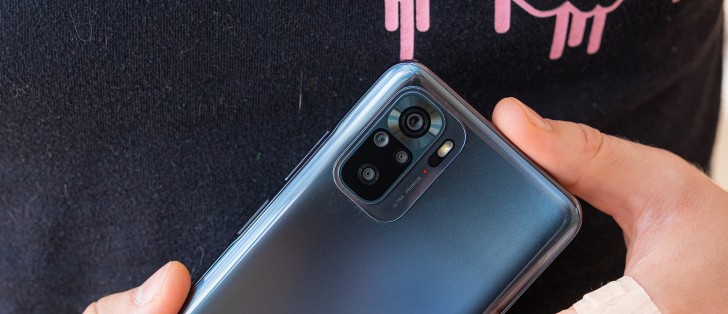 MIUI 12 on top of Android 11
MIUI 12 has been released long ago, and most of the Xiaomi devices announced from 2019 until now are running the said version of the custom OS. The Chinese maker has a good track record of updating even its old, low-end devices to the latest MIUI version. However, that doesn't mean that all of them are running Android 11. The good thing about MIUI 12 is that Xiaomi often tries to deliver the latest features irrespective of the Android version.
The Redmi Note 10, however, has the latest UI on both fronts - it's got Android 11 and MIUI 12. Sure, MIUI 12.5 is expected this spring, but we are already off to a great start, given that many of the mid-range devices released in the past few months are still running Android 10.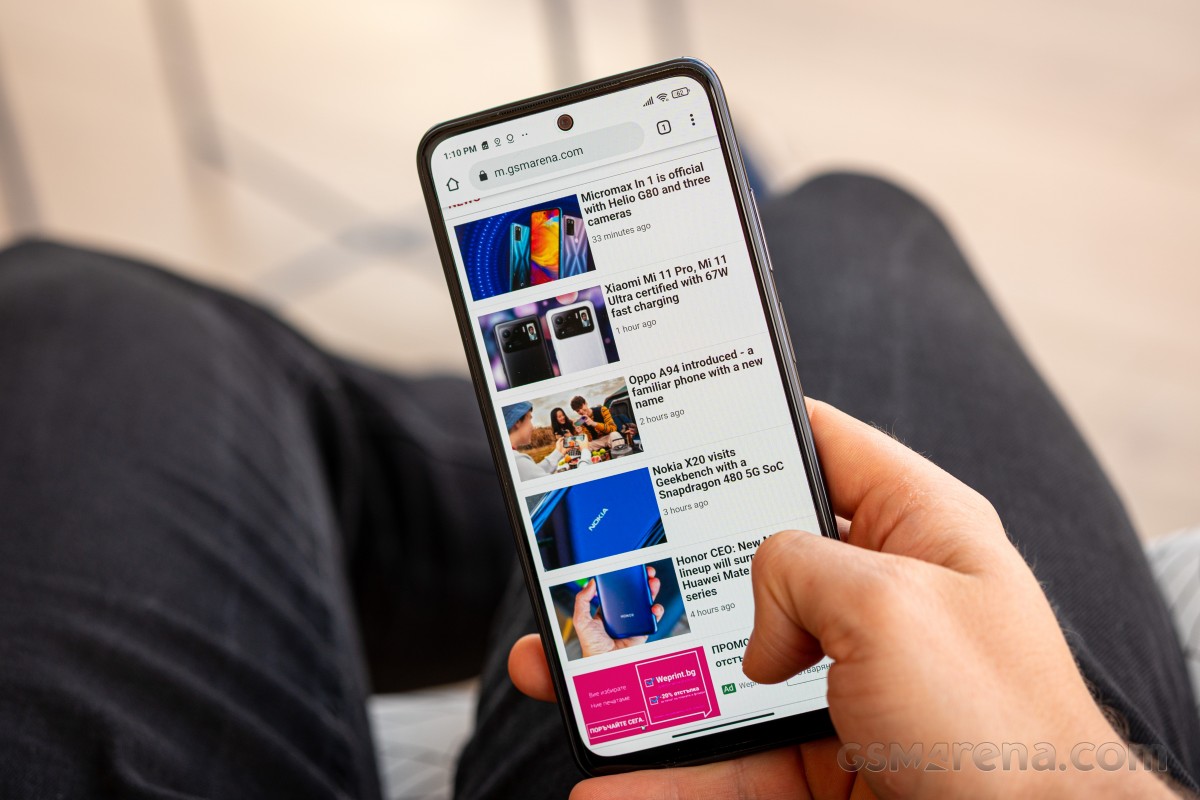 In any case, the biggest revamp on the MIUI 12 would be the Control center. It wasn't enabled by default when we turned the phone on. This option would separate the quick toggles and the notifications in two shades, iOS style. Swiping down from the left side of the front camera will show you the notifications, while the right opens up the quick toggles and the brightness slider. Some of the toggles aren't customizable, such as the Wi-Fi, Bluetooth, mobile network and the flashlight. The rest of them can be re-arranged. We suggest you try out this configuration even though it would take a while to get used to.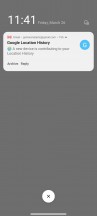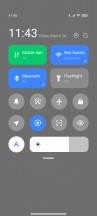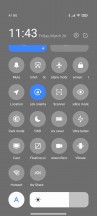 Notification shade and Control center
The way notification cards appear can also be adjusted. You can either go with a more MIUI-esque style of cards or keep the standard Android appearance of each notification (take a look at the first two screenshots). And while we are on the topic of notifications, we must say that Xiaomi has its own take on Android 11 notification bubbles, which is called Floating Windows. Not all messaging apps support notification bubbles, but it seems that MIUI is capable of enforcing floating windows on all messaging apps. At least on the ones we tried. Receiving a notification pops up on the screen, and if you drag it down, the chat window will appear minimized, and it becomes interactive. Opening up a separate chat bubble (like Messenger's chat heads) is also an option by tapping on the small icon in the lower-right corner of the notification card.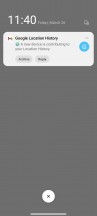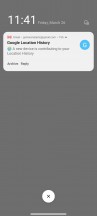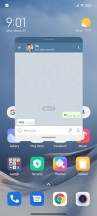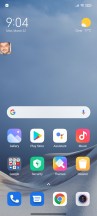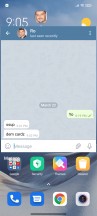 MIUI and classic notification cards, floating windows in messaging apps
Going from strictly classic view to a full-blown, customizable app drawer. That's the evolution of managing apps within MIUI. The app drawer isn't enabled by default too. It offers a ton of options like customizable app categories, two options for a scroll bar. The best part is that the search bar has been positioned at the bottom, so it's within a thumb's reach when using just one hand.
The display-related features are plenty too. One of the most useful ones is having a Sunlight mode. For those of you who prefer adjusting the brightness manually, the Sunlight allows you to have the best of both worlds. Once the ambient sensor detects strong ambient light, it would kick in and boost the brightness higher.
Since the phone has an OLED panel, an always-on feature is at hand. There are different light effects for notifications, a highly-customizable always-on appearance with different themes, signatures, clock styles, etc. The standard raise-to-wake option and the double tap-to-wake are at your disposal as well.
A friendly reminder that this phone uses an OLED screen, so the Dark mode will not only save you some battery and will also look cool while doing so.
The fingerprint reader seems to be fast, accurate and reliable for the most part. We didn't have a lot of misreadings while using it. We highly recommend using the option to unlock the device only when you press down the button. Phones with side-mounted fingerprint scanners often register false reads in day-to-day handling the phone or simply when taking it in or out of your pocket. And sometimes, you may find yourself locked out of the phone or needing the backup unlock method.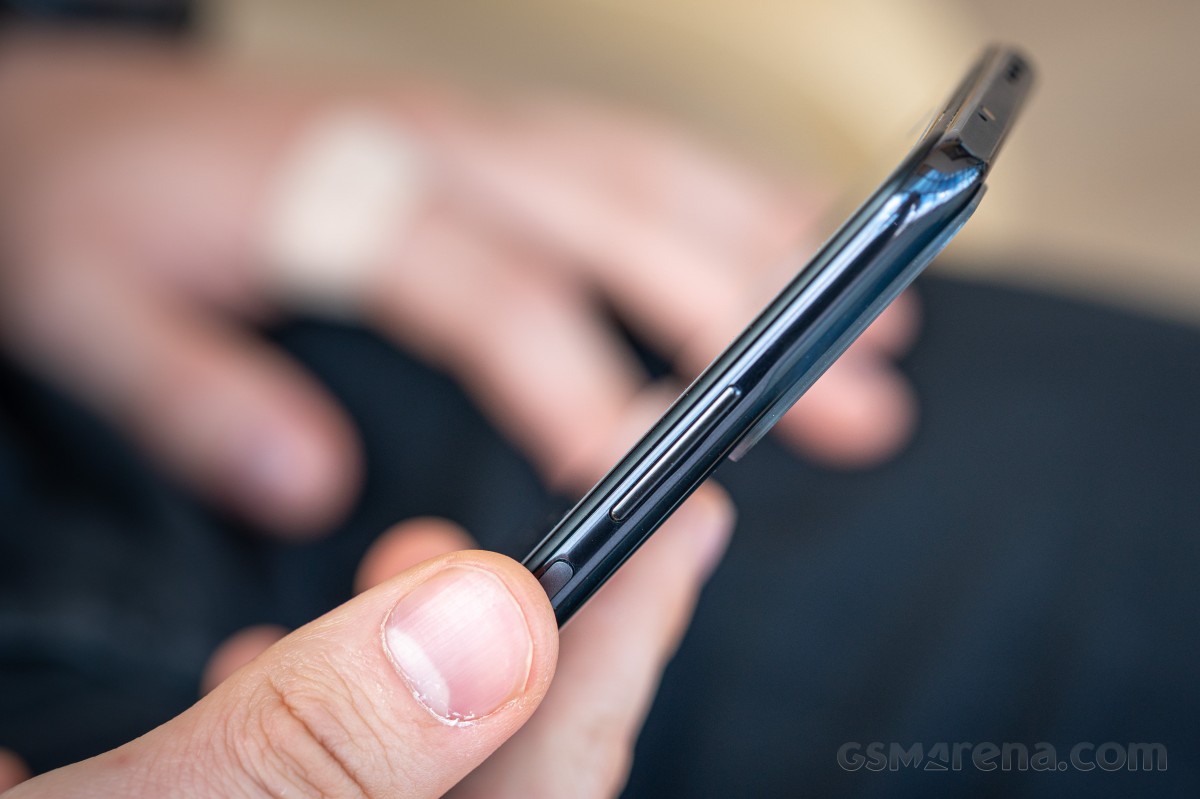 The control over the battery usage has never been more granular. Aside from the option to choose the level of battery saving for each app, you can also analyze a time frame of your choice to see which app has used most of your battery. If you find a misbehaving app, you can just hit the nuke button on it and restrict background usage. Otherwise, all apps are set to the default option, which means the system will analyze and handle the apps based on your usage. Still, we find the interactive battery graph to be a killer feature for finding battery hogs.
The Redmi Note 10 might not be a beast of a phone, but gaming is possible. For this, Xiaomi has included the so-called Game Turbo subset of features that offer a distraction-free environment to play in peace. It's also supposed to boost performance, but no specifics have been given on how exactly it does that.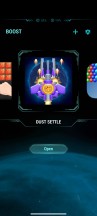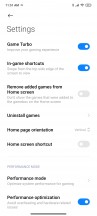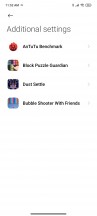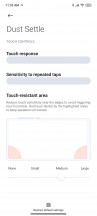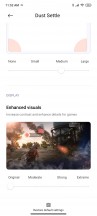 Game Turbo settings and features
Anyway, you will be greeted with individual profiles for each game that allow you to adjust things like auto-brightness, notifications, calls, etc. Each profile also lets you adjust the touch response, the sensitivity to repeated taps and even the touch-resistant area (read palm rejection).
Quick shortcuts during gaming allow you to adjust things on the go in case you forgot to set up a profile beforehand. Arguably the most useful feature is to leave the game running in the background while the screen is off. For those games that require "farming" for stuff.
We are once again pleased to use MIUI 12, and while we didn't have any serious issues or hiccups, we found the current implementation to be running a tad slower than expected. Sometimes when navigating through menus or switching between apps, we can't get past the feeling they are slow. It was particularly pronounced when launching the camera app. It might be due to the state of the software, and a future update would solve that, or it's just the limitation of the SoC and the relatively heavy nature of the UI. Don't get discouraged, though; we are just nitpicking here, not really complaining.
Performance
The Redmi Note 10 is the first phone with the Snapdragon 678 to enter our office, but even before we present you the benchmark results, it's not hard to tell that it's just an incremental upgrade over the Snapdragon 675, hence the name. Both chips share the same CPUs, GPUs, ISPs, modems and 11nm manufacturing process. The only difference is the slightly higher clock on the 678, promising marginally better computational performance.
The Snapdragon 678's CPU consists of two core clusters - 2x 2.2 GHz Kryo 460 Gold cores (ARM Cortex-A76 derivative) and 6x 1.7 GHz Kryo 460 Silver (ARM Cortex-A55 derivative). The GPU is Adreno 612 - the same as on the Snapdragon 675. The only difference, as we already mentioned, is in the clock speeds as the Snapdragon 675's two main cores are ticking at 2.0 GHz - 200 MHz slower.
In this particular case, the phone's SoC is paired with either 4GB of RAM and 64GB of internal storage or 4GB/128GB or 128GB/6GB. We feel like Xiaomi could have gone for the 128GB variant as base storage, but you still have a microSD card at your disposal if that's not enough for you.
GeekBench 5 (multi-core)
Higher is better
Motorola Moto G 5G
1980
Motorola Moto G 5G Plus
1898
Redmi Note 9 Pro (Max)
1785
Xiaomi Redmi Note 10 Pro
1780
Poco X3 NFC
1777
vivo U20
1614
Xiaomi Redmi Note 10
1599
Redmi Note 9
1292
Samsung Galaxy A32
1277
GeekBench 5 (single-core)
Higher is better
Motorola Moto G 5G
659
Motorola Moto G 5G Plus
589
Redmi Note 9 Pro (Max)
571
Xiaomi Redmi Note 10 Pro
569
Poco X3 NFC
568
Xiaomi Redmi Note 10
534
vivo U20
506
Redmi Note 9
361
Samsung Galaxy A32
361
AnTuTu 8
Higher is better
Motorola Moto G 5G
312461
Motorola Moto G 5G Plus
299926
Xiaomi Redmi Note 10 Pro
295442
Poco X3 NFC
283750
Redmi Note 9 Pro (Max)
279625
Xiaomi Redmi Note 10
218788
vivo U20
215820
Redmi Note 9
200414
Samsung Galaxy A32
174332
GFX Manhattan ES 3.0 (offscreen 1080p)
Higher is better
Motorola Moto G 5G Plus
50
Motorola Moto G 5G
46
Poco X3 NFC
44
Redmi Note 9 Pro (Max)
42
Xiaomi Redmi Note 10
24
Samsung Galaxy A32
24
vivo U20
22
GFX Manhattan ES 3.0 (onscreen)
Higher is better
Motorola Moto G 5G Plus
43
Motorola Moto G 5G
41
Redmi Note 9 Pro (Max)
36
Poco X3 NFC
33
Xiaomi Redmi Note 10
21
Samsung Galaxy A32
21
vivo U20
20
GFX Car Chase ES 3.1 (offscreen 1080p)
Higher is better
Xiaomi Redmi Note 10 Pro
19
Motorola Moto G 5G Plus
19
Motorola Moto G 5G
19
Poco X3 NFC
19
Redmi Note 9 Pro (Max)
18
Xiaomi Redmi Note 10
9.3
Samsung Galaxy A32
9.3
vivo U20
8.7
GFX Car Chase ES 3.1 (onscreen)
Higher is better
Motorola Moto G 5G
17
Xiaomi Redmi Note 10 Pro
16
Motorola Moto G 5G Plus
16
Poco X3 NFC
16
Redmi Note 9 Pro (Max)
15
Samsung Galaxy A32
8.1
Xiaomi Redmi Note 10
7.9
vivo U20
7.7
3DMark SSE Vulkan 1.0 (offscreen 1440p)
Higher is better
Motorola Moto G 5G Plus
2821
Motorola Moto G 5G
2608
Poco X3 NFC
2495
Redmi Note 9 Pro (Max)
2356
Xiaomi Redmi Note 10
1372
Samsung Galaxy A32
1371
vivo U20
1163
As expected, the chipset performs just slightly better than its predecessor, the Snapdragon 675. Perhaps due to the newer OS, the Snapdragon 678 has a higher score on the GPU-intensive benchmarks. But when compared to chipsets found in rivaling smartphones, the overall performance is rather unsatisfactory.
In fact, in some tests, the Redmi Note 10 scored lower than its predecessor, which runs on the MediaTek Helio G85. The Galaxy A32 also seems to be doing better in some cases with its Heliо G80. And, of course, it's no match for the Snapdragon 700-series too. The Poco X3 NFC, for example, runs on the Snapdragon 732G SoC, and it undercuts the Redmi Note 10's price.
Auto call recording not available vert disoriented