Xiaomi tops Indian market with record numbers, OnePlus leads in satisfaction
Peter, 30 October 2018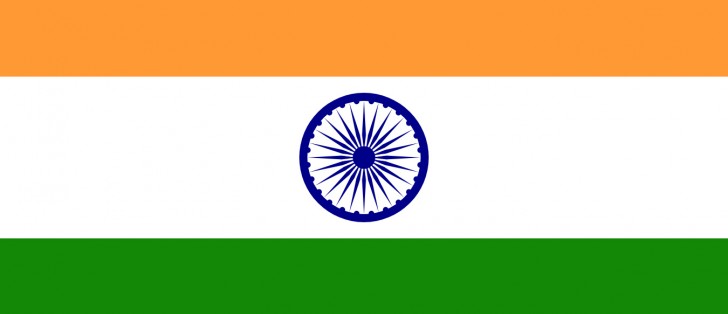 Market analysts at Canalys have announced the winner of the Xiaomi-Samsung battle in India. It was neck and neck in Q2, but during the third quarter Xiaomi shot up with a record 12 million smartphones shipped.
This represents a 32% jump over the numbers from Q3 last year, meanwhile Samsung's shipments (and the Indian market as a whole) declined slightly.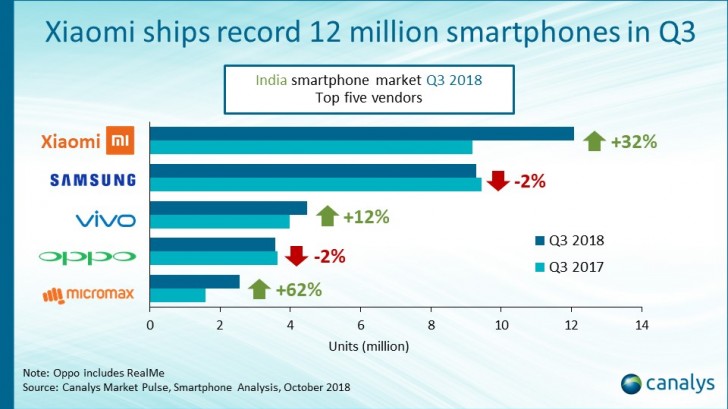 Another success story is vivo's 12% growth year over year to 4.5 million units shipped, which allowed it to expand its lead over sibling company Oppo. Note that Oppo's numbers are worse than they appear on the chart as the analysts bundled its phones along with the Realme.
Young Realme (just a few months old) is growing quickly and it shipped 800,000 units in Q3. That gives it just under 2% market share, not quite enough for it to enter the Top 5.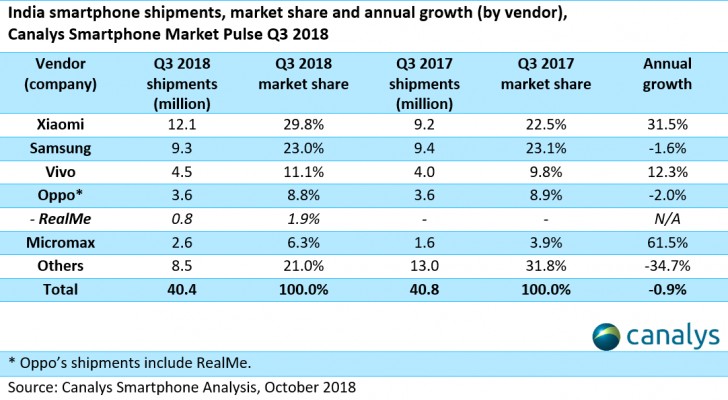 Part of that is because Micromax had a stellar quarter with a 62% growth year over year and an even more impressive 5x increase compared to Q2. This is a one-off, though, as its due to a government purchase – the state Chhattisgarh (in collaboration with Jio) has ordered 5 million phones (at INR 2,510 each, $34) to give to women and college students. Micromax shipped only 2.6 million phones this quarter so expect a similar bump next quarter while the 5 million order is fulfilled.
India-based Micromax was selected to fulfill this order for patriotic reasons or so the analysts believe. There's more, India is close to levying higher import duties on certain components, which aims to drive more manufacturers to establish facilities in the country.
Analysts at Counterpoint Research have polled people and 1 in 3 said they are looking for a phone in the INR 10,000-15,000 range ($135-$200). 2 in 3 people are planning to buy a mid-range or high-end phone.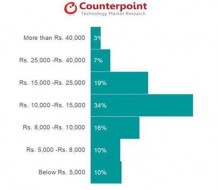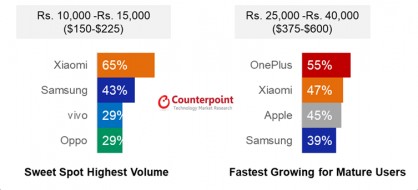 Preferred price ranges for next phone • Preferred brand for each price range
It shouldn't surprise you to hear that Xiaomi was the most preferred brand. OnePlus has cornered the fast-growing INR 25,000-40,000 segment. OnePlus also leads in customer satisfaction and customer retention rate (88%). Meanwhile Xiaomi trails vivo, Oppo and Samsung in customer satisfaction.

Related
Right happened to Sammy.. They should have reduced the price in this market.. Xiaomi gives excellent phone at the price..
Xiaomi is a trusted and a mass-friendly company compared to Oppo, even with 2 RealMe series, Oppo is losing sales since the 2nd quarter of this year, aint nobody overtaking Xiaomi in the next 2-3years as Xiaomi itself is on the verge of taking Apple ...
Popular articles
Popular devices