IDC: Realme is now second largest maker in India as Samsung falters
Ro, 09 August 2022
According to a report by IDC, Q2 2022 smartphone shipments in India grew about 3% year-over-year but fell 5% compared to Q1 2022. The whole first half of 2022 recorded a 1% decline in overall smartphone sales.
IDC outlines the lingering effects of the supply constraints in 2021 as part of the reason along with rising inflation leading to demand contraction. The average selling price, for example, has been steadily growing since Q4 2020 and stood at $213 in the second quarter of this year. That's a 15% increase year-over-year.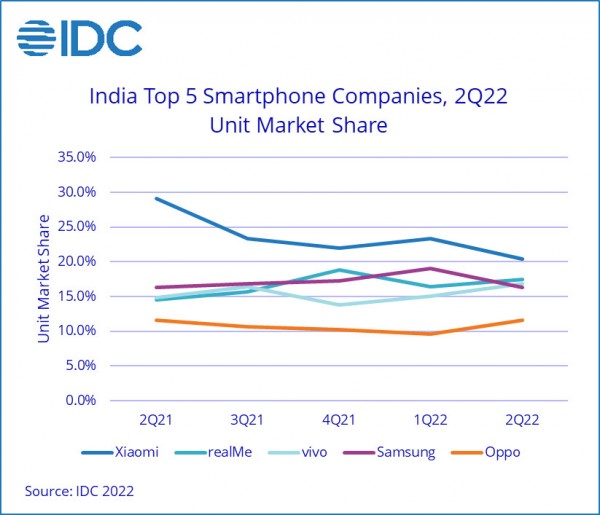 As far as smartphone vendors' performance, Xiaomi is still leading the pack with 20.4% market share even though its shipments fell 28.2% compared to the same period last year. That costed Xiaomi 8.8 percentage points of its market share.
Realme and vivo made big gains and now occupy second and third positions with 17.5% and 16.9% shares, respectively. Samsung's shipments stayed flat, which caused the company to drop all the way down to fourth spot in terms of overall volume.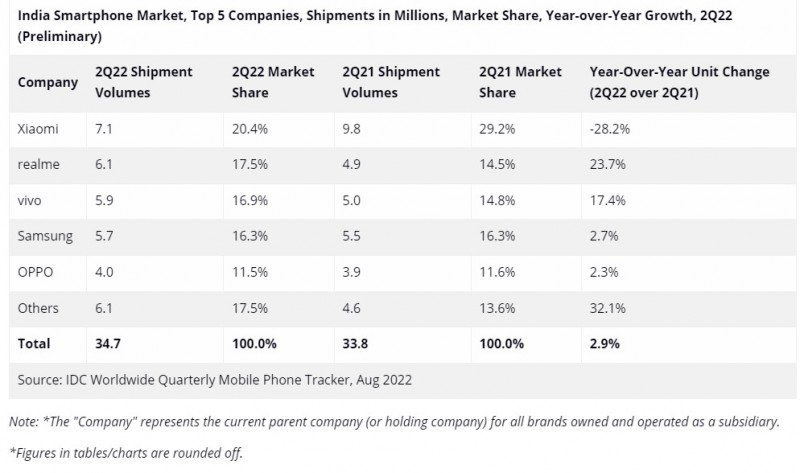 The premium market segment of phones costing more than $500 is growing strong with 83% increased shipments year-over-year, contributing 6% of the whole market. Apple is still on top with 53% market share while OnePlus with 19% and Samsung with 15% follow.
Related
my best phones : xiaomi (redmi in fact and it does everything good) and huawei My worst : samsung (lower quality than chineese brands, lower battery endurance, lower soc as exynos isn't as good as kirin (before sanctions) and qualcom ...
Anonymous
14 Aug 2022
r@p
I am using Samsung smart phones for over 8 years now. But thinking of switching to something else considering how terrible its after sales support has been in few last years. You can search "Samsung water scam", ' 9611/9610 scam',...
Get Moto G71/G82. Future proof. Heck if you don't care about 4G/5G and display type, you have choices of G52/G62. Pretty good phones overall. Abandon Xiaomi and Realme totally in this price bracket.
Popular articles
Popular devices
Electric Vehicles