YouTube adds Huawei P30, P30 Pro and Honor View20 to its list of Signature Devices
Prasad, 11 April 2019
YouTube has added three more phones to its Signature Devices list, the Huawei P30, P30 Pro and the Honor View20.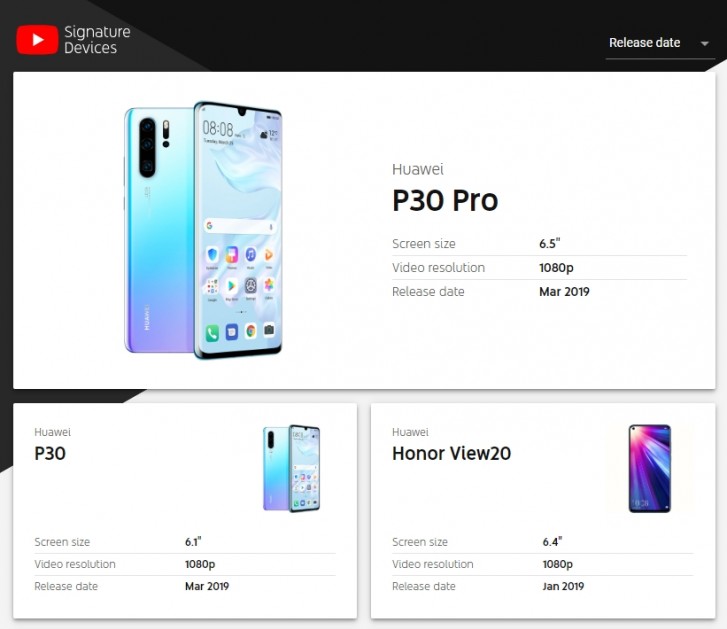 The YouTube Signature Devices is a list of devices that support all of YouTube's features. This includes HDR, 360-degree video, 4K decoding, high frame rate, Google's VP9 profile 2 decoding and DRM support.
Currently, the list includes a range of devices - all flagship as you'd expect, from manufacturers ranging from Samsung, Huawei, and LG to OnePlus, Xiaomi, Nokia, Sony and Google's own Pixel devices.
Hilariously enough, when I tried playing some of the 360-degree video recommended by YouTube on its Signature Devices page, the Huawei P30 Pro did not play them correctly. Neither did the Samsung Galaxy S10 for that matter, although the latter isn't yet listed on the Signature Devices page, so one can cut it some slack. Even more amusingly, the iPhone XR played all these videos correctly, even though no iPhone has ever been included in the Signature Devices list.
It's best to say that one can take this list and this stamp of approval with some grain of salt. You will find devices listed here that don't necessarily support some features and then devices that are not listed supporting all of them. Most of them aren't all that hard to support anyway, except perhaps HDR, which requires HDR-compatible display. Although, the OnePlus 6 is also listed as a Signature Device and it does not have an HDR display nor does the aforementioned Honor View20.
Basically, you can ignore all of this information and continue on with your life as this list is largely meaningless.
Related
At least it proves youtube is onkly app which can be run on IOS devices properly. Rest will laggs bugs and have other errors, mistakes and flaws typical for a brand which makes mess everywhere it comes.
Anonymous
12 Apr 2019
Lay
Thanks a ton for introducing me to 360 degrees videos, pleasantly surprised that my Honor 9 can play them correctly even though it's not a Signature Device.
Popular articles
Popular devices
Electric Vehicles