Does Samsung have a Tegra 2 Galaxy S II I9103 in line too?
16 February, 2011

An intriguing benchmark score revealed information on a covert Samsung smartphone, model number I9103. Even more, it runs on the NVIDIA dual-core Tegra 2 SoC instead of Samsung's own Exynos platform.
This could mean that we have a new smartphone waiting to be unveiled or just that the Galaxy S II (model number I9100) will ship with two different processors, depending on the region. The latter is the more believable story.
It could be because Samsung won't be able to meet the demand for the dual-core Exynos chips that power the Samsung I9100 Galaxy S II phones.
If you look at the official specs page for the new Galaxy S II you will notice that the Exynos processor is region-dependable. That means we could get a phone with a different SoC inside.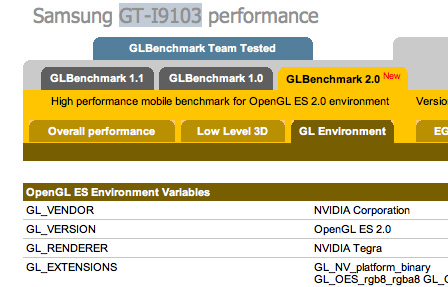 The performance will hardly be that different so a change in the platform won't be such a big deal.
Samsung hasn't made their plans clear yet. We will post new information as soon as it becomes available.