10+ things you may not know about the Samsung Galaxy Fold
Ivan, 20 April 2019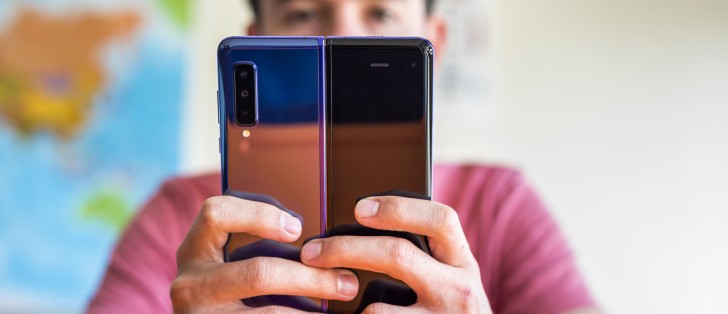 We've had the team's hands on the Samsung Galaxy Fold pretty much non stop ever since it arrived a couple of days ago and as we settle in for the weekend, we decided to gather a few early impressions of the novel gadget and share them with you.
As a first-generation device, the Galaxy Fold is not without teething issues in need of ironing out, and we expect that some of these will be worked out by the time early adopters get their retail units in.
Okay, now that the preamble is out of the way, let's quickly look at the few issues we've found before we move onto the exciting aspects of the Galaxy Fold.
Number 1. Some apps that are landscape-only (such as games) are very specific about their orientation and won't rotate the other way around if you turn the phone. This means that the phone has a very specific orientation preset when it comes to landscape and it's a cleaver one as in this orientation you won't muffle the speakers.
Number 2. Apps that don't support the Continuity feature (where you'll open an app on the smaller screen and then unfold the phone to the larger one) will display huge black bars on either side of the app window once you unfold. We hope the most popular apps will be updated soon to fix that.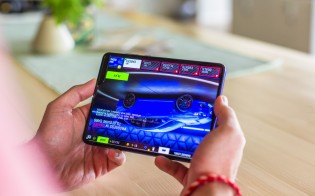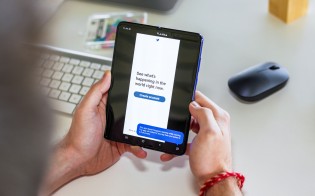 The Galaxy Fold has some issues with apps
Number 3. We found that shooting photos and video on the smaller external screen is a lackluster experience (likely due to its smaller size, or perhaps slightly inferior quality?) but when we unfold the Galaxy Fold it feels like taking photos with an iPad. Browsing your photos on the large screen however is a joy, and that makes up for it. Plus, we were able to verify that the image quality is just the same as on the Galaxy S10+.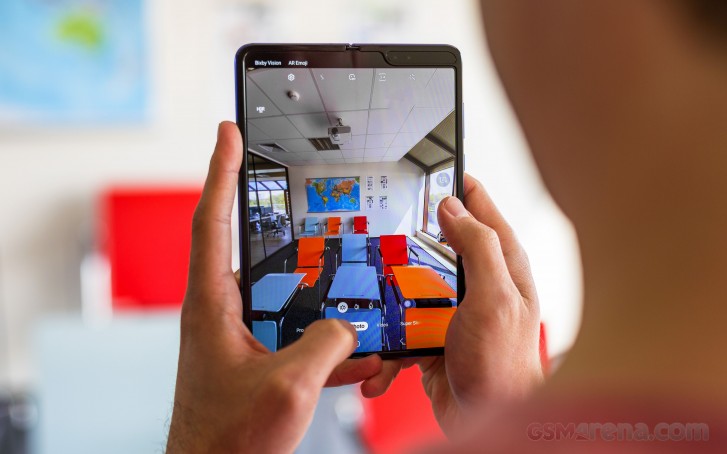 Number 4. If you unfold the phone, the external screen will not work under any circumstance. And while that makes sense, we feel it's a lost opportunity to have it a looking glass for when you are taking photos of a person. Who doesn't want to look their best? The Mate X has a better implementation of this.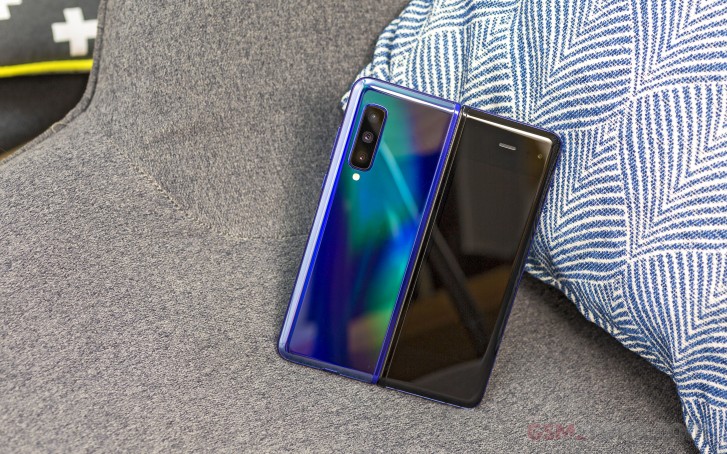 Number 5. When the Galaxy Fold is folded, there's a slight flex in the front and back panels where they meet the hinge but it disappears when you unfold the phone. It's not a big deal but make the construction look cheap and flimsy.
Number 6. There's also a noticeable jello effect when you scroll through lines of content in portrait mode on the large screen. It seems the screen content is updated from left to right so there is a small lag there.
Number 7. Since the magnets that help hold the Galaxy Fold well, folded, are powerful, they attract close-by small metal objects easily. Not that we'd advise that you keep this $2000 phone in a pocket with metal objects, but you've been warned.
Number 8. However, despite the strong magnets that keep it closed, it's quite possible to open the Galaxy Fold with one hand, but it requires some finger gymnastics. It gets easier the more you do it, so in the end, it feels almost like a fidget toy.
Okay, now let's move on to some interesting bits that really show a lot of thought has gone into designing the Samsung Galaxy Fold.
Number 9. If you're on a call and you unfold the phone, the call will automatically go into speaker mode.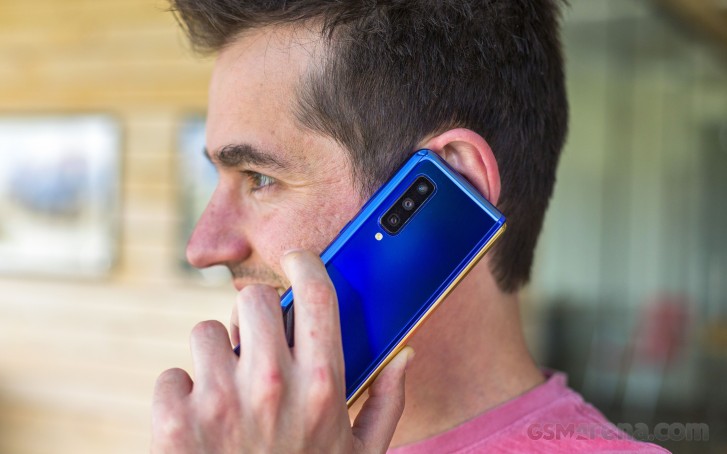 Number 10. The Galaxy Fold uses a capacitive fingerprint scanner on the side (like the Galaxy S10e) and it doubles as the Bixby button. That smaller button above it is the power button.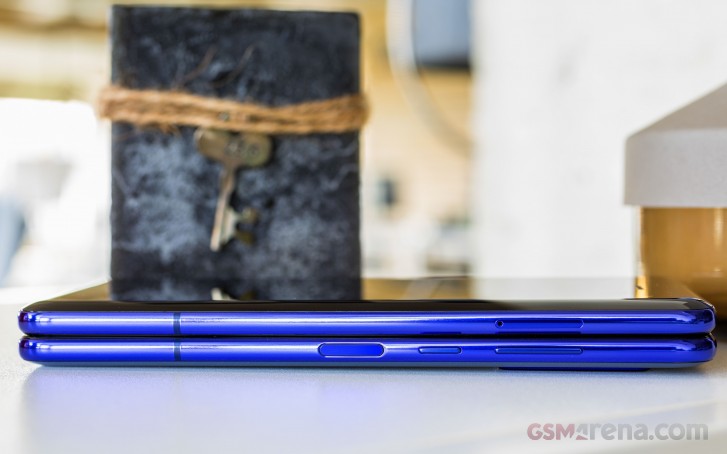 Number 11. The supplied protective case is made of two parts, so it's not bendable itself. It's got a mild adhesive to stick it securely onto the phone, but you can easily remove it after it's been applied.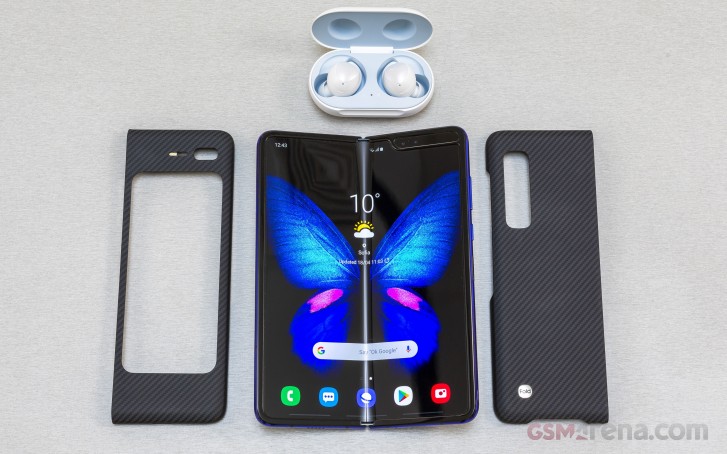 Number 12. The screen crease is noticeable, but we didn't mind it visually. It doesn't get in the way if you are looking at the screen head-on. However, your finger will still feel it when you swipe left or right so you would never forget it's there.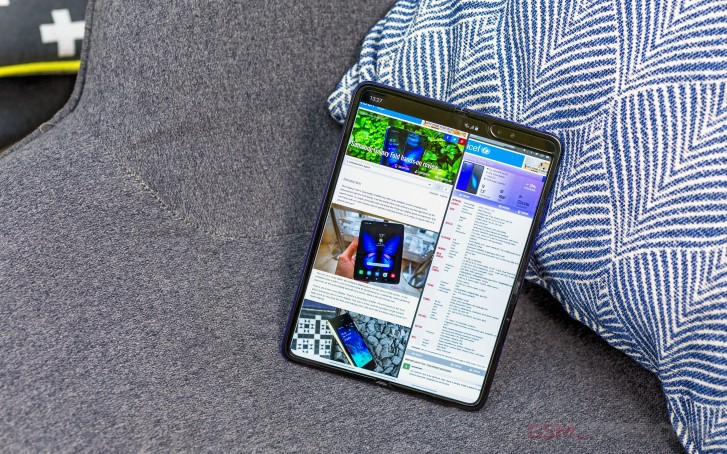 Number 13. There are three typing modes on the Samsung Galaxy Fold - a regular keyboard, a split-screen keyboard, and even a floating keyboard.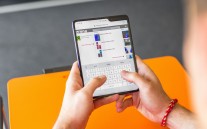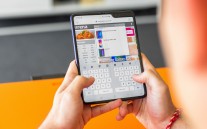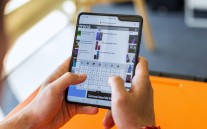 Samsung Galaxy Fold typing methods
Number 14. Just like the Galaxy S10 phones, the Galaxy Fold has both regular and reverse wireless charging.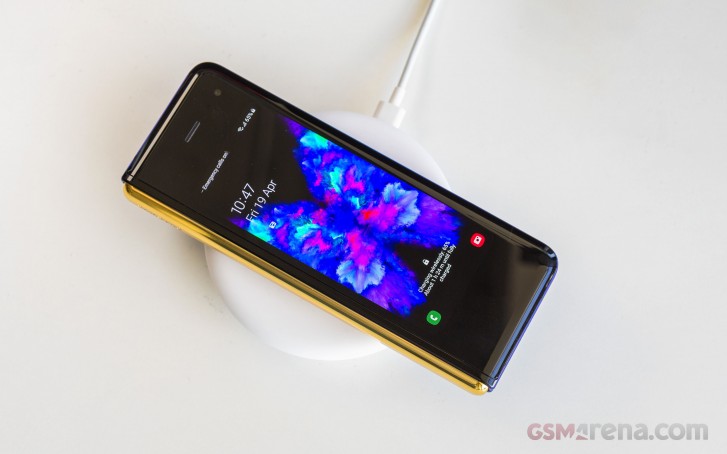 We're making headway on our detailed review of the Samsung Galaxy Fold, and it will come out next week. There's a lot to test and go over - three screens, six cameras, a big battery, the unique form factor, etc. So stay tuned!
Related
Well samsung is going to completely loose here. Xiaomi Motorola and Huawei will come late to thze party with their foldable device but outbeats Samsung like nothing. When Samsung company wakes up it will be to late to start again with new device.
Anonymous
22 Apr 2019
nDx
LOL, no!
Anonymous
22 Apr 2019
nDx
The most funny thing is when Oppo Find X, Vivo Nex S or Xiaomi Mi Mix 3 arrived, there were a lot of comments that those are not good since they have moving parts, but this unfinished design that fails day one gets all the excuses, with a crazy price...
Popular articles
Popular devices
Electric Vehicles