AKG Y500 Wireless review
Prasad, 31 October 2019
The Y500 Wireless is a new pair of Bluetooth headphones from the Samsung owned AKG Acoustics. It's a fairly affordable pair for casual, outdoor use with a compact, foldable design and some unique features for the price.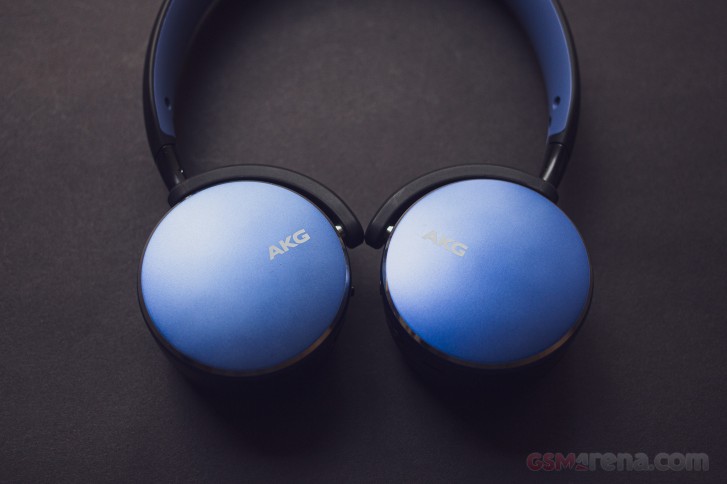 The design of these headphones is quite appealing. It's quite compact, thanks to a relatively thin frame and small ear cups, and they also fold inwards to be stowed away easily. They come in four different colors, black, green, blue and pink.
Build quality is average. They feel lightweight and plasticky with slightly loose joints. The headband length is adjustable but it's a bit loose so then constantly tend to stray from the position you adjusted them to.
All the controls are placed along the bottom edge of the speakers. The right side has a sliding power button, which is also used for pairing. Next to it is the Ambient Aware button and below that is a microUSB connector for charging. On the left ear cup is a toggle to control the volume, which can also be pressed and held to switch tracks. Next to it is the play/pause button and below that is a jack to connect the audio cable for wired mode.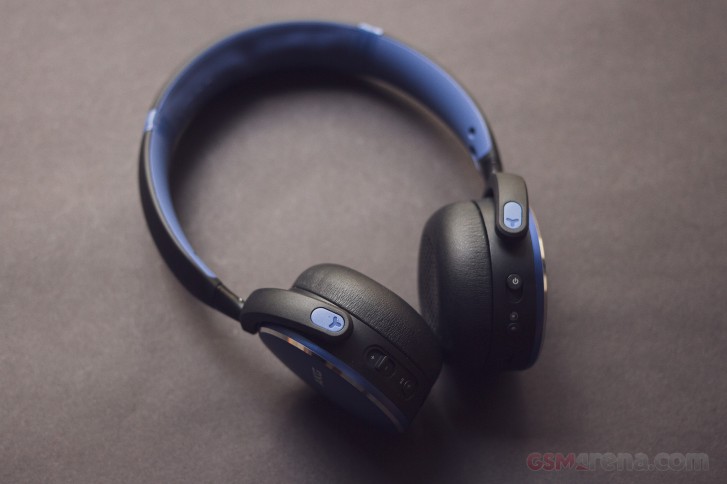 The Ambient Aware feature uses the microphones on the headphones to pipe ambient audio in through the speakers, so you can hear the surroundings around you. The Y500 aren't active noise canceling headphones, but they can still filter out a decent amount of ambient sound so this feature can come in handy if you want to hear things around you but not take the headphones off.
Another feature with the Y500 is auto pause. The headphones have a proximity sensor in the left ear cup, which detects when they are removed and pauses the music. When you put them back, the music is automatically resumed. It is a bit sensitive so at times it gets triggered even while simply adjusting the headphones on your ears. It can be turned off completely by pressing and holding the Play/Pause and the Ambient Aware button together for a few seconds, although there's no audio feedback for when this happens. It also gets turned back on after you restart the headphones.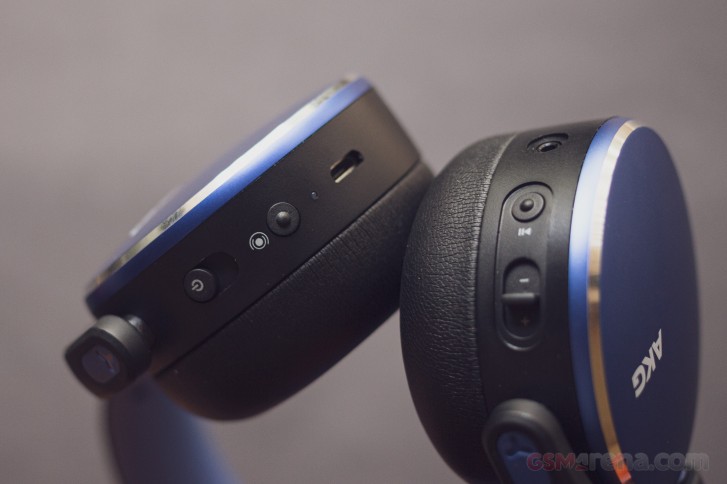 The headphones support SBC and AAC audio codecs. However, try as I might, I couldn't get the headphones to playback in AAC on an Android device, as all of them were reporting SBC. I figured it might be that AAC is reserved for Apple devices. While it's impossible to know what codec is in use on iOS, when paired with a MacBook Air sure enough, the Y500 were using the AAC codec. It's possible AKG realized the substandard AAC performance on Android and decided to limit it to SBC. Either way, you are getting roughly similar audio quality.
In terms of comfort, the AKG Y500 are below average. This is not necessarily an issue with these headphones in particular and for their part, they do have soft padding on the speakers. However, this particular style of design (supra-aural) is inherently uncomfortable because it sits directly on your ears, so your pinnae have to bear the brunt of the clamping force, which keeps the headphones in place. You don't really notice it at first if you only wear them for a few minutes but past the 15-20 minute mark your ears start to get sore and beyond 30 minutes or so they become unbearable.
This may not necessarily be the same for everyone as a lot of people use supra-aural headphones without discomfort but compared to even the most basic circum-aural headphones, the Y500 design feels oppressive.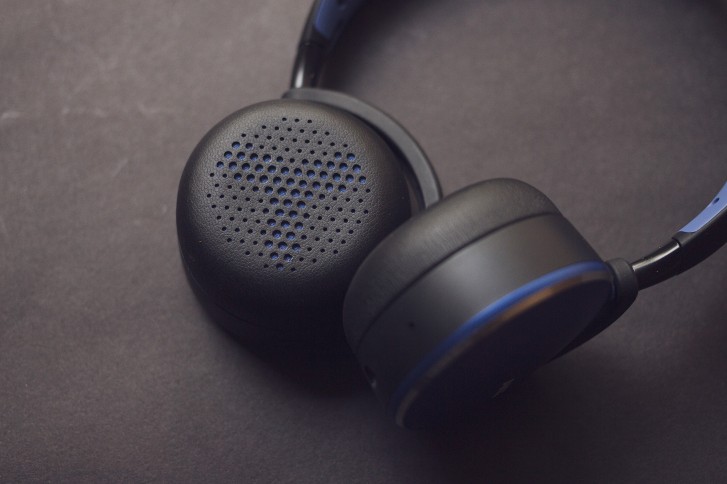 The Y500 redeem themselves somewhat in audio quality, as they are a good sounding pair of headphones. They have a powerful, elevated mid-bass response that is quite enjoyable and works well for most genres without overlapping too much with the mid-range.
The mids are also surprisingly forward for a budget pair of headphones, especially in the mid-mid range. The higher end of the mid-range does dip a little bit, so you don't hear a lot of detail in that range. Lastly, the high-end response is a bit dull as it rolls off towards the higher end of the frequency spectrum.
The headphones also have good imaging performance, which is required to place objects around stereo space accurately. Unfortunately, due to the on-ear design, the soundstage is rather poor, and the audio mostly sounds like it's playing in your rather than around you as it would if you were listening to a pair of speakers or live audio.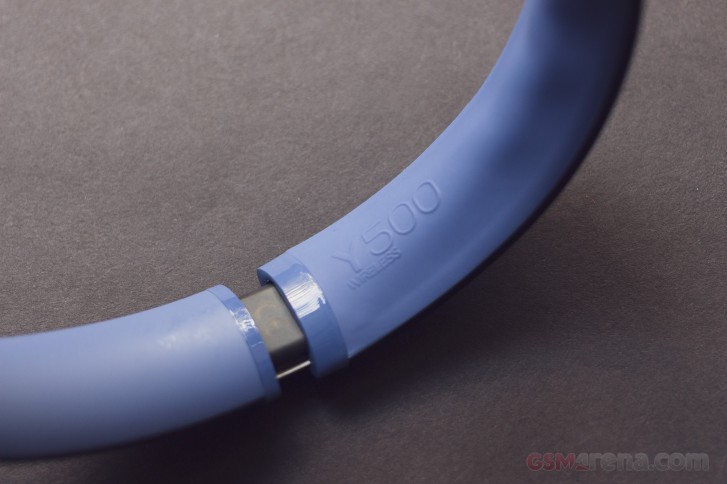 Another drawback of the ear cup design is how much it affects the audio performance. The ear pads have been designed with small perforation in the center to minimize audio leakage inside and out. The downside of this is that the ear pads have to be placed quite accurately on your ears for the best possible sound. This isn't as easy as with earphones, which only go in one way. With headphones, they can be placed in infinitely different positions on your ears with minor adjustments, and only some of these sound good. If placed incorrectly, the bass response is lost as the sound is now leaking out. I often found myself constantly adjusting the ear pads on my ears to get the best seal and it didn't help that the headphones kept pausing the music as they were moved around.
If you do get a good seal, the noise isolation is quite good for a non noise canceling pair of headphones. They also don't leak much sound out and are barely audible unless you're really blasting at extremely high volume in a really quiet room.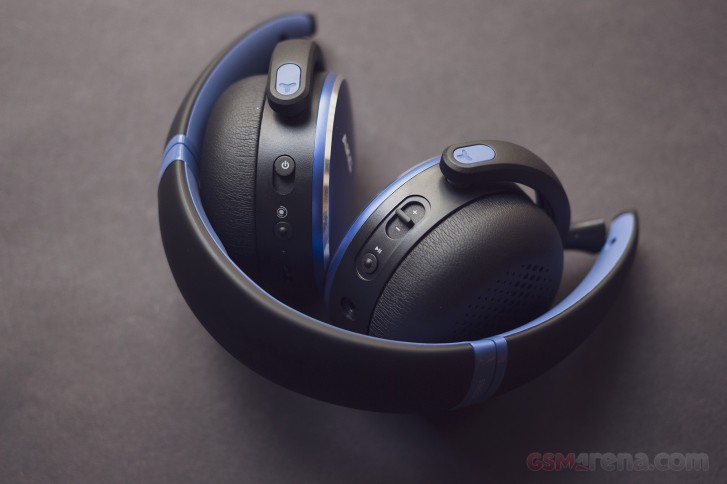 AKG claims 33 hours of battery life for the Y500, which is very impressive considering their relatively compact size. It took me several days of use to run down the battery, and I've had to charge them only once since I've had them. You can go through even the longest flights with layovers with these on a single charge.
Overall, the AKG Y500 Wireless are a good pair of headphones with a stylish, compact design, good audio quality and great battery life for around $149. My major issue with these is the design of the ear cups, which is uncomfortable and also makes it difficult to get reliably good sound every time without constant adjustments. If a compact, lightweight design is your priority and you don't mind headphones that sit on your ears rather than around them, then these should be perfect for you. Otherwise there are other more comfortable albeit larger options available for the same price.
Related
They have another issue, after a while they go in standby and is not possible to turn on again, I need to turn it off and turn on again
Spot on.. Y50bt are superb sounding cans..For people who got tired of cables and wanna go wireless those are excellent value,about $150..they look cool and build quality is very good,as expected from AKG..
Anonymous
31 Oct 2019
t11
on ears are never comfortable facts
Popular articles
Popular devices
Electric Vehicles