Alcatel at MWC 2018
GSMArena team, 24 February 2018.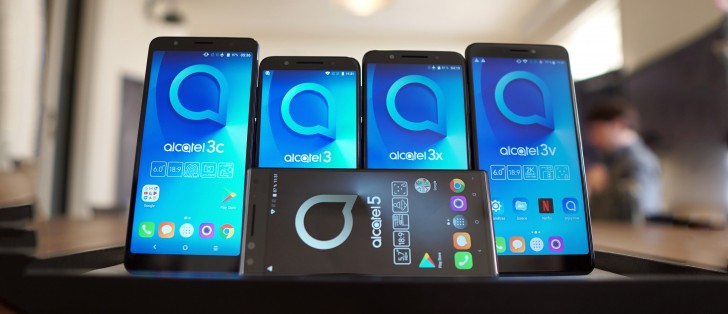 alcatel 5 hands-on
Given the company's recent track record, we've already come to expect extra-tall devices from the likes of TCL across most, if not all of its lineup. The alcatel 5, however, takes display experimentation one step further. Almost entirely lacking a bottom chin and with pretty thin side-bezels, it is a head-turner for sure.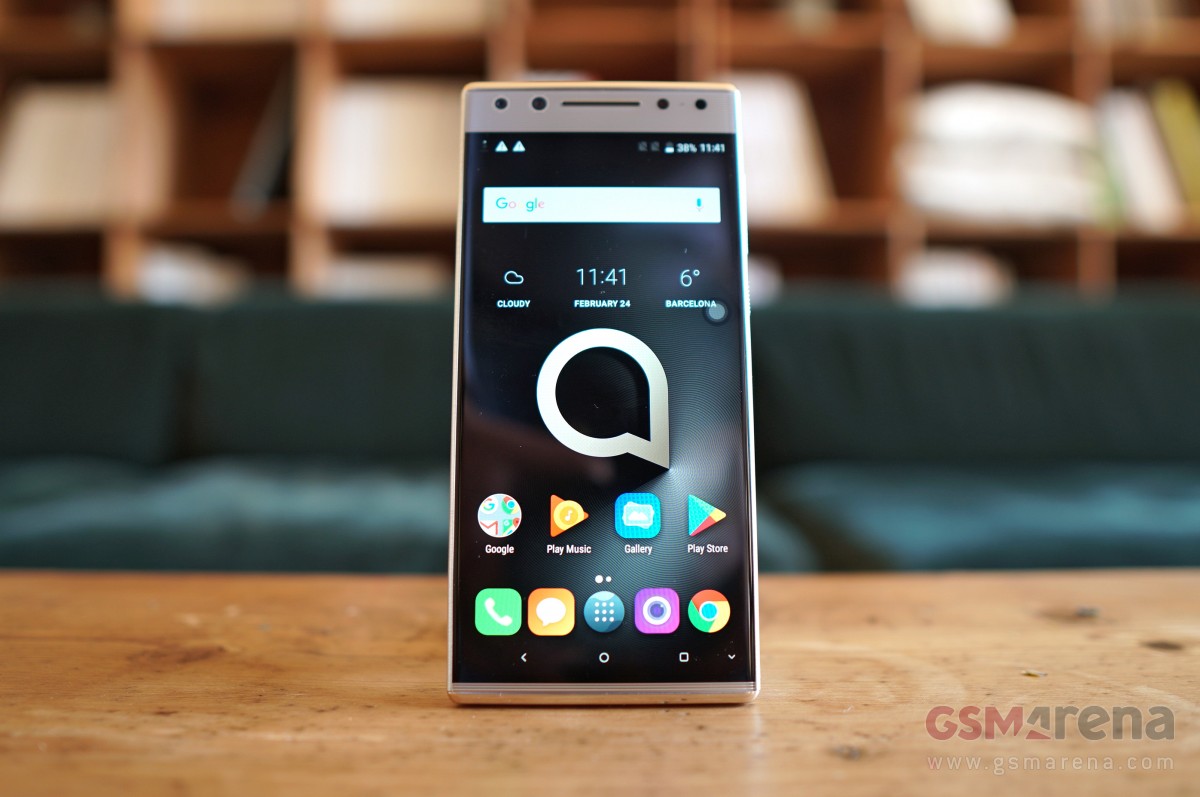 However, even after our brief time with the alcatel 5, we can already say shaving off the area underneath the display entirely is not a good idea. According to TCL, the goal was to make the top of the 5.7-inch, 18:9 panel easily accessible for one-handed use. But unless you have freakishly long fingers, that isn't really feasible without doing a hand-shuffle, most of us have already grown so accustomed. What the new design does achieve, however, is diminished reachability for the on-screen navigation bar at the bottom. Ergonomics are not great on the alcatel 5.
While on the topic of display, we were a little surprised to learn it only has a native HD+ (1440 x 720 pixel) resolution. Not that we really managed to spot any discernible separate pixels, but the cheaper alcatel 3V does feature a FullHD+ panel and TCL is officially positioning the alcatel 5 as an affordable flagship. The front of the phone is also a major fingerprint magnet.
On a positive note, however, the display does have pretty nice viewing angles and gets plenty bright to use in the sun.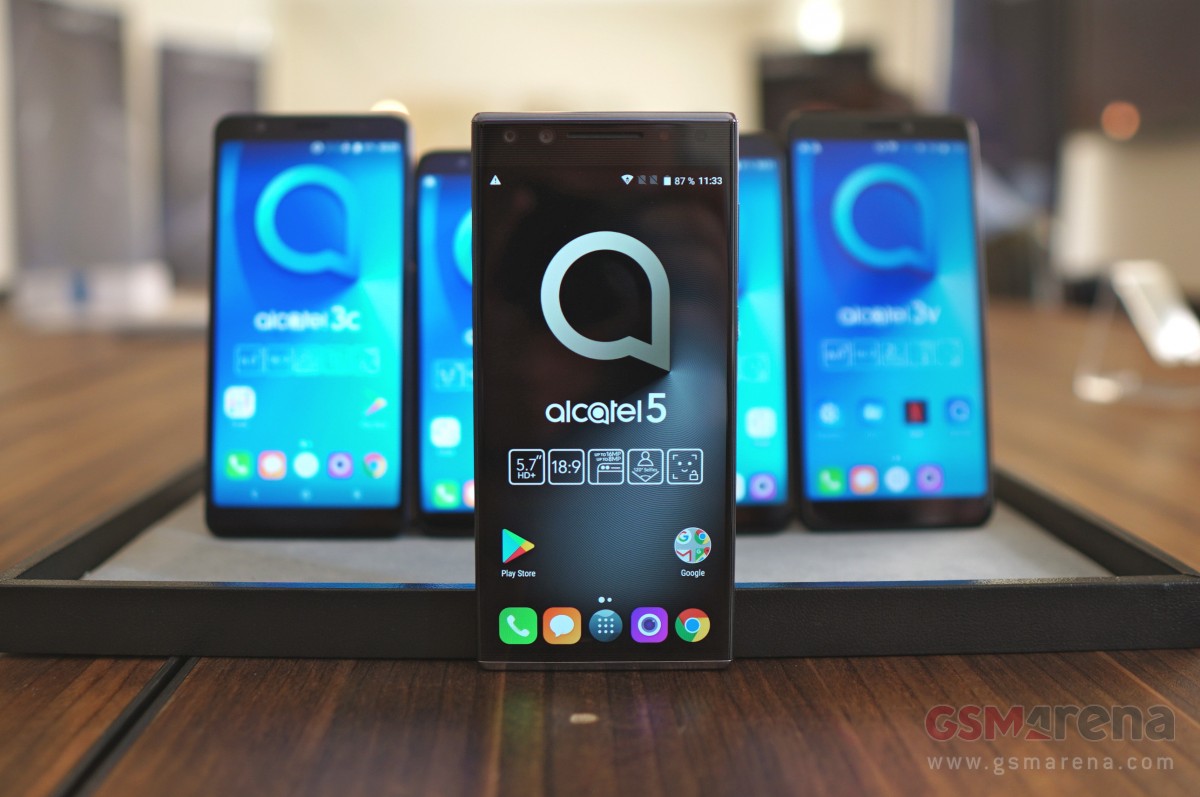 Ergonomics aside, the body on the alcatel 5 actually feels pretty good and surprisingly light, given that it looks metallic. TCL representatives were kind enough to confess that was all smoke and mirrors, since the alcatel 5 is plastic all around. Still, nice job on the "metallic painting" in both black and gold. The only real give-away for the bill of materials we managed to spot was a little give on the back side of the unit.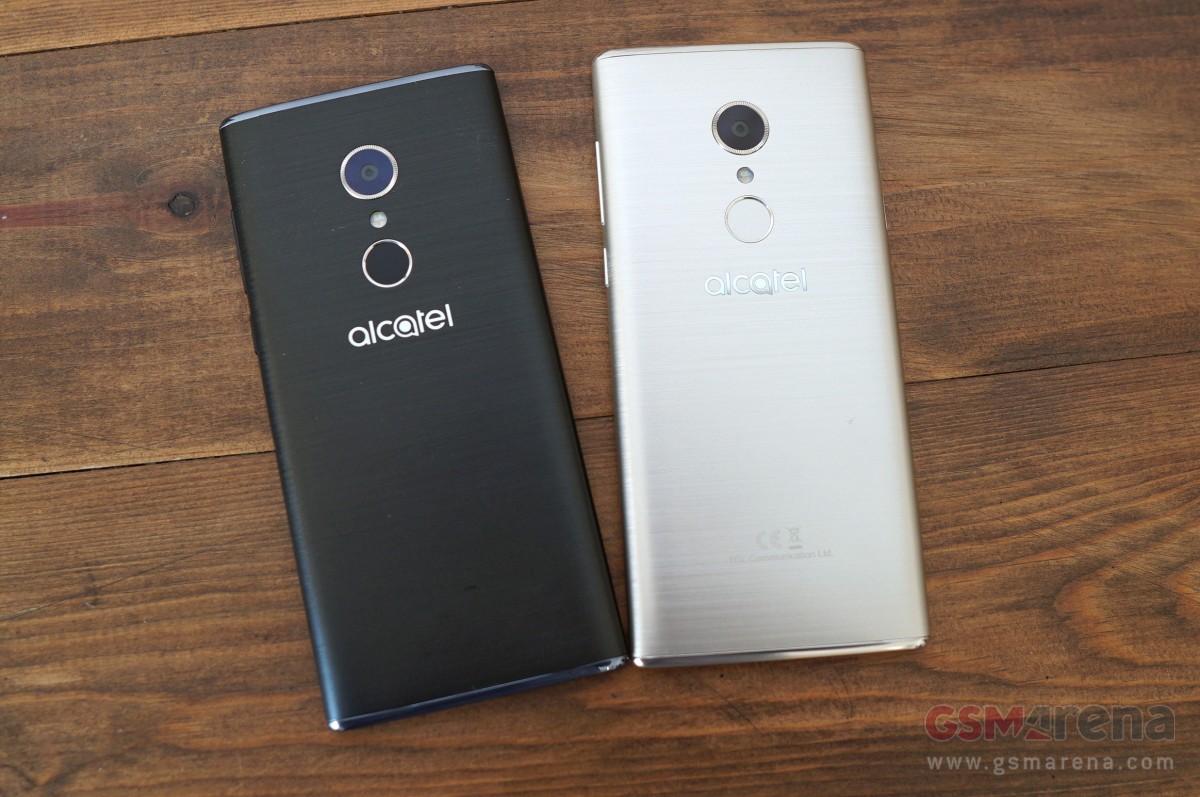 Since we are already talking about the back panel, it houses a snappy fingerprint reader. Still, TCL is shifting the spotlight away from it, in favour of a face unlock feature, which it calls "Face Key". Our preliminary impressions of it are quite positive - it's both quick and reliable. But, we do get the feeling most of the heavy lifting is done by Google's face unlock system, already part of the Android OS. Even so, that's not really criticism. The thing we didn't entirely enjoy was the fact that the power button on the alcatel 5 is angled just slightly towards the back and is a bit mushy. Finding it is quite easy, thanks to the textured finish, but the other parts of the experience are not ideal, since you do have to press it to trigger the otherwise convenient "Face Key" unlock.
TCL seems to have put some extra effort into the camera experience of the alcatel 5. The main 12MP, 1.25 μm, f/2.2, EIS-enabled camera looks pretty decent on paper. Considering the phone's sub EUR 300 price tag, of course. There is some interpolation weirdness going on, but, thankfully, it is optional and you can simply choose not to handicap your photos and shoot in native 12MP mode.
The selfie camera might also offer some interpolation options on certain variants of the alcatel 5, but those should thankfully be optional as well. Other than that, the selfie experience is surprisingly impressive. Don't get us wrong, the 13MP, 1.4 μm, f/2.0 primary shooter, augmented by a 5MP, ultrawide secondary one, can't offer any paradigm-shifting quality. Still, upon preliminary inspection, it gives a solid performance. The more interesting aspects include EIS, as well as a 120-degree wide field of view and some camera smarts to go along with it. The selfie cam managed to detect three faces and automatically switch to group selfie mode. Neat!
TCL is releasing the alcatel 5 right away in quite a few variants, including optional Dual-SIM support, 2GB RAM, plus 16GB expandable storage, or 3GB, plus 32GB and a couple of color options: Metallic Gold and Metallic Black. The asking price is competitive - 230 euros. TCL is will also be offering its own official texture cases for it. These look very similar to the popular Google Pixel 2 ones, only a bit softer and bendier.
They need to bring all the Alcatel phone back I had bought my first one in 2018 I really enjoyed it I cracked the front of my phone about 5 months ago and it was hard to replace because they weren't making these phones anymore and I really enjoy...
Anonymous
21 Jul 2020
8qa
I need battary for alcatel 3 v
Monica Patton
22 Mar 2019
EJ3
Alcatel tables