Hands-on of Alcatel Pixi 3 (8), Fierce XL and more: Alcatel at CES 2016
Alcatel at CES 2016
GSMArena team, 6 January, 2015.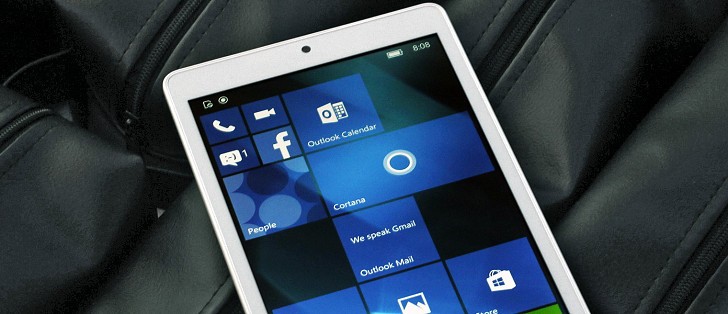 Alcatel Pixi 3 (8) hands-on
The newly announced Alcatel Pixi 3 (8) sure sounds good on paper despite of its little bit archaic specs. It's an 8" Windows 10 Mobile slate and the OS has proven lightweight already - its previews have been available and running OK on phones having as low as 512MB RAM, so we are definitely not worried.
The Pixi 3 (8) packs an IPS screen of 1280 x 800 px resolution, and runs on the Snapdragon 210 chip. The SoC offers a quad-core 1.3GHz Cortex-A7 processor, Adreno 304 GPU, and 1GB of RAM. Indeed, those are quite dated, but more than enough to run smoothly the Windows 10 Mobile OS.
The tablet offers 32GB expandable storage, a 5MP main camera, and a 4,060 mAh battery.
The Pixi 3 (8) is made of matte plastic and you can have it in black or white. The design is comfy and handling is very good. Overall for an entry-level slate, the Pixi 3 (8) does very well and with the right pricing it may become an excellent offer.
Alcatel Fierce XL hands-on
The Fierce XL smartphone was announced in the penultimate day of 2015 year and is headed to T-Mobile US. It may become available to other carriers as well, but there is no additional information right now.
So, the Fierce XL is a Windows 10 Mobile smartphone with a 5.5" HD display and runs on the Snapdragon 210 chip, which seems to be a personal favorite for Alcatel. Unlike the Pixi 3 slate, though, the Fierce XL comes with 2GB of RAM.
The rest of the specs include 16GB expandable storage, an 8MP main camera, and a 2,500 mAh battery.
The Alcatel Fierce XL smartphone is made of matte plastic as well and provides for a pleasant handling and good grip. The phone isn't that compact, but the 5.5" size is becoming rather common these days, so no complaints here.
Finally, the Windows 10 Mobile OS ran smoothly and hiccup-free, so it should serve well to anyone who opt for this Alcatel. Once again if price right, say $0 with a contract, the Fierce XL may account for quite a few shipped units.
Within the first week of having the Alcaltel One Touch Fierce XL, I had problems with the phone freezing (unable to receive or make calls, no dial tone, etc.). I was instructed to return it and was sent the same model phone with the same problems. ...
I will not get another its slow I just find too many frustrating factors with this phone ,but its too late to take it back so im stuck with it for the time being.Sorry Alcatel you need to do better.
looks promising. will have to give one a go as im a windows fanatic oo yeah! get rid of my acer tablet.