Alcatel Idol 4s review: VR Gateway
VR Gateway
GSMArena team, 22 July 2016.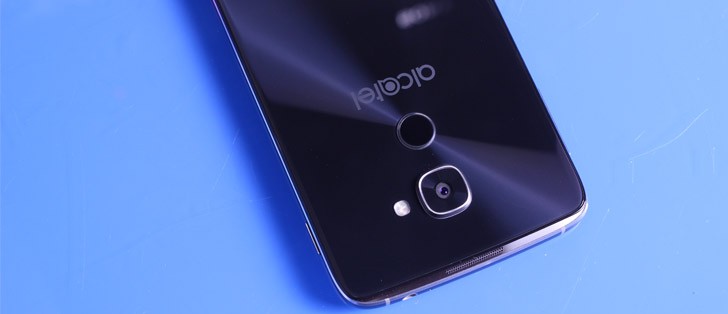 Software
The Alcatel Idol 4s boots Android 6.0.1 Marshmallow out of the box. The software in question has a very vanilla feel to it, most likely because of the decision to stick with a Google-style vertical app drawer. However, there is still quite a bit of manufacturer customization and tweaks all around. For one, the default icon pack has a distinct minimalistic look to it and so do most other elements of the main UI.
Alcatel has kept thing neat in terms of apps as well. The few pre-loaded things outside the core apps and the Google suite are mostly related to the VR aspect of the Idol 4s package and can't really be considered bloat. More on that later.
The lockscreen of the Idol 4s actually has quite a lot going on. Besides the duo of standard quick-unlock swipe zones near the bottom two corners and wallpapers that change upon every unlock, Alcatel has also added a row of five shortcuts. These can naturally be customized and rearranged to your liking with quite a few interesting options, like 'Add event' or one gesture 'Navigate home'.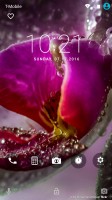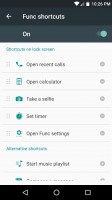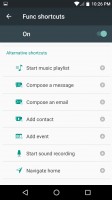 Lockscreen with Func shortcuts
Moving on to the Home screen, there is nothing really special to discuss. It is a standard setup with multiple pages for widgets and shortcuts. The bottom row of shortcuts stays anchored to its place.
There is nothing really worth noting in the app drawer either. Alphabetical order, a search bar all done with a nice and flat design. No folders though, as they are only reserved for the Home screens.
The notification shade is quite stock-looking as well. There is the brightness slider on top with a big AUTO toggle text to it. Underneath that, an editable collection of quick toggles. The Max Audio toggle is definitely an attention grabber.
As already mentioned, the Alcatel Idol 4s has a pair of 3.6-watt, two-directional JBL certified speakers. MaxxAudio was brought on board to provide the software necessary to properly drive said speakers with really lovely results.
The rest of the settings options in the Idol 4s is pretty standard. There is one notable exception - the Boom key. It has been around on certain Alcatel devices for some time now and with mostly the same feature list. The button in question can serve different purposes depending on the context ranging from enhancing audio or quickly launching the camera all the way to activating the car's boost in a racing game such as Asphalt Overdrive.
These features are also not set in stone and there is some degree of customization left to the user.
Cost-effective VR is definitely a primary selling point for the Alcatel Idol 4s and a substantial part of the default software is created to power the trendy experience. Alcatel claims the whole system is as straight-forward as possible, alleviating all the possible hurdles a novice VR user could encounter. And while the end result is far from perfect, we can definitely see a lot of effort has been put on the manufacturer's part.
The Idol 4s comes with a dedicated VR launcher similar to what you get with the Gear VR. It launches automatically once you place the phone it the viewer and works fairly well. The UI follows you wherever you look and if you start drifting too far away from your starting position, it follows along as well, so you can't really lose it no matter how much you turn.
It also shows a neat QuickStart tutorial upon first launch that even clarifies where on the phone you need to put each type of 3D convent, so you can view it. The launcher itself contains a total of eight categories: shows: games, video, photo, 360, 360 photo, tutorial, and Littlstar, the last being a content provider Alcatel has teamed-up with.
The launcher might not be close to perfect, but sadly, content isn't all that abundant or impressive either. Out of the box you get a bunch of fuzzy-looking 360 pics and videos. Littlstar has quite a few extra experiences to offer, but, overall, what you get by default is just a basic taste of VR.
Now, as already mentioned, Alcatel's VR experience isn't quite as sophisticated as Samsung's Gear VR and is quite a bit closer to what Google Cardboard offers, only with a few improvements. This becomes even more apparent when you realize the viewer is actually compatible with Cardboard content.
Downloading the Cardboard app and using it as a stepping stone into the VR realm is definitely a good idea as you get a lot more content to play around with. Also, there is the convenience of easy access to 360 degree videos on YouTube and Street View in 3D. You can also check out Alcatel's bundled VR store, but most of it links to Google Play anyway.
LOOKIng for the old Alcatel phone calls only and messages. About 4years old
It's two different phones judging by pictures in your review and by specs in specifications. One has got a fingerprint and the other one hasn't got it.
My goodness.Amazing that Alcatel has made a risk to go so far beyond a average midrange class!!!Something newly must have happened in Alcatel!!Hopefully,gsmArena had gone to cons or disadvantages too!!!A good news anyway!!....Justice Rights....