Idol 4 and 4s, Plus 10, POP4, POP4+, and POP4S: Alcatel at MWC 2016
Alcatel at MWC 2016
GSMArena team, 20 February, 2016.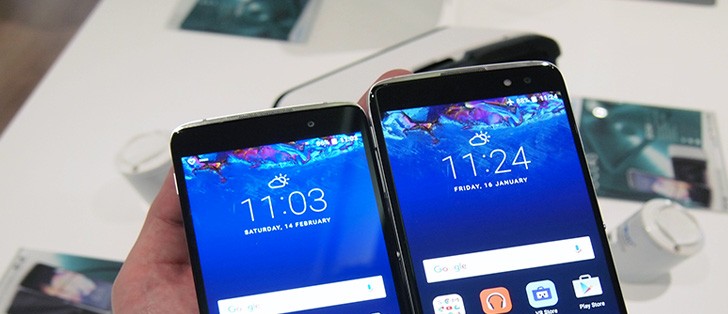 Alcatel POP4, POP4+, and POP4S hands-on
In keeping with traditions, Alcatel took full advantage of the MWC 2016 stage and made sure to update its POP line as well. The refreshed 2016 lineup includes three base models - the POP4, POP4+ and last, but not least, the POP4S.
For the most part, the line has stuck to its affordable roots and has come up with lower-specced devices. However, this year the top model in the lineup comes with a nice specs sheet, threading in mid-ranger territory. Before we dive in the specs themselves, it is also worth noting that more variations on these three core options are most likely going to appear as well at some point or another. Alcatel's current business model demands it, as it does tend to cater to carrier needs rather than end-user market and is thus highly flexible for modifications.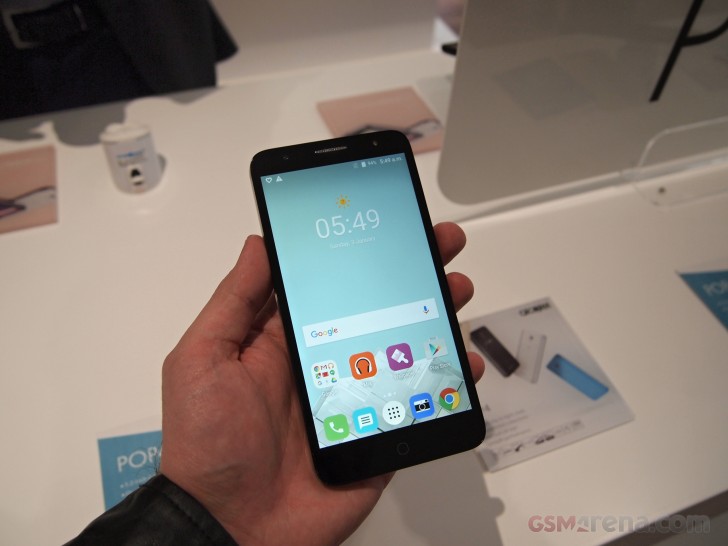 An unfortunate consequence we experienced first hand is that information printed out at the Alcatel booth was often misleading and a strange mix of various specs sheets and facts. Luckily, the press releases got everything right, so we can share our initial hands-on experiences with confidence.
The central topic in the new POP 4 series is improved style and customizability. It shouldn't surprise anybody that the material of choice in the budget-friendly family is still plastic, although, to Alcatel's credit, it has tried its best to do as much as possible to refine its exterior.
All three units now have a trendy curved back design and the plastic is complete with a brushed steel effect, much like on an Asus Zenfone 2, although, admittedly feeling a lot less sturdy. Don't get us wrong, everything is nicely put together, but the units just don't appear solid and are also lighter than they appear.
As for customizability, color plus pattern options are abundant, to say the least: Hairline-Brushed, Leather, Wood and Baby Skin, to quote a few of the available covers.

Moving on to the units themselves, first up, we have the POP 4. It comes with a 5-inch 720p, IPS display. It is the lowest model up inside it there is a rather underpowered quad-core Qualcomm Snapdragon 210 SoC, along with 1GB of RAM and just 8GB of onboard storage, thankfully expandable with up to 32GB more.
Still, despite all the cost reductions, it still has Cat.4 LTE and an 8MP primary shooter plus a 5MP front-facing one, with 84.4 degrees wide-angle lens. As for the actual feel of the unit, it fits snugly in the hand and is comfortable to work with, although, as already mentioned, somewhat too light.
The displays on the POP4 units are perfectly decent. Max brightness is ok and so are viewing angles. Colors, however, are somewhat washed out, and that goes for the top-end FullHD model as well, but we can't be too picky.
Moving up in the food chain, we have the slightly upgraded POP 4+. Its display goes all the way up to 5.5 inches but has kept the same resolution. Another change is the 1.5GB of RAM and 16GB of storage. The processor, camera, battery and everything else remains the same.
Then there is the POP 4S Its footprint is quite close to its sibling's and understandably so, as it does have the same 5.5-inch display, only with FullHD resolution. The RAM amount is 2GB while storage stays the same at 16GB.
The camera setup has also been improved with a 13MP shooter on the back and the same 5MP on the front, and the battery is rated at 2960 mAh. However, it's the eight-core MediaTek MT6755M SoC and the addition of a fingerprint reader that truly set the POP 4S apart and allow it to step into in mid-ranger territory.
It is also worth noting that the POP4 line boots the latest Android 6.0 Marshmallow OS, but the included colorful skin does seem a bit too juvenile to our taste.
I got an alcatel pop 4+ three months now and the camera stop working and everything stored on the phone is erase
How do you reach your private picture album
Anyone rooted this phone yet?