Amazfit GTR watch review
GSMArena team, 30 Oct 2019.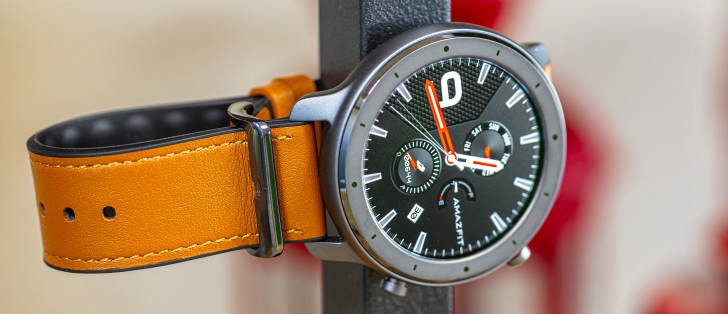 Software
Flipping through the UI on the Amazfit GTR and the options it offers comes with a touch of nostalgia. Remember getting a new phone back in the day when phones didn't have a unified UI but relied on custom implementations with hidden features throughout the menus? Yes, these were good times.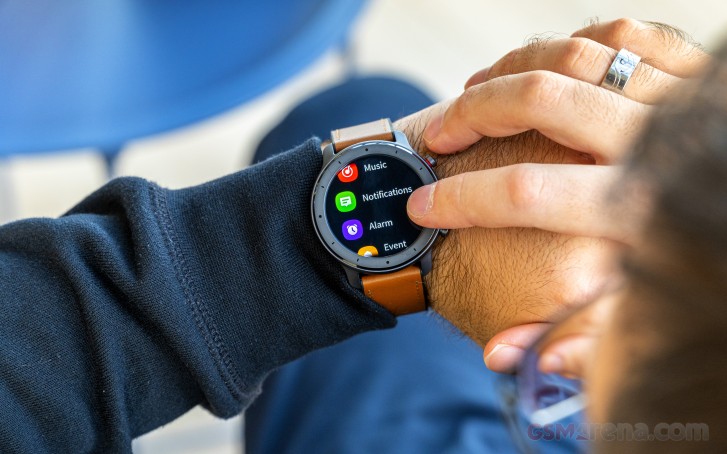 The menu structure on the Amazfit GTR is pretty simple and rarely goes more than a level deep. The two hardware buttons are quite underutilized. The top one turns the display on or off, and if you happen to be anywhere within the menus of the GTR, it always brings you to the watch face.
If the screen doesn't wake up when you bring your wrist up, you have no other option to wake the watch but to press the button. Of course, this is a non-issue if you decide to leave the display always-on.
As for the bottom button - in Huami's current setup, it is only a quick action shortcut. This is referred to as "quick start-up" and offers a few options: Status, Heart rate, Workout, Weather, Notifications, Event reminder, Alarm, Compass, Count down and Timer.
This shortcut only works if you are on the watch face. The only other feature the second button has is stopping active exercise tracking by long-pressing and exiting out of battery saver mode. In any other part of the UI, the bottom button does absolutely nothing. Just like the top button, the second one does also wake the screen, which is convenient. Still, we feel like Huami could have made it a back button at the least.
Speaking of Back, unless you always want to end up on the home screen, you need to get into the habit of mostly ignoring the buttons altogether and stick to swiping. Left to right is the system-wide back gesture. Tapping and scrolling are pretty straight-forward inside the UI itself. Swiping left and right on the watch face gives you access to a live heart rate measuring UI and your step count, respectively.
Speaking of the UI in general, it is pretty well-designed overall. It's simple and straight-forward with nicely laid out options. It also looks quite well. It is rocking colorful round iconography and pretty much universally dark backgrounds for better battery life.
The only real complaint we have with the UI is probably not the UI's fault, to begin with, and it has to do with performance. The GTR is clearly powered by custom hardware which is modest at best. This leads to a noticeable "chug" throughout the UI. Even so, if buttery-smooth frame rates are not particularly high on your list of wearable must-have features, we can promise you that the GTR is still fast enough to live with and perfectly usable.
Features
Now that the general software bits are out of the way, we can circle back to the original plan of taking a tour around the features the Amazfit GTR offers. We'll start on the wearable itself and then move on the companion smartphone app. We'll also do out best to share our experiences with said features and how well they work.
Starting from the watch faces, since that is kind of the spotlight feature on a modern wearable. Further proving that the GTR has rather limited resources to work with, the watch only comes with three faces loaded on the device itself. In fact, that's the maximum number it can take, at least out of the box. The already vibrant modding scene could figure a way around that in the future, but even so, the GTR is clearly meant to be lighter on the software side of things, with many bits and pieces of customization and functionality hosted on the smartphone side of things and provided as needed.
That is especially true for the watch faces. The Amazfit app has a surprisingly healthy and growing number of faces up on offer (72 at the time of writing). Choosing one of these is followed by a rather slow process of transferring said style on the watch via Bluetooth in place of one of the default three. It's the same system that other Amazfit devices like the Bip utilize, and it is definitely good enough for the average consumer. Less than ideal if you are the kind of person who likes to frequently change-up styles. As for that pool of 72 available faces, it only includes the ones officially provided by Huami. Like we already mentioned, the GTR, just like other Amazfit devices, has a vibrant and buzzing modding community. So, with a few easy extra steps, you can have access to hundreds of additional styles. But, more on that in a bit.
As for functionality on the watch faces themselves, you can expect a varying amount of visualized data, but no interactivity. There are no customizable complications, like the ones on Samsung wearables or anything of the sort. Still, certain watch faces do include things like a live heart-rate readout, steps, distance, and calorie counters, as well as things like Bluetooth connectivity status and do not disturb mode indicators. Most users should be covered.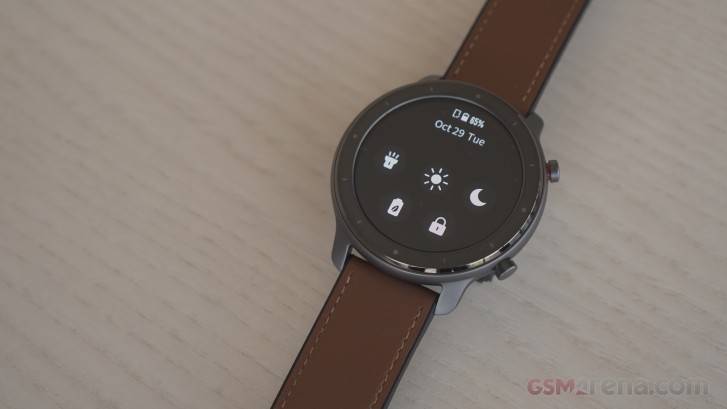 Speaking of interactivity, the GTR foes offer a bit of it, easily accessible from the home screen. Beyond the two extra interfaces to the left and right and the customizable quick start-up button we already mentioned, there is also a sort of quick toggles interface available when you swipe down from the top of the watch face.
In the order they appear, the features here include: Flashlight - which simply blasts a white image at max brightness on the wearable's display. Then there is brightness control, complete with a manual slider as well as an auto mode. The latter relies on a luminance sensor underneath the OLD panel and actually works pretty well. Especially nifty outdoors. Do not disturb mode affects the notification on the GTR itself, rather than reaching over and controlling the same setting on your phone. You can have it manually on or off, as well as on a schedule. The latter lacks weekly functionality, though. There is also a smart option, which toggles DnD when the GTR detects you are sleeping. Also nifty and surprisingly well implemented.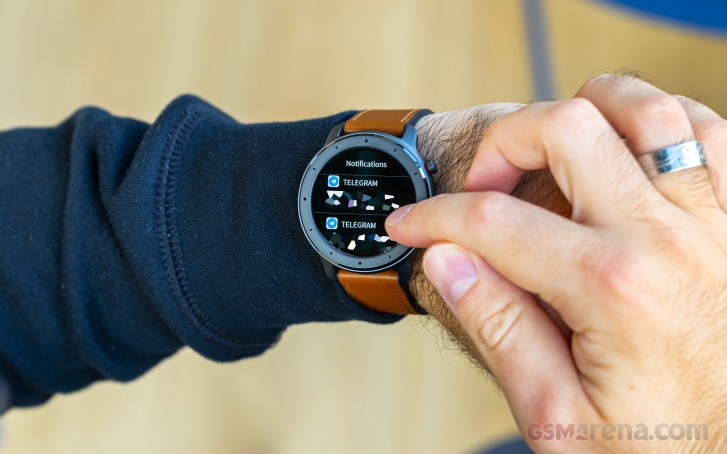 On the bottom role, there is battery saver, which turns the GTR into a simple watch, no Bluetooth, no Notifications, or specific activity tracking. It does still keep a step counter and sleep data, which you can make use of once you sync the GTR with the app. Huami claims that in this basic watch mode, the 42mm GTR can last 34 days on a single charge and a whopping 74 days for its bigger sibling. Last, but not least, the final option in this toggle area lets you lock the GTR and its touch screen, which is particularly handy while you are in the water. Water and capacitive touch typically do not play well together.
Swiping up from the watchface opens up the main menu, of sorts. Most options in the scrolling list are pretty self-explanatory. Status is a readout of your daily steps, calories, distance traveled and the number of times you stood up for the current day so far. The same interface is also accessible by tapping on the corresponding screen a swipe to the right of the watch face.
In the same way Heart rate is another way you can access the interface for taking a bps measurement on demand. If you prefer for the GTR to do that through its own volition, there are various options for that as well, including at timed intervals during the day and while you sleep and as part of active activity tracking sessions.
We won't really go through all the self-evident options, some of which are hidden away, rather inexplicably in a "More" section, but there are a few other interesting notes to make of some of the features. Weather relies on your connected phone to pull data. The same is true, in a way, for the Music app as well. It is just a remote for a player on your smartphone. The Amazfit GTR doesn't have enough memory of its own to store local music on the wearable itself. It also lacks streaming services and capabilities, so all you get is a multimedia remote. On the plus side, it does work pretty well, and most every app we tried that recognizes the standard Android play, pause, and next commands works great. You even get volume controls.
The Event reminder is kind of a bummer. While it does work well enough, it does not offer any integration with a third-party calendar app. Instead, you can only use it by setting events through the Amazfit app on the phone.
Battery life
If there's one main feature that sets the GTR apart from pretty much all of its competitors, it is battery life. That does require some extra clarification, though. Let's put it this way; if you want a wearable with a full size display and a classic wristwatch form factor, while enjoying the best battery life possible, then the Amazfit GTR is probably the current champion.
And believe us when we say, we've been keeping an eye on the industry for a device that meets these exact criteria for some time now. If you are happy with how the Amazfit Bip looks, it can still offer better battery life, a comparable feature set and a much lower price tag. It is also kind of undisputed in this regard within its respective wearable niche.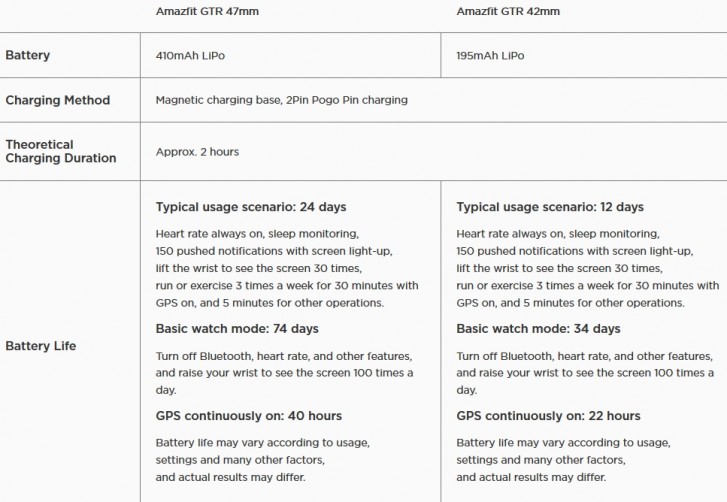 Huami is specific when it comes to its battery life estimates. We shouldn't forget that we are talking about an very small 410mAh battery being stretched-out to last over a whopping 74 days. That means that variance in your own personal use case as little as getting 200 notifications a day instead of 150, can put a dent in the battery measured in days.
We confirm we got the advertised 24 days on a single charge out of the 47mm Amazfit GTR (yes, it's been with us for a while now). That being said, we also looked around for other people's experiences since we have been genuinely impressed with how well Amazfit devices handle their tiny batteries. Most reviews and impressions agree that you can pretty much expect the battery to last you close to a month.
That being said, if you are after an Amazfit GTR of your own, we should note that there have been multiple reports of a defective battery batch, of sorts. Most users with such dud devices claim their units came with absolutely no charge out of the box, which is odd in itself, and then tend to discharge at a rate of up to 1% an hour. If you end up in this situation, definitely reach out out to the seller or Huami.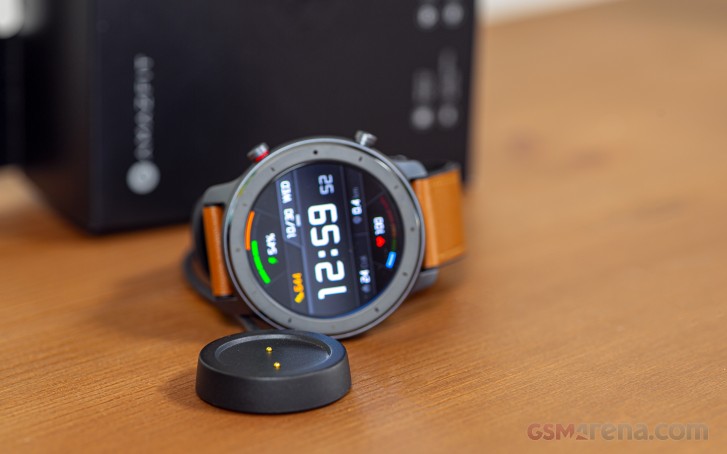 Pretty much in line with Huami's own measurements, our review unit charges in just shy of two hours. Like we already mentioned in the design section, the design of choice for the magnetic charging base is not ideal. We suggest leaving the GTR alone and far away from any vibration or accidental bumps while charging since the connection is disturbed relatively easily.
Amazing watch for every moment. Great display, nice colours, heart rate mesure very well and the design is excellent with nice feeling in your wrist!!! Even in your sleep does not bother at all. Great watch!!!!!!!
GPS function is too poor, rarely gets GPS signal. When it works, it's imprecise and loses the signal soon.