AMD announced 2nd generation Ryzen desktop processors
Prasad, 13 April 2018
AMD has finally announced the 2nd generation Ryzen desktop processors. Four models have been announced, two Ryzen 5 and two Ryzen 7, all of which are available for pre-order now and go on sale April 19.
Today's launch comes with very little information. All we know for sure right now are the basic specifications of the four new SKUs. We are not entirely sure of the range of differences between the first and second generation Ryzen processors. All that and much more will be revealed on April 19.
Let's talk about what we know today. The four SKUs launched include the Ryzen 7 2700X and Ryzen 7 2700 at the high-end and the Ryzen 5 2600X and Ryzen 5 2600 in the popular mid-range segment. All of the new processors use a 12nm process and based on the new Zen+ architecture.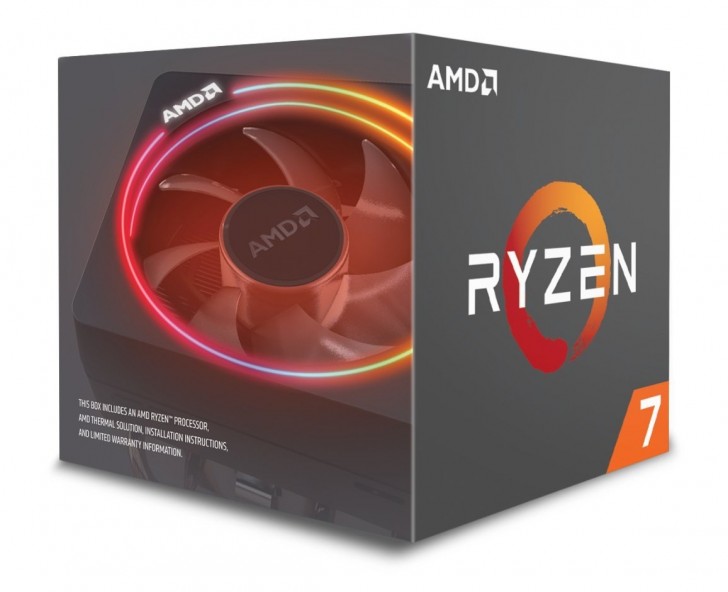 The top of the line 2700X has 8 cores and 16 threads, with 3.7GHz base clock and 4.3GHz boost clock speed. It has 20MB 'Smart Prefetch Cache', which is 4MB L2 cache and 16MB L3 cache. The TDP is 105W. The 2700X comes with a new Wraith Prism cooler with RGB backlit clear blades and four direct-contact copper heat pipes. It's priced at $329.
The 2700 also has the 8/16 core/thread count and the same amount of cache but has lower 3.2GHz/4.1GHz base/boost clock speed and a lower 65W TDP. It comes with the Wraith Spire cooler with RGB ring and is priced at $299.
The 2600X is a 6 core 12 thread part with 19MB combined cache, 3.6GHz base and 4.2GHz boost clock speed. It has a TDP of 95W, comes with the standard Wraith Spire cooler and is priced at $229.
Lastly, the 2600 has the same number of cores, threads and cache as the 2600X but 3.4GHz/3.9GHz base/boost clock speed and 65W TDP. It comes with the basic Wraith Stealth cooler and is priced at $199.
Along with the new CPU, AMD also announced the X470 chipset for motherboards. Again, we don't know a ton about the new chipset and how it differs from X370. Fortunately, you can still use the new CPU with the older AMD chipsets from last year and the older CPU can run with the new X470 boards. OEMs such as ASRock, ASUS, Gigabyte and MSI will soon be announcing their boards with the new chipset.
More will be revealed on April 19. Meanwhile, if you have been waiting, you can now pre-order from Amazon.
Related
Anonymous
03 Jul 2019
MA1
Too bad that Wraith Prism Cooler is RGB garbage. My 2700x goes to 74º degrees on full load. Rather have something functional rather than something pretty.
Ah, so Ryzen 1st gen was soldered while new Ryzen 2 isn't?
Lets put desktop processor version aside, you said Intel processor is smaller compare to other competitor? U kidding right? for example :- Atoms, Snapdragon who is bigger? U know why Intel leave smartphone market? Because they have fail to make...
Popular articles
Popular devices
Electric Vehicles