Analysts: almost half of the Apple smartwatches shipped are Series 1
Peter, 05 November 2018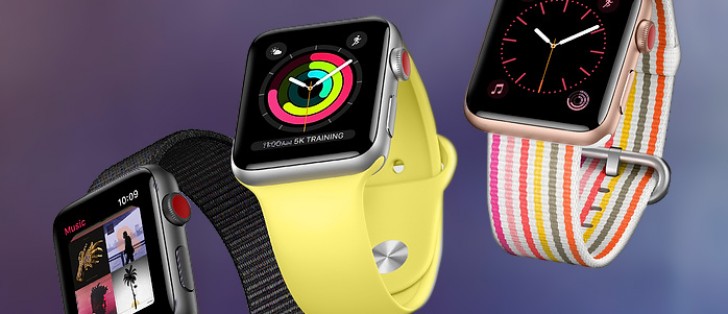 The smartwatch market is picking up speed. It grew so fast – 53% year over year based on data from Counterpoint – that even though brands shipped more units than before, their shares fell.
Apple remains king of the hill. The reception of the Apple Watch Series 4, the biggest update yet, was positive. The popularity of the Series 3 inched up as well, thanks to the newly lowered prices. This lead to a 24% increase in shipments in Q3 compared to the previous quarter this year.
However, the original Watch Series 1 made up the bulk of Apple's shipments, nearly half. The new models are expected to make a bigger impact over the holiday season.
The analysts have determined that people's focus on health and fitness is a major driving force in the growing adoption of smartwatches. That's partially why Fitbit saw a massive jump in shipments – it grew to from 6% a year ago to 16% this Q3. The Fitbit Versa was a particularly popular choice.
These watches run a more limited proprietary OS, but one that's geared towards health and exercise. Fitbit alone matched the market share of Android Wear watches (16% vs. 17% in Q3).
However, the company faces an issue – US consumers are interested in LTE-enabled watches. This is likely related to the above, LTE watches can function without a phone, which is a boon when going for a run or at the gym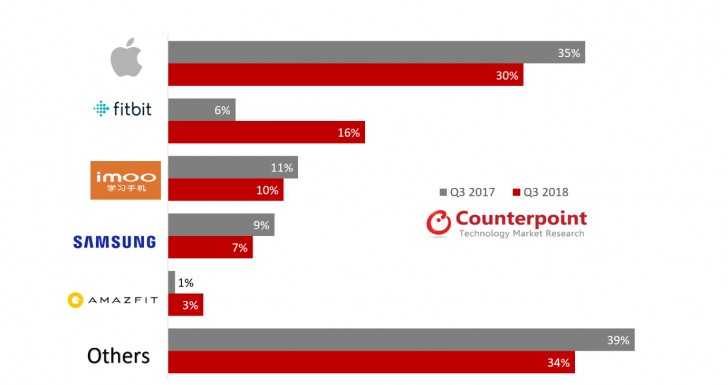 Kids' smartwatches are one of the fastest growing segments. They feature GPS tracking, which is a blessing and a curse – while they provide a peace of mind to parents, they cause security and privacy concerns.
Ever heard of Imoo? It's a BBK-owned brand and it controls an impressive 10% of the global market. Its bread and butter is kids' watches. There are several other brands known for their kids' watches and carriers are getting in on the action as well.
Huami Amazfit watches also run a proprietary software. The Xiaomi partner is still a bit player, but growing fast and it can leverage the popularity of Mi phones and the established chain of stores to gain ground in India.
Related
no way. analysts definetly excluded the real fitnes watches i.e. watches from garmin and suunto. No one who seriously run or cycling using iwatch or other toy watches
This is bad news. The Apple Watch v1 is quite bad, I much prefer the v2's under-the-hood improvements or something like the Huawei Watch v1 instead. They offer more functions, with a better screen, faster performance, and longer battery life. ...
Popular articles
Popular devices
Electric Vehicles