Android 10 Q gets rid of the navigation bar with new gestures, adds a dark theme, supports foldable phones and 5G
Vlad, 07 May 2019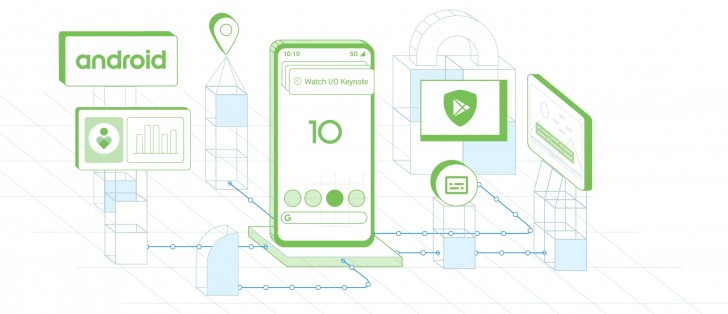 At its I/O developer conference today, Google shared some more details about the next iteration of Android, the OS that is currently used on more than 2.5 billion active devices. It will be version 10, but the company hasn't shared its final name. So for now, it's Android 10 Q.
Android Q will arrive with support for foldable form factors, empowering them and the unique use cases they will enable, adapting to different screen dimensions and letting you pick up where you left off as you unfold the phone, with a feature called Screen Continuity. Unsurprisingly, Q will also come with 5G support built-in.
Google is revamping its navigation gestures this year, which means it's finally getting rid of the navigation bar. This time around they'll actually be full screen gestures, and you'll get some extra screen real estate for apps with the disappearance of the navigation bar. You swipe up from the bottom to go home, swipe up and pause to show the recent apps menu. To go back, swipe from the screen's left or right edge.
Live Caption is a new feature driven by on-device machine learning that does exactly what its name implies: it captions things, live. The Live Caption function works for any media that's playing audio across the OS. Videos, podcasts, audio messages. As soon as speech is detected, captions will automagically appear. No internet connection required, no data ever leaves your phone.
Also powered by on-device machine learning is Smart Reply, which will seamlessly work for all messaging apps in Android Q, providing helpful suggestions for replies, but also actions. For example, if you get an address in a message you can tap on the notification to get to Maps directly, no need to open the messaging app beforehand. This also works with no info ever leaving the phone.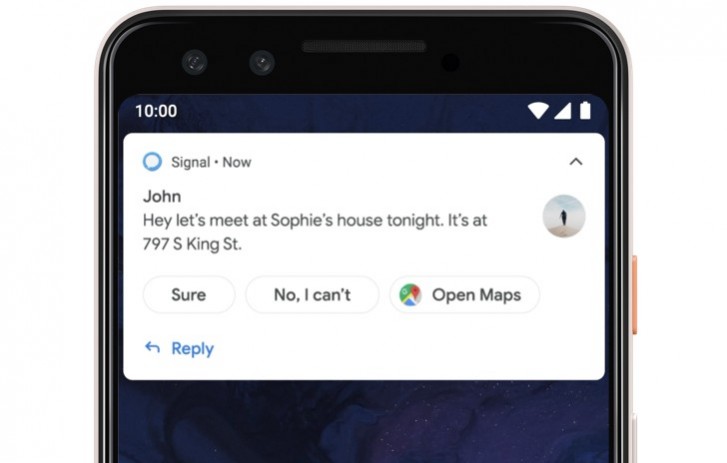 Dark theme is coming, and it will be turned on when you activate battery saver, or manually through a quick settings tile of its own. Not only does this change the system UI to dark, it also enables the dark theme of apps that support it. Alternatively, developers can opt-in to a new Force Dark feature that lets Android automatically create a dark version of their app's existing theme.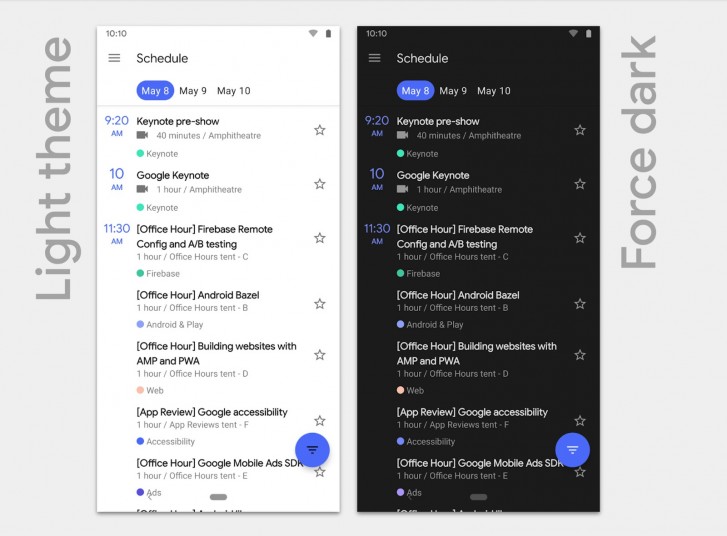 Android Q includes almost 50 new features focused on security and privacy - the latter gets a top level placement in Settings even. There are tools for more transparency around location too, because it's very personal info. So you get reminders for location usage if you're not actively using the app that's requesting your location. And you get fine grained control when granting the location permission, with three options: allow access all the time, only while using the app, or deny location access. Location is also at the forefront in Settings.
With the new Project Mainline, some internal components of the OS will be updated in the background, through Google Play, without requiring a reboot or a full system update from your phone's manufacturer. This will apparently enable faster updates for security, privacy, and consistency, but we'll see. Details are pretty thin at the moment as to what exact bits and pieces of the OS will be updated this way, and we've been burned before by Google's lofty promises of fast updates for non-Pixel devices.
Focus Mode is coming this fall to Android Q but also Android 9 Pie devices. This is meant to be used when you want to focus on getting things done without being constantly distracted by notifications. You'll first select apps that you find distracting and then they'll be disabled once you activate Focus Mode - until you deactivate it, of course.
Family Link parental controls will be included in Settings on every device that has the Digital Wellbeing features, starting with Android Q. When you set up a device for a child, Family Link connects it to your account and lets you review apps, set daily limits, view app time, and set a bedtime.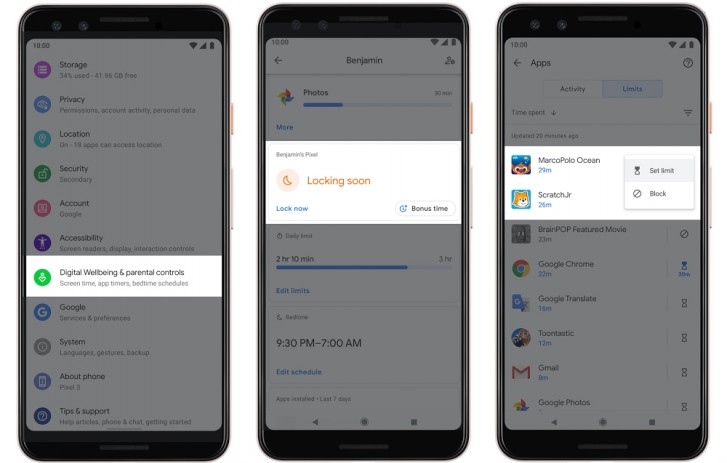 In Android Q, you'll also be able to set time limits on specific apps, and give your kid a bonus phone use period before bedtime.
A new Android Q beta will be available today for 21 phones from 13 brands, including all of the Pixels.
Related
That actually come from MeeGo Nokia n9;).
Anonymous
09 May 2019
PGq
It does in Android Q Beta 3. Good news for us :D "Quickly upon installing Android Q Beta 3, Pixel users will find three different navigation options. There's the "two-button" system with the "pill" and contextual back button, the completely revampe...
Anonymous
09 May 2019
7XY
True but ios made it better and mainstream, more "natural" to use
Popular articles
Popular devices
Electric Vehicles