Android 12 review
GSMArena team, 4 October 2021.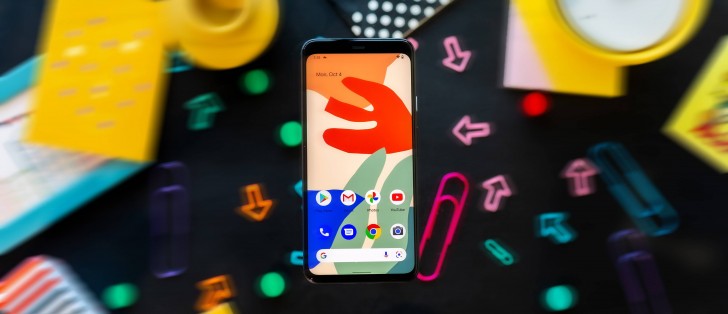 Pixel Launcher gains on-device search in the app drawer
The Pixel Launcher gets an interesting search function in the app drawer. This search bar no longer only searches through app names - it still does that, yes, but it also offers you results from the entirety of your device, so it surfaces contacts, conversations, tips, widgets, shortcuts, and even settings. Not just that, but for some apps, you have quick access to a subset of their features: search for Camera and not only can you jump to the app but also quickly take a video or take a selfie.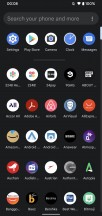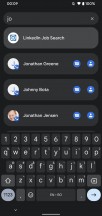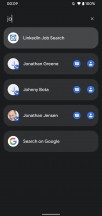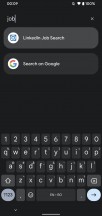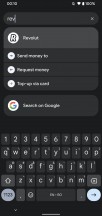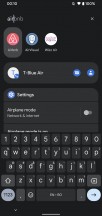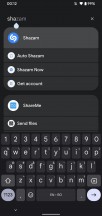 New phone search in Pixel Launcher's app drawer
All of this works thanks to a new API called AppSearch, which is an offline on-device library that third-party app developers can use too if they so choose. There's also a "Search on Google" bar that you can tap below all the surfaced stuff if what you need isn't actually on your phone. It's a nice expansion of the app drawer search functionality, though we're not sure how many people will even know it's there.
Sure, the bar says "Search your phone and more," which is a hint, but just that - a hint, and one that's easily missed. We also have to wonder why the Google search bar on the home screen can't do the same thing - that one defaults to a Google search instead and that there are two search bars in the Pixel Launcher that do very different things is rather inconsistent in our book. Then again, if they both did the exact same thing, we probably would have called them redundant.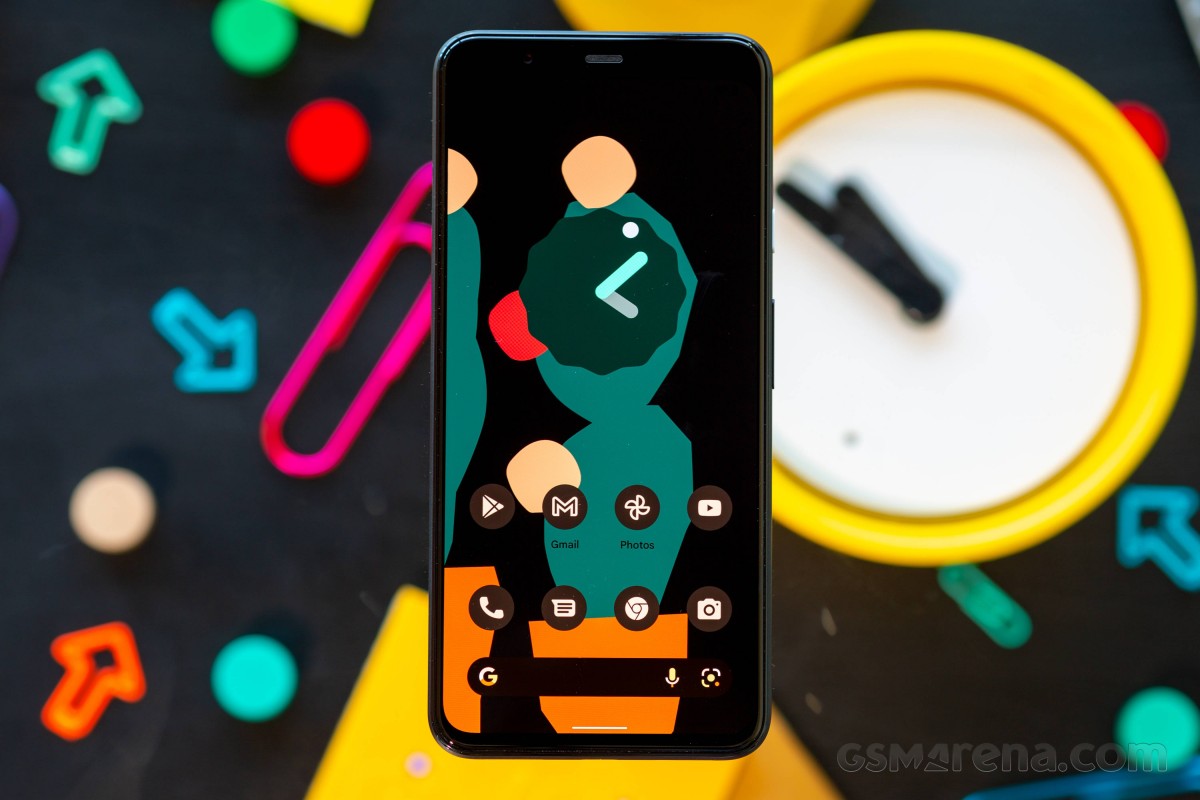 Perhaps the perfect solution, then, is to integrate what these two search bars do and have one that can find things on your phone but also on the internet. That seems like a much better option, as it requires zero thinking on the user's part ("wait, where do I want to search > which bar should I use then?") and should ideally "just work". Hopefully, that will arrive in Android 13; we're stuck with this disjointed system until then. None of this is to say that we're not happy with the on-device search bar in the app drawer - indeed, it has more (and more useful) functionality than before. It's just that it could have been ever so slightly better if searching Google didn't take an extra step.
Easily copy links and share Wi-Fi, app hibernation
In the Recent apps screen, when the focus is on an app that contains a URL - the best example for this is Chrome or another browser, obviously - you'll get a small button in the top right part of the app's snapshot. Clicking this button lets you quickly copy or share that URL - handy! If there's an image or video in view, you can also tap on that to easily share it too.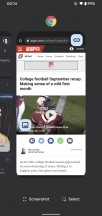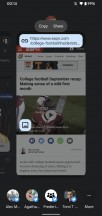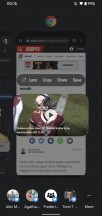 Easy access to link and image sharing in Recents
You can now easily share the name and password of a Wi-Fi network with someone who's close to you by simply going to Wi-Fi settings, selecting the network, and then tapping Share.
App hibernation is a new feature that is pretty self-explanatory - it "hibernates" apps that you haven't used in several months so that they use less storage. Their permissions are all revoked, too, when they go in this state. You can manually place an app in hibernation or let the system automatically do it once enough time has passed since you last used an app. You can take an app out of hibernation by simply using it again. Alternatively, you can go into Settings and toggle hibernation off or on manually.
Extra dim screen, window magnifier, new auto rotate behavior
If you ever found yourself trying to use your phone at night in pitch-black darkness and thought the display was still too bright even on the lowest brightness setting, Google has something that you'll really like baked into Android 12. It's called Extra Dim, and it's a new Quick Settings tile that will do just what it implies. Tap on it to turn your screen extra dim; tap again to take things back to the way they used to be. You can also find this in Accessibility settings.
If you long press on the tile, you get an adjustable intensity slider, as well as an option to keep the setting on (or not) after the device restarts. You can also enable button shortcuts for it - pressing and holding both volume keys will toggle Extra Dim on and off if you wish. In our book, this is a handy feature, and we hope every Android device maker out there implements it - in recent times, we found a bunch of OLED screens on various phones not being as dim as we would've wanted them to be on the lowest brightness setting. This fixes that.
Another new screen-related accessibility feature is the window magnifier, which lets you zoom in on a part of the screen only, while preserving the rest of the screen context. Hence it pretty much works as you'd expect a magnifying glass to.
Android 12 introduces a new behavior for automatic rotation of the screen. It's no longer a simple on/off switch whether the screen should auto-rotate; you now also have the option to Enable Face Detection.
If you turn this on, the phone will use the front-facing camera to improve rotation accuracy - the prime example use case would be if you're using the phone in bed and you're on your side. Without this setting, the OS would think you want the screen rotated into landscape, but with this setting, it will keep it in portrait as that's what you actually need.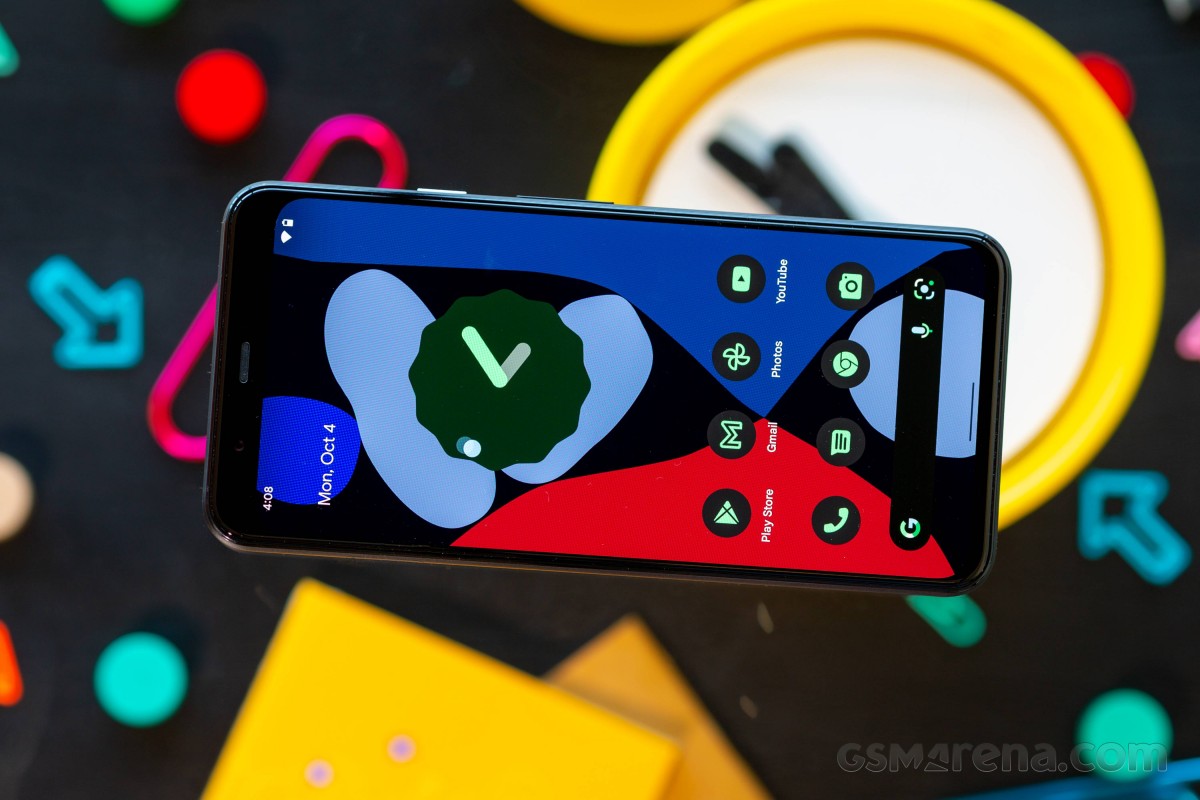 Images of your face used for this feature are never stored or sent to Google, the company notes. If you think you've heard of this before, you're not wrong - some Android skins have had similar functionality for a while now; it's just built right into Google's OS this time around.
Scrolling screenshots, picture-in-picture improvements
Another feature that most third-party Android skins have had for years and the stock build lacked is support for scrolling screenshots. After a few false starts in prior betas, this is finally part of Google's Android build with Android 12. Unsurprisingly, it does what you'd expect it to. When you capture a screenshot, you get the "Capture more" option popping up at the bottom. Tap that, and you can select how much of the current window to screenshot. Better late than never, then.
The Picture-in-picture window has some improved functionality too. Now when you single tap a PiP window, you'll see controls (previously, a single tap expanded the window and showed controls). If you double-tap a PiP window, this will toggle between its current size and the maximum PiP size (before, a double-tap left PiP and put you into full-screen mode).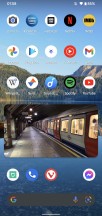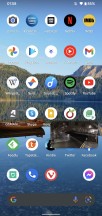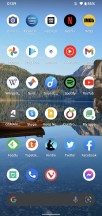 New Picture-in-picture behavior
Resizing the window can also be done with pinch to zoom, and exiting PiP mode also has smoother animations now. Finally, you can "stash" the window by dragging it to the left or right edge of the screen. To "unstash" it, either tap the visible part or drag it out.
Car unlocking
Like Apple, Google wants you to use your phone to unlock your car, and for this purpose, it's partnered up with several smartphone and car makers to establish an industry standard. This can work through NFC, in which case you have to tap your phone to your car's door. Alternatively, it can also work over UWB for devices that have that - and then you don't even have to take your phone out of your pocket to unlock the car. Once you have a virtual car key, you can share it with friends and family members (when they borrow the vehicle). This should arrive on BMW cars first.
Power menu, Google Assistant settings
As we mentioned before, the Power menu no longer houses all the device controls as it used to, those having moved to Quick Settings. So what you're left with is a pretty barebones Power menu, with four circular options popping up in the middle of your screen once you've long pressed the Power button: Emergency, Lockdown, Power off, and Restart. Alternatively, you can set it so that Google Assistant pops up on a long press instead.
In Gesture Settings, you can now turn off swiping up from a bottom corner to invoke the Google Assistant, which may come in handy if you're baffled by all the different options you have to engage it. Maybe you set the long press on the Power button to get the Assistant, and you don't need this too? Maybe you accidentally invoked the Assistant a bunch of times with this swipe? Well, in either case, you can now get rid of it.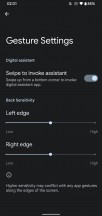 Turn off swipe up from a bottom corner for Google Assistant
Gaming enhancements, Easter egg, setup wizard, emoji
In Android 12, some games will allow you to start playing as you download, so you don't have to wait all the way until they're finished. Although this capability is built into the OS, game developers will have to make use of it, so it remains to be seen what the actual adoption will be. Another thing Google added is a game mode selector, where you pick your desired game mode from two options - optimized for performance or battery life.
The traditional easter egg is still accessible by going to Settings > About phone and tapping on the Android version field a few times. This year, the easter egg is a giant analog clock widget in the middle of the screen. But see, this is no ordinary clock widget - it's Material You themed, of course, and imitates an actual new clock widget design that you can use on your home screen. If that doesn't make a point about how important Material You is to the Android 12 release in Google's view, we don't know what will.
There's a newly redesigned setup wizard for Pixels, too, one that uses the Material You design principles and has the ability to transfer your stuff from your old phone via cable or a shared Wi-Fi connection. As before, it even works to get your data from an iPhone.
Finally, as usual, there are new emojis in this build - more than 1,000 of them have been updated, in fact.
I am not feeling happy about Android 12 update. The interface is looking very ugly. Over all my handset performance is not going good. Ringtone is going cut while ringing. Unwanted system pop up are arriving while unlocking also pop up window flickri...
Hi, after update to android 12 from 11, I have problems to synchronize the contacts with my car multimedia. In Android 13 the problems remained the same. I do multimedia up-date software, but the problems with synchronization are there. With Android ...
why does google still not have options to sign out of most google services?,and why has google included sign in by a third party allowed in their latest chrome browser?why does google calculator also need to use my data in the background,all google s...