Android 2.2 Froyo brought to HTC Dream and Magic
28 May, 2010
HTC destroyed all hopes for an official update, stating that Dream and Magic won't get the Froyo update because of the insufficient ROM. But nothing can stop the hacking community from creating an unofficial port. In fact a Dream/Magic Froyo ROM is already in the making and should be publicly available pretty soon
The update will work on all G1, Dream and Magic devices. It's 63% ready and you may event test it now to satisfy your curiosity.
Have in mind though that that major applications like the camera, Wi-Fi and GPS connections, the Flash in the browser and the audio player won't work at this stage. All call functionality is ready, the 3G connectivity, audio in calls and LEDs.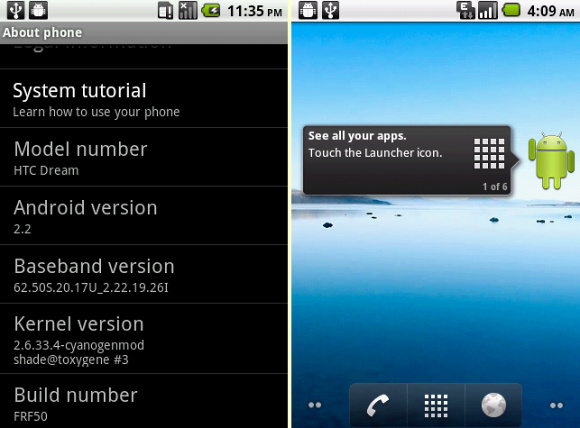 We admit there is lots of work left to be done, but what really matters here is that Froyo will land on HTC G1, Dream and Magic eventually.
For more information read this topic.
Related
When is the official Froyo for the Dream coming out? Please email me @ mk20004life@hotmail.com when its out and where i can download it from. Thanks!
any chance you could reference the quote saying that they will not be releasing?
I have a hero and a Samsung omnia hd if I could have the android OS with the Samsung screen I would love it, I will buy the galaxy s which is what I want and a 1ghz A8 so super fast. Symbian is too old now and the apps are lame just put a custom Rom ...
Popular articles
Popular devices