Apple App Store has twice the Google Play revenue, half the downloads
Ro, 17 July 2018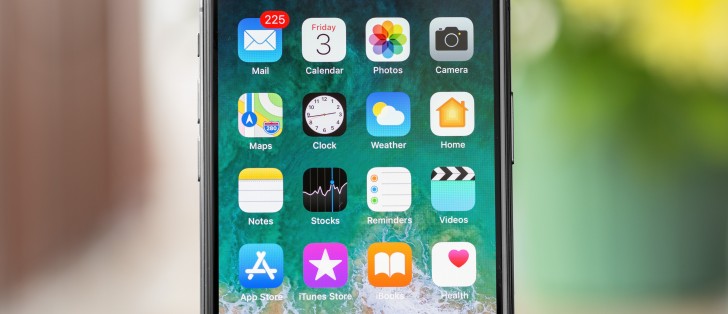 Apple's App Store continues to dominate Google's Play Store when it comes to earnings so far this year but that's somewhat expected. Android users historically spend less on apps and they also have access to alternative app stores like Amazon's Appstore. Also, let's not forget the fact that Google Play isn't available in China while Apple's App Store is.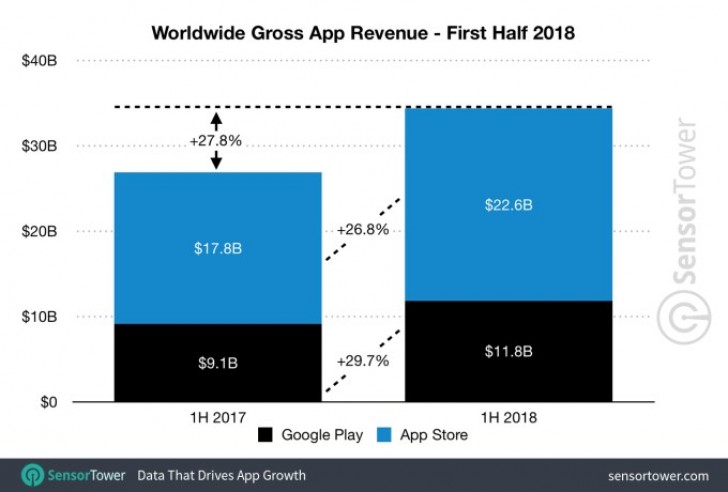 Anyway, the report from Sensor Tower says the App Store generated 1.9 times the revenue of Google Play - $22.6 billion vs. $11.8 billion for the first half of 2018. Both app stores, however, have grown significantly year-over-year - 25.8% growth recorded for App Store and 29.7% for Google Play.
This year's trend suggests that spending on apps will continue to increase. For comparison, last year the App Store earned $38.5 billion in revenue while Google Play $20.1 billion. The report says the increase is due to the subscription-based apps like Netflix, Tinder and Spotify, with Netflix being the top non-gaming app when it comes to consumer spending.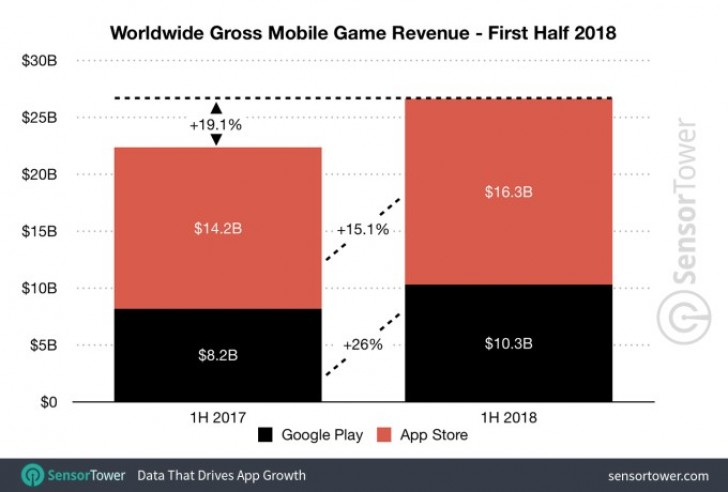 Still, the gaming category is a massive part of the whole revenue for both app stores. Consumers have been spending 19.1% more compared to 1H of 2017 across both app stores and account for 78% of the total revenue.
App downloads on both stores are also up. The App Store downloads went up 13.1% while the Play Store increased by 10.6% - the latter can be explained with Google's ever-growing reach in emerging markets.
Interestingly, Facebook still leads in the most downloaded apps ranking across both stores with the first four in the top 5 - WhatsApp, Messenger, Facebook and Instagram. And when it comes to games, PUBG Mobile leads the pack followed by Helix Jump and Subway Surfers.
Sensor Tower shared more interesting stats outlining that even if Apple's App Store wasn't available in China, it would have earned about $15.4 billion revenue for 1H of 2018 and would still beat the $11.8 billion revenue on Google Play by 30%. In any case, it seems that the App Store earned almost twice its competitor with less than half of the total downloads.
Related
People pay for apps? That's why google is king
Because one company is known for its sticky fingers.
It's not a really a surprise, considering the number of iPhone users and the closed environment of Apple products. In contrast, Android users do not only have the Play Store, they also have alternatives such as Aptoide, Alternatives.co, Amazon App St...
Popular articles
Popular devices