Apple begins testing folding panels for iPhone and iPad
Michail, 10 May 2022
Apple is developing a new folding OLED screen that should eventually make its way in a folding iPhone or iPad according to South Korea's TheElec. The big breakthrough is the lack of a polarizer layer on the panel which is currently being used in some conventional folding displays. The same polarizer-less display technology is used by Samsung in its Galaxy Z Fold3 and its Eco²OLED display. Apple is considering a similar approach for its own folding device.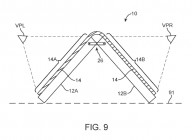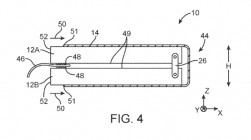 Schematics from an Apple patent on foldable phone design
The removal of the polarizer layer allows for thinner folding displays though at the cost of visibility and peak brightness. Makers are forced to increase the display's power consumption in a bid to crank up the brightness as a result which has a negative impact on the longevity of folding panels so it will be interesting to see how Apple tackles these issues. Apple's folding phone is still years away at this point and we should not expect it before 2025 according to renowned Apple expert Ming-Chi Kuo.
Related
The Blitz
11 Jun 2022
BVv
Biggest martphones you are looking at ~5.8 inch max for a normal 16:9 youtube video. Z fold 3 you are looking at 6.86 inch. Thats a really big difference. Go see yourself in a store.
Folding phones aren't even that great. You have to constantly decide whether you want to unfold it or not and for video content, the aspect ratio is totally wrong as you end up not really benefitiing from larger display at all because it's ...
Popular articles
Popular devices
Electric Vehicles