Apple under time crunch to figure out Touch ID for the next iPhone
Ricky, 11 July 2017
Barron's reports of three market analysts, one of which, poked around the supplier chain and has determined that Apple is still having issues with Touch ID on the iPhone 8 and had only around two weeks to make a decision that could potentially delay the new iPhone's release, which could affect Apple stocks. This comes after last month's rumor that Apple still doesn't know where it's going to put a fingerprint sensor.
Andy Hargreaves, KeyBanc Capital Markets analyst explains that Apple is still struggling with integrating the new fingerprint sensor technology, presumably the kind that works right through the display. Qualcomm has already been working on it with vivo, the first smartphone brand to feature this technology.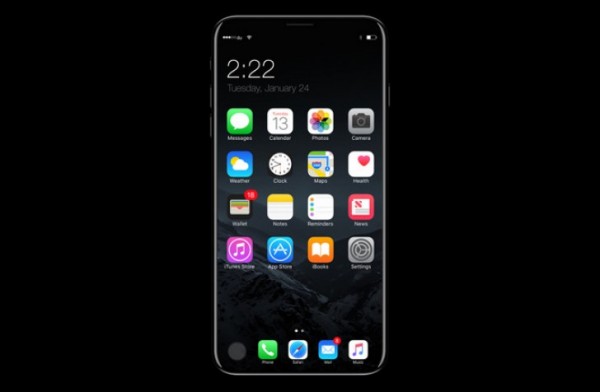 Concept render of the iPhone 8
Apple has until around August to place the order it needs to build Touch ID sensors into the new iPhone 8 before it has to delay the expected launch of the device. The analysts also say that it would presumably take about 12 weeks to fulfill the order of fingerprint sensor chips in order to reach regular production capacity in late-October to early-November. Of course, before it can place the order, Apple needs to have Touch ID figured out for the new iPhone.
Apple's expected facial recognition authentication is speculated to possibly replace Touch ID altogether. This wouldn't be a good move on Apple's part considering that facial recognition isn't quite where we'd like it to be as a practical and secure method of authentication.
Even if Apple figured out how to use depth information to map a person's face as form of authentication, it still couldn't be as secure as a fingerprint. In any case, whatever changes Apple does end up making with the Touch ID sensor will probably be forgotten about once the dust settles and folks are done complaining about change.
Related
"Apple still dont know where the fingerprint sensor is gonna be" wake the f up it's mid july of course they know, just journalists dont know. They ve already started producing the new iPhone they make millions of them you think that happens in a coup...
ok cya. no one cares. You probably don't even or ever had an iphone anyways. apple haters. pathetic.
Popular articles
Popular devices