Apple iOS 5 review: First look
GSMArena team, 10 June 2011.
Multi-tasking gestures work only on the iPad family
Much has been said about the iOS multi-touch gestures since the first iOS 4.3 beta came out. Basically, their purpose is to help you navigate through the UI without using the Home button.
You can switch between the active apps using horizontal four (or five)-finger swipes. A similar upward swipe will bring you the task switcher. There's a four (or five if it feels more natural) finger pinch zoom out. It will bring you to the homescreen, sending the app to the background.
Those gestures will only be available in the tablet version of the iOS 5.
The pinch zoom out and the horizontal swipes work everywhere but the homescreen, while the swipe up gesture is available across the interface.
Here is a video demo of how they work (note that the video shows iPad 2 running iOS 4.3 with activated multi-touch gestures, but they work exactly the same on the iOS 5):
Four fingers are just too much perhaps on the 3.5-inch iPhone screen - in case you wonder why those gestures are available only on the iPad. It would have been nice of Apple to have included them as an option anyway.
iMessage service - free text and multimedia messages across iOS devices
Here is another useful thing to premiere with the iOS 5 - the iMessage service, which is integrated into the Messages app.
The iMessage service lets you exchange instant messages between iOS 5-running iGadgets via Wi-Fi or 3G. You can send plain text as well as multimedia (pictures, sounds, videos) messages.
To activate the iMessage you just need to go to Settings->Messages and turn it on. But, how it works?
You tap on the new message button and you'll see the standard message composer with a green SEND key. When you choose a recipient you'll notice a small loading icon right next to the name. If the person you are texting has the iMessage service, your SEND key will turn blue and the top bar will say New iMessage instead of New Message. Yes, it's all automatic.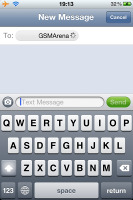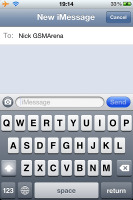 Searching for iMessage availability • switching to iMessage
The rest is pretty simple - you type, you add content (optional) and hit send. The iMessage conversations are color-coded to differ from the standard SMS/MMS - their bubbles are blue instead of green.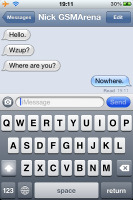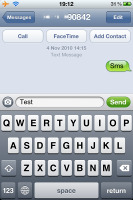 An iMessage conversation • standard SMS thread
The iMessage service is essentially an IM - in an iMessage conversation you can see when the other person is typing and you get their messages instantly. You can also get Read Receipts.
One more thing about iMessage - your ID is either your phone number or your email - just as in FaceTime.
Telephony - same old phonebook, new sound alerts, FaceTime email identification
The phonebook has seen almost no changes and there is still no smart dialing in the dialer (you have the system wide Spotlight search for that).
The new thing is the several new social-network-related fields when creating or editing a contact – you get Facebook ID , Flickr ID, LinkedIn ID and a MySpace ID. When you save the person's service ID in the field, clicking it later on will take you straight to the person's profile. The feature doesn't work so well right now at it only allows to enter the details one after the other.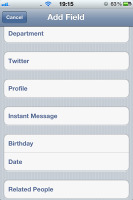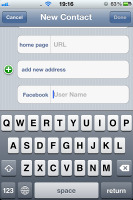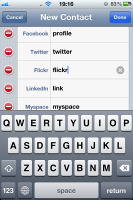 Creating a new contact • social profiles fields
Another new field subset in the phonebook is the Related people field. It let's you add labels such as mother, father, parent, brother, sister, child, friend, spouse, partner, assistant, manager and other though at this beta stag, it doesn't allow you to pick the specific persons from your contact list.
The other new thing about the telephony on iOS is that finally, the mail, voicemail and calendar sound alerts are customizable.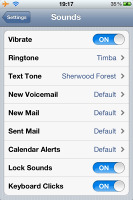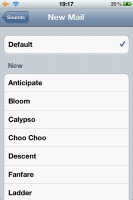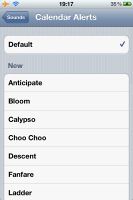 Customizable tones for various alerts
FaceTime on the iPhone also gets a new feature. If your carrier does not support FaceTime, you could still activate it with your email as ID. It's done automatically if the activation with phone number fails. Just make sure you are connected to a Wi-Fi network and turn the FaceTime on from Settings.
apple your comany is very well i love apple phones please you have to change to screen all i phone small sreen small hand set your have to change big sreen please do it
XQPQkv happpy to see that! yes
I stopped updating my iOS after an update last summer deleted three and a half months of my business-related calendar entries and Apple refused to even acknowledge the problem. Apple can bite me!