Apple iOS 6 review: Moving forward
Moving forward
GSMArena team, 26 September 2012.
User interface is slightly revamped
iOS is now well in its maturity and one cannot help but admire the great job Apple did right from the start. We mean, you wouldn't know by just a casual look which generation it is you're dealing with. Things haven't changed dramatically over the years and the back-bone of the OS - the Springboard - looks more or less the same. Yes, it's a standard-setting homescreen but not absolutely impossible to improve on. Widgets for one could have made the right difference for some users.
The homescreen is virtually the same, unless you're looking at it on the iPhone 5 where the bigger screen allows an extra row of icons.
The four docked icons at the bottom stay in focus as you scroll through homescreens. Adding folders to the dock is available, letting you accommodate more apps into the same limited space.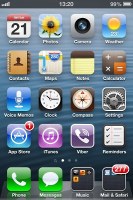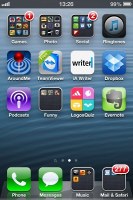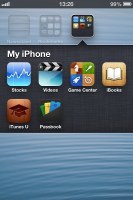 iOS 6 Springboard
Apps can be dragged and dropped to rearrange the grid and dropping one over another will prompt a folder to be created. The cool shaking animation while reordering apps is still present.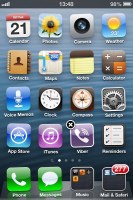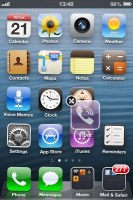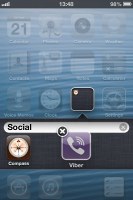 Reordering apps, creating folders
The lockscreen has seen no changes since iOS 5.1.1 - the camera toggle is constantly there (no need to double-press the home button) and instead of a press tap, it starts the app with a swipe up on the screen.
The Settings menu has seen some changes in iOS 6. The various power toggles like Wi-Fi and Bluetooth have been moved to the top for more convenient access.
The new Do Not Disturb feature is right there near the top as well, alongside Notifications.
The brightness setting has been merged with the wallpaper selection and there's a new Privacy section in the main menu.
Finally, you get dedicated Twitter and Facebook settings, on which we'll focus later on in the review.
There are three new wallpapers to choose from in iOS 6 and of course you can still set any of your photos as wallpaper.
Do Not Disturb gives users further control of notifications. If turned on, it will mute incoming calls or alerts. You can allow calls from your favorite contacts and have the option to set a specific time interval in which you won't get any notifications.
There's a dedicated toggle to activate the DND feature and it can be customized in the Notifications submenu. When Do Not Disturb is on, a crescent icon appears next to the clock in the status bar.
With iOS 6, users have more control over sounds and vibration. You can set any of your available tracks as a ringtone, tweet or text alert, etc. You can also customize vibrations for each type of notification with a choice of 7 presets and extra custom vibrations. Of course, as before, you can also choose to Buy More Tones directly from the sound settings.
iOS 6 feels improved in terms of speed too. The iPhone 4S, on which we tested the OS, felt snappier.
Hello can I have iPhone plss?
I have a iPhone 4s, it shown update 8.1.1, I need know , how it my phone,, is it ok?