Apple iOS 7 beta review: Evening the odds
Evening the odds
GSMArena team, 14 June 2013.
This article is outdated. We have already published a full review.
Introduction
The last couple of iOS updates were hanging on the wrong side between too little and too late. The user interface is six years old now and while it has been repeatedly polished in every revision so far, it was decidedly starting to look stale. And it's not just a matter of visuals either. iOS 5 brought little to nothing in terms of new features and some would even argue that iOS 6 was actually a step back. It seems though that Apple has found inspiration again and is ready to take the game to the opposition.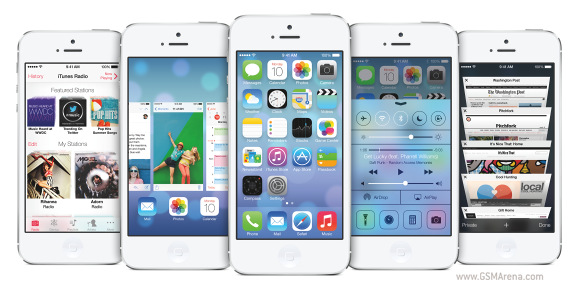 The UI that launched on the original iPhone way back in June 2007 has finally been put to rest. Android has stepped up in big strides since Gingerbread to dominate the smartphone game. Meanwhile, Windows Phone keeps bringing new features, and even the conservative BlackBerry broke with the old ways and completely redesigned its platform. It was about time Apple did something different with the iOS.
The iOS 7 is among the largest upgrades the OS has ever been given - not quite the game changer that the iPhone OS 2 and the App Store were, but it certainly took a lot of effort. It not only brings some key new features and a few cool system apps, but it also completely overhauls the user interface and tweaks the right things under the hood.
Key features
Complete UI overhaul with adaptive colors and system-wide Back swipe gesture
New system icons and folders, animated icons available
System-wide parallax effect
Dynamic wallpapers
Control Center with toggles, multimedia controls and shortcuts
Updated Notification Center with three tabs
All apps multitasking with new card interface
Updated Safari browser with unified search filed
iTunes radio
AirDrop file sharing
Inclinometer within the Compass app
Camera filters with live preview and new square mode
New Photos app with better photo organization, picture editing
Weather app with live weather animations
Updated Maps with Night mode and Turn-by-Turn walking directions
New Siri interface, new supported commands, new voices
Contact Blacklist
FaceTime audio
Activation lock
Automatic app update
Cellular data usage breakdown
Chinese-English, Italian, Korean and Dutch dictionaries
iOS in the Car coming in 2014 in selected cars
Main disadvantages
Very iTunes dependent for uploading files and multimedia
No open file system means you often have to duplicate files
Limited integration of 3rd party social networks and services
No widgets
Air Drop works only between selected iOS 7 or later running devices
No lockscreen shortcuts (besides those in the Control Center)
Very basic camera UI with limited features and settings
Limited codecs support
iTunes radio only works in the US
The iOS 7 indeed has gone flat, but brings dynamic wallpapers and parallax view to make those flat icons pop to life. Indeed, the parallax effect is one of the few among the newly introduced features that is truly unique to iOS (yes, it is available as an app for Android, but here it's baked right into the OS). There is lots of transparency throughout the iOS, brand-new flat theme, all-new system apps, live icons, and a lot more.
From a functionality perspective, Apple has finally decided to give us connectivity toggles organized within the new Control Center, iTunes radio streaming service, the notification center has been completely redesigned, there is AirDrop for easy sharing between different iOS devices, and even more capable Siri.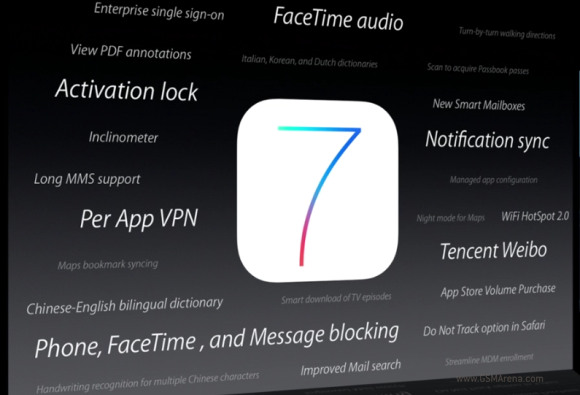 Of course, there are still missing features. And while our prayers of an open file system were always likely to remain unanswered, those for better utilization of the lockscreen (with widgets and shortcuts) had a chance. Well, you can't have it all, they say.
The iOS 7 update will be seeded to iPhone 5, 4S and 4; iPad 2, 3, 4 and mini; and iPod Touch 5 generation. But not all features will become available on all devices. We also believe the iOS will be the last upgrade for the iPhone 4 and iPad 2.
To help you quickly identify what you'll be getting on your iPhone, iPad or iPod, we've got a handy table that lets you see everything at a glance.
Updated Siri
iTunes Radio
AirDrop
Panorama
Square photos
Camera filters
Photo filters
iPhone 4
•
•
•
iPhone 4S
•
•
•
•
•
iPhone 5
•
•
•
•
•
•
•
iPod touch 5G
•
•
•
•
•
•
•
iPad 2
•
iPad 3
•
•
•
•
iPad 4
•
•
•
•
•
•
iPad mini
•
•
•
•
•
Enough small talk though, let's get down to it and see what the new iOS is capable of.
Anonymous
17 Nov 2016
bak
Just find new iphone. Black slate
Anonymous
17 Nov 2016
bak
I do. Know my. Iphone
Anonymous
17 Nov 2016
bak
No problem