Apple iPad 9th gen (2021) review
GSMArena Team, 06 October 2021.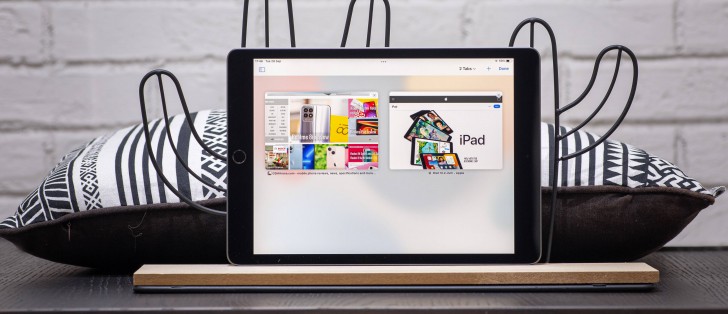 Pretty dated design
There is no point beating about the bush - the iPad 10.2 (2021) looks dated. In more ways than one, in fact. It definitely has that "classic iPad" aesthetic, but that looks well dated in itself. Most designs in the industry have moved away from rounded corners and body shapes and on to stronger and sharper lines. The gap in design language becomes particularly apparent when you look at the 9th gen vanilla iPad next to the recently re-designed iPad Air (2020) or the iPad mini (2021), or the iPad Pro 11 (2021).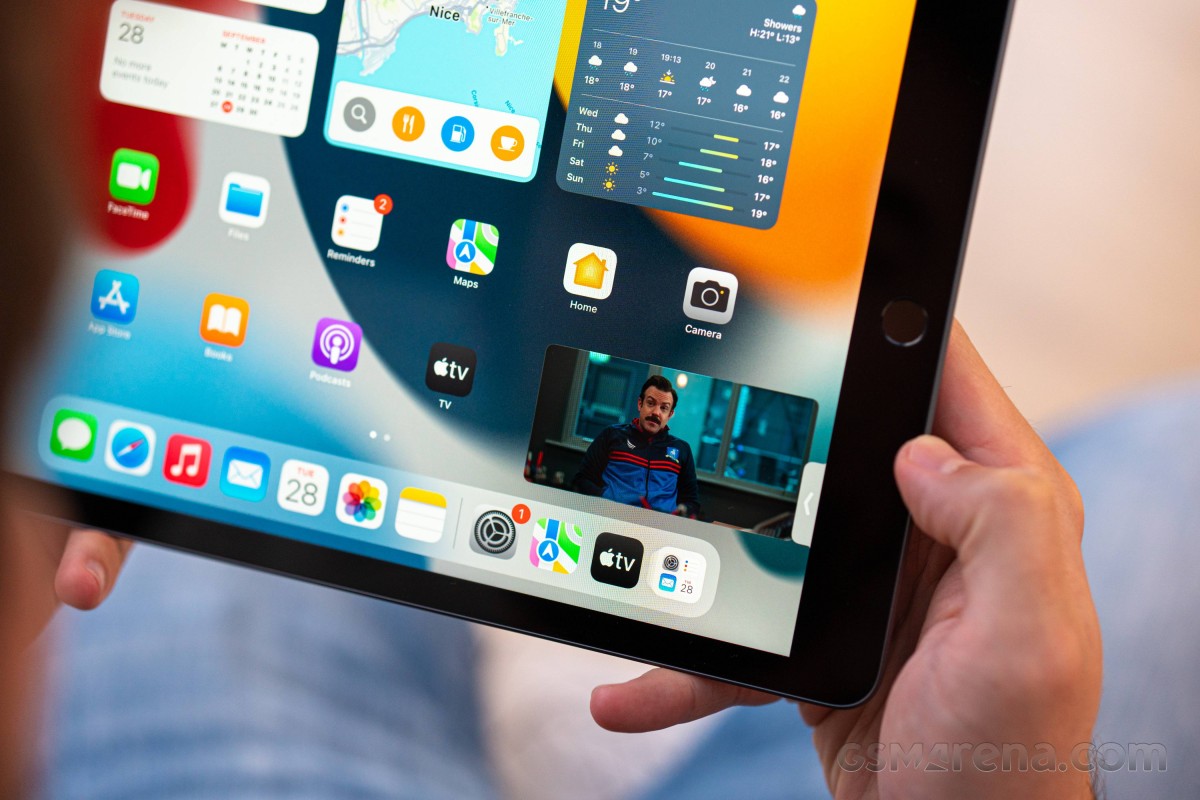 The traditional round Home key/Touch ID sensor smack on the front is also particularly nostalgic and instantly dating the overall design. We are sure the older physical input still has plenty of fans out there. Plus, there is something to be said for the simplicity it affords, especially for a remedial user - no matter how deep you find yourself in the UI or a particular app, you just press and are back to a familiar home screen. Having a dedicated physical area to read your fingerprint is also, arguably, easier to comprehend than most other, more modern biometric security setups.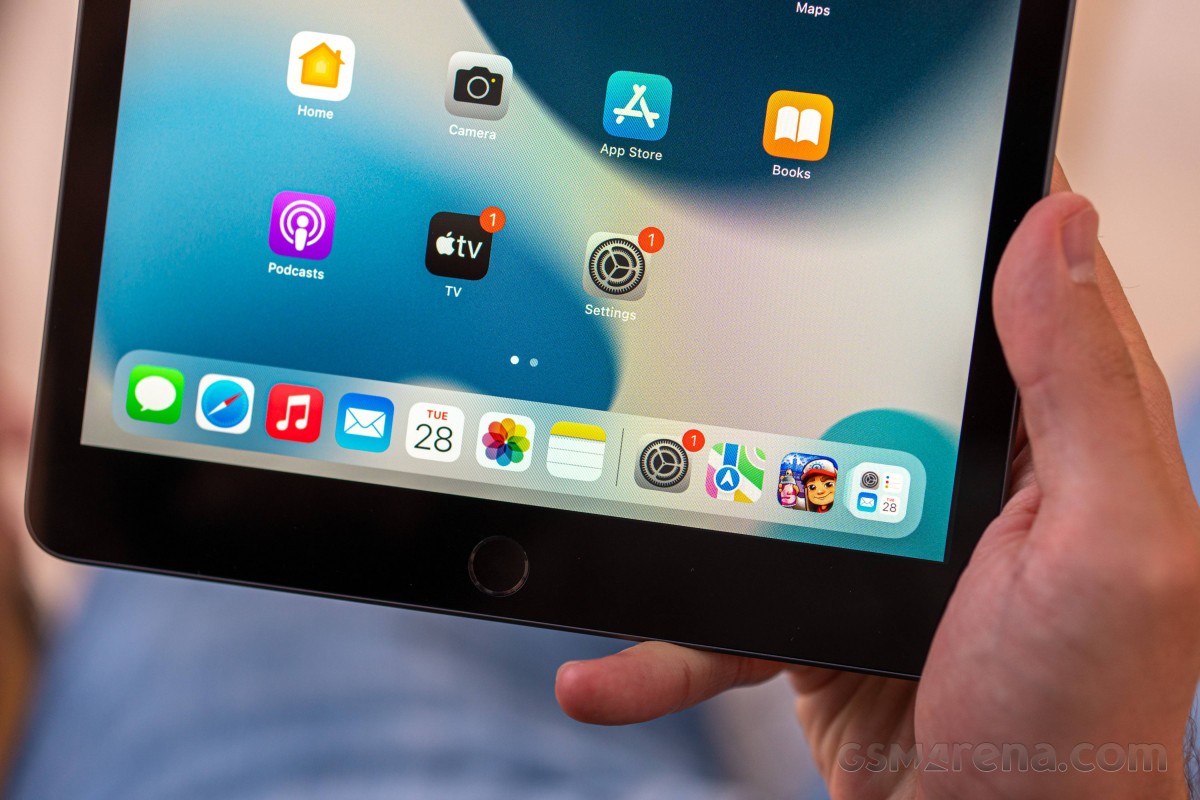 But even if you are not familiar with Apple's older designs or the Touch ID, or even Apple products as a whole, it doesn't take much in the way of comparison to other current competing products to realize how dated the huge display bezels alone are. Here is the iPad 10.2 (2021) next to a similarly-priced Xiaomi Pad 5 with a notably bigger 11-inch display.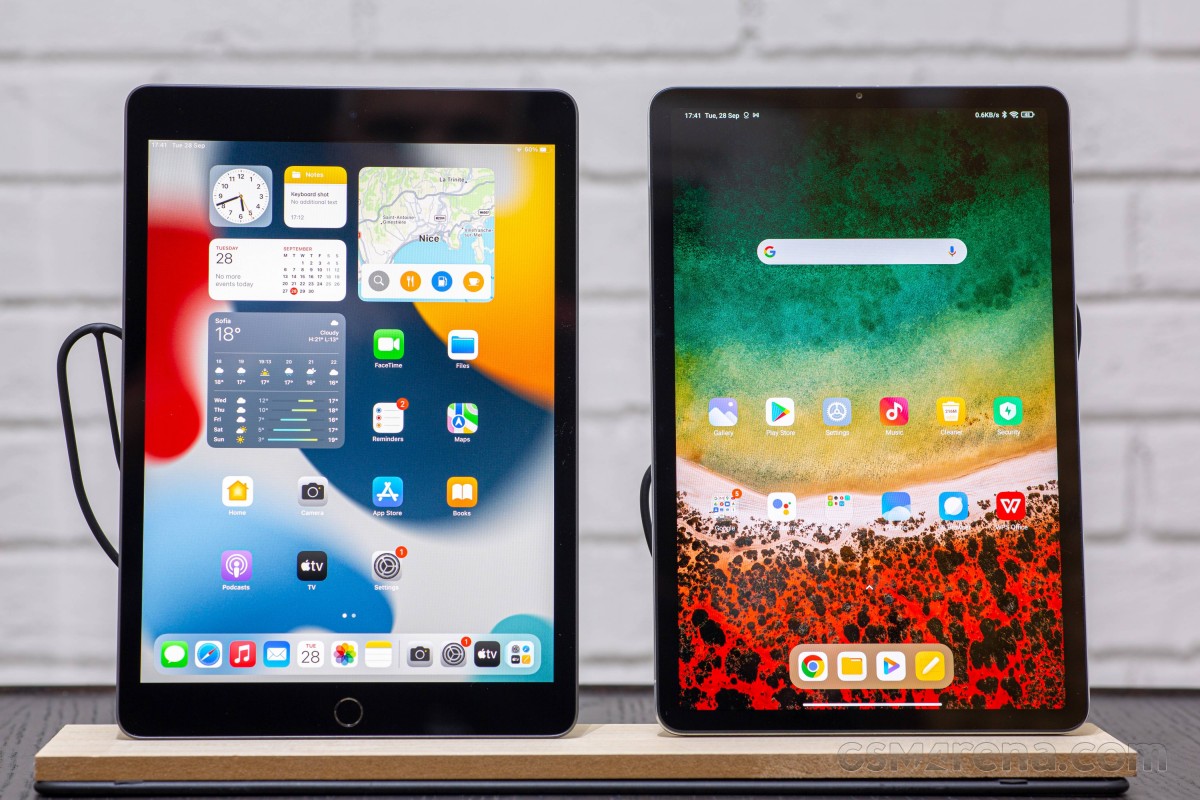 Left: iPad 10.2 (2021) • Right: Xiaomi Pad 5
Granted, the Xiaomi has a 16:10 aspect ratio, instead of the 4:3 one on the iPad, but the difference in bezels is stark and immediately apparent. To put that in numbers, the iPad 10.2 (2021) has around 73.8% screen to body ratio, while the Xiaomi has an 82.8% one.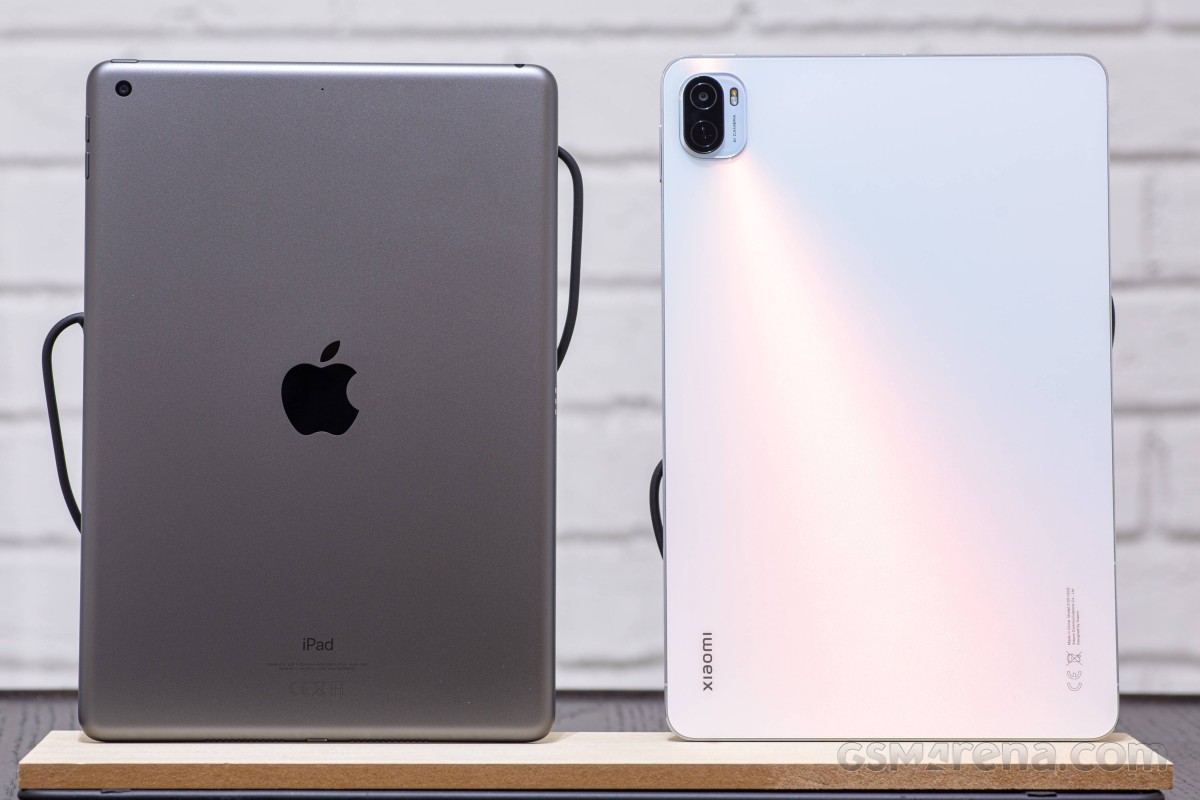 Left: iPad 10.2 (2021) • Right: Xiaomi Pad 5
It's about time we stopped hammering in this particular observation - the iPad 10.2 (2021) looks retro, and that's more than likely a cost-saving move by Apple. We definitely think users deserve to be getting the current iPad design at this price point.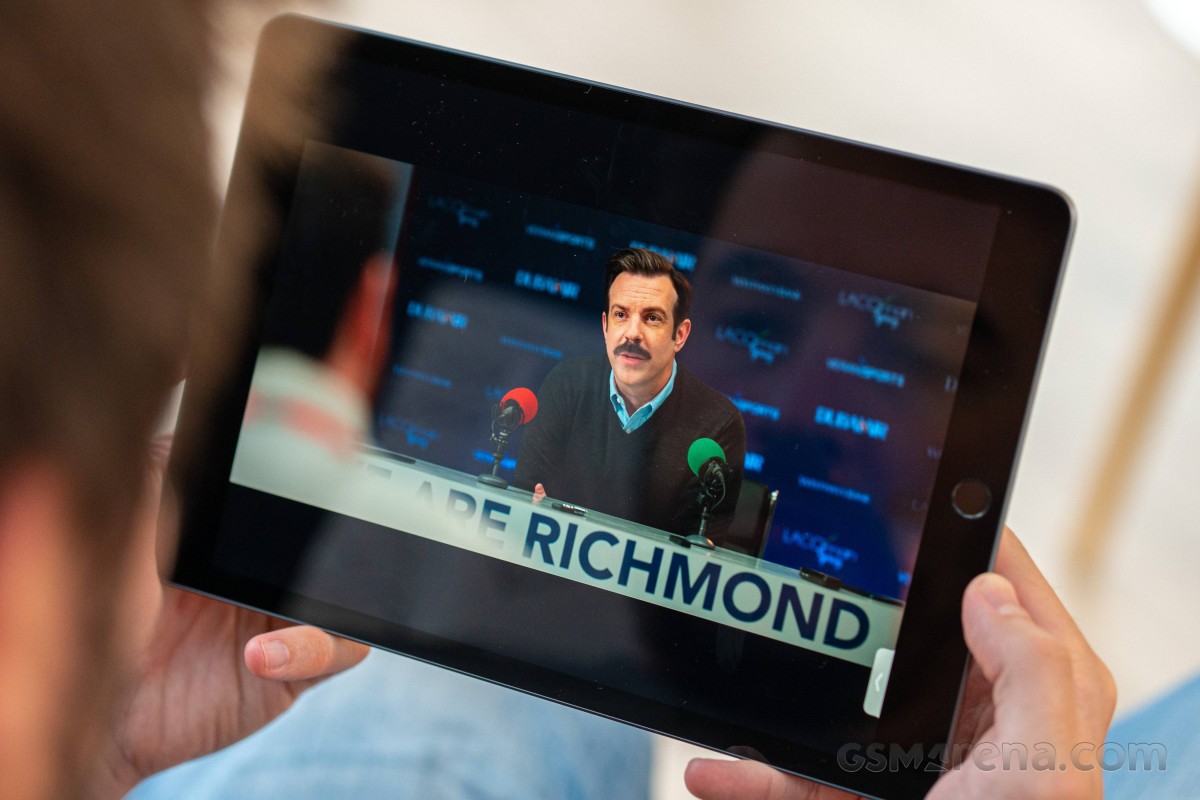 Then again, is the retro aesthetic going to be a significant issue for the iPad? Realistically, for better or worse - probably not. At the end of the day, having more space to rest your palms on and get a proper grip is far from the worse thing in the world, and you'll never hear us complain about getting a physical button. If the look bothers you too much, Apple is probably not targeting you with the vanilla iPad anyway.
Build quality
There are no upgrades or changes in the bill of materials and durability in the 9th generation iPad. As far as we can discern, its body is exactly the same as before. That is to say, an aluminum alloy unibody back and a display, with some undisclosed scratch-resistant glass on top and an oleophobic coating. The body is actually no longer available in Gold like last year, just Silver and Space Gray.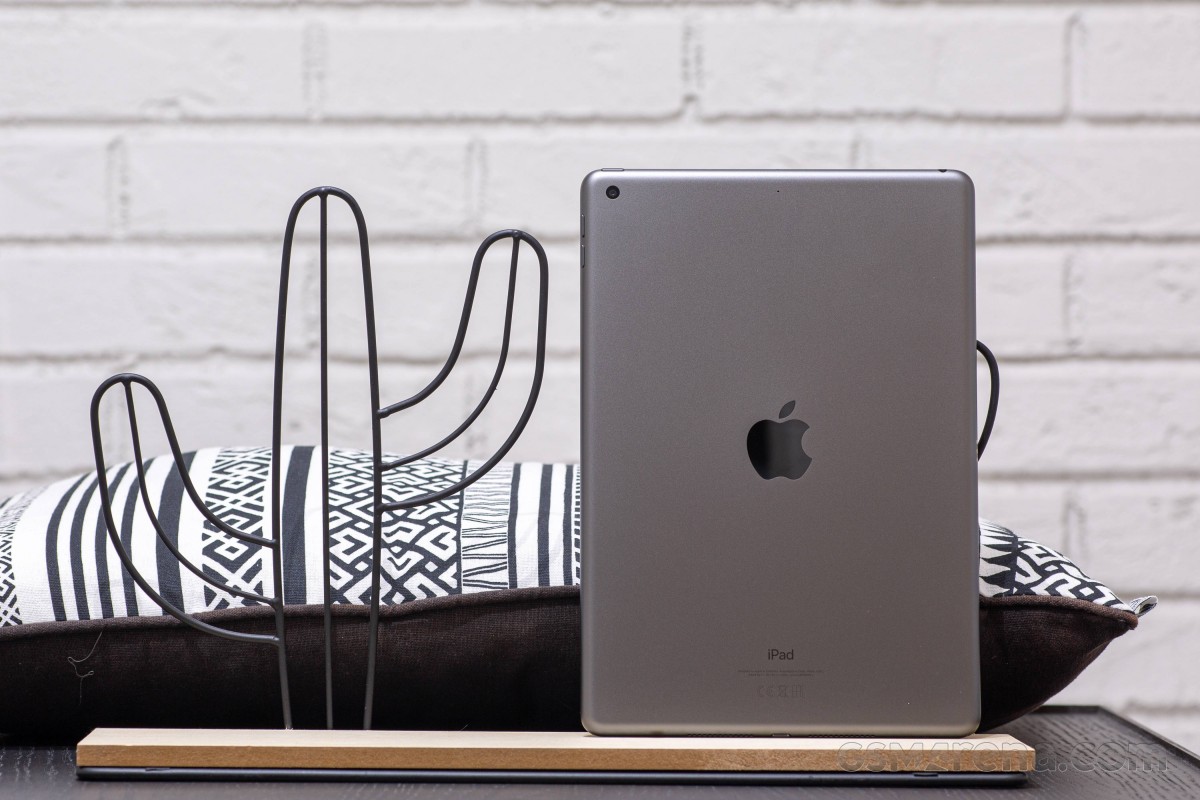 The brushed finish both looks and feels as great as it always has. Though that being said, the iPad does still feel a bit hollow, especially when knuckle-tap the display. Not that that's something you would be doing regularly. Still, worth noting.
The iPad itself weighs 487 grams in its Wi-Fi-only config, which explains why it doesn't feel overly "dense", for lack of a better term. The LTE variant adds a few grams on top of that and tips the scale at 498 grams. It also has a sizeable plastic insert on the top side of its back for the cellular antennas to work properly, making it pretty easy to distinguish. No fancy, slim antenna lines here.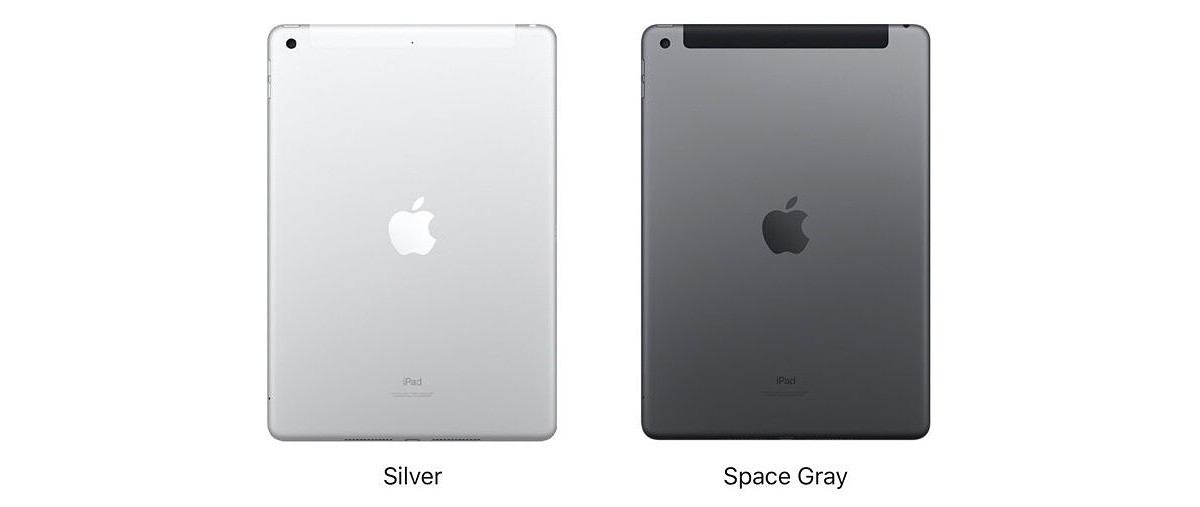 Since we are on the subject of weight, as expected, a large part of it comes from the battery pack, which on the new iPad 10.2 (2021) is identical to the one inside last year's 8th gen model - 32.4 Wh or 8557 mAh. However, it might be worth noting that the 7th get iPad used to carry around a larger 32.9 Wh, 8827 mAh battery inside the same body. Not a major difference, but again, worth noting.
Hollowness aside, the iPad 10.2 has always felt very sturdy, with the aluminum unibody almost absolutely free of any flex. This newest model is no exception. In terms of protection, you get an undisclosed scratch-resistant surface on top of the display. And we do mean, on top of the display, since, unlike most modern devices, the iPad 10.2 (2021) is still using a non-fully-laminated display. Unlike the retro design or any other potential cost-savings, we find this aspect of the iPad build quality the hardest to swallow. .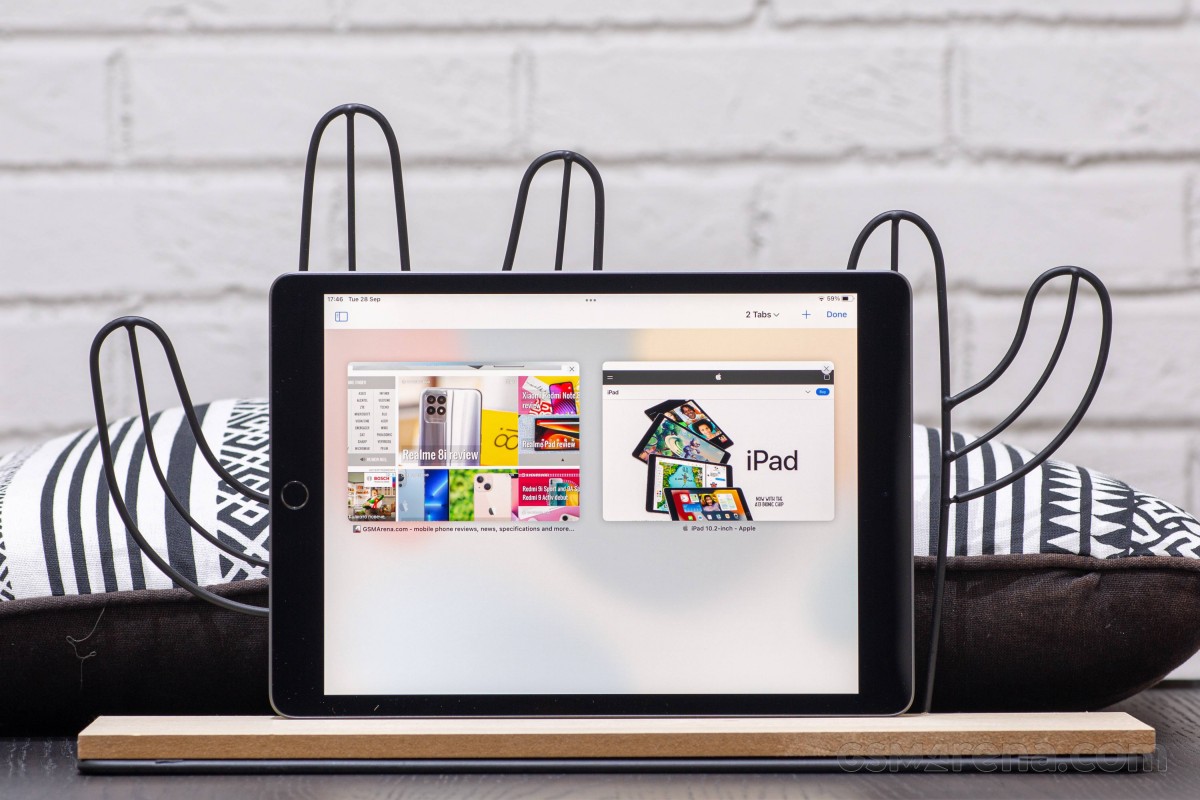 If you are not familiar with the terminology, in a non-laminated display, the LCD panel is mounted under the glass panel, and in-between the two, you have the digitizer - the touch-sensitive layer. This means the LCD does not appear flush with the surface, and there is even an air gap under the front glass. The air gap causes some light refraction, and the image does not appear as clear and contrasty. On the other hand, laminated displays have all three layers tightly sandwiched as one whole with no air gap whatsoever.
A non-laminated setup has one potential benefit -you can replace a cracked screen without repairing the expensive display panel itself. However, it has a multitude of downsides, mostly regarding picture quality and glares and reflections.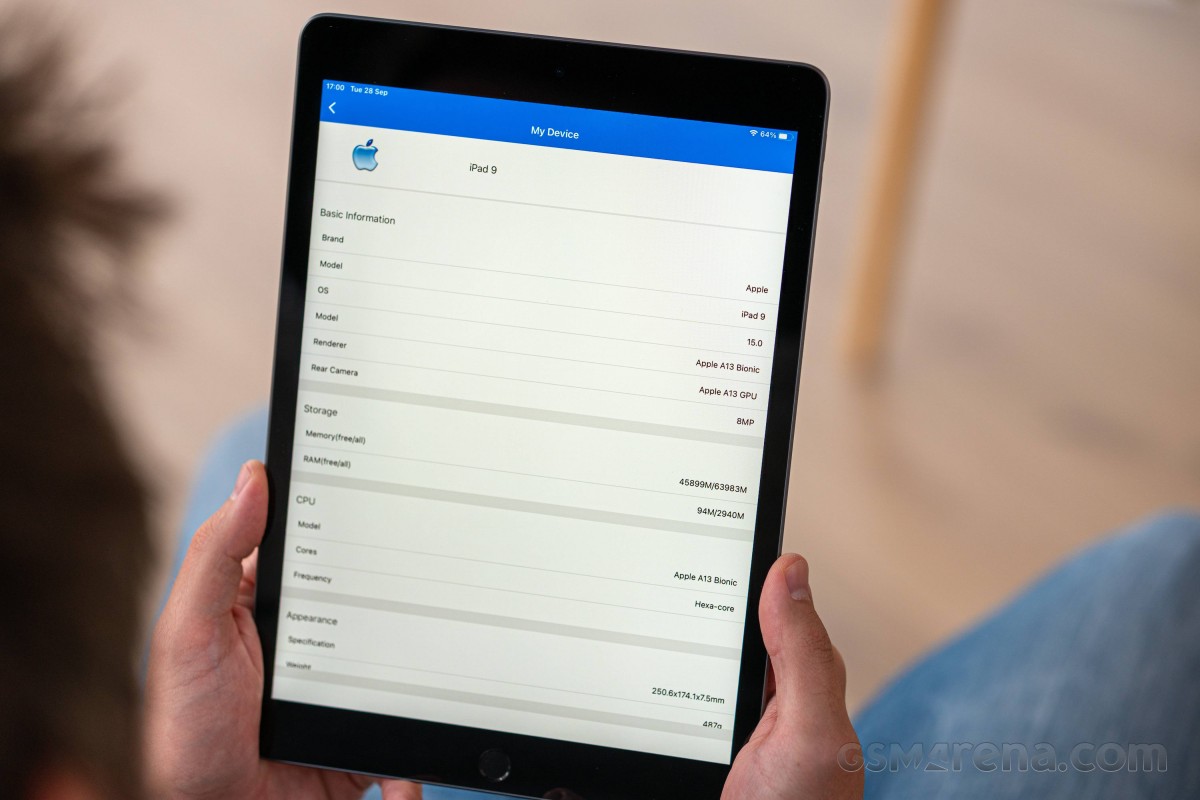 In case you were wondering, no, there is no ingress protection on the iPad 10.2 (2021). You need to keep it away from the elements. Oh, and that oleophobic coating we mentioned earlier, it is not good at all. The display is a fingerprint magnet and tends to get greasy real quick.
Controls and connectivity
Familiarity is the name of the game when it comes to the iPad 10.2 (2021) and its control setup and layout. Everything is just where you expect it to be. You got to love Apple's signature, ever-so-clean wireframe diagrams for their devices, so let's just start there.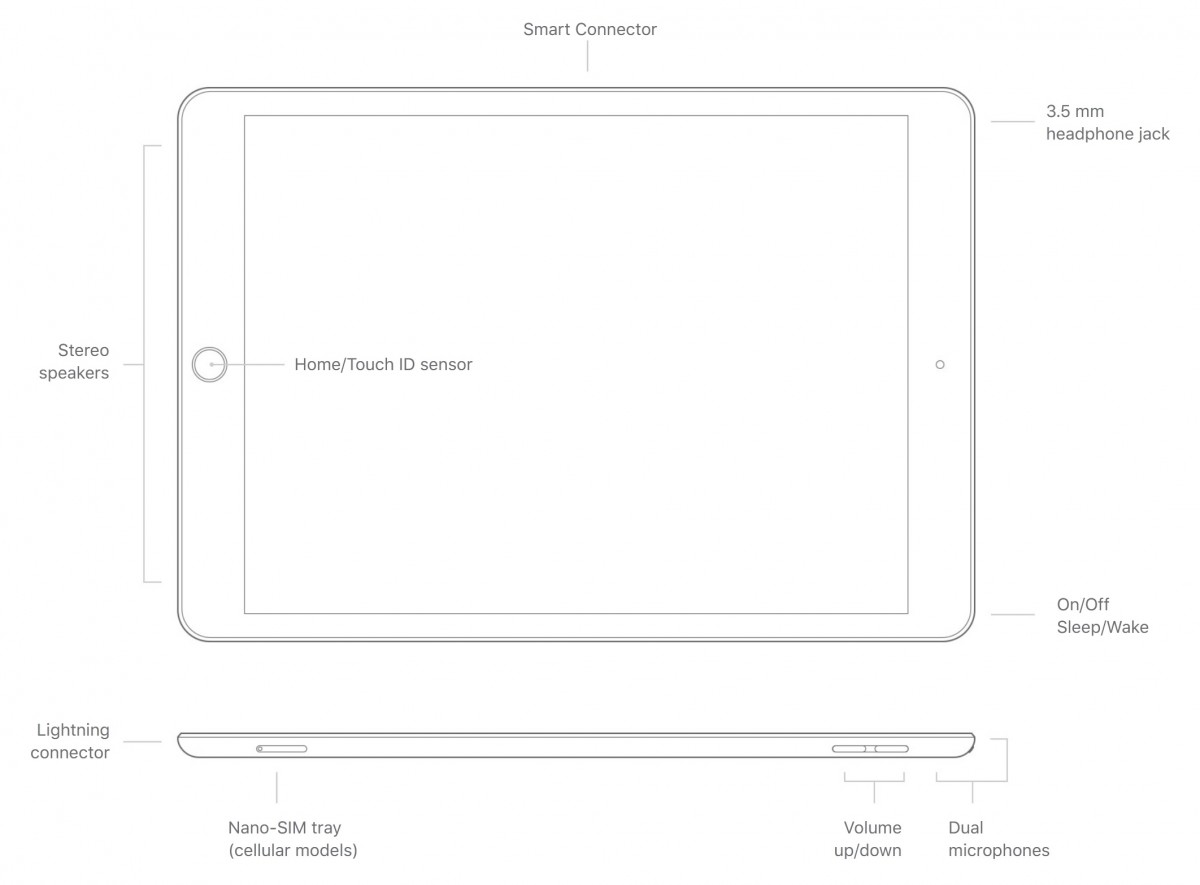 Like we said, nothing out of the ordinary or out of place. The volume rockers and power buttons are in a decently convenient location, and both feel great - nice and tactile, with an encouraging "click" to them. Literally no complaints there.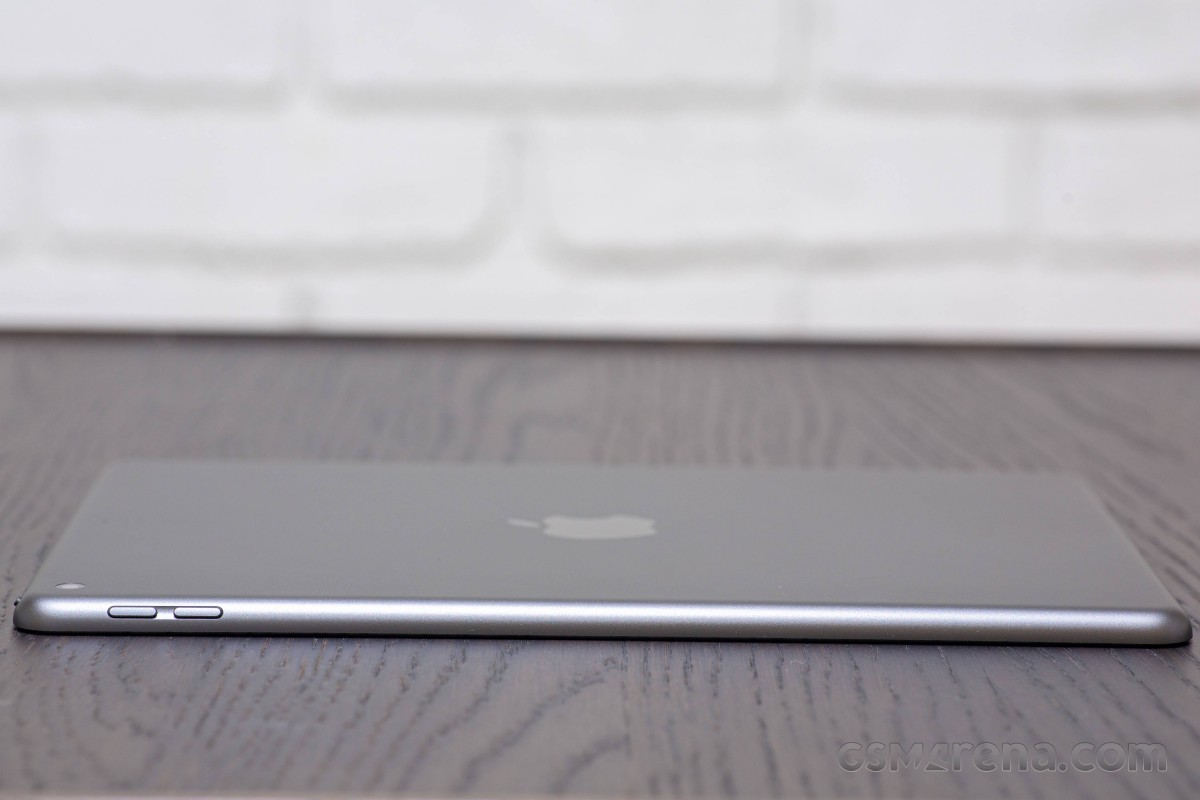 Besides the power button, the top side of the tablet also houses a trusty old 3.5mm audio jack, as well as one of two microphones. The other one is quite close, on the backside of the tablet. Since there is no native call functionality here, you don't get a bottom mic, just in case you were wondering.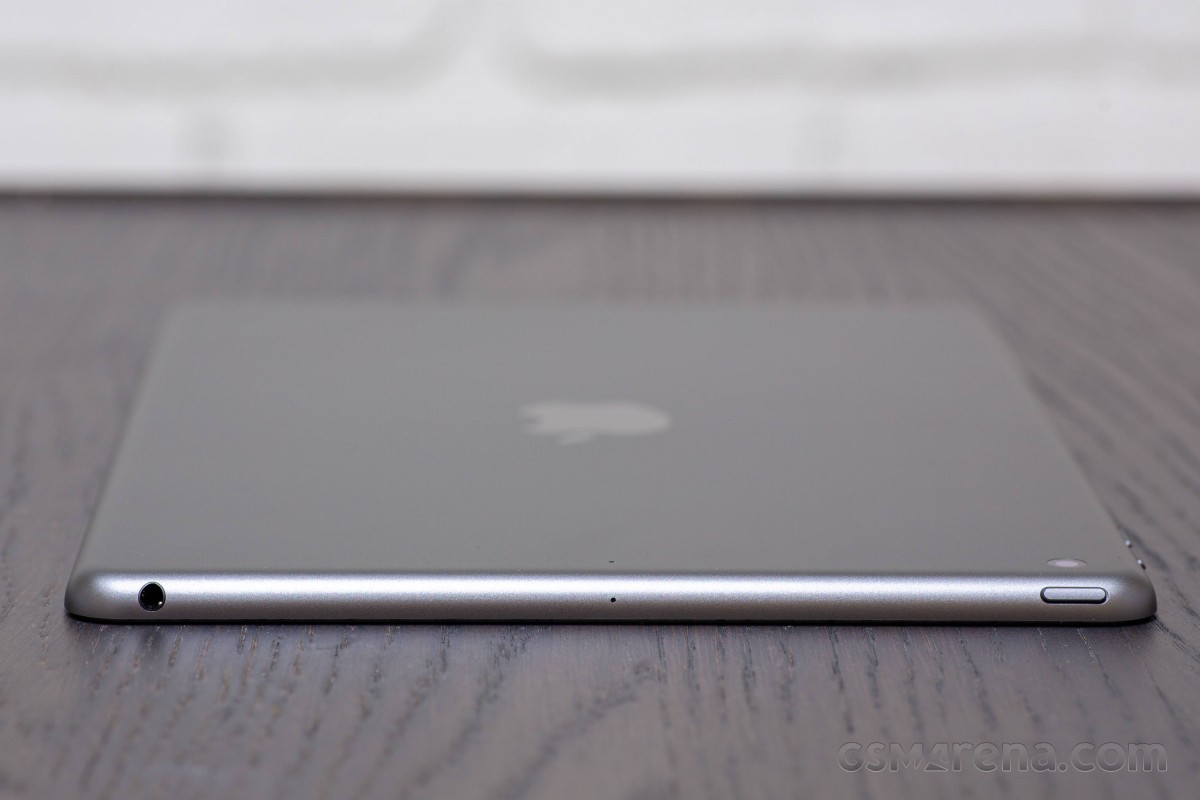 Speaking of slightly odd control placements, the iPad 10.2 (2021) has stereo speakers, but both are on the bottom, which is far from ideal for actually achieving a stereo effect.
In the middle of those - a Lightning connector with a USB 2.0 controller behind it. OTG support is at least, thankfully, a thing and now doable via the native Files app, but does seemingly require the official Lightning to USB adapter, with most older, third-party lightning card readers and pen drives failing to work since iOS/iPadOS 14.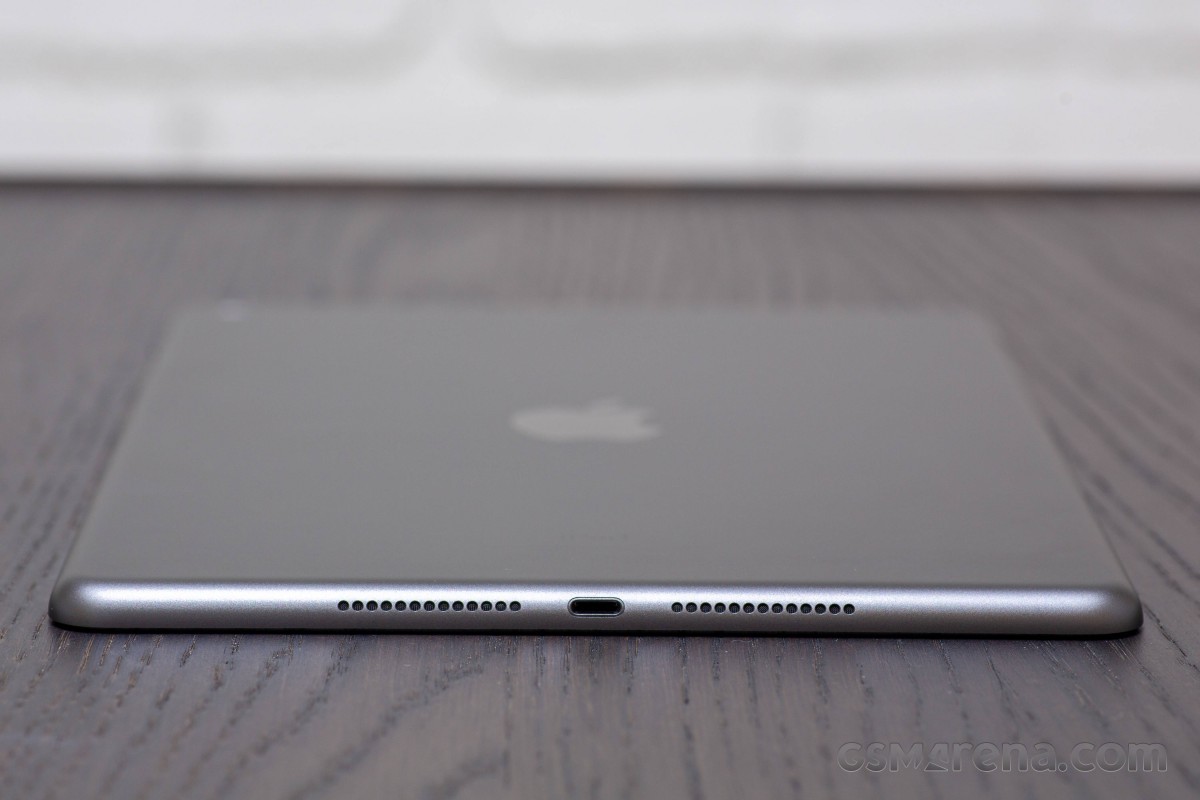 We wish Apple would sort this whole connector thing out already and properly move on to USB Type-C. As things currently stand, even the shiny new iPhone 13 lineup still has a Lightning connector with a USB 2.0 controller. All the while, the iPad Mini and Air have moved on to Type-C, with the latest iPad Pro even offering blazing-fast and industry-standardized Thunderbolt 4 and Display Port connections via Type-C.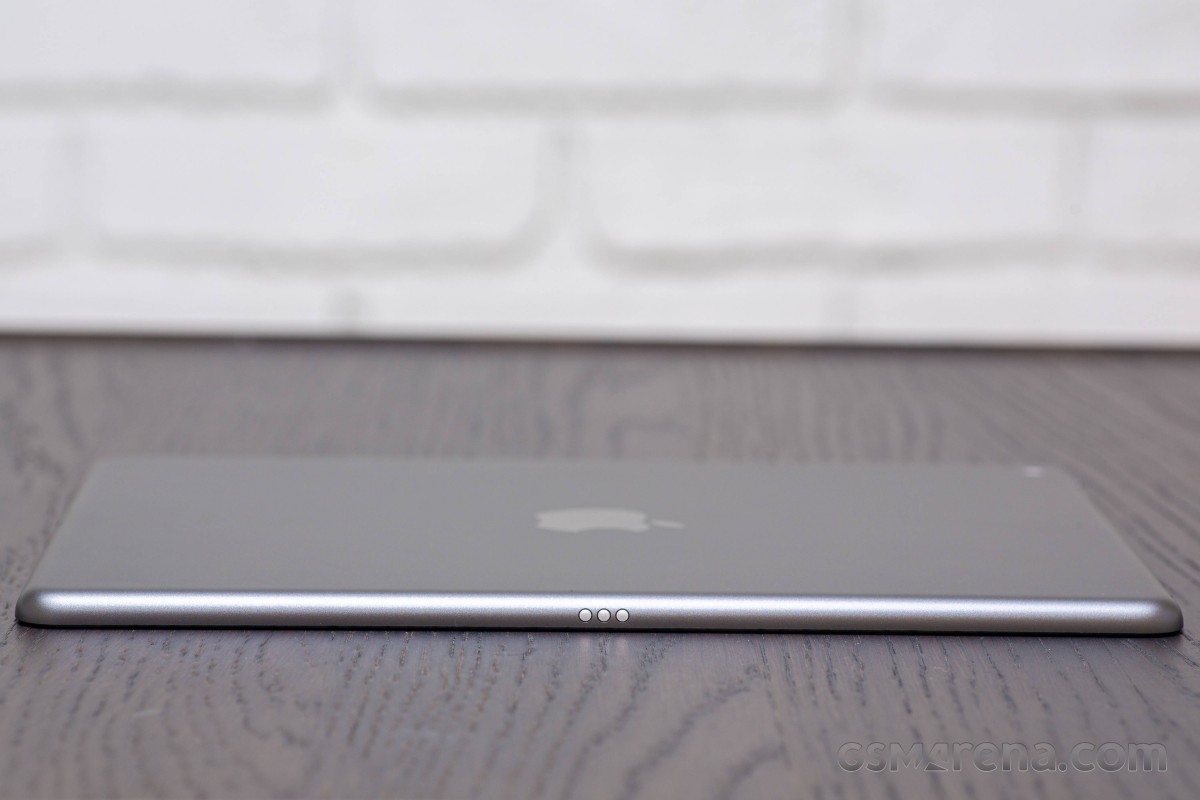 As far as additional expansion and accessories go, the iPad 10.2 (2021), like its predecessor, has its Smart Connector on one side. It is meant to accommodate a keyboard accessory. In the case of the vanilla iPad, you only have one choice here - the Apple Smart Keyboard, which will set you back about $150. No magic Keyboard or Smart Keyboard Folio.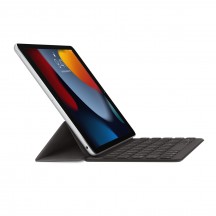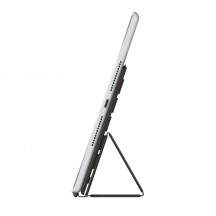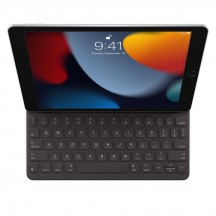 iPad 10.2 (2021) with the Apple Smart Keyboard
Last, but not least, despite its basic nature, the iPad 10.2 (2021) still supports the Apple Pencil. The original clunkier one, that is. The one that comes with wired charging or rather without wireless charging, magnetic attachment and its virtual "button". In terms of actual drawing performance, however, the two generations shouldn't be too distinct, so if you are an artist on a budget, it might be a viable option, at an MSRP of $99.
The only thing embarrassing here is your pathetic comment. Haters will hate but you Apple haters really outdo yourselves each and every time. Keep letting Apple live rent free in your head.
Got this iPad just recently. Upgraded from my iPad 8th Gen 32GB (very low storage for me, initially used it for school). I bought the iPad 9th Gen 64GB, and I love it! Enjoying my iPad now without worrying too much of the storage.
Typing on this very iPad. Im very tech savvy but im kinda broke. I found this one and immediately got it! Huge upgrade coming from 2013 ipad mini.