Apple iPad Pro 12.9 (2018) review
Vlad Bobleanta, 05 December 2018.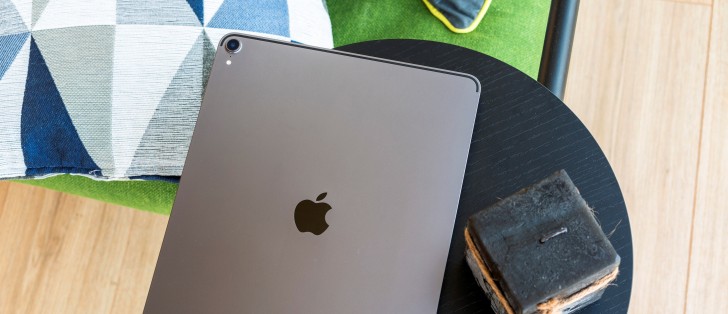 Display
The Apple iPad Pro 12.9 (2018) comes with an IPS LCD screen with 4:3 aspect ratio and resolution of 2,048 x 2,732 pixels (265ppi). It's also a ProMotion display, meaning it can render content at 120 fps and sense your fingers and the new Apple Pencil at 120Hz.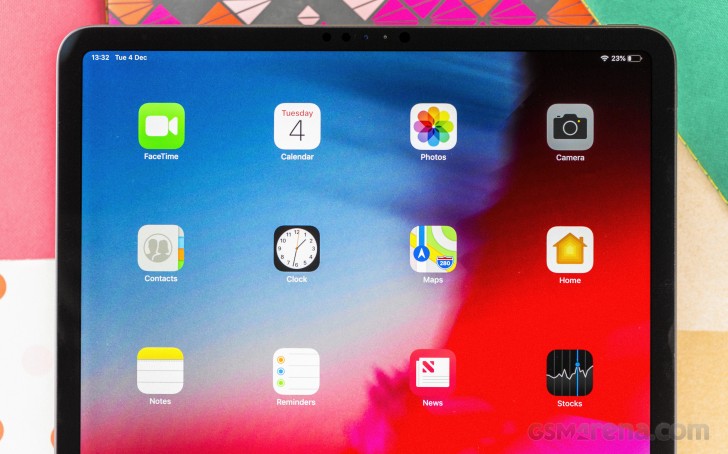 The entire iOS 12 with every Apple-made app runs at joyful 120fps and once you get used to it - everything else would feel like a step backward - including using your expensive iPhone XS Max.
Currently, there are few games and third-party apps to support 120Hz meaning most of the content you will get from the App Store would render at 60fps. But once those start popping up, the iPad Pro has the potential to become an incredible gaming console.
The screen does not support HDR, in case you were wondering. The previous generation of iPads didn't have one either, but with all streaming services are now populated with HDR videos and we feel it's time Apple to add HDR on the iPads sooner rather than later.
Now, back to our testing. Apple promises 600 nits of maximum brightness for the iPad Pro 12.9 screen and it did deliver. In fact, we measured 610 nits at the far-right end of the brightness slider. Couple those with the deep blacks and we got an excellent contrast ratio of 1650:1.
The minimum brightness level of 2.4 nits is quite nice to have too, meaning you can comfortably use it in complete darkness.
The display on the iPad Pro 12.9 (2018) has an excellent color accuracy - we measured an average DeltaE of 1.5 and a maximum deviation of 3.5. Few phones are as good or better than this, let alone tablets, and most of them are in Samsung's stable.
The proprietary True Tone adjustments are available - an automatic white balance correction enabled by a six-channel ambient light sensor. The True Tone algorithm will correct the white balance according to the ambient light making the whites and grays rendition more accurate. That's completely separate from the blue-light filter called Night Shift.
Display test
100% brightness
Black, cd/m2
White, cd/m2
Contrast ratio
Apple iPad Pro 12.9 (2018)
0.37
610
1649
Apple iPad Pro (2015)
0.27
395
1458
Apple iPad Air
0.53
508
964
Apple iPad Air 2
0.44
458
1048
Sony Xperia Z4 Tablet
0.47
537
1136
Apple iPhone XS Max
0
653
∞
Huawei Mate 20 Pro
0.002
508
254000
Huawei Mate 20 Pro (Max Auto)
0.003
657
219000
Razer Phone
0.251
300
1195
Razer Phone 2
0.401
380
948
Razer Phone 2 (Max Auto)
0.403
426
1057
Xiaomi Mi Max 3
0.339
496
1462
Battery life
The third-generation iPad Pro 12.9 has a 9,720mAh battery, split into 2 cells, as teardowns revealed. The slate ships with an 18W charger and it refills 20% of a depleted battery in 30 mins. Three hours of charging will get you to 95% and another 30 mins of trickle charging will replenish the whole battery.
Apple promises 10 hours of the web browsing or video playback. In our (full-screen) video playback test, the tablet crossed the 11-hour mark with a few minutes to spare and did even better when browsing the web.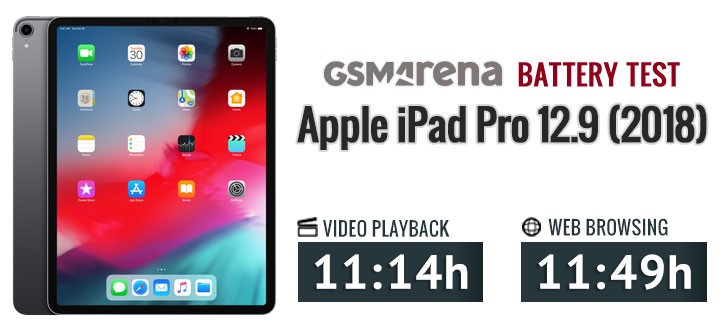 Speaker test (old, new one below)
Just like the previous iPad Pro, the third-generation tablet comes with four large speakers. All of them have spacious enclosures on the inside, aiming to achieve a depth of sound unrivaled by the usual tinny speakers. Machined into the frame, the resonance chambers are said to deliver exceptional experience.
Depending on how you're holding the iPad Pro, iOS will automatically adjust the sound output, so the higher frequencies come out of the top pair of speakers.
And the iPad Pro delivers on all promises. The quartet is loud, but the sound quality is outstanding. This is probably the richest and the deepest sound output we've heard to date from a smartphone, tablet, or a laptop. The whole iPad resonates gently when playing at maximum volume, which makes the experience even more immersive. You really have to hear it for yourselves and if the occasion arises, just do even if to satisfy your curiosity.
| | | | | |
| --- | --- | --- | --- | --- |
| Speakerphone test | Voice, dB | Pink noise/ Music, dB | Ringing phone, dB | Overall score |
| Apple iPad mini 3 | 65.6 | 63.1 | 70.6 | Below Average |
| Apple iPad 2 | 65.9 | 65.6 | 75.0 | Average |
| Sony Xperia Z4 Tablet LTE | 67.6 | 65.6 | 75.7 | Good |
| Apple iPad Air | 67.9 | 65.9 | 76.6 | Good |
| Apple iPad Pro | 73.7 | 66.6 | 71.8 | Good |
| Apple iPad Air 2 | 75.3 | 70.9 | 78.0 | Very Good |
| Huawei Mate 20 Pro | 70.3 | 73.4 | 83.8 | Very Good |
| Apple iPad Pro 12.9 (2018) | 74.0 | 75.8 | 78.3 | Excellent |
| Apple iPhone XS Max | 70.5 | 74.0 | 84.7 | Excellent |
Speaker test (new)
Use the Playback controls to listen to the phone sample recordings (best use headphones). We measure the average loudness of the speakers in LUFS. A lower absolute value means a louder sound. A look at the frequency response chart will tell you how far off the ideal "0db" flat line is the reproduction of the bass, treble, and mid frequencies. You can add more phones to compare how they differ. The scores and ratings are not comparable with our older loudspeaker test. Learn more about how we test here.
Can I use the 24W and 61W charger to charge my iPad Pro 2018? Plz i need your help
Plz anyone tell me can we use the memoji feature in this ipad plz