Apple iPhone 12 mini review
GSMArena Team, 17 November 2020.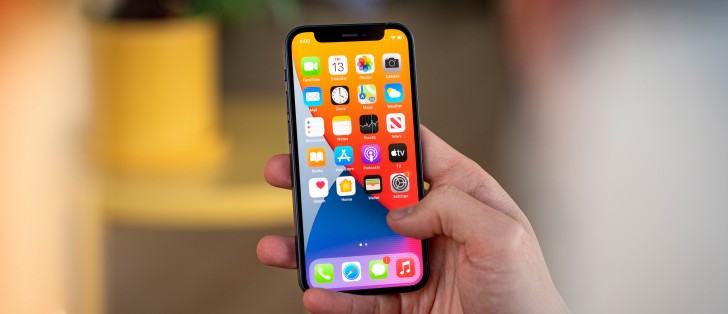 Design, build, handling
Imagine an iPhone 5 or SE with an all-screen front and glass back. Well, that's the iPhone 12 mini, give or take a couple of millimeters.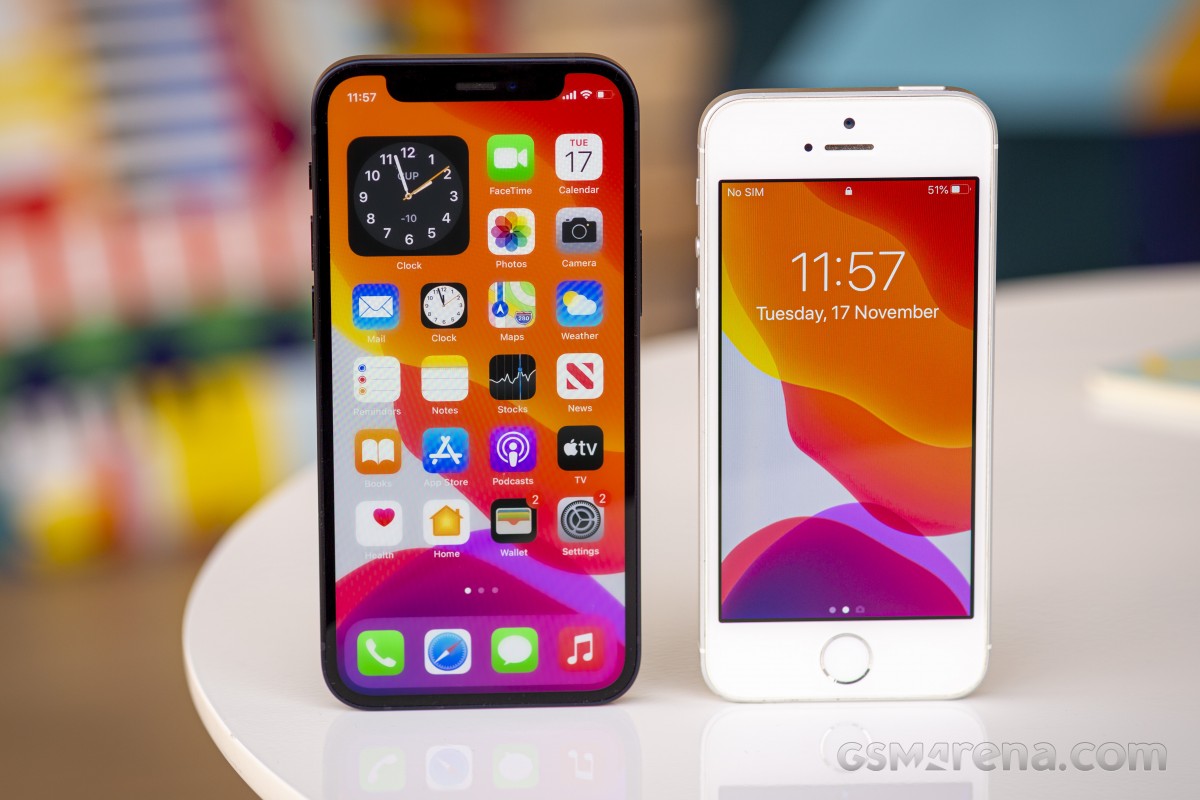 Apple iPhone 12 mini and iPhone SE
The iPhone 5 design has been reimagined for the iPhone 12 series, and that's a dream come true for many. It's an iconic shape with great grip and excellent pocketability, and it's been appropriately refreshed for 2020. This signature design is the phone's standout feature, a rare feat in the age of glass slab phones. More people will probably remember the iPhone 12 release for this design change rather than 5G support. Yes, 5G! You forgot already, didn't you?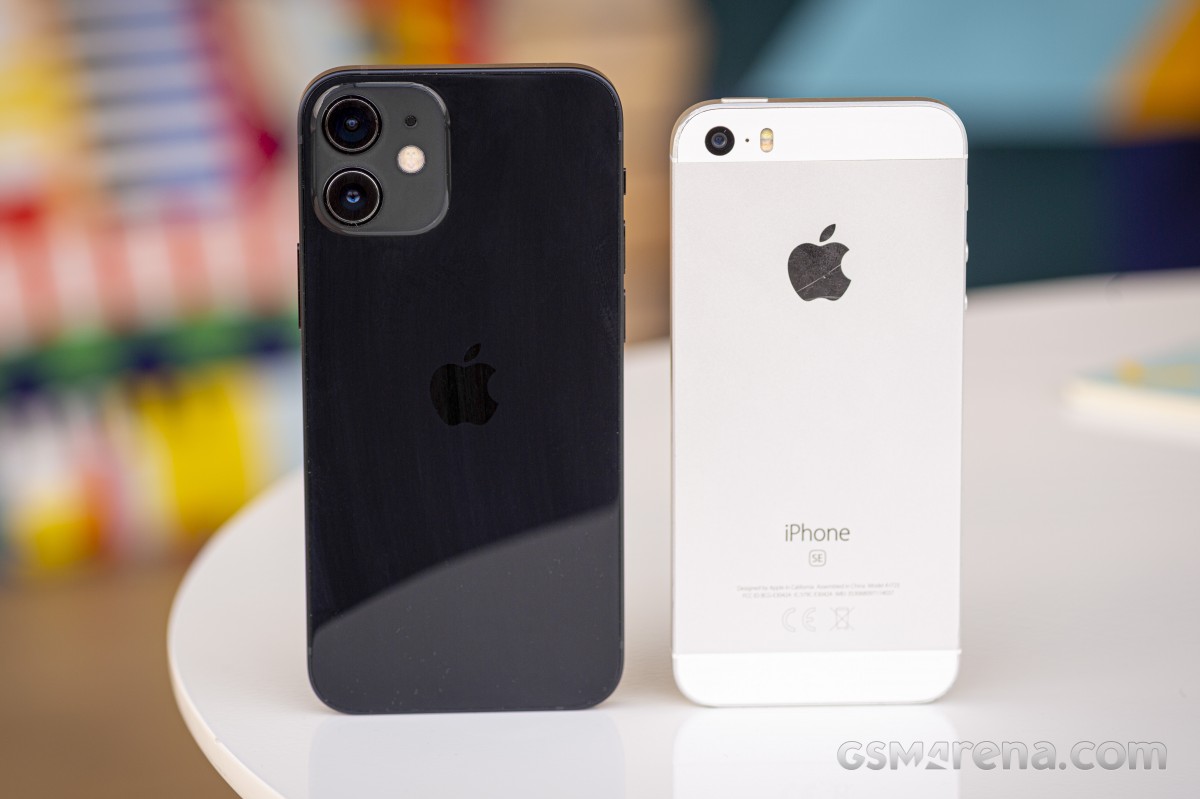 Apple iPhone 12 mini and iPhone SE
So, the Apple iPhone 12 mini is your typical glass-sandwich smartphone with tempered glass panels and an aluminum frame. But don't be fooled by the small size and lightweight body - the iPhone 12 mini is, in fact, one of the most durable non-rugged smartphones you can get today. And Apple deserves all the praise it can get for that.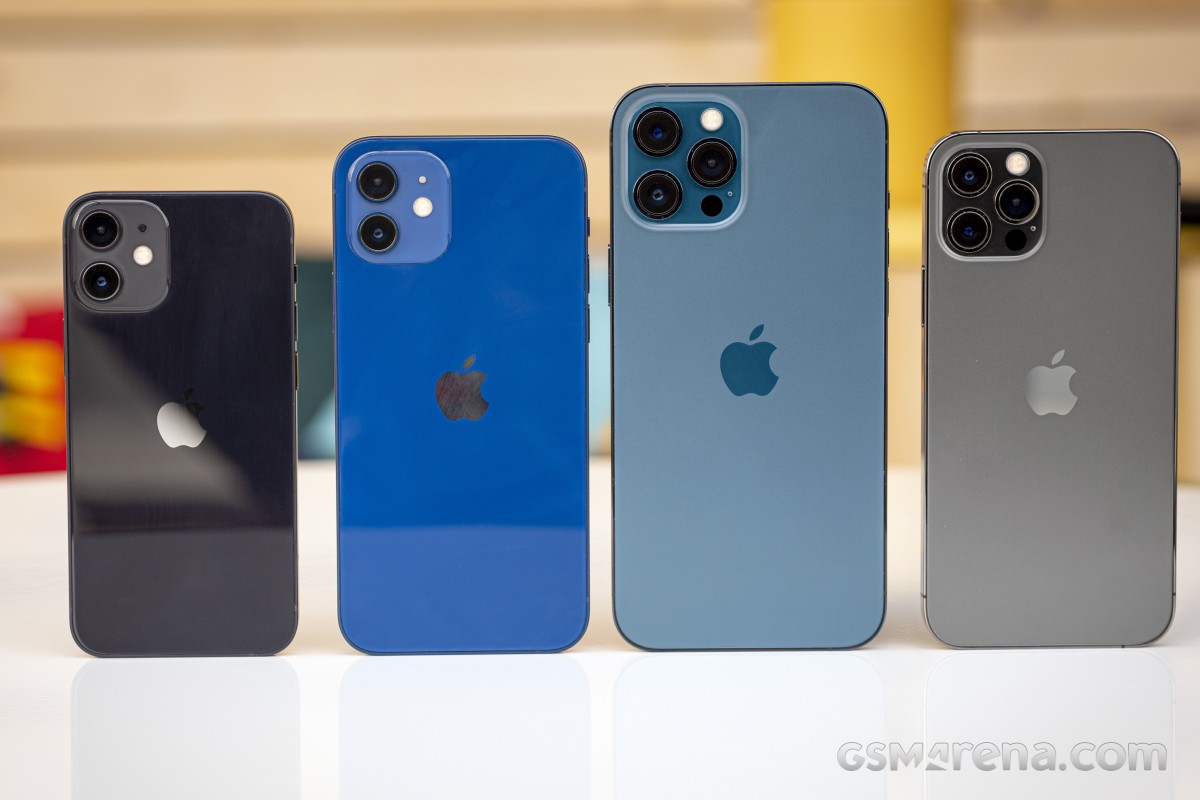 iPhone 12 mini, iPhone 12, iPhone 12 Pro Max and iPhone 12 Pro
See, the iPhone 12 mini is just 131.5 x 64.2 x 7.4 mm big and weighs 135 grams - that's ridiculously small and light for a flagship phone. But Apple has come up with this new Ceramic Shield glass that's more shatter-resistant, while it's also improved the iPhone's assembly and it can now sink into up to 6 meters deep water and stay there for half an hour.
The iPhone 12 mini uses a flat Ceramic Shield at the front and the iPhone 11's variation of the Gorilla Glass 6 on the back. The Shield is also a Corning-made glass with added microscopic ceramic crystals that have made the new glass up to four times resilient to shattering.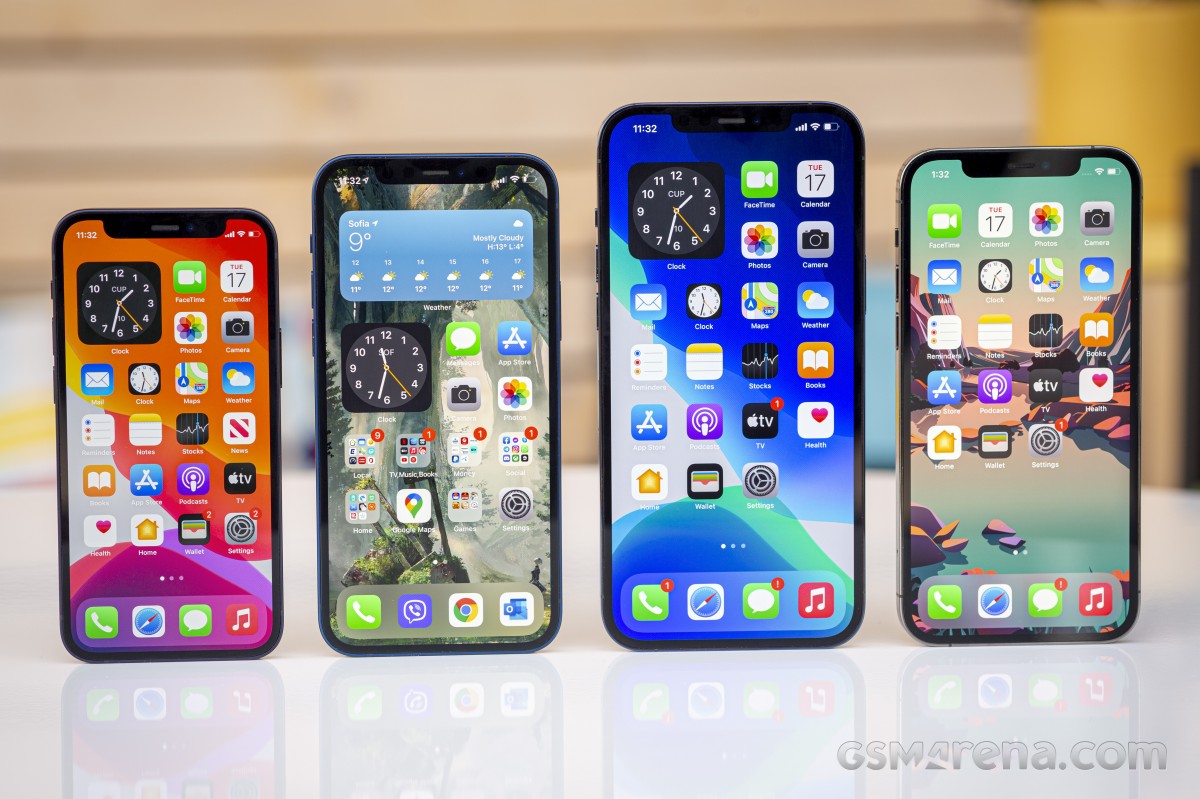 iPhone 12 mini, iPhone 12, iPhone 12 Pro Max and iPhone 12 Pro
The screen glass is also ion-strengthened for enhanced scratch-resistance, and it comes with oleophobic coating for improved smudge resistance. Fingerprints do stick eventually, but this coating makes them easier to clean with just a quick wipe.
Under this Ceramic Shield, you can see the new 5.4" Retina XDR OLED screen of extended 1080p resolution. It seems Apple is done with the low-res LCD screens, and that's great. The display has thin bezels, but its notch is as large as the one on the iPhone 12 Pro Max, which means that it takes up more space on the screen proportionally to its surface area.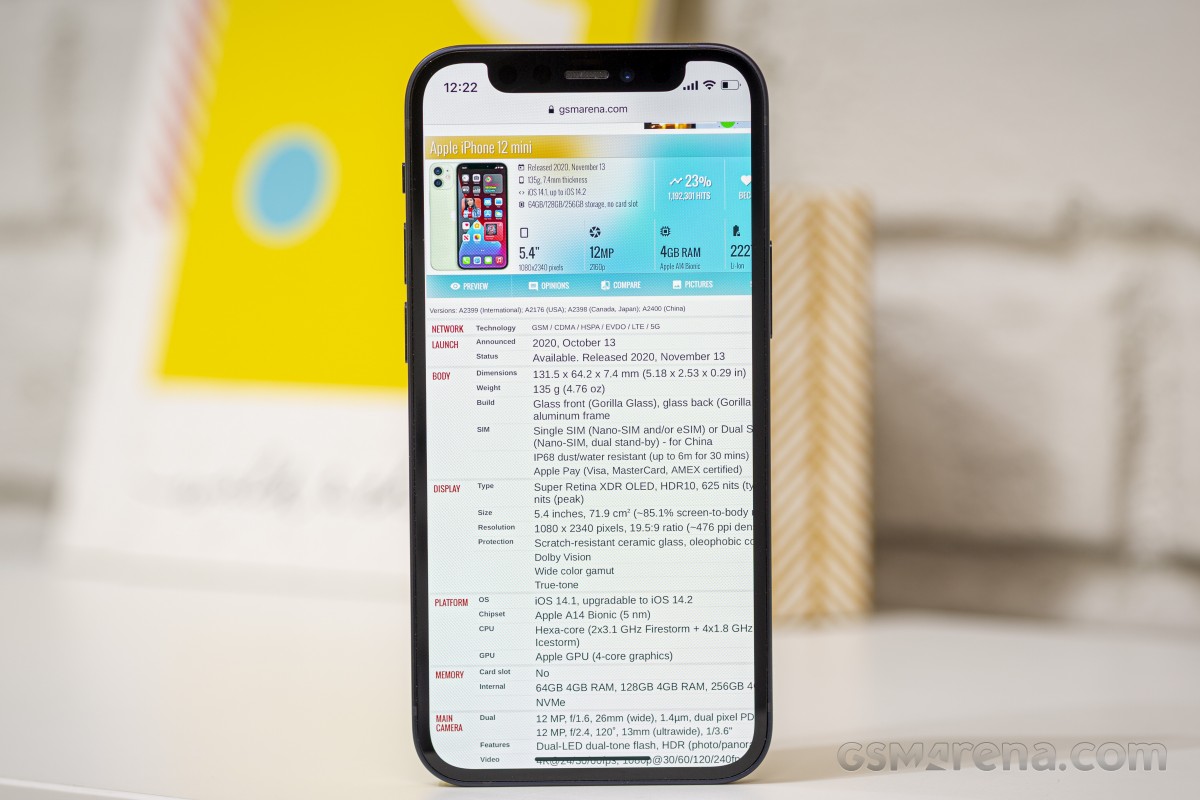 Apple's consistency about the notch size is unavoidable due to the identical Face ID tech, 12MP selfie camera, the earpiece, and the other sensors. Regardless of the reasoning, however, the iPhone 12 mini has the biggest eyesore of a notch we've seen.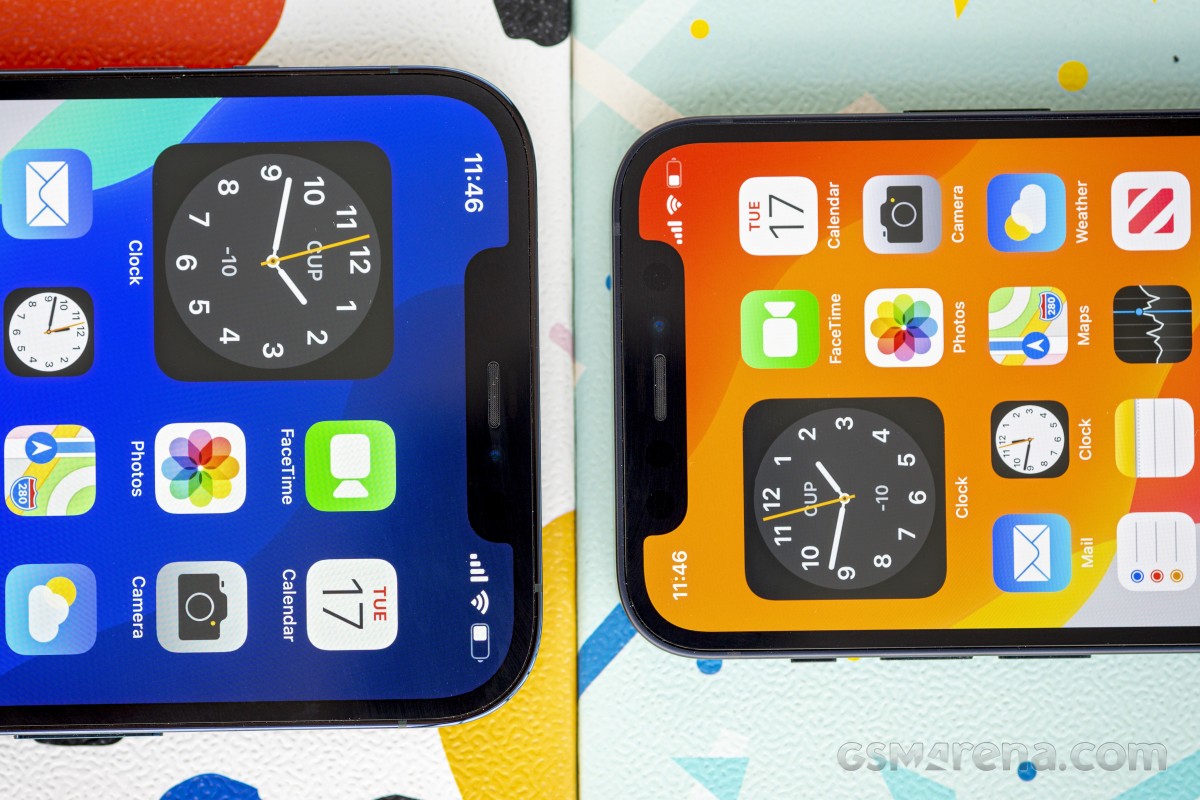 Max notch vs. mini notch
The OLED seems quite bright and very responsive. The sharpness is expectedly great, and the only thing we miss is a Touch ID beneath the screen. Apple has given us no plans of adding the feature in future iPhone either.
The iPhone 12 mini may be small, yet Apple still managed to fit stereo speakers in it, and they are as loud as the ones on the iPhone 12 and 12 Pro. The earpiece acts as one of the speakers while the other speaker is next to the Lightning port at the phone's bottom.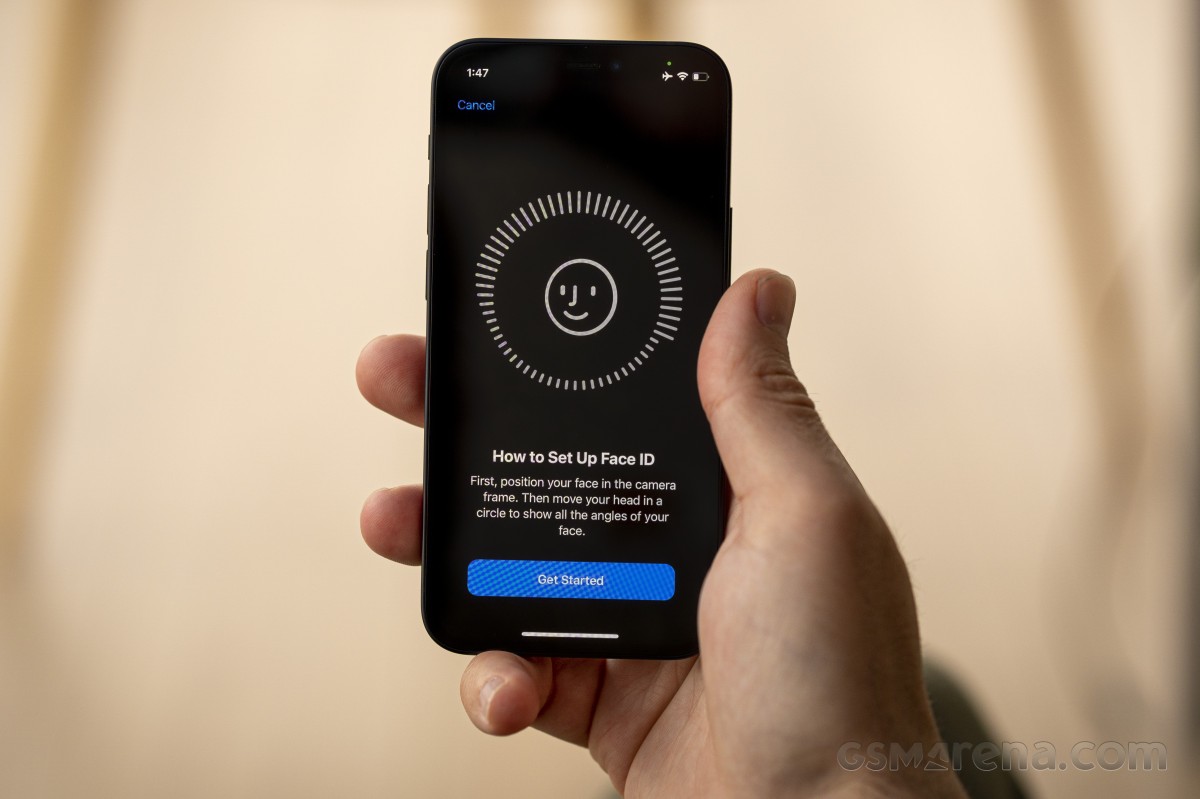 Let's look at the back now. We have the Black model, which is probably the model to get covered in fingerprint smudges the easiest. The back glass is flat, obviously, and it's all glossy. The Apple logo in the middle is a tiny mirror, and if it gets scratched or scuffed up, it will easily add a blemish to the phone's entire look.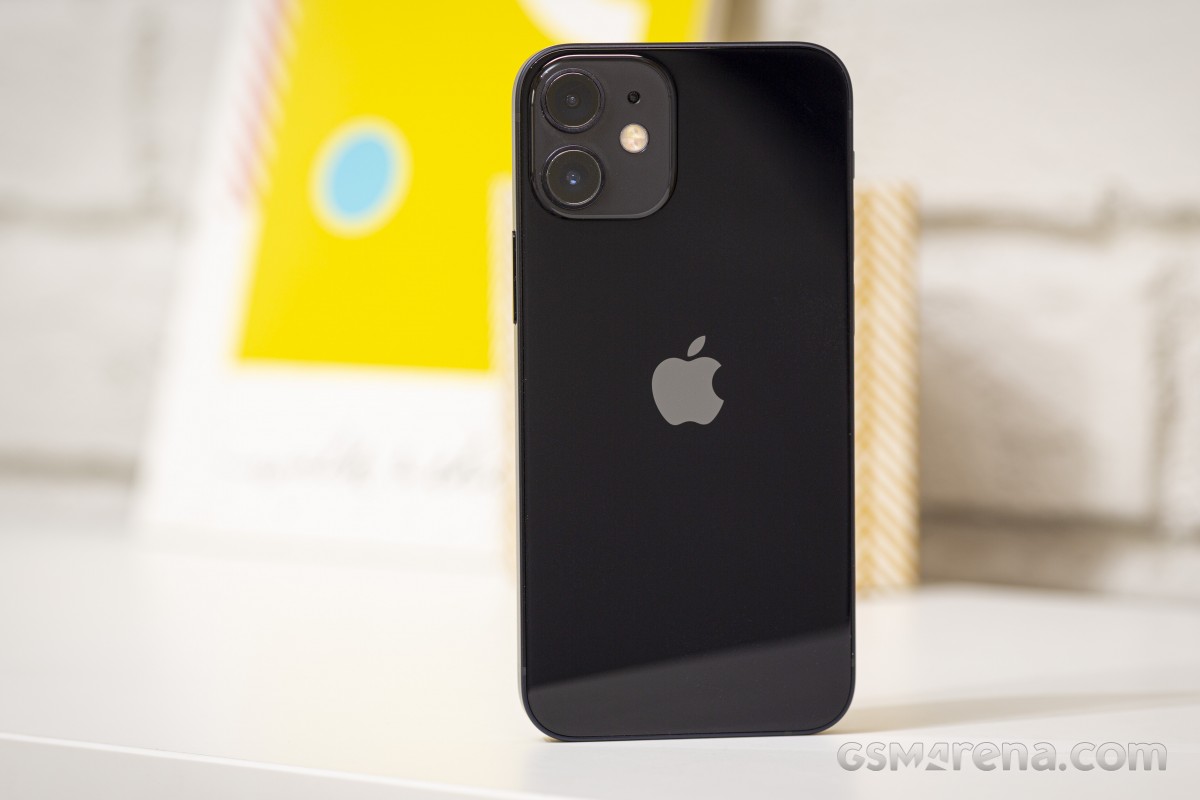 Then there is the square camera glass, frosted this time, housing the primary and ultrawide snappers, the dual-LED flash, and a mic for stereo sound capturing. This piece of glass isn't flush with the back panel, but it's no biggie either, and the iPhone 12 mini won't wobble on a desk as much as some recent Android phones.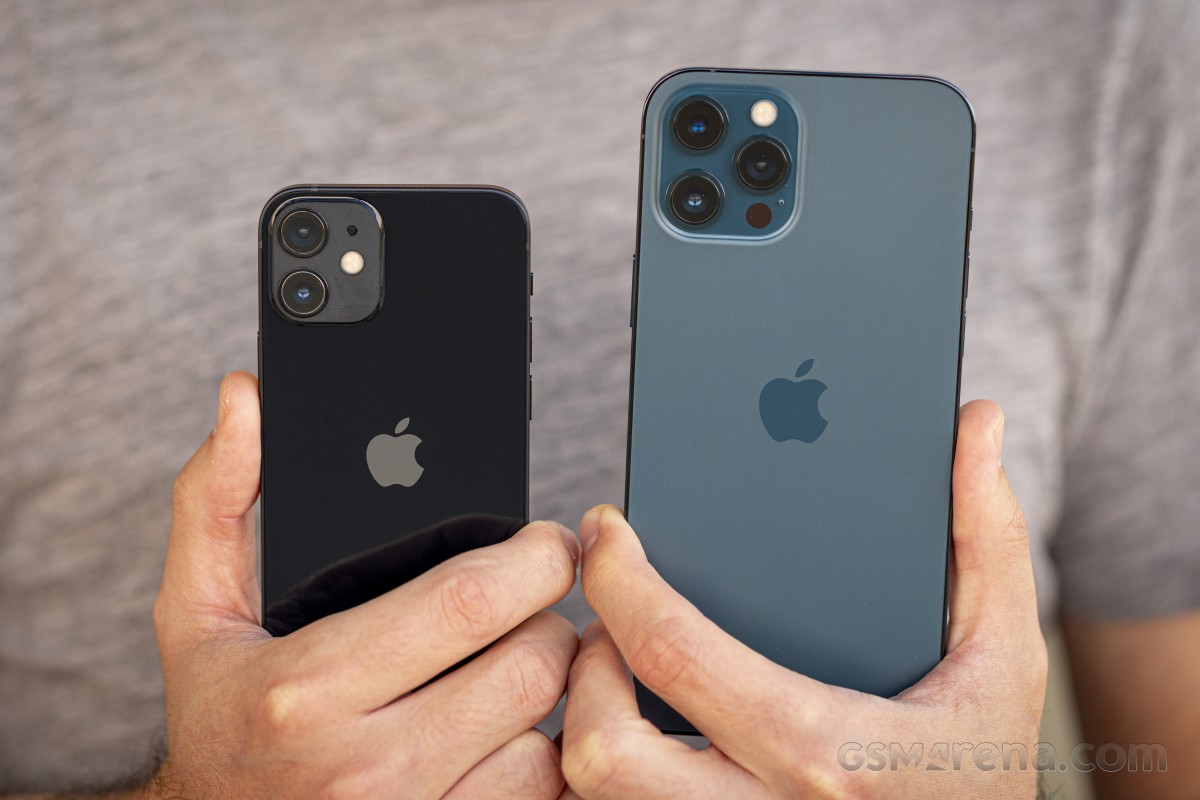 Camera: mini vs. Max
The lenses of the dual camera are protected by sharp metal rings and sapphire glass. Those two can and will scratch whatever delicate surface you put them on, so be very careful where you leave case-free iPhones.
The aluminum frame is flat, but its edges aren't sharp like the iPhone 5/5s/SE or even the new 12 Pro Max. Its matte finish makes for some good hand grip, and everything on the frame is easily reachable.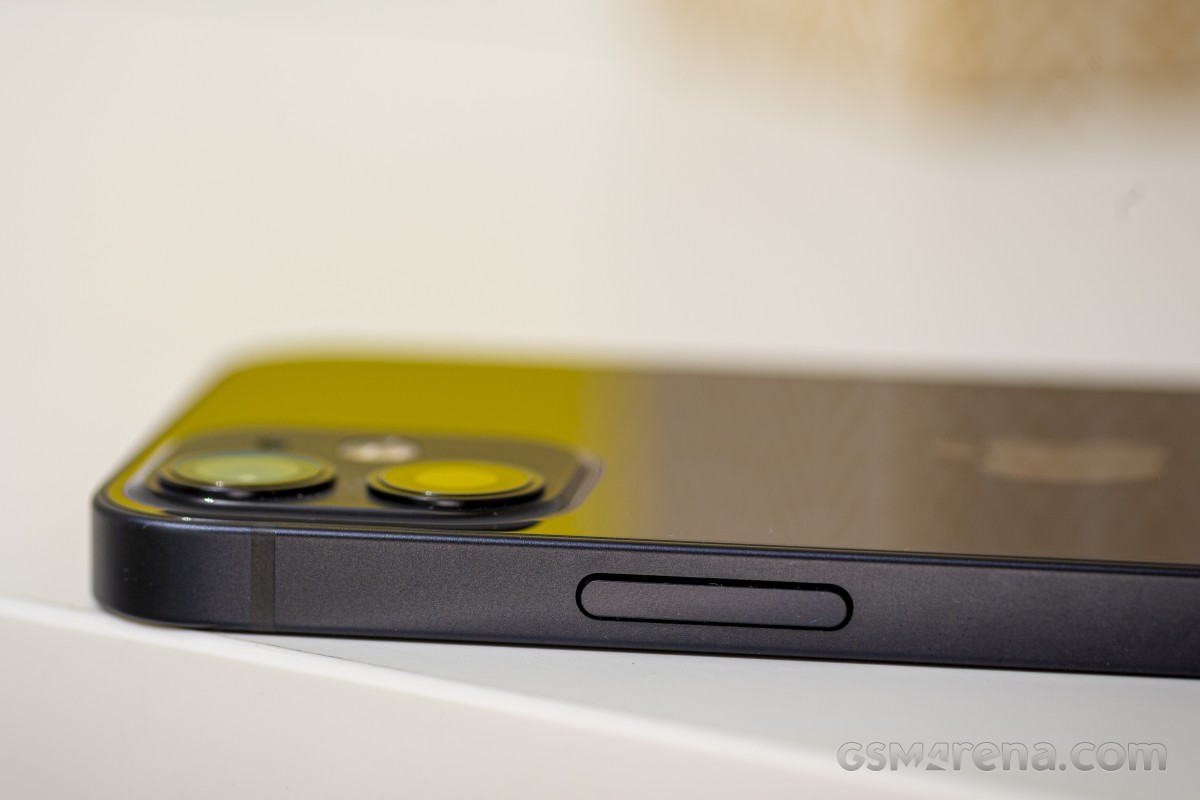 The silencer, the volume keys, and the SIM slot are on the left, while the Side (Power/Lock) key is on the right.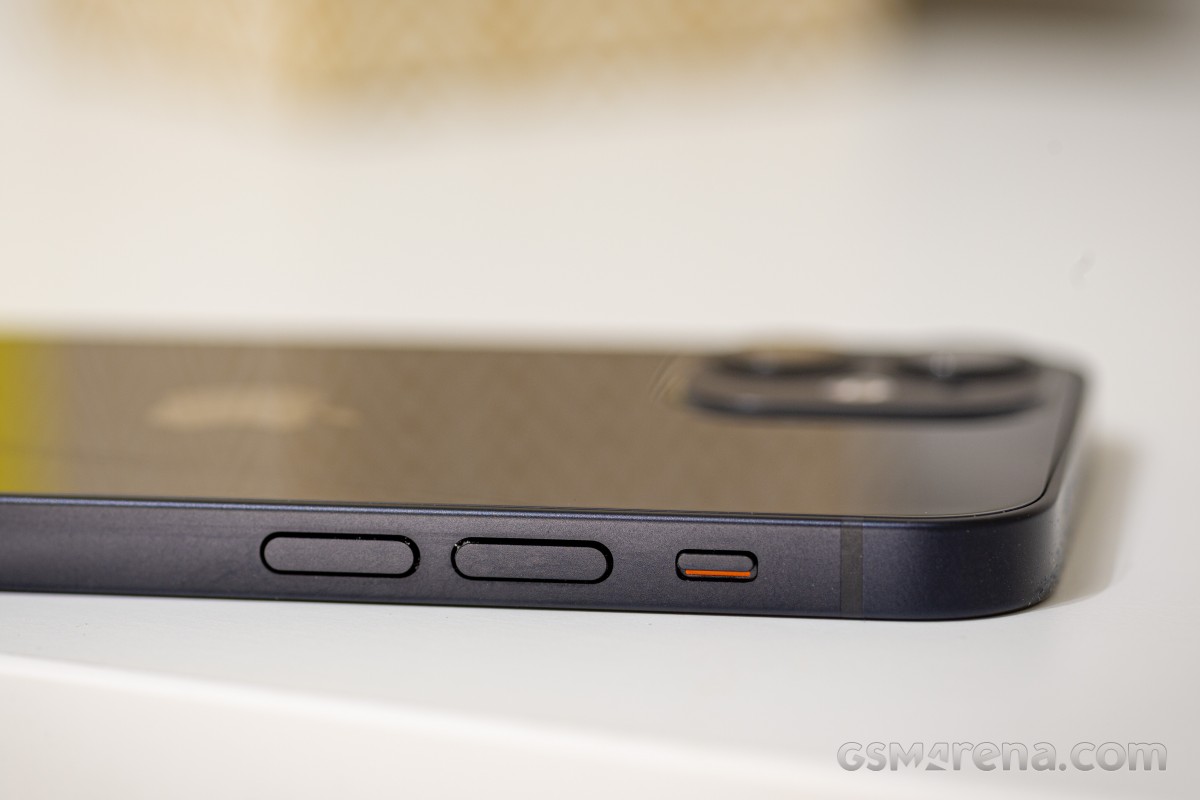 The mouthpiece, the Lightning port, and the second stereo speaker are at the bottom.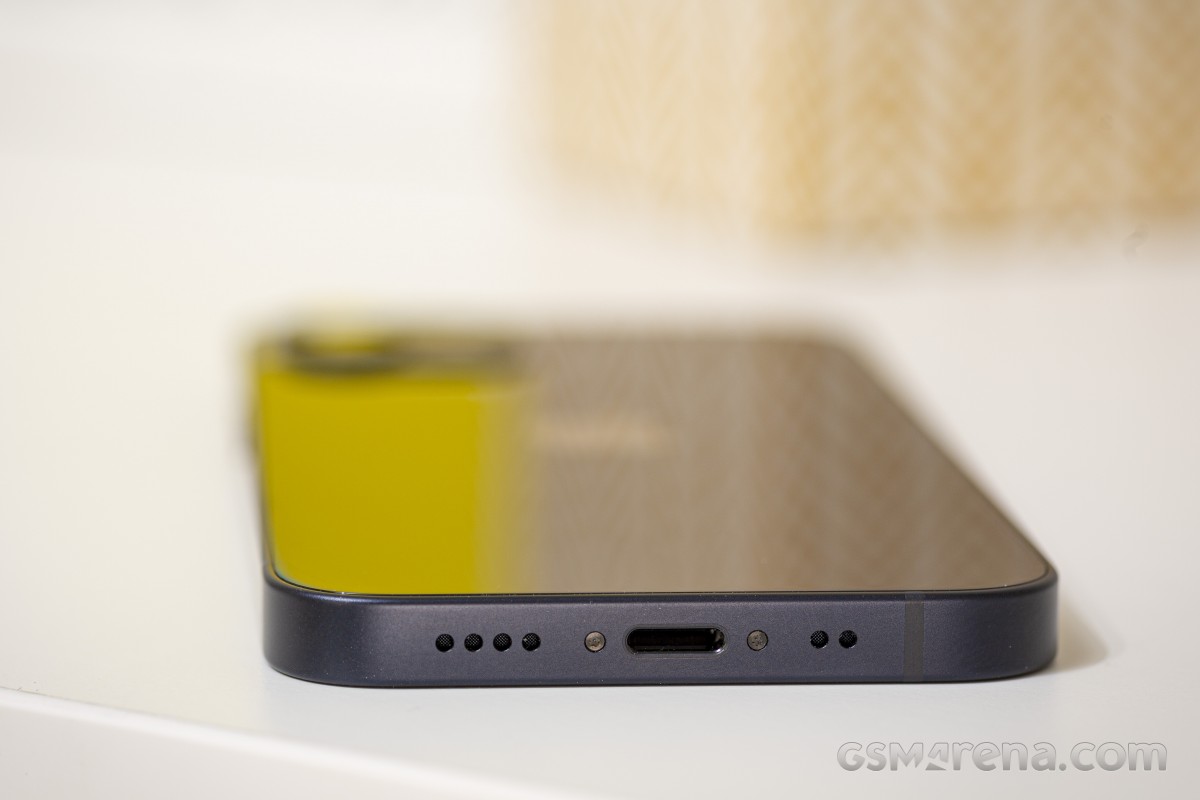 The iPhone 12 mini is just about 7mm taller, 5mm wider, and merely 22g heavier than the iPhone 5/SE. But it is also 15mm shorter, 7mm narrower, and 30g lighter than the already lightweight at 165g iPhone 12.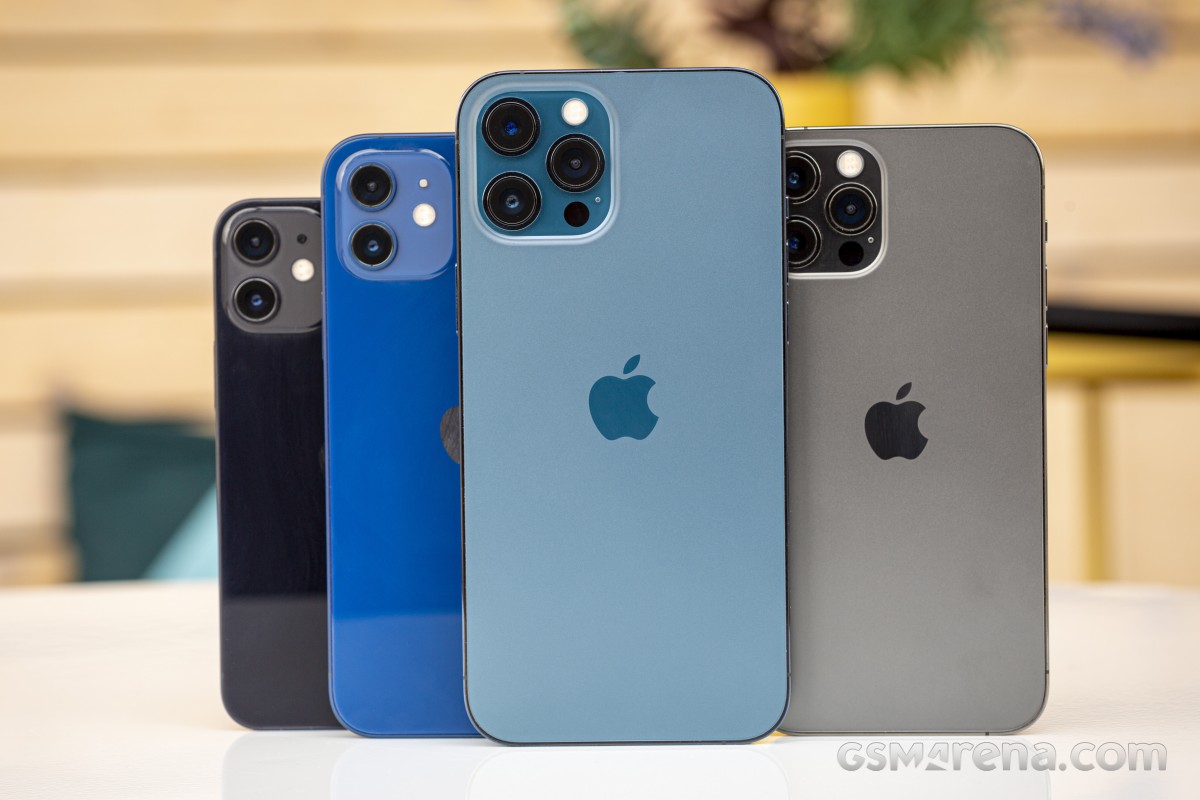 The iPhone 12 family
The iPhone 12 mini is one of the most pocketable smartphones we've used in a while. It slides so well in a pocket that sometimes we had to check if it's in there. It is also thin yet grippy. In fact, we are impressed with the grip the iPhone 12 mini provides - its brushed aluminum frame helps a lot when handling, and in day to day use, the glossy rear glass didn't compromise the handling as much as we expected.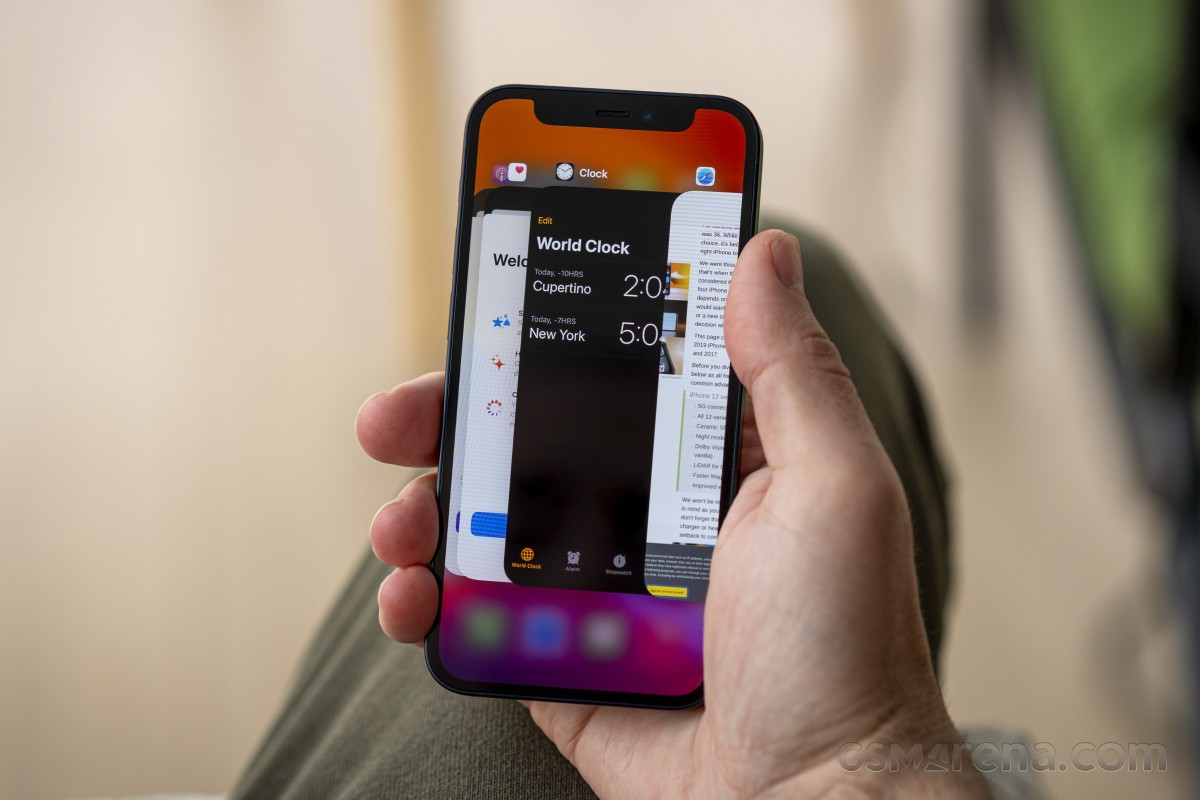 Whether you are coming from an iPhone 11, Pro, Max, or even from an iPhone SE (2020), the iPhone 12 mini feels incredibly compact and comfortable in hand. It is a joy to operate with one hand, with excellent grip and durability.
Smudges are what could be an issue for some people, and rightfully so. Nobody likes a messy phone. Those are quite easy to clean on the iPhone 12 mini thanks to its oleophobic coating, but still. If you don't like seeing fingerprints and pocket dust, you can get a white or green iPhone. We have the black iPhone 12 mini, and we've seen the blue one, and without sugar-coating it - these colors quickly turn into smudge-fests.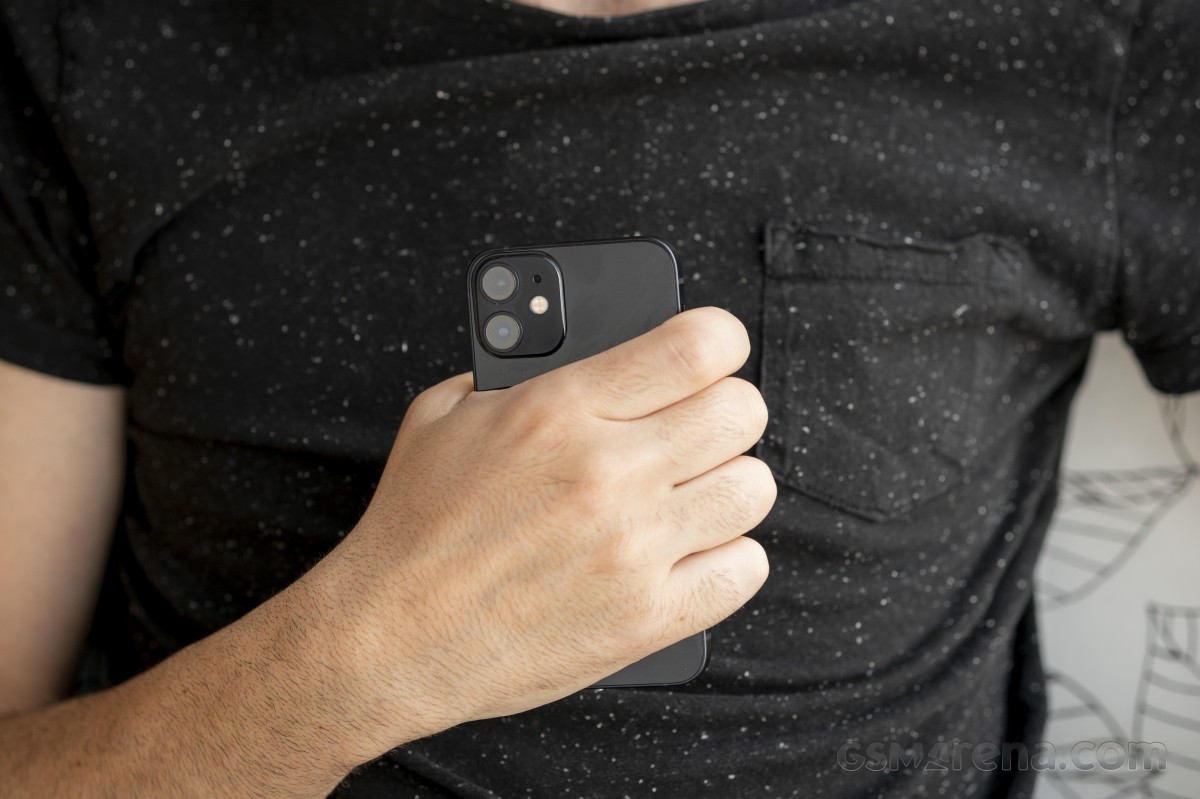 Finally, if you are seriously considering this mini, we recommend you to go and see it first and get a feel for it. It is so small that it feels like a remnant from a past era, and you may not appreciate it as much you'd think. Photos look incredibly small on this screen, videos are no longer as fun to watch. The on-screen keyboard feels more cramped than ever. Don't get us wrong, the 12 mini is everything Apple promises it to be. Still, our perceptions and preferences sometimes evolve without us even noticing, so make sure you double-check you are in love with the phone in person and not just in love with the concept of having a compact phone yet again.
The iPhone 12 is really not much bigger, and in our experience, it provides a more universally appreciated balance between body size, screen size, and battery size. But we're getting ahead of ourselves. Next, let's see how this mini fares in our battery of tests (pun intended).
I'm no phone snob, but here's my opinion. I liked my iPhone 11 a lot, sadly ran it over with my pickup about a year ago. Of course Verizon had nothing older than a 12 mini so I figured, might as well, I disliked the huge thing in my pocket anyway. Th...
Anonymous
04 Oct 2022
6Pd
What do you mean?