Apple iPhone 12 Pro review
GSMArena team, 3 November 2020.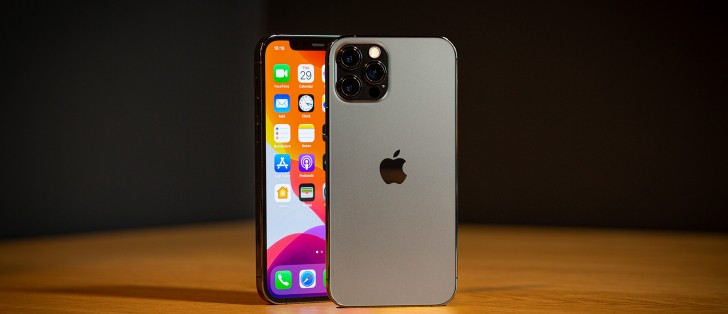 LiDAR capabilities have arrived on the iPhone
Apple made a big deal of the new LiDAR scanner, and rightfully so. The miniaturization of the LiDAR (Light Radar, Light Detection and Ranging, and know also known as Laser Imaging, Detection and Ranging) technology is one of Apple's more prominent achievements, and after the iPad Pro, it now premieres on the iPhone 12 Pro.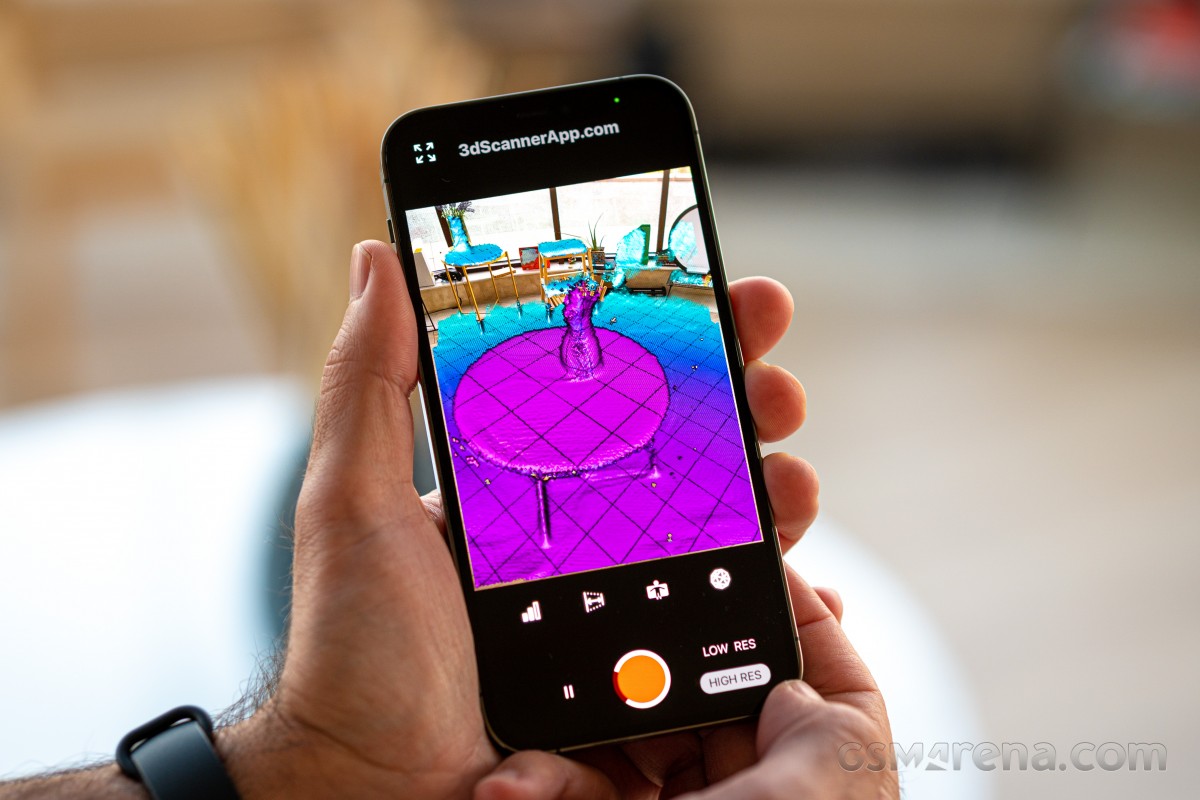 The LiDAR scanner measures distances by firing laser beams and measuring their reflections with a dedicated sensor. This way, the phone can make a super accurate 3D representation of an object and later place it virtually anywhere. Thinking of new furniture? This will be perfect. Want to compare the size of objects you can't put next to each other - LiDAR will help.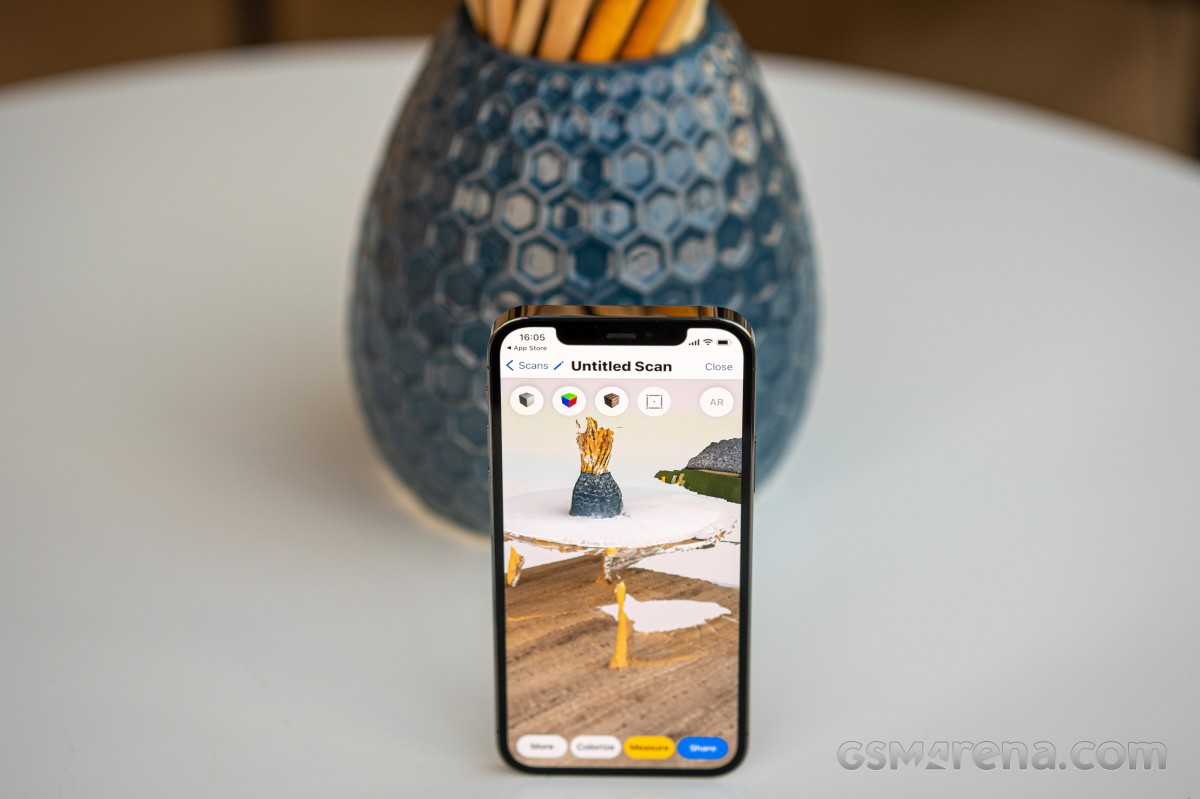 The LiDAR scanner is also very accurate at measuring distances, and you can use it just for that - like a fancy digital tapeline. Or you can set a distance and see virtual walls in real-time at the predefined distance. Professionals such as interior designers may find the LiDAR scanner a handy tool.
Thanks to the powerful AR capabilities that also come as a bonus with LiDAR, you can also have an amazing AR experience with compatible apps and games.
Another benefit of this technology is the speedier (and more accurate) focus in low light. And because the sensor doesn't care about light conditions and can work even in pitch dark room, you can now shoot low-light portraits for the first time with great subject separation and blur.
Long story short - you can use LiDAR-compatible apps (such as 3D Scanner App) to scan and place objects wherever you like, export such objects to use in your projects, and even measure distances. Of course, you can also enjoy the boosted AR experience in various games.
Performance and benchmarks
The Apple A14 Bionic chip powers the entire iPhone 12 series. It is the first commercially available 5nm chipset in the world, packing a whopping 11.8 billion transistors - that's 40% more than the A13.
The A14 has a six-core processor, just like the last Apple chips. It has 2 big Firestorm cores clocked at 3.1GHz and 4 small Icestorm cores working at 1.8GHz with TurboBoost capability to go to 3.1GHz when necessary. The upgraded processor should deliver a 50% higher performance than the A13's.
There is a new 4-core Apple GPU, which should offer up to 50% increase over last year's iPhones.
Then there is the new 16-core NPU for machine learning that brings a 70% increase in AI performance.
The iPhone 12 Pro has 6GB of RAM, while the non-Pro models come with 4GB of RAM.
The Apple A14 Bionic also comes with Qualcomm's X55 5G modem, and that's why the entire iPhone 12 lineup supports 5G connectivity.
The new A14 Bionic chip and its ISP are also at the heart of the improved camera quality - the Smart HDR 3, Deep Fusion, Night Mode, Dolby Vision recording, and more - these new features are all possible thanks to the sheer power of the A14.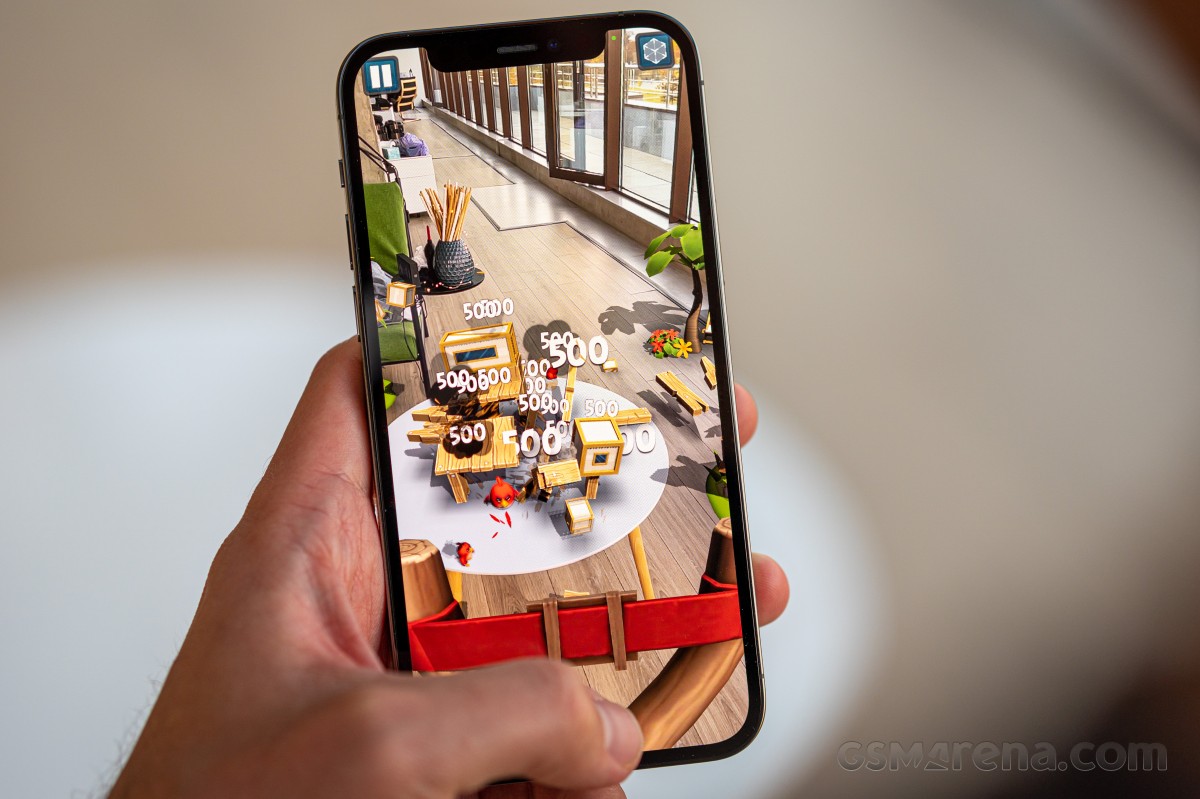 The iPhone 12 Pro and iPhone 12 are the fastest iPhones so far, but that's hardly a surprise. The Apple A14 has the most powerful processor to this very day, as usual.
GeekBench 5 (multi-core)
Higher is better
Apple iPhone 12
4067
Apple iPhone 12 Pro
4056
Apple iPhone 11 Pro
3466
Samsung Galaxy S20 FE
3296
Apple iPhone SE (2020)
3237
OnePlus 8T
3126
Samsung Galaxy Note20 Ultra 5G
2603
GeekBench 5 (single-core)
Higher is better
Apple iPhone 12 Pro
1611
Apple iPhone 12
1605
Apple iPhone SE (2020)
1334
Apple iPhone 11 Pro
1333
Samsung Galaxy S20 FE
906
OnePlus 8T
893
Samsung Galaxy Note20 Ultra 5G
880
The improved GPU does offer more raw power, though it's a marginal difference.
GFX Manhattan ES 3.1 (offscreen 1080p)
Higher is better
Apple iPhone 12
132
Apple iPhone 12 Pro
132
Apple iPhone 11
121
Apple iPhone 11 Pro Max
120
Apple iPhone 11 Pro
118
Apple iPhone XS
98
Apple iPhone XR
97
Apple iPhone X
65
Of course, the latest iPhones are the new AnTuTu champs.
AnTuTu 8
Higher is better
Apple iPhone 12 Pro
596244
Apple iPhone 12
579048
Apple iPhone 11 Pro Max
536883
Apple iPhone SE (2020)
462253
Apple iPhone XR
422465
The Apple A14 Bionic chip, even if it makes the iPhone 12 Pro the fastest smartphone on the planet, will not be among the reasons to jump on Series 12. Performance has always been top-notch on the iPhones, even if it's a three-year-old model. It's the A14 chip's new features that matter - such as the improved machine learning and the new ISP, which take computational photography on the next level.
One thing we can definitely say is that judging by those high frame rates achieved on the offscreen benchmarks, the iPhones' 120Hz screens are already a few years overdue.
Gaming is great on the iPhones, though it turns out the iPhone 12 Pro provides a better cooling system and thus less throttling over long gaming sessions or benchmarks. While the iPhone 12 becomes very warm around its frame and rear glass, the Pro model gets moderately warm. And this shows.
The iPhone 12 Pro has a stability score of 90.9% on the 3D Mark Wild Life Stress Test, which runs 20 loops of the Wild Life graphic test.
The iPhone 12 achieve 84% stability on a newly configured phone, and then it dropped to 75% when we populated it with apps such as Facebook, Skype, Whatsapp, Messenger, Bluetooth accessories, etc.
For a comparison - a similarly crowded iPhone 11 Pro Max shows stability of 82%.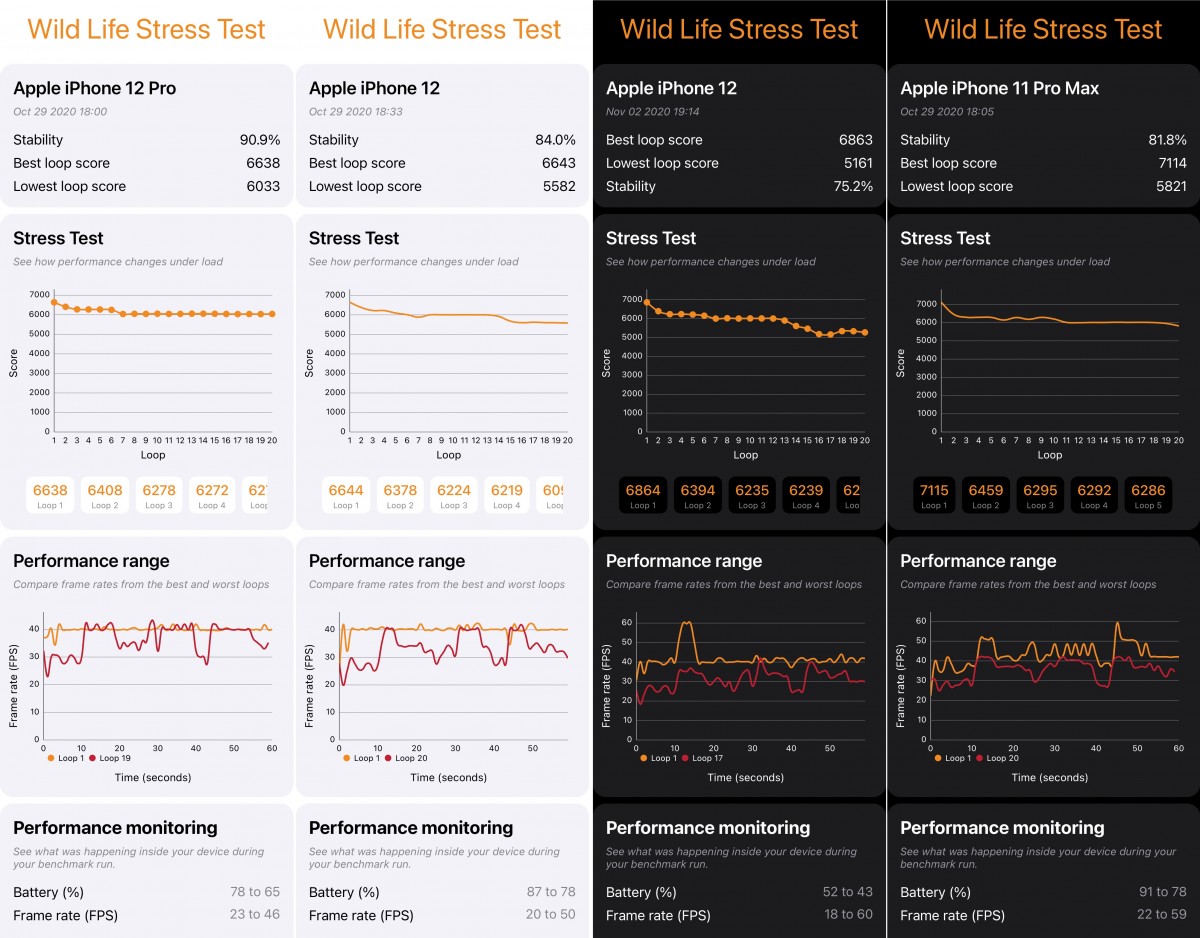 These results come from a busy GPU benchmark, of course.
We tried running Call of Duty Mobile on the iPhone 12 Pro and 11 Pro and we found them both equally stable, didn't get hot at all, and we found no excessive battery drain. In fact, the iPhone 12 Pro can run that game for 9 hours and 39 minutes, while the 11 Pro lasted 8 hours and 36 minutes.
Gaming time
Apple iPhone 12 Pro
9:39h
Apple iPhone 11 Pro
8:36h
So, the iPhone 12 Pro is well-suited for gaming with better cooling and stability than the iPhone 12. It also offers 1 hour or so more gaming time when compared to the iPhone 11 Pro.
WhytDehvull
15 Feb 2022
0ar
I completely disagree, but for me it's just relative. I upgraded to a 12 Pro from an SE 2020. I've seen sitcom episodes that lasted longer than the battery in the SE, anemic would be a gratuitous compliment. So for me, the 12 Pro is a full season of...
Yeah 12 pro battery really sucks
What do you mean, they rectified the issues with the 13 pro series, which looks a lot like the 12, but they have better benefits than the regular 12 pro! If you want to sell it, there is a trading program that allows people to get the new phone ...