Apple iPhone 12 Pro Max review
GSMArena Team, 20 November 2020.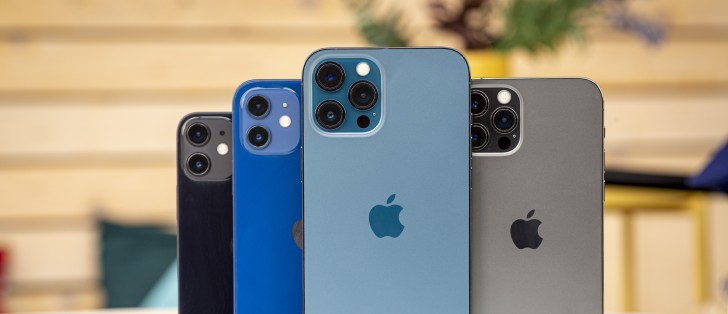 Design, build, handling
Meet the biggest and heaviest phone Apple has made so far - the iPhone 12 Pro Max. But while its size might be extra-large, the 12 Pro Max is in no way bulky. The new design and 7mm slim profile make this huge iPhone one exquisite-looking piece of technology that's a real pleasure to use and carry around.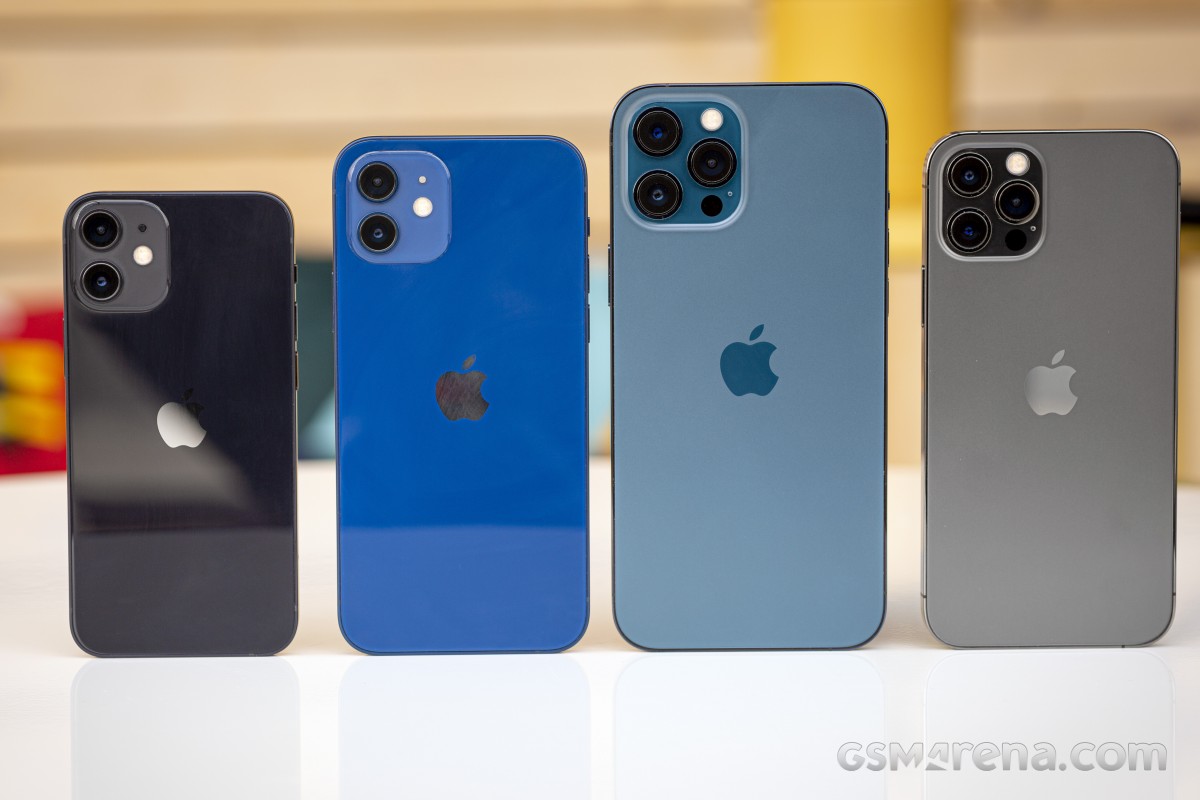 Apple iPhone 12 series
The iPhone 12 Pro Max shares design with the rest of Generation 12. In fact, it's a stretched version of the regular Pro, through and through.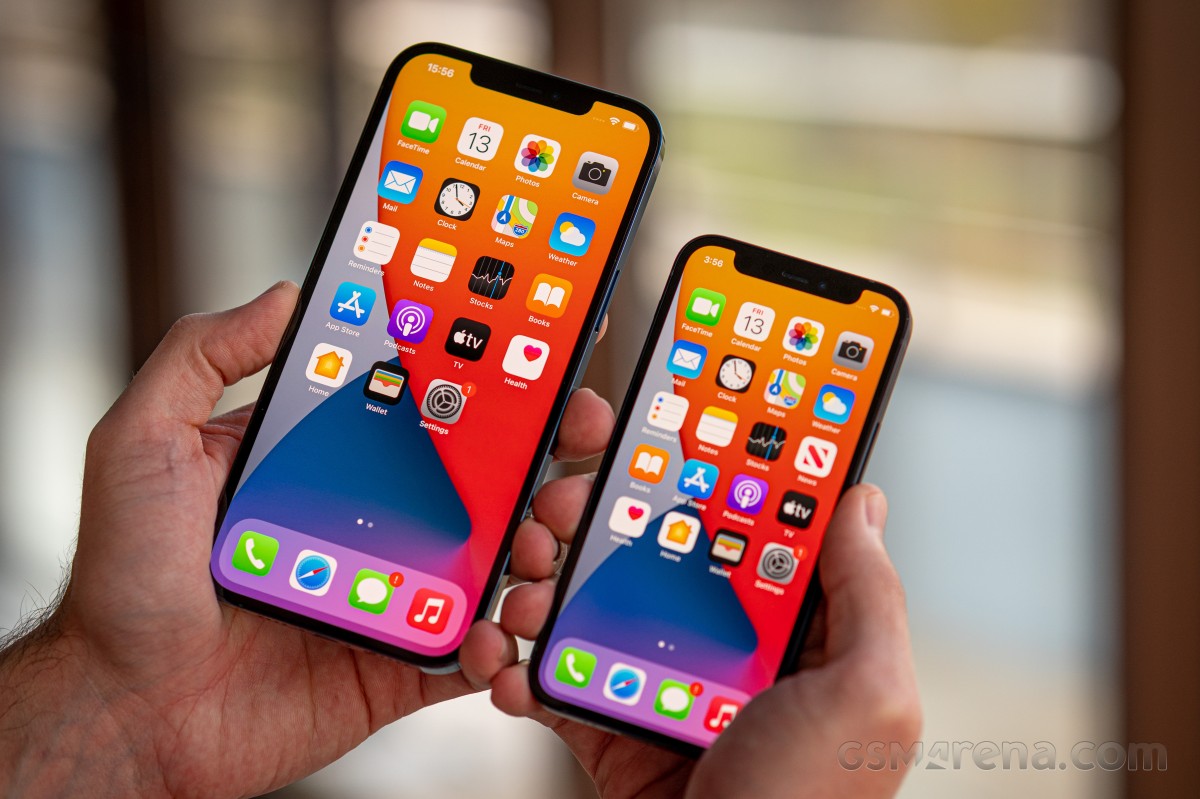 iPhone 12 Pro Max and iPhone 12 mini
The 12 Pro Max is big alright, bigger than we've imagined. But give it an hour or so, and you may find yourself getting used to it. Or not. That's why we advise you to go and experience it in a shop before you are fully committed to ordering one.
The Apple iPhone 12 Pro Max adopts the iPhone 5 reimagined design, complete with all premium goodies Apple has prepared for this generation. It has the Ceramic Shield at the front, the polished stainless-steel frame on the sides, and the tough Gorilla Glass on the back. The 12 Pro Max is as waterproofed as the rest of the iPhone 12 bunch - meaning IP68-rated for dust and up to 6m water endurance.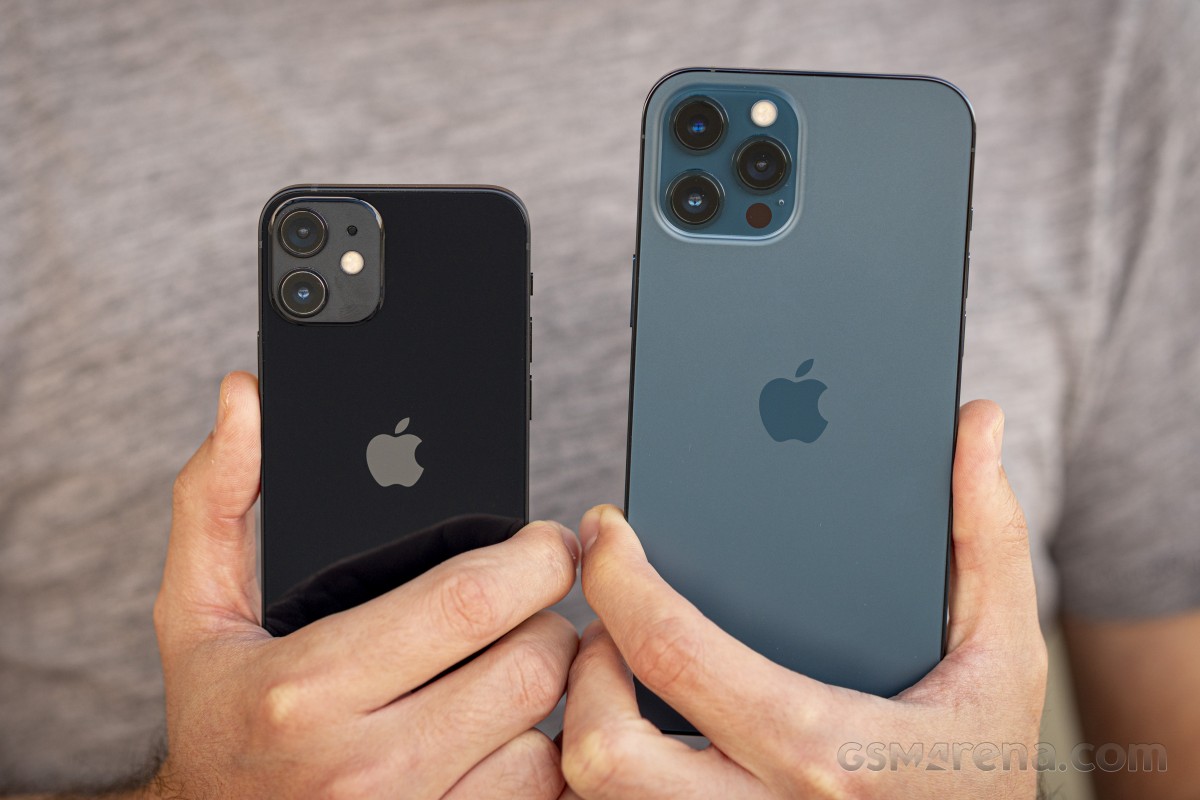 iPhone 12 Pro Max and iPhone 12 mini
The Ceramic Shield is quite the achievement for Apple and Corning, and it proved to be quite tough to break. Scratches are still a threat but shatter resistance has been much improved. The novel ceramic crystals seem to work as promised, and the countless drop tests on YouTube are the proof.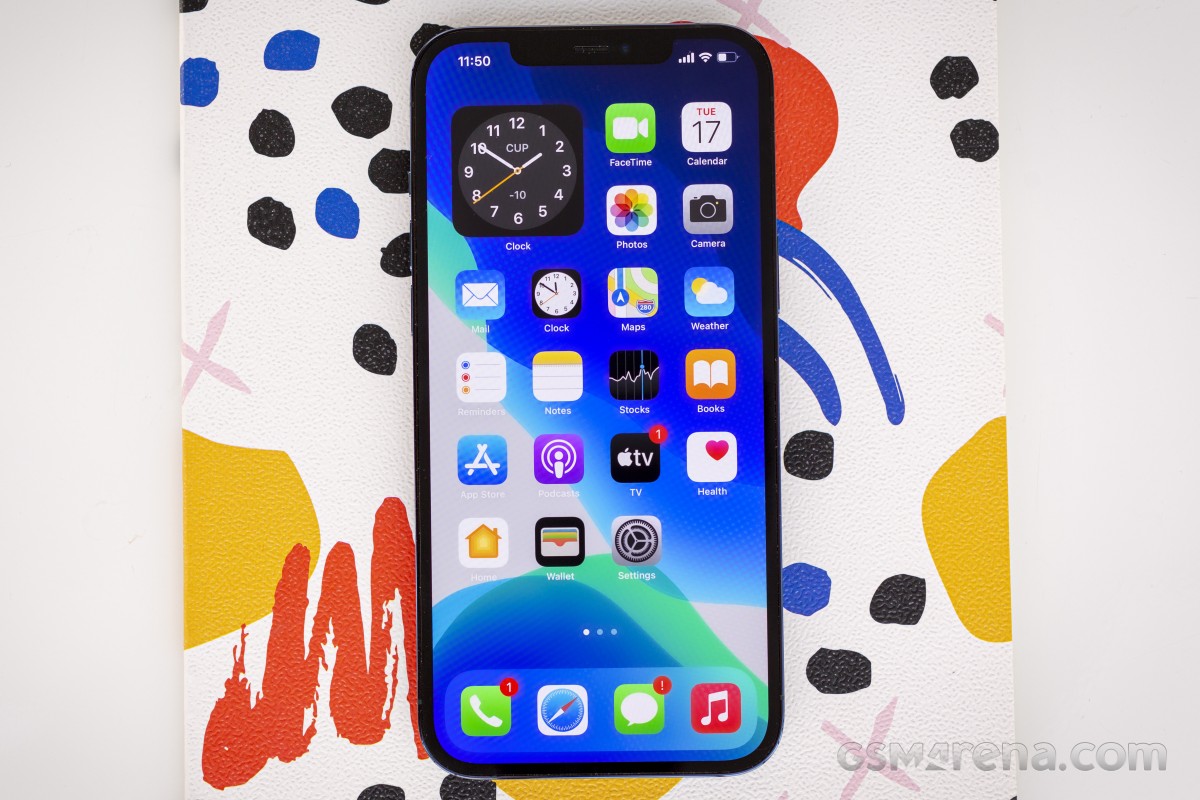 The premium design continues on the sides where the steel frame looks more like a piece of jewelry rather than a phone. But the good news ends there. This polished piece of metal is incredibly easy to scratch, and it's especially apparent if you have the white model - its silver frame accumulated tiny but visible scratches on the very first day!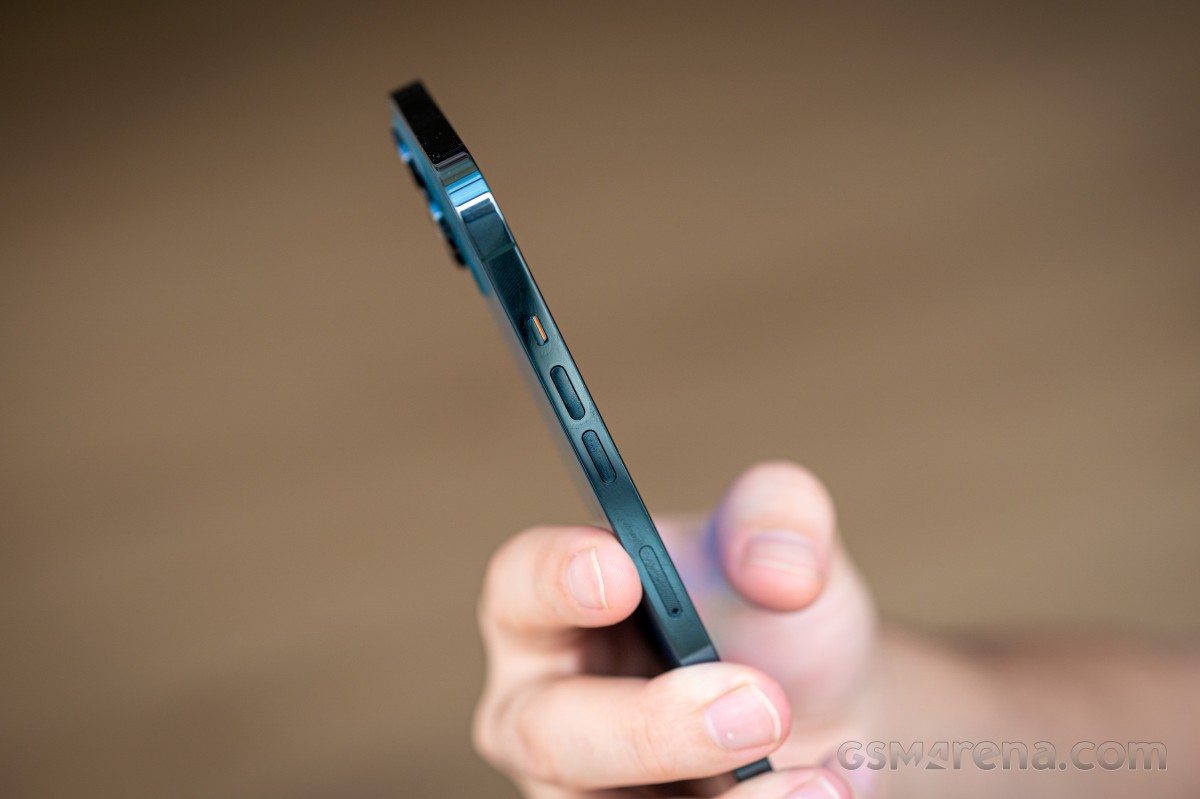 Then there is the issue with fingerprints - tons and tons of smudges and unpleasantries stuck on this steel piece forever. Yes, you can clean them, but they'll just come back in mere seconds, so why bother?
The real letdown, though, is the grip provided by this shiny frame, or rather, the lack of it. The steel frame is so glossy and slippery that it's nearly impossible to pick up the iPhone 12 Pro Max from your desk without risking dropping it midway. A case would help, of course, but it will diminish these premium looks. Better safe than sorry, we guess.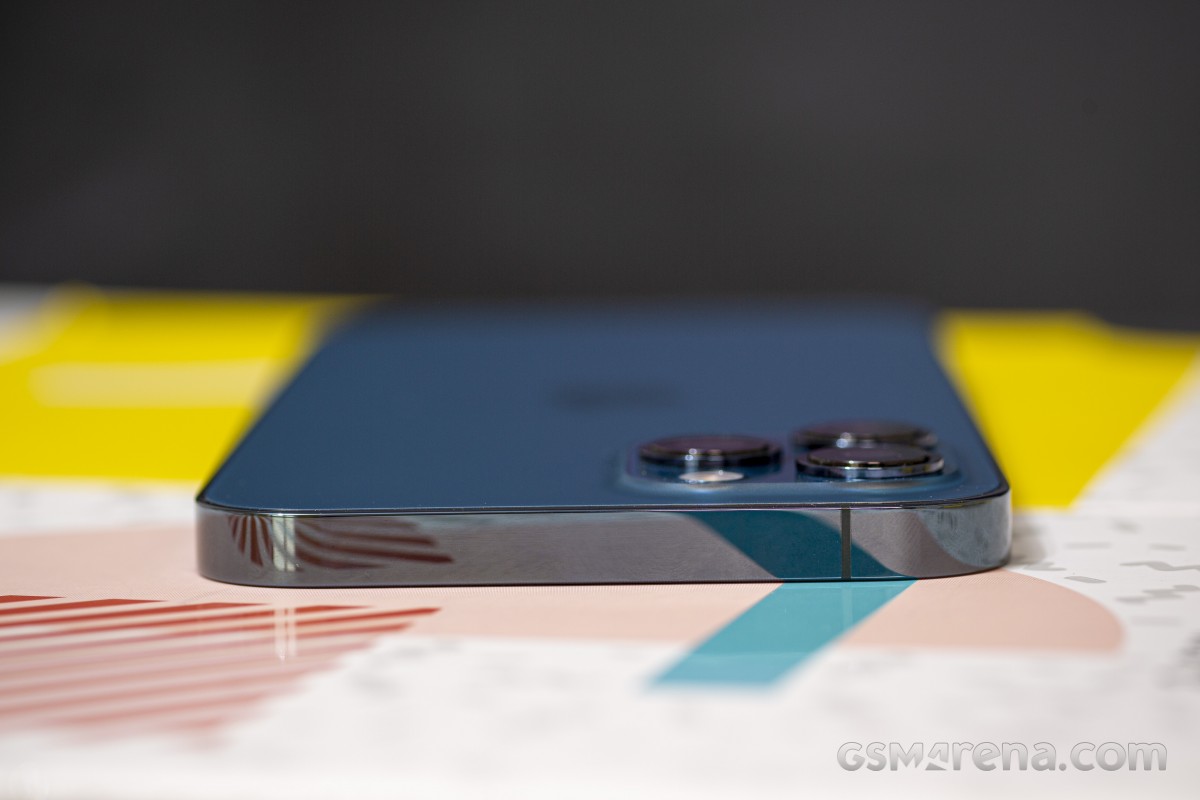 Finally, there is the frosted glass back, flat again, which looks nothing short of gorgeous. Whether it's white or blue, gold or graphite, it's an instant eye-grabber. Plus, it feels presently soft on touch, and we just loved running our fingertips across this surface.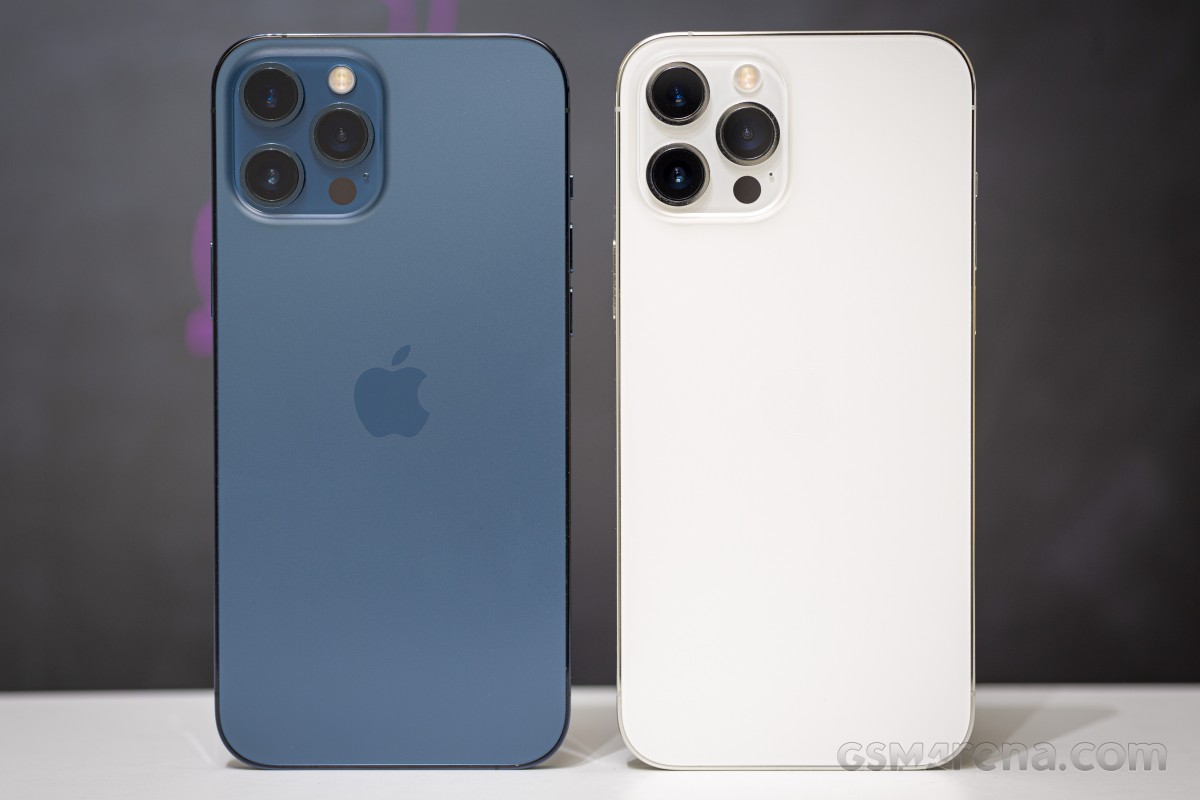 The 12 Pro Max in Pacific Blue and Silver
Unfortunately, while the rear glass isn't a smudge-fest like the frame, it is just as slippery. The iPhone 12 Pro Max provides an awful grip, and the only thing that kept us from constantly dropping it were the square, though not razor-sharp, edges of the frame.
Now, let's return back to the front and take a look at this gorgeous 6.7" Retina XDR OLED screen. It looks quite sharp and bright, and even the notch looks somewhat smaller within.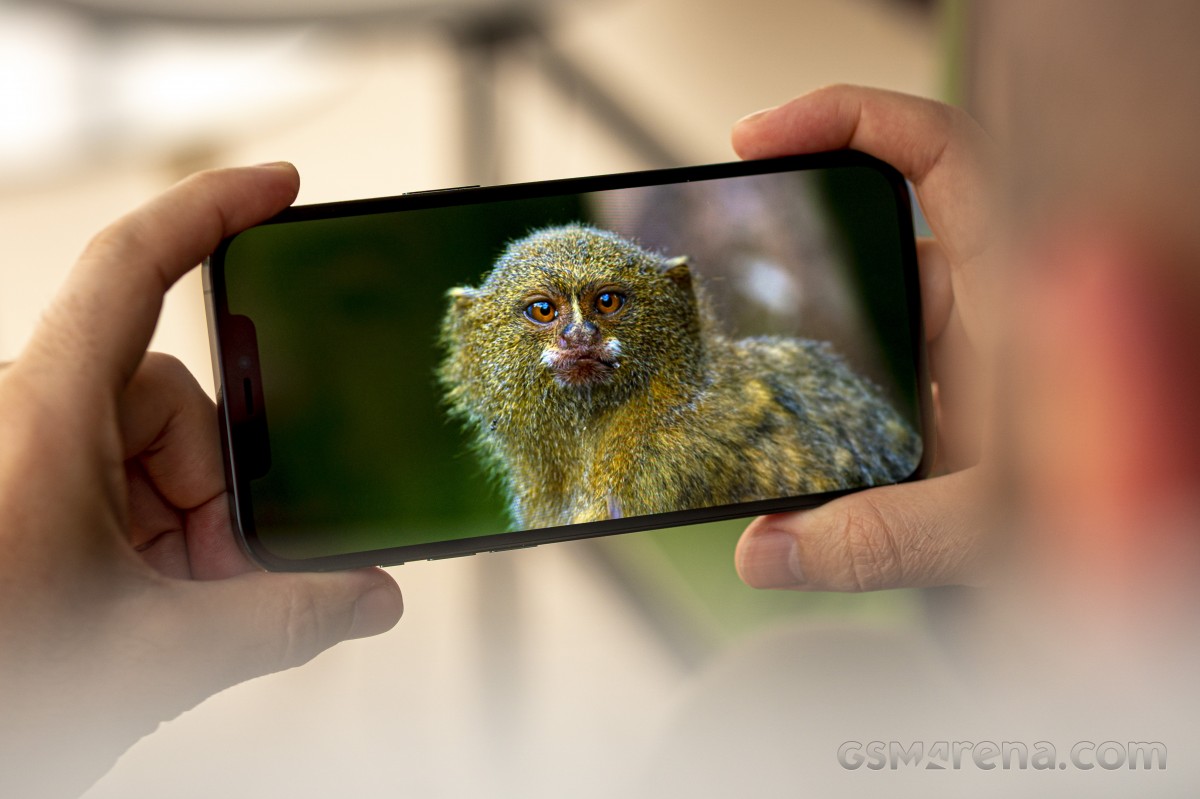 That's an illusion, of course, as the cutout has the same size across all notched iPhones. That's because it always houses the same stuff - the 12MP selfie camera, the Face ID tech, the earpiece that doubles as a stereo speaker, and a bunch of sensors.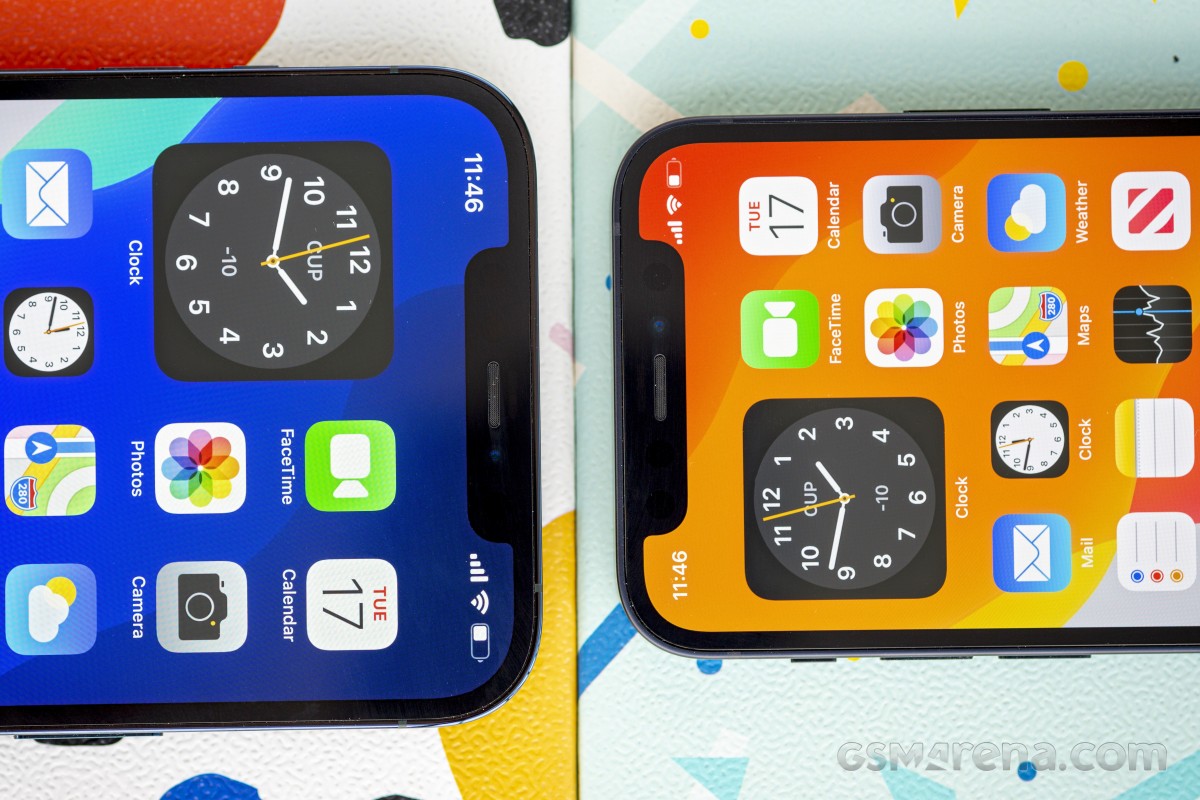 Max notch vs. mini notch
The bezels look pretty small, smaller than on the iPhone 11 Pro Max, though this could be another illusion due to the flat frame and straight glass.
The square glossy camera bump accommodates Apple's latest camera advancements - the new 12MP primary camera with the largest sensor on any iPhone to date, the improved 12MP telephoto camera with a new 65mm lens for 2.5x optical zoom, and the enhanced 12MP ultrawide camera with Night Mode. All these shooters can capture Dolby Vision videos, too.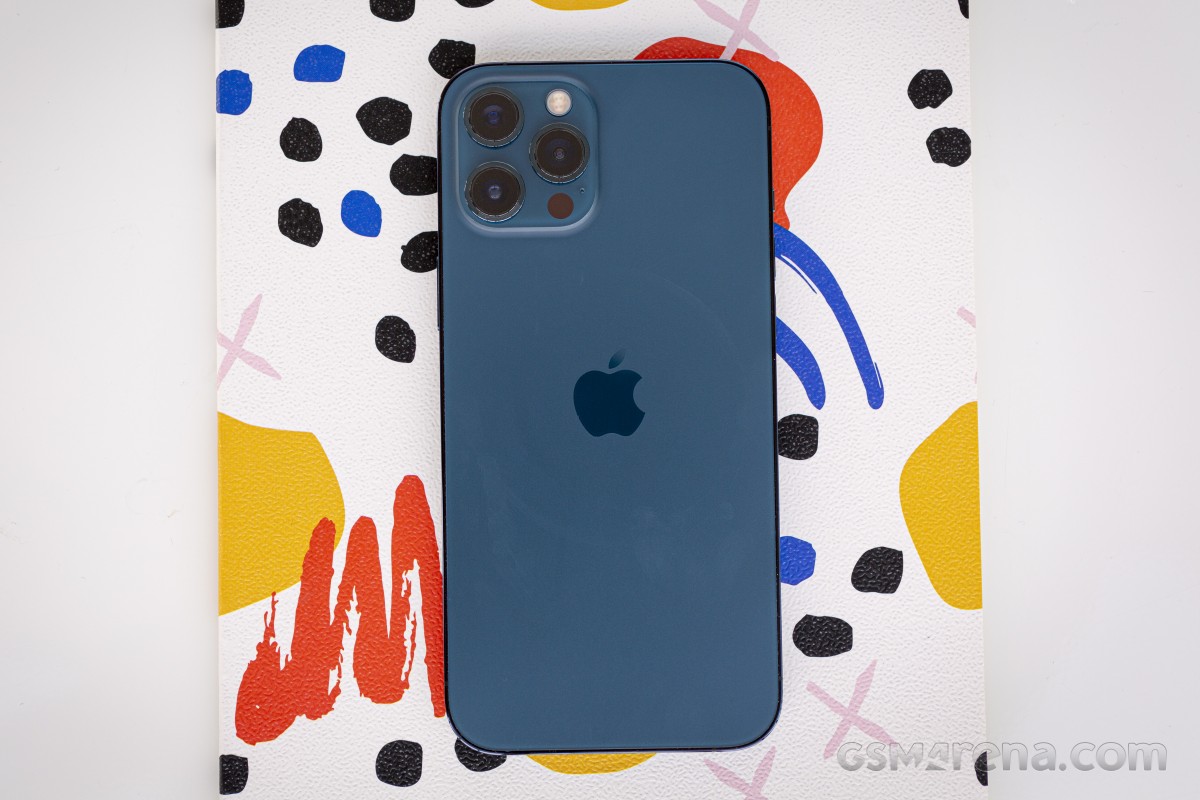 The LiDAR scanner is also around, and it will help with AR apps, Night Mode for Portraits, among many other things.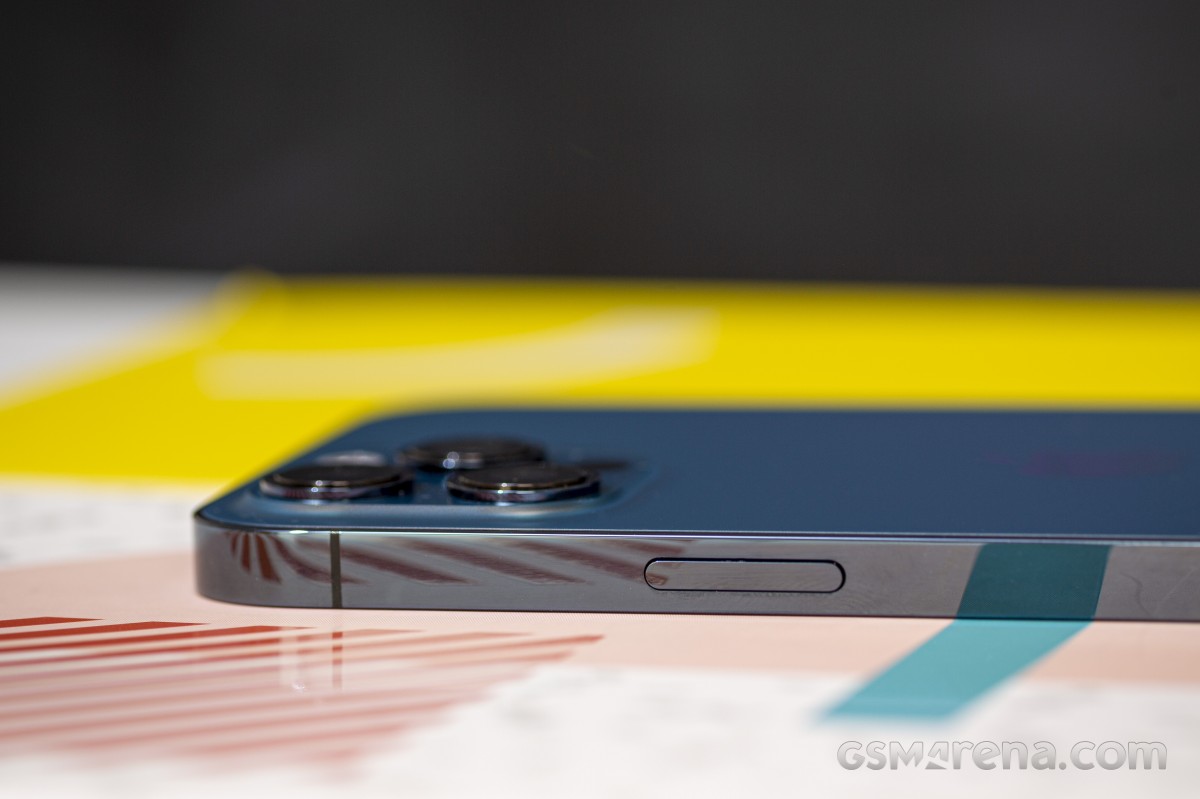 The camera setup is jutting out a bit, but it's nowhere near the mountains we've seen on some other flagships. As usual, metal rings surround the snappers, while sapphire glass keeps them safe. Just be aware that these sapphire pieces can and will scratch anything delicate you put them on (iPhones included).
Let's take a look at the frame now before it's tarnished.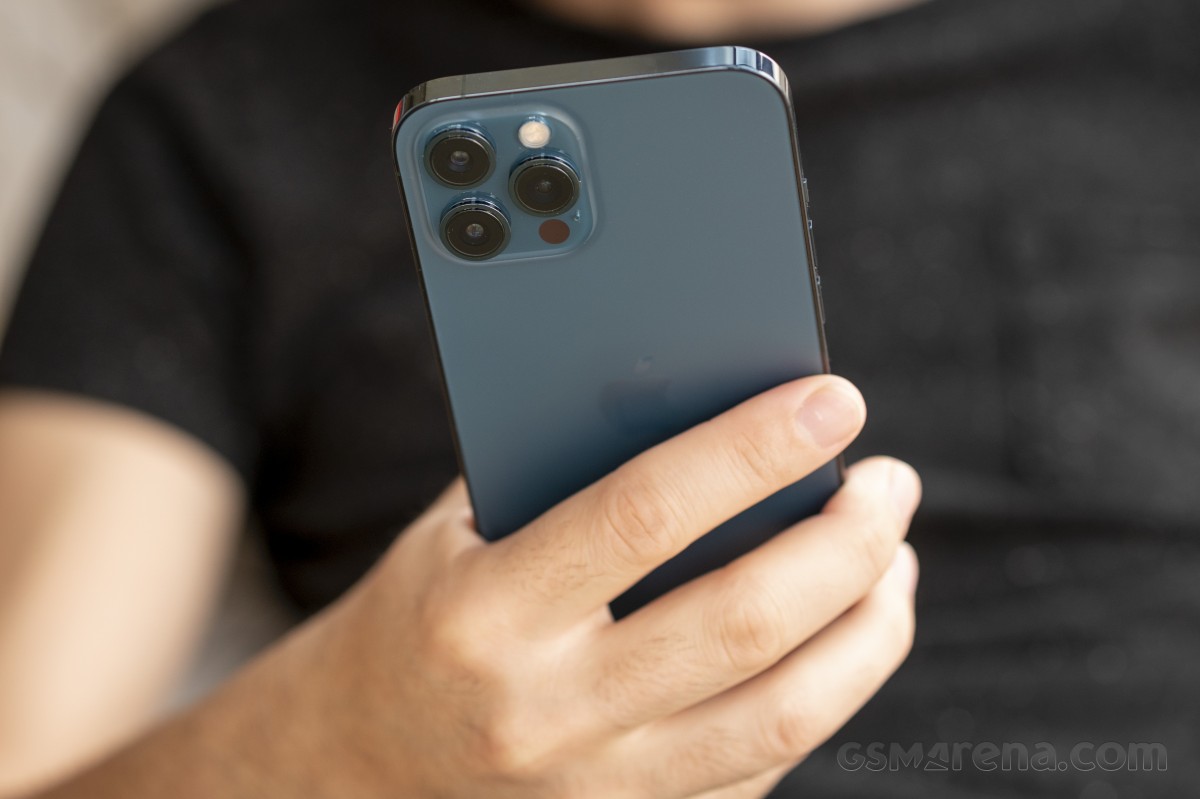 The volume keys and the silencer are on the left, and they are identical in size across all iPhones. That's why they look so puny on the 12 Pro Max. The SIM slot is also around.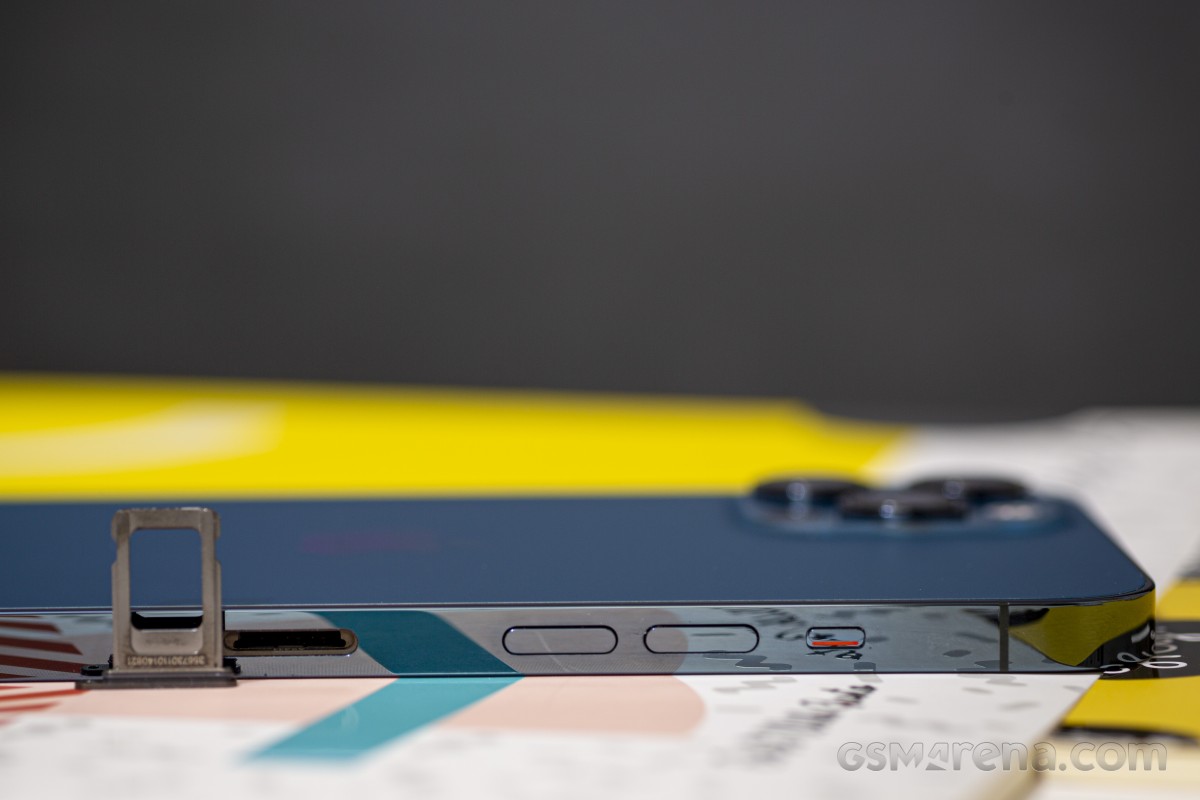 The Side/Power/Lock key is alone on the right side, while the top part has nothing.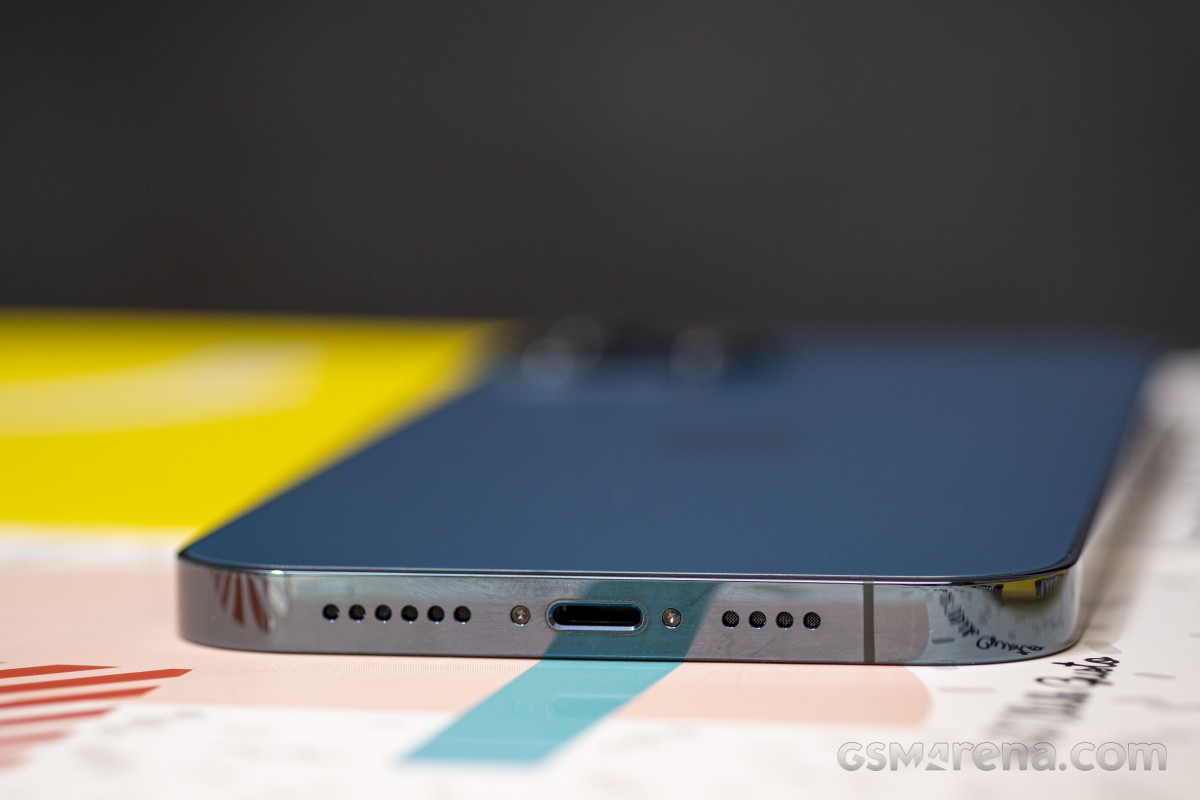 The bottom is where you'd find the mouthpiece, the Lightning port, and the other stereo speaker.
The iPhone 12 Pro Max spreads at 160.8 x 78.1 x 7.4 mm - that's 3mm taller than the iPhone 11 Pro Max. It is 2g heavier at 228g making it the heaviest iPhone so far, even if it's just by a hair. In exchange for these extra 3mm and 2 grams, you are getting a larger screen (6.7" vs. 6.5"), more power, and better cameras, so we can't really complain about that.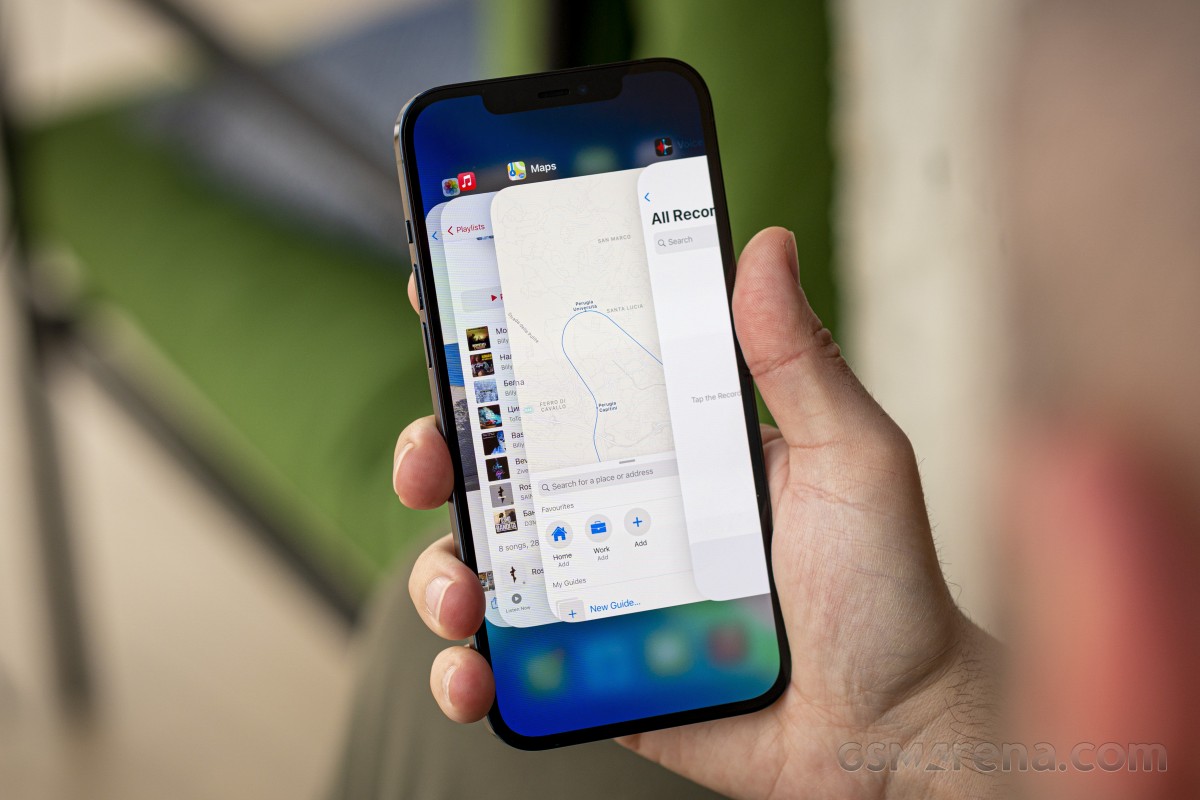 We really appreciate the beautiful and sturdy assembly of the new iPhone 12 Pro Max - it looks stunning even if it loses some of that charm when it's all smudged.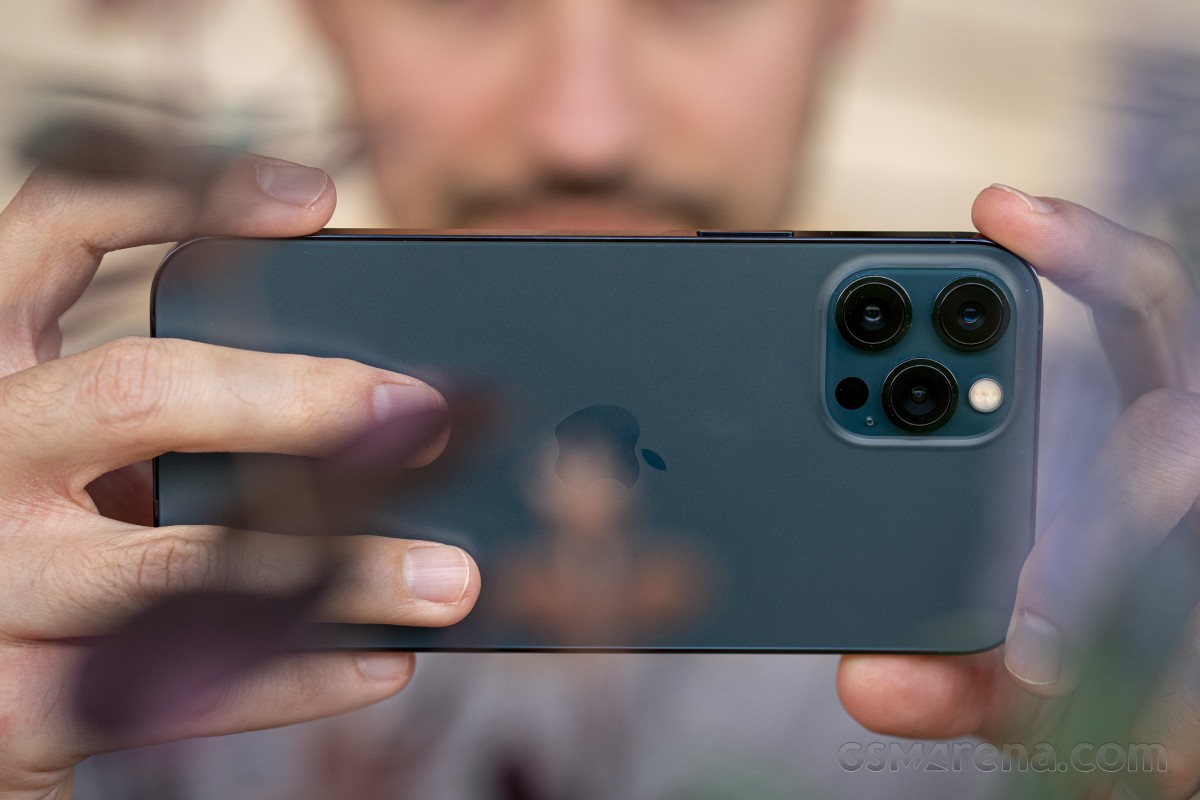 But the 12 Pro Max is not a phone that's easy to hold and operate, let alone shoot photos or videos on the go - there is just not enough grip for that. A case would help a lot. Even a bumper would do - if only Apple still made those. But having to slap a case on this beauty just to add adequate grip is quite unfortunate.
Had a big scratch the same as well, protector made it a bit better but yeah dissapointing ;] especially since I always carry with a case. Ogh well. OE Apple Silicone case fits nicely though.
I want the review iPhone 11 pro Max so please I want for YouTube channel I know lunch because I love you I like to comment doing because you only know why not doing iPhone 11 pro Max phone so please please please please please help me thank you for y...