Apple iPhone 3GS review: Same clothes, new feel
Same clothes, new feel
GSMArena team, 30 June 2009.
Search-and-play iPod
The multimedia department has also benefitted from the iPhone 3.0 OS.
The iPod player now accommodates its own local search, apart of the General Spotlight search. The results get displayed sorted by Albums and Songs.
Another very handy tool in the iPod player is the media scrubber which allows more precise rewinding and fast-forwarding in music and video.
The regular action of dragging the position indicator along the playback axis skips larger portions of the audio track or video, but if you slide your finger down the screen without letting go the position indicator, shifting back and forward gets more precise.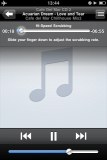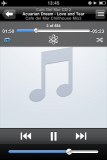 The media scrubber allows super precise rewinding/fast-forwarding in a song
Another hip new feature is the shake-to-shuffle function (can be disabled). Each shuffle is accompanied with a system sound, which unfortunately cannot be disabled.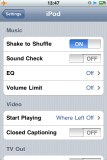 Shake to shuffle is cool, but the system sound cannot be switched off
Listening to music while charging the battery now displays the album art instead of the battery.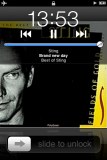 The album art is displayed during charging battery
Cupertino team has also allowed third-party apps to get access to the iPod music library, which for example means you can use your own music while playing games, or allows or some amusing music applications to be created.
With 3.0 OS users can finally enjoy listening music with stereo Bluetooth headsets or compatible Bluetooth speakers.
We tested the Bluetooth connection with a Sony Ericsson MBS-200 Bluetooth speaker and found out that the sound volume cannot be toggled from the phone, but only from the Speaker volume rocker.
YouTube logs
The big news for the YouTube app in iPhone 3.0 is the account integration. Personal subscriptions and playlists are now accessible after login. Users can now also view comments and rate videos.
As we already wrote, YouTube video uploading is a snap and it even works in the background allowing you to shoot more videos while you upload the first one. There are some limitations to it. For instance, the maximum duration of uploads should be no longer than 10 minutes. Also YouTube resizes the video files to 480 x 360 pixels and at least for the time being the re-compression outputs quite pixelated videos, perhaps YouTube will optimize their encoding for the iPhone uploaded videos to achieve better quality.
Audio quality deserves a High-Five
Just when we thought that they cannot get much better in this area and here come Apple to surprise us. The audio quality of the iPhone 3G was almost as good as it gets on a portable device and now with the iPhone 3GS it is simply perfect.
The iPod's bigger brother provides the best sonic experiences on the market with all of its readings simply remarkable.
As far as the improvements over the previous gen iPhones is concerned, the iPhone 3GS sports a much improved frequency response with the other readings almost on par. No one will probably be able to tell the differences in distortion levels for example, but this is mostly because the iPhone 3G performed flawlessly there to begin with.
But here are the results, so you can see for yourselves. You can find more information about the test itself and the meaning of the different numbers in the table here.
| | | | | | | |
| --- | --- | --- | --- | --- | --- | --- |
| Test | Frequency response | Noise level | Dynamic range | THD | IMD + Noise | Stereo crosstalk |
| Apple iPhone 3GS | +0.01, -0.05 | -92.1 | 92.1 | 0.0035 | 0.011 | -95.0 |
| Apple iPhone | +0.34, -1.16 | -90.8 | 91.3 | 0.0050 | 0.016 | -91.4 |
| Apple iPhone 3G | +0.52, -1.05 | -89.9 | 90.1 | 0.0033 | 0.016 | -93.1 |
| Apple iPod Touch 2G | +0.04, -0.05 | -91.4 | 91.5 | 0.0027 | 0.012 | -90.0 |
| Nokia N97 | +0.04, -0.27 | -90.7 | 90.7 | 0.0048 | 0.896 | -89.5 |
| HTC Touch Diamond2 | +0.12, -0.60 | -86.9 | 89.1 | 0.022 | 0.191 | -86.8 |
| Samsung M8800 Pixon | +0.54, -1.25 | -86.4 | 85.7 | 0.0048 | 0.0165 | -38.3 |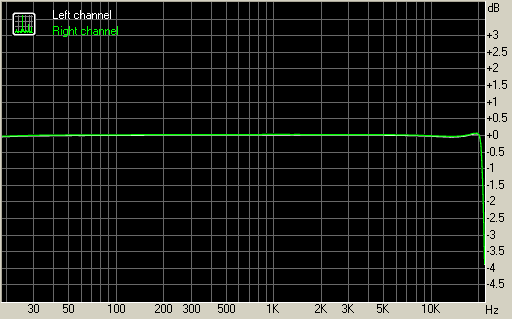 Apple iPhone 3GS frequency response is simply flawless
Curious, what os is it running? iOS 6 wasn't kind to this phone for sure. It works but gets fairly laggy at times
Jaisal Lakum
11 Apr 2022
YQT
I am typing this comment with iPhone 3gs
yes you can .. since they will lag sometimes .. i use to play turning everything off no cellular n it use to work better ..