Apple iPhone 5 review: Laws of attraction
Laws of attraction
GSMArena team, 28 September 2012.
User interface looks the same
iOS is maturing nicely with version 6 and one cannot help but admire the great job Apple did back with the original version. That being said, you wouldn't know by just a casual look which generation it is you're dealing with. Things haven't changed dramatically over the years and the backbone of the OS - the Springboard - looks more or less the same. Although it's a standard-setting homescreen, it is not absolutely impossible to improve on - widgets, for one, could have made the right difference for some users.
Check out our UI video of iOS 6 on the new iPhone 5:
The homescreen is virtually the same. The iPhone 5's taller 4" Retina display, however, allows for a fifth row of icons to be shown. Folders also can now host an extra row of apps too.
The four docked icons at the bottom stay in focus as you scroll through homescreens. Adding folders to the dock is also possible, letting you accommodate more apps into the same limited space.
Freshly downloaded apps feature a label "New", which is convenient. After you open such an app for the first time the label will disappear.
Apps can be dragged and dropped to rearrange the grid and dropping one over another will prompt a folder to be created. The cool shaking animation while reordering apps is still present.
Since iOS 5.1 the camera toggle is constantly visible on the homescreen and swiping it up starts the camera.
The Settings menu has also seen some changes in iOS 6. The various power toggles like Wi-Fi and Bluetooth have been moved to the top for more convenient access.
The new Do Not Disturb feature is right there near the top as well, alongside Notifications.
The brightness setting has been merged with the wallpaper selection and there's a new Privacy section in the main menu.
Finally, you get dedicated Twitter and Facebook settings, which we'll focus on further down.
There are three new wallpapers to choose from in iOS 6 and of course you can still set any of your photos as wallpaper.
Do Not Disturb gives users further control of notifications. If turned on, it will mute incoming calls or alerts. You can allow calls from your favorite contacts and have the option to set a specific time interval during which you won't get any notifications.
There's a dedicated toggle to activate the DND feature and it can be customized in the Notifications submenu. When Do Not Disturb is on, a crescent icon appears next to the clock in the status bar.
With iOS 6, users have more control over sound and vibration settings. You can set any of your available tracks as a ringtone, tweet or text alert, etc. You can also customize vibration for each type of notification with a choice of 7 presets and extra custom vibrations. Of course, as before, you can also choose to 'Buy More Tones' directly from the sound settings.
iOS 6 feels improved in terms of speed, too - the iPhone 5 feels much more responsive than any other iPhone.
While iOS 6 and the core apps have been optimized for the taller display right out of the box, there are many apps, including major ones, which haven't been updated yet. To compensate for the different aspect ratio, there are black bars on either side of the content.
The CNN app is among those that make full use of the longer diagonal, but many popular apps, like Angry Birds, for instance, have yet to be optimized. Many apps have been consequently updated since iOS 6 was released and at this rate we guess developers will catch up pretty quickly.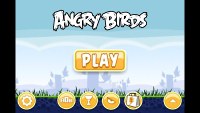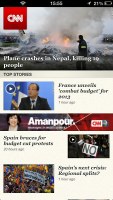 Apps need to catch up with the new screen aspect
Performance
As we said, the Apple iPhone 5 is one snappy smartphone and it mostly has its extremely powerful chipset to thank for that. The A6 features a custom-developed dual-core CPU, clocked at 1.2GHz, which was able to match the performance of the most powerful devices currently on the market. It didn't quite manage to conquer the Geekbench benchmark, but it came close to those with two more cores than it, which is quite the achievement.
Geekbench 2
Higher is better
Samsung Galaxy S III
1845
LG Optimus G
1723
LG Optimus 4X HD
1661
HTC One X (Tegra 3)
1634
Apple iPhone 5
1601
HTC One S
1589
The PowerVR SGX543MP3 triple-core GPU of the iPhone 5 turned out to be a real beast. It has more than twice the raw processing power of the Mali-400 inside the Galaxy S III and almost three times that of the ULP GeFore that powers the HTC One X. In fact of all other smartphone chipsets, only the Qulacomm S4 Pro and with its Adreno 320 GPU offers a similar graphical performance to the A6.
GLBenchmark (Egypt 1080p offscreen)
Higher is better
LG Optimus G
29
Apple iPhone 5
27
Samsung Galaxy S III
13
Apple iPhone 4S
11
HTC One X (Tegra 3)
9
And when it comes to real-life performance, the iPhone 5 is virtually unrivaled, taking advantage of its lower resolution and producing framerates that no other smartphone can match.
GLBenchmark (Egypt onscreen)
Higher is better
Apple iPhone 5
39
LG Optimus G
37.5
Samsung Galaxy S III
20
Apple iPhone 4S
19
HTC One X (Tegra 3)
13
The browser performance is where the Apple iPhone 5 and its A6 CPU really managed to shine. With an excellent JavaScript engine and unrivaled per-core performance, that shouldn't surprise anyone though.
SunSpider
Lower is better
Apple iPhone 5
922
Samsung Galaxy Note II
972
Motorola RAZR i
1043
Samsung Galaxy S III
1447
HTC One X
1468
Apple iPhone 4S (iOS 6)
1726
BrowserMark
Higher is better
Apple iPhone 5
189937
Samsung Galaxy Note II
185034
Samsung Galaxy S III
169811
HTC One X
140270
Apple iPhone 4S (iOS 6)
106246
Notifications remain unchanged
The Notification center is mainly unchanged in iOS 6. Users have great flexibility in configuring how a given app notifies them. You can opt to disable a notification or set it to be a banner, which will have it shortly pop up over the status bar. Also, you can set it as an alert showing up at the center of the screen.
There are options to disable badges on app icons or disable lockscreen notifications.
As before, you can interact with notifications straight on the lockscreen. If a notification has just arrived, sliding to unlock will open up the relevant app - upon a missed call, unlocking will take you straight to the phone app. You can also swipe a notification to perform a task, such as call back or text.
The banner notification is very subtle. If you receive a text in the middle of something, it will briefly pop up over the status bar and disappear in a couple of seconds so as to not interrupt you. It would have been nice to see more optimized pop-up notifications, which take advantage of the iPhone 5's taller screen estate, rather than having them only stretched to fit the new aspect.
You can choose which apps you want to show up in the pull-down Notifications and in which order. What's new here is the Share widget, which adds a Tap to Tweet and and a Tap to Post buttons, which you can reposition or even disable altogether.
The Facebook notification gives you the option to include a location and select who you wish to share your status with from your list of contacts. The tweet popup gives you only the option to include your location.
Anonymous
30 Oct 2023
rJP
I phone 5 not upi sports
IPhone 5 doesn't take whatsapp again
Anonymous
20 Apr 2022
XBA
Very nice iphone