Apple iPhone 6 review: Scaled to order
Scaled to order
GSMArena team, 26 September 2014.
Phonebook
The iOS 8 phonebook and dialer interface are untouched, though now you can opt not to show the contact photos in your Favorite tab.
The logic behind the phonebook app is completely the same though, Blacklist is available too.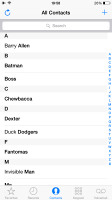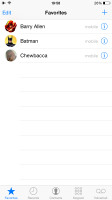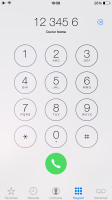 The phonebook • Favorites • the dialer
As usual the phonebook offers Facebook and Twitter integration. After you set up your accounts the phonebook will automatically ask you to link your existing contacts with their social ones (if available).
The phonebook can search via the dedicated Search field at the top of the list of contacts or you can use the alphabetical scroll at the right.
Editing a contact is intuitive and gives you the option to include lots of additional fields, like several addresses, related people, web, email, birthdays, etc.
You can set different ringtones, message tones and vibration to your favorite contacts.
Since iOS 6 your iMessage and FaceTime ID is joined and the phonebook will automatically detect if either service is available with each contact.
Telephony with Wi-Fi calling
The iPhone 6 better reception than iPhone 5s. The in-call quality is great as well - this is where the multi-mic setup works quite splendidly.
The dialpad is virtually the same and smart dial is still missing.
You can reject calls via SMS since the last iOS update.
You can set the iPhone 6 to remind you to call back a person at a location or when you're leaving the current one, which is a nifty trick. Keep in mind that doing so will invoke constant use of GPS, which could in turn lead to a significantly reduced battery life but the phone would probably still last a day.
FaceTime comes as a system app in iOS 8 and looks just like the Phone app. It works both over a cellular data or Wi-Fi. The service offers voice calls too, in addition to video conference. FaceTime now supports Call Waiting, too. On the iPhone 6 Facetime can make use of the H.265 codec, which allows better quality at a lower overall bitrate thus saving precious data traffic.
Apple is also offering a new feature called Wi-Fi calling. If both parties support this service and it is on, the call won't be placed through the cellular network but the internet. This improves the audio quality and won't count against your allotted monthly minutes.
As usual we've tested the loudspeaker performance of the new iPhone 6. It on par with the speaker of its iPhone 5s predecessor and scored an Average mark. This means you should be able to hear the phone in semi-noisy environments, but to ensure not to miss any calls, we advise you to turn vibration on.
| | | | | |
| --- | --- | --- | --- | --- |
| Speakerphone test | Voice, dB | Pink noise/ Music, dB | Ringing phone, dB | Overall score |
| Apple iPhone 6 Plus | 67.3 | 65.7 | 66.5 | Below Average |
| Apple iPhone 5 | 66.8 | 66.1 | 67.7 | Below Average |
| Sony Xperia Z3 Compact | 65.9 | 62.1 | 73.5 | Average |
| Samsung Galaxy Alpha | 66.6 | 61.7 | 75.7 | Average |
| Apple iPhone 5s | 68.7 | 66.3 | 69.2 | Average |
| Apple iPhone 6 | 66.6 | 65.7 | 72.8 | Average |
| HTC One (M8) | 65.8 | 64.7 | 75.7 | Average |
| Samsung Galaxy S5 | 66.9 | 66.6 | 75.7 | Good |
| Samsung Galaxy S5 mini | 73.5 | 67.7 | 78.7 | Very Good |
| Motorola Moto G 4G | 77.1 | 76 | 83.3 | Excellent |
Messaging
The Messaging app comes with a refined interface too. Now it's easier to attach pictures or video with the newly introduced recent row. It has about 20 of your latest images/videos in the gallery.
Naturally, the iMessage service is onboard. It lets you exchange instant messages between iOS 5 or later running iGadgets over Wi-Fi or 3G. You can send plain text as well as multimedia (pictures, sounds, videos) messages.
If you are texting someone with iMessage activated, you'll see a new Mic icon on the right. A tap and hold on the Mic will record a voice message and an upwards swipe will send it. If the person on the other end is on an older iOS version they will receive it as an .amr attachment and still be able to play it.
The Mail app got a subtly refreshed interface too with some extra useful functions and gestures.
Keyboard
The iOS 8 keyboard looks the same though it has been upgraded with predictive input called QuickType. Over time, the iOS will learn from your typing pattern, vocabulary, people you write often to and topics. It will eventually understand the subject of each thread and base suggestions on whether the communication is formal or casual.
Apple says the algorithm is really smart and understands everything and suggests prompt responses. Many competitive keyboards on other platforms are already doing similar things plus they are swype-enabled.
We are happy with Apple's decision to allow replacing the default keyboard. There are already quite a few third-party keyboards available including the popular SwiftKey and Swype. If you are unhappy with the iOS default keyboard, you can opt for whatever app suits you best.
Anonymous
09 Dec 2021
PDT
What time get , iphone6 ios 13?
Anonymous
03 Sep 2021
mCq
No