Apple iPhone 6s review: The more it changes…
The more it changes…
GSMArena team, 1 October, 2015.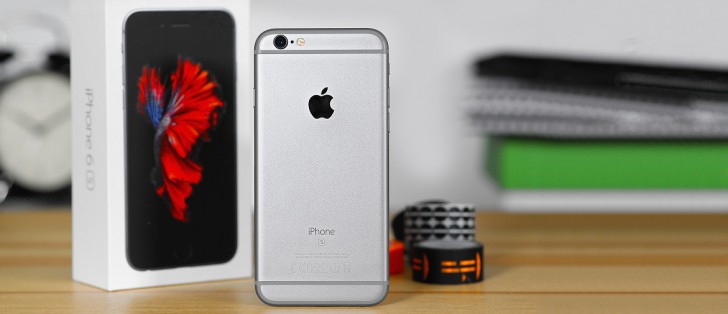 Apple A9 chip performance
The new generation of iPhones is powered by a brand new Apple A9 chipset, which packs a dual-core 1.85 GHz Twister processor, PowerVR GT7600 six-core graphics and 2GB RAM. The chips are made either by Samsung on 14nm process, or TSMC on 16nm process. All of these mean the A9 has more processing power, a stronger GPU punch, double the RAM and better thermal properties.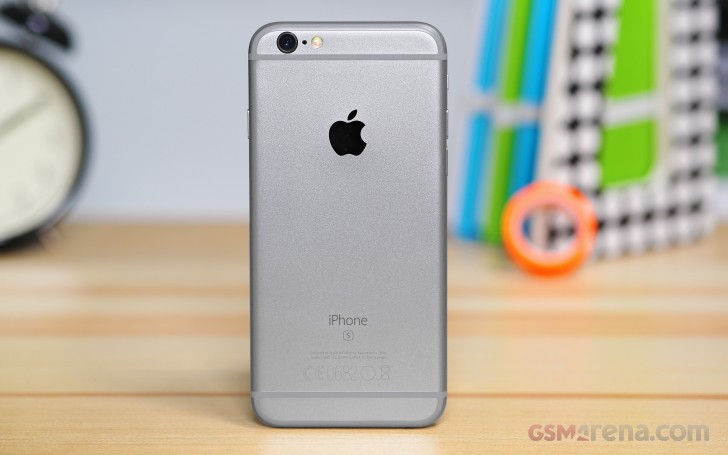 Apple has always focused on the single-core performance since it is the most important one when it comes to interacting with the iOS user interface and early tests showed that the 64-bit Twister core is the best and fastest CPU core currently on the market. On the other hand you are only getting two of those, so we'll see how it goes. In come the benchmarks.
The multi-core score of GeekBench 3 shows how powerful the new dual-core Twister processor is. It beats the Snapdragon 810 chips with their quad-Cortex-A57 CPU, but trails behind the Exynos 7420, which uses a similar architecture but a higher clock speed.
Both iPhone 6s and iPhone 6 used for the tests below are running on iOS 9.0.1.
GeekBench 3
Higher is better
Samsung Galaxy S6
5215
Samsung Galaxy S6 edge
5095
Apple iPhone 6s
4427
Sony Xperia Z5 Compact
3796
HTC One M9
3761
LG G4
3509
Apple iPhone 6
2835
Meizu m2 note
2649
Apple iPhone 5s (iOS 8)
2552
The single-core results show you the difference. A single Twister does insanely better than any other CPU core on the market today. In fact, a single Twister core is equal to the 8-core Cortex-A53 performance on the Meizu m2 note.
GeekBench 3 single core
Higher is better
Apple iPhone 6s
2542
Apple iPhone 6
1594
Samsung Galaxy S6
1484
Sony Xperia Z5 Compact
1351
HTC One M9
1239
The compound BaseMark OS II 2.0 test gauges CPU, GPU, Memory, Web and System performance. In this test there is no one to come even close to the iPhone 6s thanks to Apple's optimized OS. The fact that it has the latest A9 chipset doesn't hurt either.
Basemark OS 2.0
Higher is better
Apple iPhone 6s
2195
Samsung Galaxy S6 edge
1750
Samsung Galaxy S6
1674
LG G4
1584
Sony Xperia Z5 Compact
1440
Apple iPhone 6
1429
HTC One M9
1365
Next - graphics performance. The new iPhone generation utilizes the six-core PowerVR GT7600 GPU, which is quite the beast. The 1080p off-screen benchmarks speak for themselves.
GFX 2.7 T-Rex (1080p offscreen)
Higher is better
Apple iPhone 6s
79.8
Samsung Galaxy S6 edge
59
Samsung Galaxy S6
59
Sony Xperia Z5 Compact
56
HTC One M9
49
LG G4
34.5
Apple iPhone 5s (iOS 8)
28.7
Huawei Honor 7
17
GFX 3.0 Manhattan (1080p offscreen)
Higher is better
Apple iPhone 6s
39.5
Samsung Galaxy S6 edge
26
Sony Xperia Z5 Compact
25
Samsung Galaxy S6
24
HTC One M9
23
LG G4
14.9
Apple iPhone 5s (iOS 8)
12.9
Huawei Honor 7
9.2
The iPhone 6s has a sub-1080p display resolution, which gives it an edge over the 1080p and Quad HD phones in the performance chart.
GFX 2.7 T-Rex (onscreen)
Higher is better
Apple iPhone 6s
59.6
Sony Xperia Z5 Compact
57
HTC One M9
50
Apple iPhone 5s (iOS 8)
40.7
Samsung Galaxy S6 edge
39
Samsung Galaxy S6
38
LG G4
24.7
Huawei Honor 7
19
GFX 3.0 Manhattan (onscreen)
Higher is better
Apple iPhone 6s
53.6
Sony Xperia Z5 Compact
39
Apple iPhone 5s (iOS 8)
24.3
HTC One M9
24
Samsung Galaxy S6 edge
15
Samsung Galaxy S6
14
LG G4
9.4
Huawei Honor 7
9.3
Finally, Android has OpenGL ES 3.1 as latest generation graphics, while iOS 9 has Metal. Both allow games to make full use of the built-in GPUs and BaseMark has launched the BaseMark ES3.1 / Metal apps so we can compare the performance cross-platform. Combined with the lower resolution of the iPhone 6s, the Metal test really produces outstanding results.
Basemark ES 3.1 / Metal
Higher is better
Apple iPhone 6s
879
HTC One M9
409
Apple iPhone 6
370
Samsung Galaxy S6
311
Unfortunately,the BrowserMark 2.1 web test wasn't compatible with the new version of Safari and we couldn't perform the benchmark. We were able to test the pure JavaScript performance via the Kraken benchmark though, and it came out class-leading.
Kraken 1.1
Lower is better
Apple iPhone 6s
1737
Apple iPhone 6
2880
Samsung Galaxy S6 edge
3989
LG G4
4085
Samsung Galaxy S6
4154
Apple iPhone 5s (iOS 8)
5396
HTC One M9
5500
Sony Xperia Z5 Compact
7868
Huawei Honor 7
11493
Apple A9 is a beast - there's no other way to put it. The iPhone 'S' series typically stand for Speed and the iPhone 6s is not only the fastest iPhone to date, it's probably the best performing smartphone too. Apple's choice of designing its own processor pays out every year and makes sure iOS users never have to worry about lackluster performance.
Apple A9 has the power to handle everything you can get on your phone today and is future-proof for the years to come with some huge power reserves under the hood.
I agree. Apart from the poor battery, this phone is the best phone released in 2015.
Ahmed Hussein
02 Oct 2021
gww
It's 2021 and I'm still using it. I bought it in 2016 and I can tell this phone is a legend !
I stayed with 12.2 for a long time and my battery was fine. "Upgraded" to 14.4 and now my battery last less than an hour at fully charged.