Apple iPhone X long-term review
GSMArena team, 18 January 2018.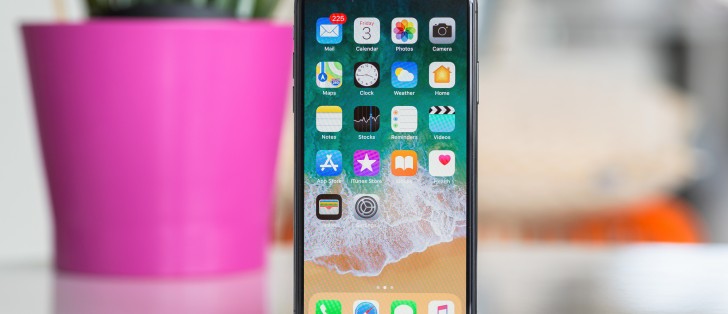 Build quality
The iPhone X clothes its backside in glass, which was last seen on the iconic iPhone 4, with the two halves being almost coherently married together by a band of surgical-grade stainless steel.
It retains enough iPhone DNA to be identifiable as part of the iPhone family and on the whole is manufactured to Apple's usual high standard. We all liked the heavy premium feel that you get when you hold the device. And this sort of feel doesn't wear off with use.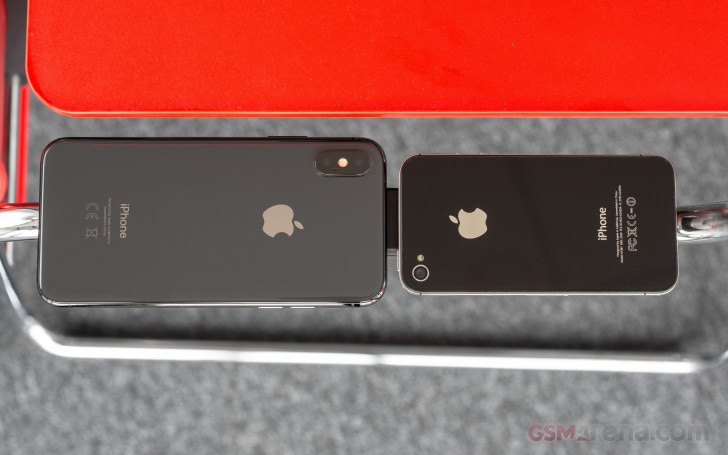 One notable exception though is where the glass back meets the aforementioned stainless steel band, at the point where the two surfaces meet, the tolerance isn't 'tight' enough. On one of our iPhone X's, it appears that 'glue' is starting to extrude out of the gap, in truth this could also be dirt that is captured in this area. Another of our iPhone X's, even when cased, is starting to gather dirt and dust in this area.
Even more distracting is that you can feel this seam in the day to day use (without a case on) and this is detracting from the high-quality fit and finish elsewhere. We've witnessed this on our iPhone 8 Plus, but somehow it seems less pronounced, maybe the narrower width results in it being held slightly differently.
To better illustrate this, we grabbed the microscope that we use in our in-depth reviews to show you the phone panels and magnified the seam. While we were at it, we looked for micro-abrasions, of which there were a few too.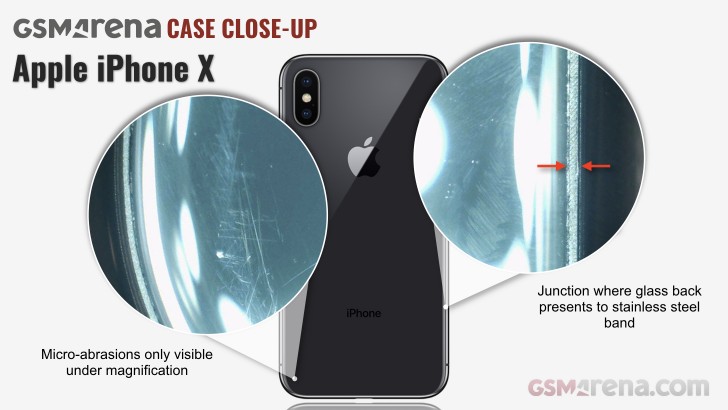 We're happy to report that these are really micro abrasions and they are not visible to the naked eye. All in all, it seems that the glass back should prove more scratch resistant than the iPhone 7s Jet Black finish.
We appreciate the grip that the back glass gives us.
What we don't appreciate is that it's an absolute pig to keep clean regardless of the phone's color and it's always proudly showing off the oils from our hands and fingers with its smudges and fingerprints. One of us resorted to using a thin case purely for that reason alone.
Sticking to the subject of cases, the iPhone X the most expensive iPhone by some margin to repair if you use Apple servicing so perhaps slapping a case on is a great idea. At the time of writing, a Screen repair costs about $280/€320/£285 with Other damage costing $550/€610/£555 - ouch! AppleCare is more necessary than ever.
On a positive note we did have a couple of unfortunate and entirely random drop tets between us and the phones survived without any visible form of damage so that's a good sign.
If you have a case on the phone you also get rid of another annoyance - the wobble when the iPhone X is placed on a flat surface. The over-and-under shotgun arrangement of the primary camera system seems to make it even worse than it is on other iPhones.
On the plus side, this arrangement ensures that we're less likely to cover the lens when holding the iPhone X in landscape mode.
Our final gripe with the design of the devices is that by removing the Home button, Apple has gotten rid of another visual and tactile identifier that helps you orientate your phone when pull it out of your pocket or bag to use it.
Anonymous
21 Jul 2022
mFd
sure
Anonymous
13 Jan 2021
dZw
Reduce the volume
Micheal Wong
17 Dec 2019
vV5
Ipx in my area only got one major problem, which is the face id. Most of my friends whose using ipx including me face the same problem which is our face id is faulty right after the warranty expired. Lol, i sent mine to switch service center but ...