Apple updates MacBook Pro with new CPUs and improved keyboards
Prasad, 22 May 2019
Apple has announced an updated version of its flagship MacBook Pro series of notebooks. The new models feature improved processors as well as changes to the much maligned keyboard.
Starting with the 15-inch model, the base variant gets a 2.6GHz 6-core 9th-generation Intel Core i7 processor, which can Turbo Boost up to 4.5GHz. The higher-end variant gets a 2.3GHz 8-core 9th-generation Intel Core i9 processor, making it the first MacBook to have an 8-core processor.
Optionally, both models can also be configured with a 2.4GHz 8‑core 9th‑generation Intel Core i9 processor that can Turbo Boost up to 5.0GHz.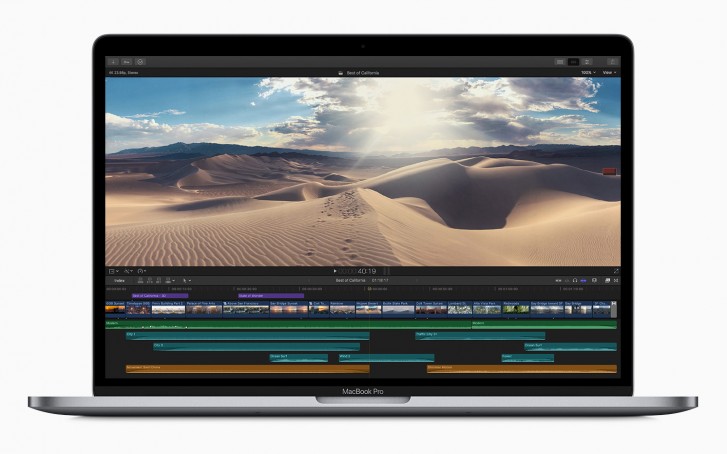 As for the 13-inch models with Touch Bar, the base model now comes with a 2.4GHz quad-core 8th-generation Intel Core i5 processor that Turbo Boosts up to 4.1GHz. The higher-end model comes with 2.4GHz quad-core 8th-generation Intel Core i5 processor that Turbo Boost up to 4.1GHz.
Optionally, those can be configured with the 2.8GHz quad‑core 8th‑generation Intel Core i7 processor that can Turbo Boost up to 4.7GHz.
In terms of internals, these are the only changes on the new models. Everything else, including memory, storage, graphics, connectivity and battery remain unchanged. This also means these newer models still have the same inadequate cooling solution of last year's models.
Apple has also made minor changes to the keyboard to improve its reliability. Speaking to The Verge, the company confirmed that it is now using a new material in the butterfly switch mechanism that should reduce the occurrence of double or missed key presses.
Unfortunately, this isn't the major keyboard redesign that people have been waiting for. Although Apple continues to underplay the significance of the issue with the keyboard, countless customers have complained about the reliability of the butterfly keyboard on all the recently MacBook models. It remains to be seen if the latest changes fix anything.
Apple has also announced changes to its keyboard replacement program, which now includes all MacBooks with the butterfly keyboard mechanism, which is almost all current and recent MacBook models. However, Apple will only be replacing the keyboards to the latest design announced today on the models announced in 2019 and 2018, with older models getting a replacement to whatever version of keyboard they came with originally.
Another thing worth pointing out is that Apple has once again left the non-Touch Bar models of the MacBook Pro out in the cold. The non-Touch Bar models (of which there are two) were left out last year as well when the rest of the range got new processors and keyboards.
This means they are now two years old compared to the rest of the range. While it is completely normal now for Apple to leave entire products languishing without any updates for years (see previous generation Mac mini and current Mac Pro), to have only certain models — or more specifically, the cheaper ones — in a product range be outdated is certainly a new low for the Mac range and Apple in general.
All the updated models are now available on sale.
Related
True, but still, there's cheaper laptops that can do more and cost less. Not everybody uses the Mac for it's true forte
Early reviews show that it doesn't throttle more than any other laptop with the same CPU which is encouraging. Hopefully this time the keyboard is more durable. It's either that or an XPS for me. But there's something about how the mbp feels that m...
Maybe get a thinkpad. You will be satisfied.
Popular articles
Popular devices