ARM's Cortex-A78 and Cortex-X1 will power the Androids of 2021
Ivan, 26 May 2020
Today, ARM detailed its new high-end CPU core designs that will be used by chipset vendors in the upcoming smartphone flagships. We get the evolutionary update that is the Cortex-A78 and the Cortex-X1 that promises to be a major leap forward.
Starting with the Cortex-A78, the successor to the current fastest core in ARM's lineup, the Cortex-A77. When compared on the same TDP the Cortex-A78 can offer 20% more processing while consuming the same amount of power or 50% less consumption for the same CPU performance.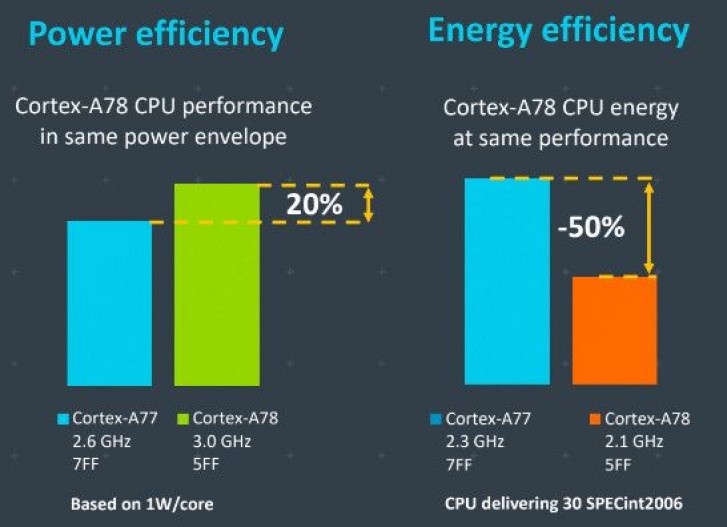 The Cortex-A78 is smaller than its predecessor - it uses 15% less space in an octa-core chipset in a 4x Cortex-A78 + 4x Cortex-A55 configuration, which will very likely be the go-to big.LITTLE configuration in 2021 as ARM hasn't announced a new high-efficiency core to replace the Cortex-A55.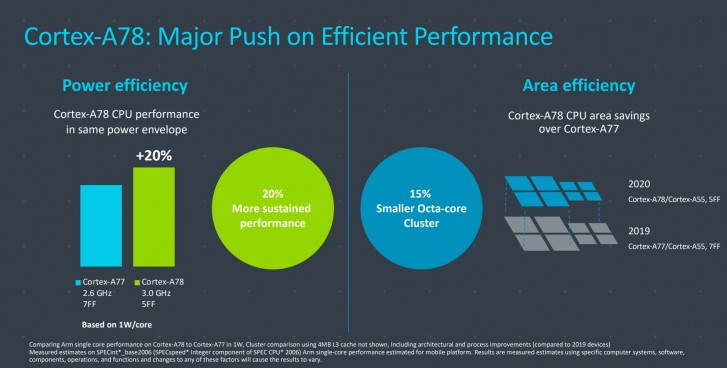 Moving on to the Cortex-X1, which is a new custom line of CPU cores that are all about performance. The core design is the result of ARM's CXC program, where ARM collaborates with partners to make custom cores.
The Cortex-X1 has a 30% higher peak performance than the Cortex-A77 and is 23% faster than the new Cortex-A78 at integer calculations. Additionally it has double the machine learning abilities.
That kind of performance boost was enabled because the X1 is both bigger and more power-demanding than the A78. Because of this it's unlikely we'll see multiple Cortex-X1 cores in a smartphone CPU. The most likely combination will be a single Cortex-X1 combined with three Cortex-A78 cores and then some A5x cores for less demanding tasks.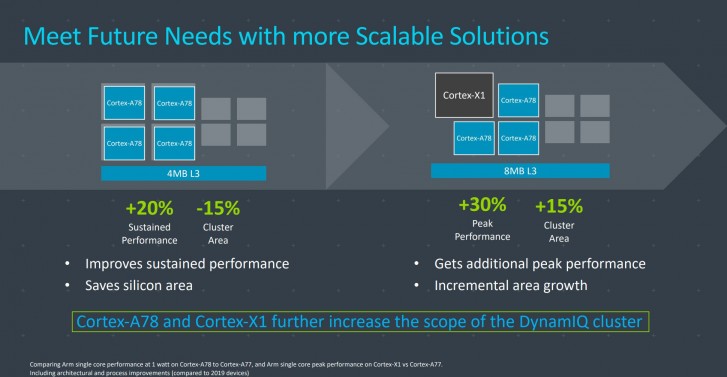 On the GPU side of things ARM unveiled the Mali-G78 and G68 GPUs. The Mali-G78 is still based on the Valhall architecture of the Mali-G77, but is up to 25% faster in certain scenarios and supports up to 24 core designs. Games will see a 17% real-world performance increase.
The Mali-G68 inherits all the features of the Mali-G78 but supports fewer core designs and is both smaller and more efficient.
Related
What if in first scenario we had 870 on 5nm FF and it's clocked at 3.0ghz i think it will outperform the 778G on same node and clock speed
Just to clarify, if the RAM and Cortex A77 takes up 1w, the Cortex A78 and RAM will take up .5w,
50 percent lower energy, means it takes account of the memory that the CPU grabs from, it means that in total, to do a task, it needs 50 percent less watts, so instead of 1w for a77 to do a task, 0.5w for a78 to do a task, at the same speed, 20 perce...
Popular articles
Popular devices
Electric Vehicles