Google Nexus 7 review: Catching Fire
Catching Fire
GSMArena team, 15 August 2012.
'People' app handles your contacts
Despite not having GSM capabilities, the Nexus 7 features the familiar Android 'People' app, which displays the contacts from your Google account. If you have other communication applications such as Skype installed, it will display the contacts from them as well.
The usual three-tab layout is gone; instead you can move between your contact list, Groups, and Favorites by using the menu on the upper left.
There's a permanent scroll bar available that you can grab and drag to jump straight to contacts starting with a certain letter. There's a regular search feature, too.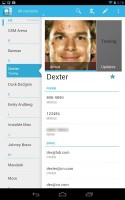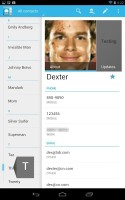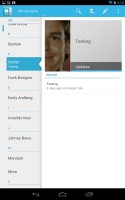 The People app • Alphabet scroll • Status updates are shown next to a contacts' portrait
Selecting a contact displays all of the info you have entered for that particular person. Clicking on any of the contact details entered opens up the relevant application - an email address opens up the email or gmail app, a Google+ IM opens up the contact in the installed Google+ messenger, and even pressing on a phone number can open up a relevant application for dialing phone numbers over the web, such as Skype (if you have it installed).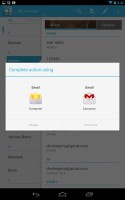 Selecting a field opens up the relevant application
While editing a contact, you can add new fields of different types to fill in more info for the contact. You can link contacts too, if you've added the same person on multiple services. Also, contact pictures have been duly updated to allow a maximum possible resolution of 720x720, which massively improves the quality of the contact images, especially on the larger display of the Nexus 7.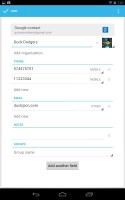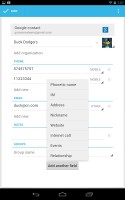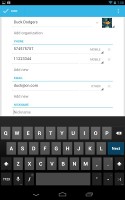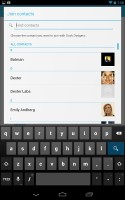 Editing a contact • Joining contacts
Your Groups are listed by service (e.g. your Gmail account), while Favorites are a listed as a grid of large contact photos, which is really thumbable.
Speakerphone loudness
We put the Nexus 7 through our traditional loudspeaker test and it earned a score of Good. You can find out more about the test here.
| | | | | |
| --- | --- | --- | --- | --- |
| Speakerphone test | Voice, dB | Pink noise/ Music, dB | Ringing phone, dB | Overall score |
| Samsung Galaxy Tab 7.0 Plus | 66.2 | 65.7 | 65.9 | Below average |
| Samsung Galaxy Tab 10.1 3G | 66.2 | 66.0 | 70.9 | Average |
| Samsung Galaxy Tab 7.7 | 69.1 | 66.6 | 75.7 | Good |
| Google Nexus 7 | 68.6 | 65.9 | 75.8 | Good |
| Motorola XOOM | 74.0 | 66.6 | 78.9 | Very Good |
| Samsung Galaxy Tab 2 10.1 | 72.9 | 66.6 | 82.7 | Very Good |
Email and Google+
The Gmail app in Jelly Bean is tailor-made for the Nexus 7. The default app supports multiple Gmail accounts, but there's no unified inbox.
The app comes in two scrollable vertical sections, the left containing your email folders, and the right your actual messages. Opening a message displays it in place of the two sections.
Along the top there is a menu which allows you to create, search or refresh your inbox, and also contains a contextual menu. The top menu changes when you have multiple emails selected, allowing you to perform batch operations such as archive, delete, create labels, or mark as read/unread.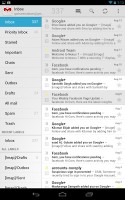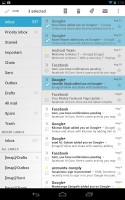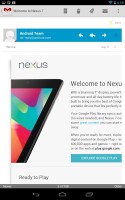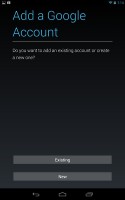 Gmail app supports batch operations and multiple (Gmail) accounts
A cool feature in Gmail is that you can swipe left or right to move between messages in your inbox.
There is also a generic email app for all your other email accounts and it can handle multiple POP or IMAP inboxes. You have access to the messages in the original folders that are created online, side by side with the standard local ones such as inbox, drafts and sent items.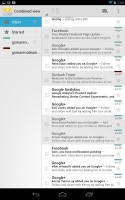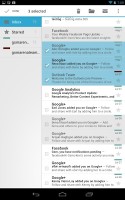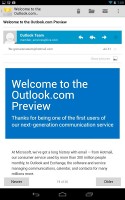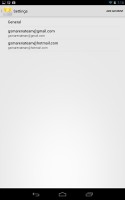 The generic email client doubles a lot of the functionality of the Gmail app but has a combined inbox
Unlike its Gmail counterpart, this app supports a combined inbox view. It color codes the inboxes so you can easily tell where each message came from. Unfortunately, there's no moving between messages with sideways swipes here.
Google Talk handles the Instant Messaging department. The GTalk network is compatible with a variety of popular clients like Pidgin, Kopete, iChat and Ovi Contacts.
There's also complete Google+ integration, which allows you to see what people in your circles are doing, see popular news updates, as well as create hangouts and even video chat with your contacts.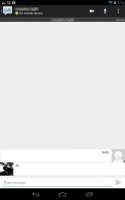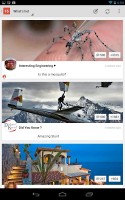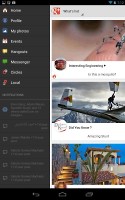 The Nexus 7 supports GTalk and Google+
The keyboard has a lot of room to stretch its legs on the 7" screen and typing is very easy. Keys get even bigger when you switch to landscape mode. While this makes sense on smaller screens (such as those on smartphones), where you want the maximum amount of space available for the keyboard, Google may have gone a bit overboard here, as the keyboard takes up too much space. The preview window above the keyboard only shows a small part of the window above when flipped horizontally.
A tap on the text area will reveal a "handle" attached to the text cursor - it's more accurate and makes correcting mistakes easier. A double tap will bring up the select options - select word and select all - with two handles to adjust the start and end point of a selection.
If a word has a typo, it will be underlined in red and when you tap it, the phone will offer a number of suggested corrections along with options to add the word to the phone's dictionary or just delete it.
AnonD-482651
23 Dec 2016
CWd
After using this device less than a year with all taking care of it no scratch, no hardware defect, sending positive reviews here in GSMarena, sending positive updates on its firmware. I AM NOW TAKING THEM BACK X( . You can only enjoy this device bec...
How do you get the camera to work.
sweetnelacs
09 Dec 2015
t7X
Problem in charging almost 12 hour before full charge..how can i fix it?