MWC 2013: Asus overview
MWC 2013
GSMArena team, 25 February 2013.
Introduction
Other companies want to sell you multiple devices – at least a phone and a tablet. Asus wants to sell you just one device to do both jobs. This is the idea behind both the Padfone Infinity and the Fonepad.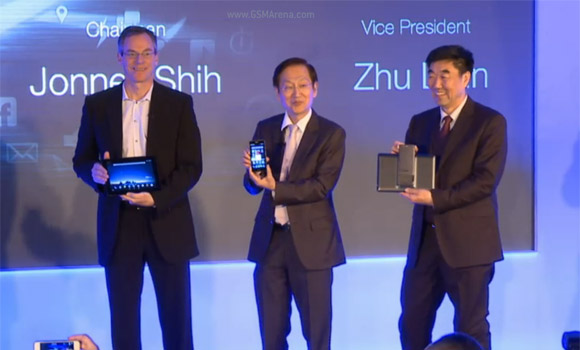 The Asus Padfone Infinity builds on the Padfone 2's specs and addresses the biggest issue of its predecessor – the resolution of the tablet dock screen is now 1920 x 1200, for notably sharper imagery. 1280x800 stretched across 10.1" just doesn't cut it anymore.
The Padfone Infinity is going after HTC phones with an aircraft-grade aluminum unibody and double-anodized finish (which will hopefully mean no more chipped surfaces like the iPhone and HTC One S experienced).
Asus also beefed up the computing power and battery capacity – there's a Snapdragon 600 chipset inside the Padfone and the battery inside the tablet dock triples the battery life (the Padfone 2 tablet dock "only" doubled it).
The Asus Fonepad does things slightly differently – it combines the aspects of a phone and a tablet, but there are no detachable parts, it's just a 7" tablet. It's made of aluminum too and hovers around the same price point as the Nexus 7 tablet - €220 in Europe and $250 in APAC. The Fonepad, however, uses an Intel Atom Z2420 CPU, rather than ARM design.
Update, February 26: Asus showcased the Padfone Infinity and Fonepad at their booth today, so we could spend more time with them. We've added more impressions and hands-on videos for the two. Also at the booth were the Memo Pad Smart ME301T (an affordable 10.1" Android tablet) and the Transformer AiO (a Windows 8/Android 4.1 tablet/all-in-one computer, it's easier to show that it is to explain).
Aqib khan
17 Feb 2020
X}$
Yes
Aqib king
04 Oct 2019
X}$
Asus mobile phone A89