Asus ROG Phone review
GSMArena team, 21 December 2018.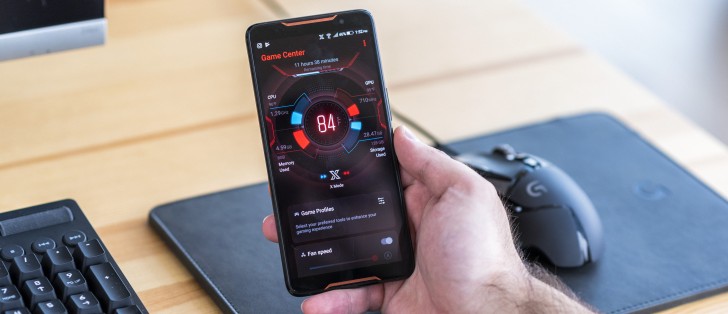 High refresh rate OLED display
One of the defining features of any respectable gaming setup, be it portable or not is the quality of the display and consequently, visual fidelity. Rendering gorgeous frames with realistic detail colors and lighting means very little if the panel tasked with displaying It simply omits, distorts or misinterprets most of that graphics data.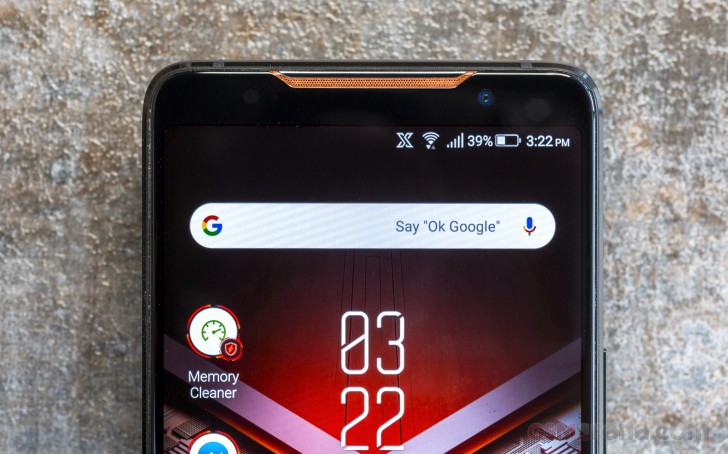 Razer understands that pretty well with its IGZO, 120HZ variable refresh rate mobile panels. High refresh rate simply is a game-changer, which is why Razer is still sticking with the tech, despite its high cost and extreme power hunger. Even with said shortcoming, Razer's purely visual gaming experience set the bar pretty high, So much so that frankly with said precedent in existence we kind of feel like any phone that dares to title itself "for gaming" has to at least try to offer something better than the sea of 60Hz IPS/OLED panels out there.
Asus does not disappoint in this department either arguably opting for a more versatile, if slightly less impressive in some regards solution than Razer's. The ROG Phone packs a 6-inch, 1080 x 2160 AMOLED panel. Nothing out of the ordinary thus far. The unique "unicorn" bit here is that it has a maximum refresh rate of 90Hz. 30Hz more than 99% of the handset currently out on the market. And believe us when we say that the visual difference in smoothness is perceivable.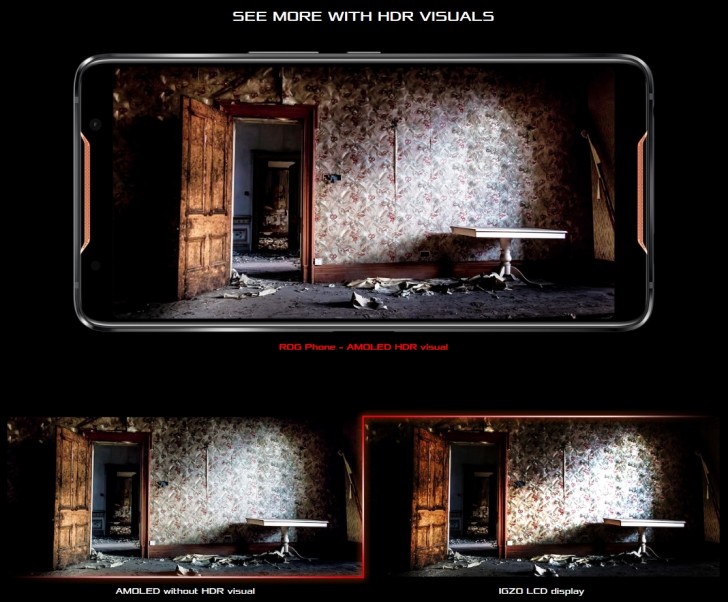 Unfortunately, the high refresh rate isn't something that can be experienced in any way other than in person. We can't capture it on camera and even if we could, you would need a high refresh rate display on your end to see it in action. Everything just looks smoother at 90Hz and the ROG Phone has plenty of horsepower to saturate that refresh rate in most games. Naturally, the UI is optimized as well and works at an almost rock steady 90fps. Even in day-to-day experience the 90Hz mode feels so much smoother than other devices that it kind of makes switching to anything other than a Razer Phone difficult.
Speaking of which, Razer does undoubtedly have higher refresh rates on their side and even more importantly - their refresh rates are variable, which makes every scenario stutter-free and even smoother. On the flip side, there is that whole battery-draining bit that we found to mostly be related to the variable refresh rate technology. The ROG Phone skips all that, opting for a toggle between either 90Hz or a conventional 60Hz, if you feel like saving on some battery.
But that's the other thing - since the panel here is OLED and there is no variable refresh rate tech sucking up juice, the impact of 90Hz over 60Hz in battery life is much less.
We also can't fail to mention the AMOLED bit of the equation. It has the distinct benefit of infinite contrast and true blacks, which no LCD can really attain. This makes it very well suited for multimedia. And, just to be clear, the higher refresh rate does not have any benefit for multimedia consumption, anyway. Still, gaming is where the two bits of the puzzle really come into their own. And mind you, high refresh rate OLED panels are really hard to come by on any consumer tech. Aside from a few exuberantly priced TV's, you just can find such an experience as provided on the ROG phone.
Display test
100% brightness
Black, cd/m2
White, cd/m2
Contrast ratio
Samsung Galaxy Note9 (Max Auto)
0
658
∞
Huawei Mate 20 Pro (Max Auto)
0.003
657
219000
Motorola Moto Z3 (Max Auto)
0
652
∞
LG V40 ThinQ (Max Auto)
0.008
638
79750
Samsung Galaxy S9+ (Max Auto)
0
631
∞
Xiaomi Mi 8 (Max Auto)
0.002
624
312000
Sony Xperia XZ3 (Max Auto)
0
620
∞
Asus ROG Phone (Max Auto)
0
542
∞
Huawei Mate 20 Pro
0.002
508
254000
Honor Play
0.414
470
1135
Motorola Moto Z3
0
464
∞
Xiaomi Pocophone F1
0.314
461
1468
Asus ROG Phone
0
458
∞
Xiaomi Mi 8
0
458
∞
vivo NEX S
0
458
∞
OnePlus 6T (Max Auto)
0
455
∞
OnePlus 6T
0
453
∞
Sony Xperia XZ3
0
442
∞
Google Pixel 3
0
426
∞
Oppo Find X
0
426
∞
Razer Phone 2 (Max Auto)
0.403
426
1057
HTC U12+ (Max Auto)
0.214
389
1818
Razer Phone 2
0.401
380
948
Samsung Galaxy S9+
0
376
∞
Samsung Galaxy Note9
0
367
∞
HTC U12+
0.2
366
1830
LG V40 ThinQ
0.002
323
161500
Sunlight legibility is a particular strong suit of the ROG Phone panel. In fact, it is almost a chart-topper in our test database.
Sunlight contrast ratio
Apple iPhone XS
5.171
Apple iPhone X
5.013
Huawei Mate 20 Pro
4.965
OnePlus 5T
4.789
Samsung Galaxy S8
4.768
Asus ROG Phone
4.765
Samsung Galaxy S8+
4.658
Samsung Galaxy S9
4.63
Samsung Galaxy S6 edge+
4.615
Samsung Galaxy S9+
4.537
Samsung Galaxy Note9
4.531
Apple iPhone XS Max
4.516
Sony Xperia XZ3
4.502
Motorola Moto Z2 Play
4.459
Oppo R11
4.454
Samsung Galaxy S7 edge
4.439
Oppo RX17 Pro
4.434
OnePlus 3
4.424
Samsung Galaxy S7
4.376
Google Pixel 3
4.35
Samsung Galaxy A7 (2018)
4.324
OnePlus 6
4.321
HTC One A9
4.274
LG V40 ThinQ
4.256
Oppo R15 Pro
4.251
Samsung Galaxy Note7
4.247
Samsung Galaxy A3
4.241
Nokia 8
4.239
Google Pixel 2 XL (pre-update)
4.234
OnePlus 3T
4.232
Samsung Galaxy A9 (2018)
4.22
Google Pixel XL
4.164
ZTE Axon 7
4.154
Samsung Galaxy Note8
4.148
Meizu Pro 7 Plus
4.147
OnePlus 6T
4.138
Samsung Galaxy S6 edge
4.124
Samsung Galaxy A7 (2017)
4.124
vivo V11
4.113
Huawei Mate 10 Pro (normal)
4.096
Samsung Galaxy Note5
4.09
Huawei P20 Pro
4.087
Xiaomi Mi 8
4.086
Meizu 15
4.082
Nokia 6 (2018)
4.052
Google Pixel 2 (pre-update)
4.023
LG V30
4.022
Huawei Nexus 6P
4.019
vivo NEX S
4.012
Honor Magic 2
4.01
Samsung Galaxy J7 Pro
3.998
OnePlus X
3.983
Vivo Xplay5 Elite
3.983
LG G7 ThinQ (outdoor)
3.978
Oppo R7s
3.964
Apple iPhone 7
3.964
Apple iPhone 8 (True Tone)
3.957
Huawei P9 Plus
3.956
Oppo Find X
3.954
Meizu Pro 6 Plus
3.935
Lenovo Moto Z
3.931
Samsung Galaxy A7 (2016)
3.918
OnePlus 5
3.914
Samsung Galaxy C5
3.911
Xiaomi Mi 8 SE
3.901
Samsung Galaxy C7
3.896
Samsung Galaxy A5
3.895
Samsung Galaxy J7 outdoor
3.879
Samsung Galaxy J2 outdoor
3.873
Oppo Realme 2 Pro
3.235
Sony Xperia X Performance
3.234
Xiaomi Mi Note 2
3.228
Motorola Moto X Play
3.222
Oppo F3 Plus
3.218
BlackBerry KEY2
3.212
Huawei Mate 9 Pro
3.206
Huawei P9
3.195
Xiaomi Mi Mix 2
3.19
ZTE Nubia Z17
3.159
Oppo R11s
3.153
Lenovo Vibe Shot
3.113
Honor 8X
3.113
HTC U11 Life
3.108
Motorola Moto X Force
3.105
LG Nexus 5X
3.092
HTC U11
3.089
Xiaomi Mi A2 Lite
3.087
HTC U12+
3.085
Xiaomi Redmi S2 (Y2)
3.077
Huawei Mate S
3.073
Oppo F9
3.069
Microsoft Lumia 640 XL
3.065
Xiaomi Mi Max 3
3.061
Xiaomi Pocophone F1
3.059
Huawei Mate 20
3.052
Huawei Mate 20 Lite
3.051
Motorola One (P30 Play)
3.026
Apple iPhone 6 Plus
3.023
Asus Zenfone 4 ZE554KL
3.019
Sony Xperia XA1
3.012
Motorola Moto X4
3.012
Oppo Realme 2
3.006
Sony Xperia L1
2.994
Sony Xperia X
2.989
LG Q6
2.987
Huawei P10 Lite
2.974
Samsung Galaxy Note
2.97
Xiaomi Redmi Note 6 Pro
2.966
Huawei P20 Lite
2.952
Xiaomi Redmi 5
2.951
Huawei Mate 8
2.949
Sony Xperia XA2
2.938
Oppo Realme 1
2.932
Razer Phone 2
2.932
Xiaomi Redmi 4
2.92
Xiaomi Redmi 3S
2.913
Xiaomi Redmi 5 Plus
2.913
Sony Xperia XA Ultra
2.906
LG G5
2.905
Huawei Honor View 10
2.896
Xiaomi Redmi 3s Prime
2.893
Xiaomi Mi 5s Plus
2.884
Sony Xperia XZ Premium (sRGB)
2.877
Sony Xperia XZ Premium
2.877
Sony Xperia Z5
2.876
Nokia 3
2.871
Sony Xperia XZ2 Premium
2.867
Xiaomi Mi 8 Lite
2.862
Microsoft Lumia 550
2.851
Nokia 3.1
2.837
Realme U1
2.815
Lenovo Moto M
2.813
Nokia 7.1
2.804
Xiaomi Redmi 3 Pro
2.803
Sony Xperia Z5 compact
2.784
Honor 10 (Vivid)
2.757
Nokia 2
2.752
Meizu MX6
2.751
LG V10
2.744
Huawei Mate 10 (normal)
2.742
Motorola Moto G5S Plus
2.737
Xiaomi Redmi 3
2.735
Huawei Honor 7X
2.734
Xiaomi Redmi Note 4 (S625)
2.714
Meizu M5
2.71
Xiaomi Mi A2
2.696
Sony Xperia M5
2.69
Xiaomi Mi A1
2.689
Huawei P9 Lite
2.679
Xiaomi Redmi 4 Prime
2.679
vivo V7+
2.671
Vivo V3Max
2.659
Xiaomi Mi Mix
2.658
Huawei Mate 10 Lite
2.654
Oppo F5
2.653
Doogee Mix
2.642
Xiaomi Mi 4i
2.641
Xiaomi Redmi 4a
2.635
Sony Xperia Z3
2.618
Xiaomi Mi 5X (Standard)
2.616
Sony Xperia XA
2.609
Motorola Moto G4 Plus
2.582
Motorola Moto G4 Plus (max auto)
2.582
Meizu M5s
2.58
Xiaomi Mi 4c
2.574
LeEco Le Max 2
2.567
Microsoft Lumia 640
2.563
Asus Zenfone 3 ZE552KL
2.563
Huawei P Smart
2.563
Xiaomi Mi Max 2
2.561
HTC U11+
2.556
Xiaomi Redmi Note 5A (Y1)
2.556
Lenovo Moto G4
2.544
Lenovo K6 Note
2.544
Oppo F1
2.528
Sony Xperia Z5 Premium
2.525
Huawei Honor 7 Lite / Honor 5c
2.506
Sony Xperia M4 Aqua
2.503
BlackBerry Motion
2.494
Oppo F1s
2.481
Motorola Moto G
2.477
Lenovo Vibe K5 Plus
2.473
Huawei G8
2.471
Huawei nova
2.467
Sony Xperia Z
2.462
Lenovo Vibe K5
2.459
Meizu m3 max
2.447
Xiaomi Mi 5X (Auto)
2.417
HTC 10 evo
2.407
Huawei Honor 7
2.406
vivo V5
2.059
Moto G 3rd gen max manual
2.026
Xiaomi Mi 3
2.001
Xiaomi Mi Max
1.996
Sony Xperia E4g
1.972
OnePlus One
1.961
Meizu m3 note
1.923
BlackBerry Leap
1.892
Meizu m2 note
1.892
HTC Butterfly
1.873
ZTE Nubia Z9 mini
1.759
Sony Xperia U
1.758
Asus Zenfone Selfie
1.68
Motorola Moto E (2nd Gen)
1.675
ZTE Nubia Z9
1.659
Jolla Jolla
1.605
Samsung Galaxy Core
1.563
Motorola Moto E
1.545
Sony Xperia M
1.473
Sony Xperia L
1.351
Xiaomi Redmi 2
1.311
HTC Desire C
1.3
Nokia X
1.291
Meizu MX
1.221
For all its versatility and visual appeal, however, the ROG Phone's panel isn't without its faults. For one, OLED is kind of known to handle motion blur a bit worse than its LCD cousin. In really fast-paced games and with rapid camera pans you can sometimes notice this while gaming. Just to be clear, though, you can notice it if you really know what you are looking for and want to be a display snob about things. Plus, the panel Asus chose for the ROG Phone has really low pixel response times, as low as 1ms. So, chances are, unless you are comparing blur on the ROG Phone to that on a really high-end, adaptive-sync, high-refresh rate, IPS desktop display, the ROG Phone is going to come out ahead.
So, blur is mostly not an issue. That just leaves one major beef we have with the display in the ROG Phone - the colors. Now, this, again, is less of an isolated issue and more of a compromise of the particular Asus approach. The default color pallet looks quite a bit off. Reds are very overblown, which is fairly standard, but so are green and magenta, which is just an odd combination that makes for a strange tint. Fiddling with the available display tuning settings can bring the deltaE values down to an average of 3.9 and a maximum of 7.2, but you really don't want to do that.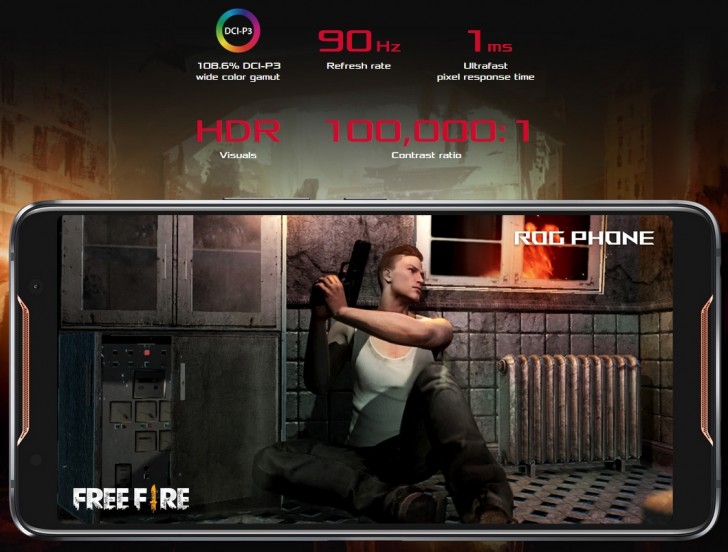 In every color mode other than the default "wide color gamut" one, everything looks really dull. So you are definitely better off dealing with the default deltaE of 7.4 average and 12.6 max. On the flip side, the ROG Phone does have HDR support, although the specs sheet lacks any info on particular HDR standards and certifications. Still, Asus claims it has some secret sauce working under the hood that converts SDR colors to HDR in games, making use of the full capabilities of the panel. Color-wise, these are pretty solid as well, with a 108.6% DCI-P3 coverage and 145% of the sRGB color space.
Battery life
The Asus ROG Phone packs a beefy 4,000 mAh battery - quite understandable, given its hardware, slight CPU overclock, various attachable accessories and overall gaming pedigree. The high refresh rate on the OLED panel is a particular concern when it comes to battery endurance. After all, this is the main culprit for the poor battery life on the original Razer Phone and the Razer Phone. Well, technically, we found that variable refresh rate is what likely sucked the battery dry at quite a pace on the Razer handsets. Plus, those have LCD panels. Whereas the ROG Phone is packing a more energy-efficient OLED unit and has a static maximum refresh rate of 90Hz.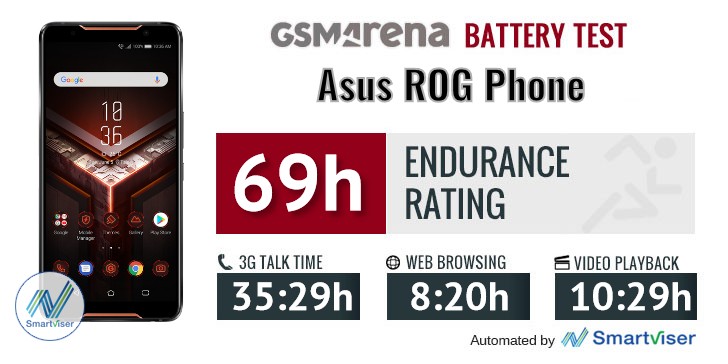 For the sake of thoroughness, we ran our battery tests twice, once in the 90Hz display mode and then again with a standard refresh rate of 60Hz.
It seems like the high refresh rate takes a toll of around 2 hours with screen-on web browsing test and a bit less with video playback. Our theory here is that since our test video is encoded at a standard 30fps and it is the only thing being displayed on screen, the ROG Phone is clever enough to realize what is going on and lowers its display refresh rate down automatically. Presumably, this happens after a certain time-out, which would explain the still elevated battery usage.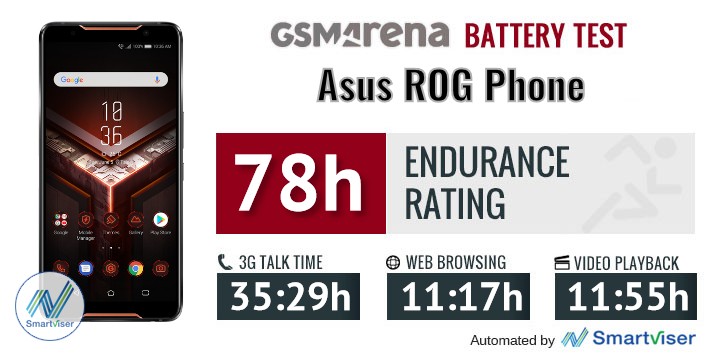 Other than that, the two on-screen numbers themselves are pretty respectable, although far from great on an AMOLED display and a huge 4,000 mAh battery. As we anticipated, the high refresh rate does take its toll, but results still seem more reasonable than what we got on the Razer Phone 2 and its variable refresh rate, 120Hz IGZO panel.
Talk time is actually pretty high, but the standby numbers ended up on the lower end of the expected Snapdragon 845 spectrum. We made sure to re-test those as well, just to make sure, but the second run only confirmed our initial findings. This all added up to a solid, if not stellar battery endurance score.
Charging the hefty 4,000 mAh battery pack in the ROG Phone is actually pretty quick thanks to Asus' HyperCharge proprietary charging solution. So, using the bundled brick can get you from 0% to 100% in just about an hour and forty minutes.
Just as a reminder, that charger is actually very versatile - able to comply with both QC4.0 and PD3.0 protocols. If you don't have the stock charger at hand, the ROG Phone can take a QC 4.0 or 3.0 input as well. In which case a full top-off will take you around 15 minutes more.
Our battery tests were automated thanks to SmartViser, using its viSer App. The endurance rating above denotes how long a single battery charge will last you if you use the Asus ROG Phone for an hour each of telephony, web browsing, and video playback daily. We've established this usage pattern so that our battery results are comparable across devices in the most common day-to-day tasks. The battery testing procedure is described in detail in case you're interested in the nitty-gritty. You can check out our complete battery test table, where you can see how all of the smartphones we've tested will compare under your own typical use.The battery testing procedure is described in detail in case you're interested in the nitty-gritty.You can check out our complete battery test table, where you can see how all of the smartphones we've tested will compare under your own typical use.
Loudspeaker
The ROG Phone packs some serious loudspeaker hardware. Two beefy speakers on either end of the device, powered by two dedicated NXP 9874 amplifiers. As you can probably imagine, this equates to very loud and incredibly crisp sound.
| | | | | |
| --- | --- | --- | --- | --- |
| Speakerphone test | Voice, dB | Pink noise/ Music, dB | Ringing phone, dB | Overall score |
| Honor Play | 68.3 | 73.8 | 75.8 | Good |
| LG V40 ThinQ | 68.2 | 74.1 | 77.4 | Very Good |
| Samsung Galaxy S9+ | 68.4 | 74.0 | 80.1 | Very Good |
| Xiaomi Mi 8 | 68.1 | 72.3 | 82.2 | Very Good |
| OnePlus 6T | 67.2 | 72.5 | 84.5 | Very Good |
| Samsung Galaxy Note9 | 71.2 | 74.9 | 80.2 | Very Good |
| Oppo Find X | 70.7 | 75.2 | 81.2 | Very Good |
| Sony Xperia XZ3 (ClearAudio+) | 68.0 | 75.3 | 84.0 | Very Good |
| Huawei Mate 20 Pro | 70.3 | 73.4 | 83.8 | Very Good |
| Sony Xperia XZ3 | 71.0 | 75.4 | 82.9 | Excellent |
| Google Pixel 3 | 77.5 | 71.7 | 81.1 | Excellent |
| Xiaomi Pocophone F1 | 72.8 | 74.7 | 86.6 | Excellent |
| vivo NEX S | 71.3 | 74.5 | 91.0 | Excellent |
| HTC U12+ (Music) | 76.0 | 73.6 | 88.5 | Excellent |
| Motorola Moto Z3 | 80.1 | 73.2 | 85.0 | Excellent |
| Asus ROG Phone | 79.0 | 77.5 | 84.9 | Excellent |
| HTC U12+ (Theatre) | 77.0 | 73.8 | 91.1 | Excellent |
| Razer Phone 2 (Dolby dynamic) | 76.7 | 77.7 | 87.7 | Excellent |
| Razer Phone 2 | 78.2 | 78.8 | 86.9 | Excellent |
The sound stage and 3D audio effect achieved by the setup are pretty impressive as well. That comes courtesy of DTS:X Ultra 1.0, which is not only in charge of optimizing loudspeaker output but also headphones, boasting features like DTS:X 7.1 channel surround. The 24-bit DAC and aptX Bluetooth support are simply icing on the cake at this point.
Audio quality
The Asus ROG Phone has the potential to deliver arguably the best audio output in the market. It has super loud output both with an active external amplifier and headphones and all but one of the readings are excellent in both cases. In fact, it's very rare to see a handset so unaffected by plugging in headphones.
However, the big issue is that the ROG has an equalizer applied at all times even if you disable the Audio Wizard functionality. The so-called headphones profile can't be switched off and no matter what kind of profile you choose the frequency response will be far from ideal.
Some people like equalizers and we are all for that, but forcing one on everyone just isn't cool. Worse yet, you are actually selecting profiles - specific brands and models of headphones or just "general" speakers, but you don't really know what each of those does to the frequency response. You either have to trust Asus that they have selected the settings optimal for you, or play a very long game of trial and error until you find a profile that you like. And if you just want to listen to the tracks the way they were meant to sound - then you are entirely out of luck.
Test
Frequency response
Noise level
Dynamic range
THD
IMD + Noise
Stereo crosstalk
Asus ROG Phone
+3.31, -3.68
-93.8
93.6
0.0015
0.013
-62.5
Asus ROG Phone (headphones)
+3.06, -3.96
-93.8
93.7
0.0065
0.041
-91.3
Huawei Mate 20
+0.02, -0.16
-92.1
92.0
0.0017
0.013
-85.6
Huawei Mate 20 (headphones)
+0.07, -0.07
-92.1
92.4
0.0021
0.106
-66.5
OnePlus 6T
+0.03, -0.05
-93.4
93.3
0.0010
0.0070
-93.8
OnePlus 6T (headphones)
+0.17, -0.15
-93.2
93.1
0.0056
0.245
-61.1
Sony Xperia XZ3
+0.01, -0.02
-91.2
93.2
0.0024
0.0080
-88.7
Sony Xperia XZ3 (headphones)
+0.38, -0.21
-93.1
92.5
0.0049
0.233
-61.7
Samsung Galaxy Note9
+0.01, -0.03
-93.7
93.7
0.0017
0.0074
-94.1
Samsung Galaxy Note9 (headphones)
+0.03, -0.02
-93.6
93.5
0.0033
0.046
-93.2
HTC U12+
+0.02, -0.15
-94.3
94.3
0.0021
0.0069
-94.3
HTC U12+ (headphones)
+0.18, -0.13
-93.7
93.6
0.0024
0.104
-52.7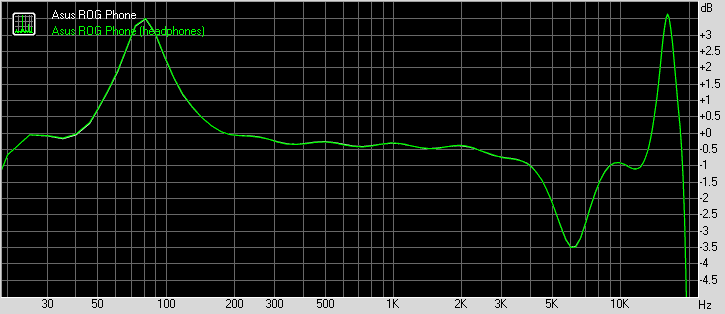 Asus ROG Phone frequency response
You can learn more about the tested parameters and the whole testing process here.
Can we desktop dock for other applications than only gaming,like business, professional works, billing softwares etc/ can we use only the phone as PC with keyboard and mouse/ or with an external display/monitor without a PC.
Not worth it. I dropped my phone once and it was just about knee high and the display got broken. At first it was displaying some light in the screen but as time goes by it just displayed black screen. The touch sensor were still working but the disp...
Which 2020? Before or after Christ?