Asus ROG Phone review
GSMArena team, 21 December 2018.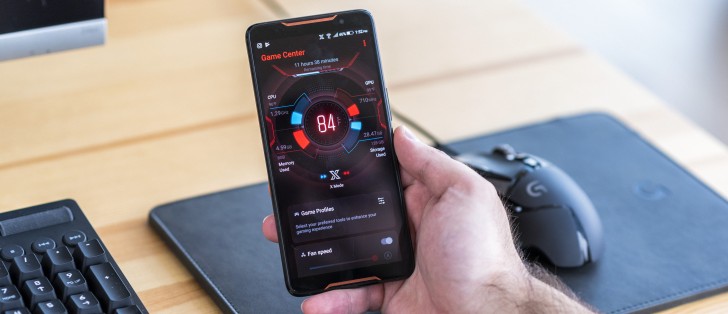 Competition
With an MSRP of $900 the ROG Phone is clearly a luxury device. Then again, the same is true for most gaming gear out there, whether in the PC realm or not. True, the phone has an excellent specs sheet and would constitute a pretty reasonable value for a 2018 flagship. And that's before taking into account the ROG Phone's unique nature and feature set, clearly going past the everyday smartphone realm and boldly threading into PC gaming territory.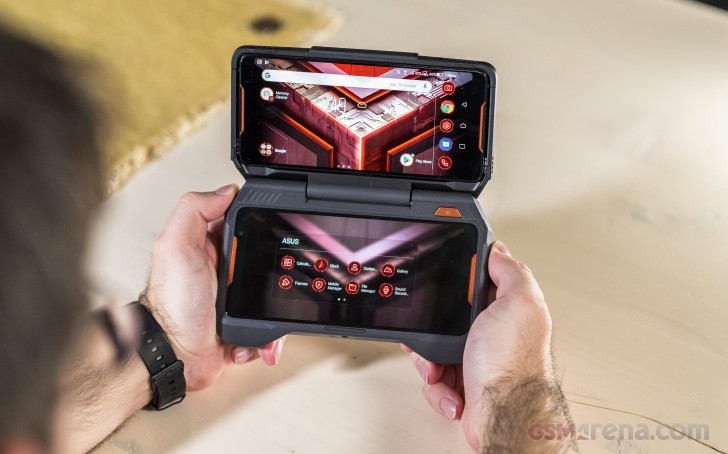 Like we already mentioned, Asus is quite uniquely positioned to be carrying out such an intriguing hardware and software experiment. However, nothing really happens in isolation. Especially not in a multi-million business like the mobile industry, so clearly the time was right for the ROG Phone to come about. It might be a yardstick for most of the gaming aspects it offers, but that doesn't mean it's the only gamer-friendly option out there and it's not necessarily the best one.
First and foremost, of course, there are the other "gaming" phones to consider. Unfortunately, not many of those have passed through the office to get our full review treatment. Of those, the Xiaomi Black Shark Helo looks like a pretty close specs match to the ROG Phone. The same is mostly true about the ZTE nubia Red Magic Mars (now that's a mouthful). Well, minus a downgrade to LCD on the latter.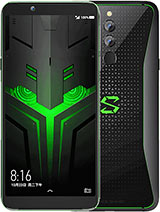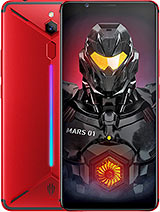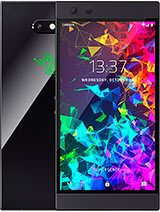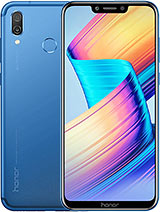 Xiaomi Black Shark Helo • ZTE nubia Red Magic Mars • Razer Phone 2 • Huawei Honor Play
In fact, neither of those really has any "unique" hardware feature going for it. A cool paint job on a regular flagship, but that's about it. That's not the case with the Razer Phone 2 which we recently had the pleasure of reviewing. The 120Hz variable refresh rate is definitely a different experience. One that actually kind of ruins you for most other displays out there. Really, it's that good. Unfortunately, the Razer Phone 2 is more or less a one trick pony and the screen comes with a huge tradeoff in the battery endurance. As for the camera, it's like Razer didn't even bother making it good in any way.
Frankly, we wouldn't really recommend any of these other "gaming" phones over the ROG Phone simply on the grounds of the immense added value package the Asus has in its favor. That being said, if you technically consider the Huawei Honor Play as a "gaming" device, it definitely has the performance per dollar equation stacked in its favor. Sure, it's not nearly as powerful or cool as the ROG Phone, but definitely, a more sound investment and arguably a more versatile daily driver.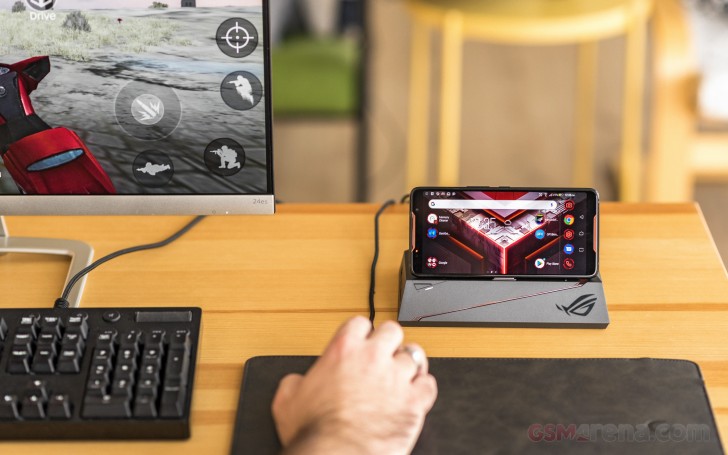 In fact, this more practical line of thinking opens practically endless possibilities exploring the current flagship phone market. Any of the current flagships would be a stellar choice for mobile gaming. Of course, since nobody is likely to pick up a smartphone just for gaming and nothing else, there are many other factors and small bits and pieces, differences and variations, strengths and weaknesses to consider when choosing from the flagship pack.
Verdict
Smartphones have become Jacks of all trades and it's hard to score their features in isolation. But as far as the "gaming" metric is concerned, nothing out there is currently at the level of the ROG Phone. It really does set a bar for what can be achieved in this emerging niche of the mobile market.
Pros
Unique look and amazing build quality.
Lavish retail bundle with plenty of added value.
A rich choice of attachments and accessories made with gaming in mind.
Cutting edge tech like Squeeze detection, AirTrigger tap pads on the side and awesome connectivity, incl. the 802.11ad 60GHz support.
The high refresh rate OLED makes a noticeable difference in UI smoothness and has stellar sunlight legibility.
Asus pushes the limits of what is possible to achieve with the Snapdragon 845 performance-wise.
Cons
The gaming hardware aesthetics may not be to everyone's taste.
The fingerprint reader is slow and uncomfortable to use.
There is no expandable storage.
The accesories are expensive, the whole set costs as much as the phone.
Still, a smartphone nowadays, especially a flagship you invest a lot of money into has to click on multiple levels. For most of us, it's an electronic multi-tool. The one piece of tech that is always there, has to be dependable, reliable and versatile enough and often end up to be deeply personal. Since we found little to no issue with the ROG Phone in terms of quality, build, reliability and its versatility is practically through the roof, we can definitely see it receiving all the love, but only with the right crowd.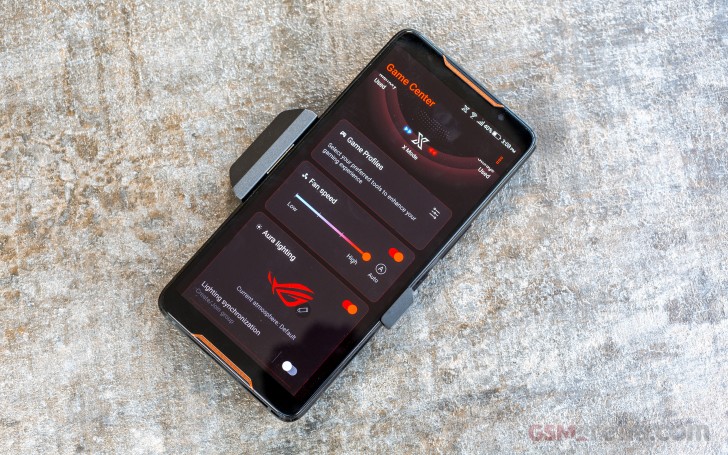 And that's a rather major "if" right there. The ROG Phone is clearly a different and highly unconventional beast with a lot of very particular strong-suits and innovations and its equal share of compromises as a daily driver. If you are willing to live with its occasional quirks and the flawed camera experience and are the type of person who enjoys the gamer aesthetics, then look no further than the ROG Phone for the ultimate "gaming" phone the market currently has to offer.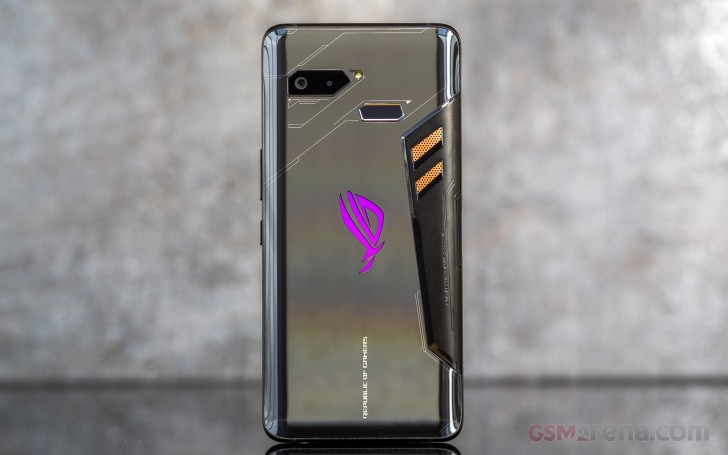 On the other hand, if you are simply looking for a versatile smartphone and not necessarily a "gaming" phone, then we would advise you to look elsewhere. The ROG Phone is a first generation product and a tech showcase in every sense of the word. It's aimed at a very niche and still an emerging market. It's a glorious glimpse into a great potential future mobile branch, but one that still needs some work to earn an all-around recommendation.
Current prices
Can we desktop dock for other applications than only gaming,like business, professional works, billing softwares etc/ can we use only the phone as PC with keyboard and mouse/ or with an external display/monitor without a PC.
Not worth it. I dropped my phone once and it was just about knee high and the display got broken. At first it was displaying some light in the screen but as time goes by it just displayed black screen. The touch sensor were still working but the disp...
Which 2020? Before or after Christ?