Asus ROG Phone 3 review
GSMArena team, 22 July 2020.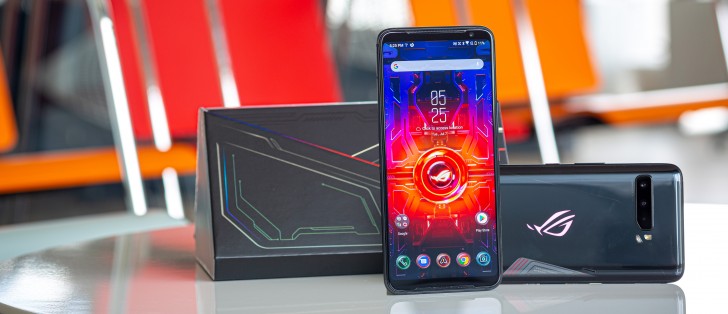 Refining the ultimate smartphone accessory ecosystem
No other phone manufacturer comes even close to the level of extensive range and depth of the ROG Phone accessory ecosystem. This was a fact back when the original ROG Phone arrived at the office, alongside a whole briefcase of accessories and the dedication was reaffirmed when the same happened with the ROG Phone II.
Asus has retained the same admirable level of dedication to accessorizing with the ROG Phone 3. However, like many other aspects of the device, the name of the game is now refinement. The ROG Phone 3 was not accompanied by a hefty accessory suitcase. That's not to say that Asus doesn't have enough new gadgets to fill one up and send our way. We view it more as a symbolic step. One meant to emphasize a newfound focus on inter-generational compatibility.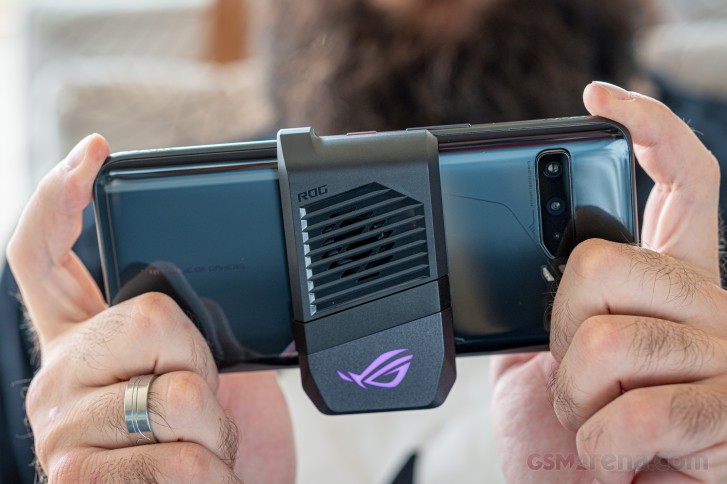 The ROG Phone 3 was intentionally designed to be very similar in terms of size, dimensions, and port layout to its predecessor. This allows it to maintain compatibility with many of the accessories of the ROG Phone II. Asus is still putting-out revised version of some of these, as well as totally new ones, but this push towards compatibility still remains significant in our mind, as a sort of declaration for support towards its current users. Not to mention ecological, sustainability and financial implications.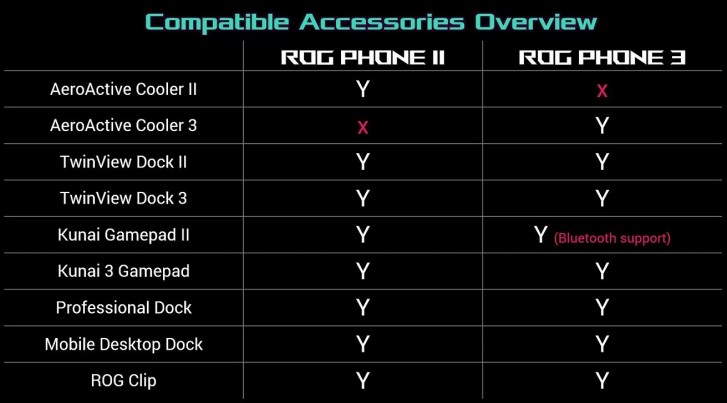 We'll kick-off the accessory tour with the brand-new things arriving with the ROG Phone 3. Then, we will briefly go through the still-supported ROG Phone II accessories. For a deeper dive into those, you can check out our extensive ROG Phone II review.
AeroActive Cooler 3
First of the new accessories the AeroActive Cooler 3, which is included in the box, alongside the ROG Phone III. It's the final piece of a big, redesigned cooling puzzle, that allows the device to push itself further and do so for longer periods of time.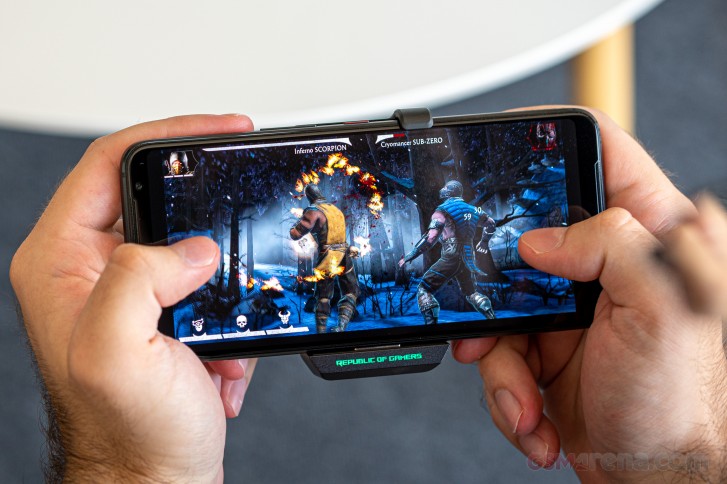 It's exact effects on actual performance figures is tough to quantify and the same goes for its importance towards ultimate mobile performance. Having it around is indisputably better than not, though. Asus says that its new redesigned AeroActive Cooler 3 can deliver up to 4-degree lower surface temperature and offers a more focused airflow, directed towards the CPU and GPU areas of the phone.
Frankly, even if the active fan bit was only meant to increase comfort while gaming and it delivered no tangible benefits to performance (which is not the case), we would still deem it more than justified.
The ROG Phone 3 does get very hot under load, by design and the AeroActive Cooler 3 noticeably improved in-hand feel. It also does so with no realistically noticeable noise. Even at full blast, you can only hear it when you have your ear right next to it.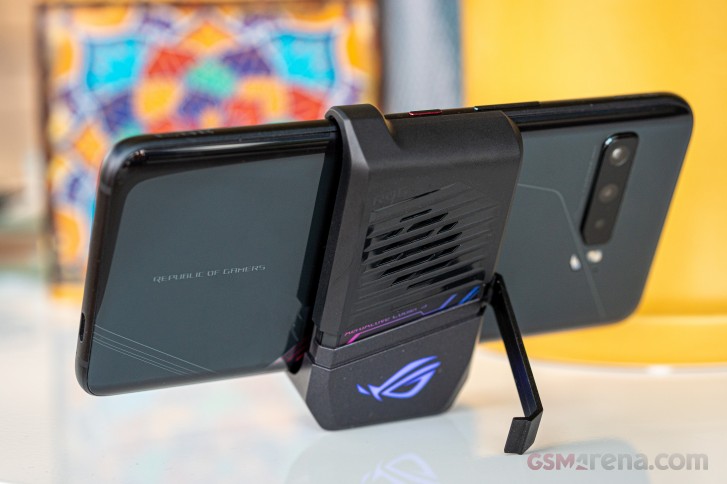 On top of that, the new AeroActive Cooler 3 now has a convenient kickstand, which is a great ergonomic and functional advantage on top of the ones carried over from its predecessors - a 3.5mm jack and a Type-C port, both conveniently routed vertically downward. And, of course, it has full RGB support for both its logo on the back and text on the front. Functional, cool and included in the box, what more could you want.
ROG Kunai 3 Gamepad
The ROG Kunai 3 Gamepad carries over the main concepts from the ROG Kunai Gamepad and improves upon then further with a new, even more-versatile design. Just like before, the most obvious way of using it is with the ROG Kunai 3 bumper. That slips on the ROG Phone 3 pretty securely while also breaking out the phone's bottom Type-C connection into special connection pads for one or both Kunai grips.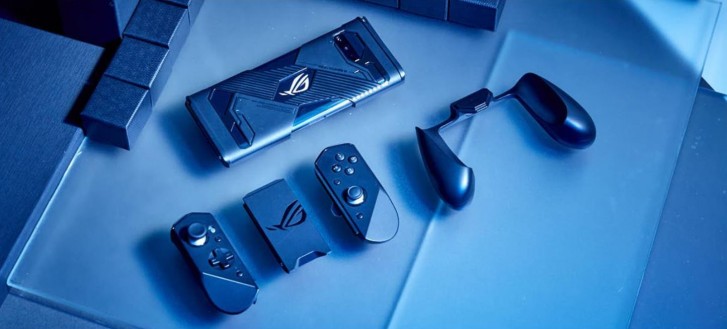 This allows for a low-latency, wired connection to the phone and also eliminated the need to worry about additional batteries and their charging since power comes from the phone as well.
You can opt to use only the left controller if that just happens to be all the extra input you need.
Design is slightly changed from last year, but the inputs are largely identical. The left controller alone has a fluid analogue stick, complete with press-down action, d-pad, two bumpers on the back and even a small button near the bottom of the grip. That's a whole lot of extra inputs that can be freely mapped using the versatile Asus Keymapping software. Its little light strip can even be synced with the lighting on the ROG Phone 3.
That is the other bit of magic going on behind the scenes. The entire mapping platform is simple and straight-forward, and it simply works. Not to mention it is baked right into the OS and even comes pre-loaded with professional key maps for many major game titles. It is honestly kind of magical and the advantages this sort of mapping provides are frankly bordering on cheating, especially if you decide to use on of the Asus docks and a mouse and keyboard. But we digress.
The right Kunai controller brings another 8 mappable inputs to the mix, depending on how you count them. No fancy Type-C port on the bottom of the light strip on this one, though. Between the pair, you should have absolutely no shortage of mappable keys and analog sticks. There is even a mouse mode available for even more versatility.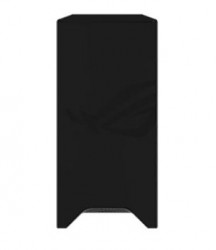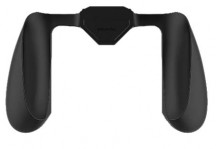 Kunai 3 Charger • Kunai 3 Grip
Just like last year's model, you can use the Kunai 3 wirelessly via Bluetooth, as well. For that to work, there is again a grip cradle accessory. Only this time, it is split-up into two parts. The flat middle Charger section can be used independently for a slicker profile controller. One that Asus markets as great for carrying around. The Grip then slides on top of that assembly for extra comfort.
The Charger has enough juice for around 8 hours of gaming on Bluetooth. It is charged via a Type-C port, which can also be used to get a wired connection between it and the ROG Phone 3 to game that way, with less lag and without worrying for battery life. We can't say for sure that this setup works with other Type-C devices.
Asus does confirm that officially you can use the new Kunai 3 Gamepad with the ROG Phone II in Bluetooth mode. The Kunai 3 can also be used together with the TwinView Dock II and 3, and the AeroActive Cooler 3.
TwinView Dock 3
The new TwinView Dock 3 was a relatively quick and easy upgrade for Asus. It is essentially identical to the second generation TwinView Dock, with the one difference being that the secondary display inside the TwinView Dock 3 is now swapped for a faster 6.6-inch, 144Hz model, to match the one on the ROG Phone 3.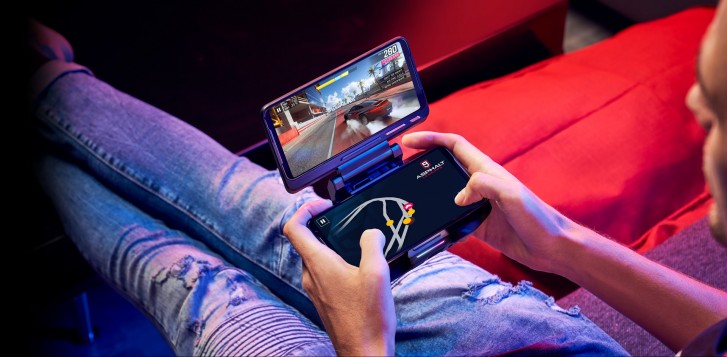 This is a move that makes perfect sense, since Asus already had a great re-defined design going on the TwinView Dock II, which addressed pretty-much all of the issues of the original accessory. The more open design and good weight distribution make the TwinView Dock 3 surprisingly manageable.
In terms of hardware, you are looking at a 5,000 mAh additional battery inside the unit, which is no joke, especially when put alongside the 6,000 mAh already in the ROG Phone 3. The 30W factory charger for the ROG Phone 3 has enough overhead to actually power and charge the TwinView Dock 3. You can even choose in which order to use the available juice - either use the additional 5,000 mAh battery first and keep your phone fully-charged or discharge the pair in tandem.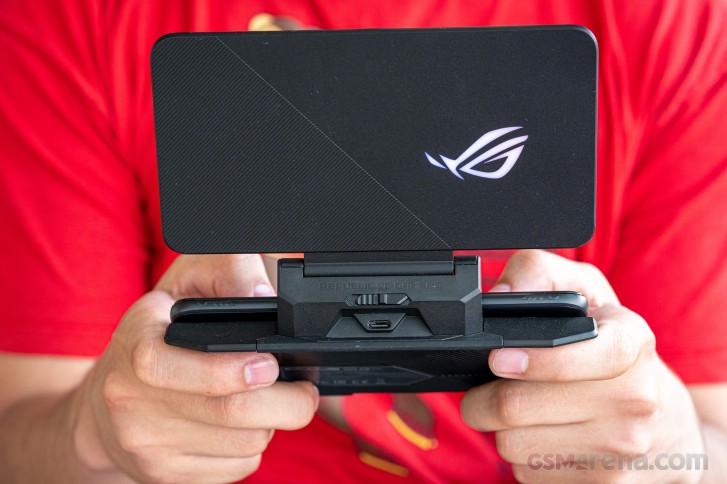 Other hardware on the accessory includes a built-in cooling fan, a 3.5mm audio jack and Type-C port conveniently relocated near the top and bottom. These additional ports make little sense at first, when you consider how open the ROG Phone 3 remains while docked. But suddenly become essential if you decide to also snap the Kunai 3 Game controller on the phone, as well. Granted, it might take you 15 minutes or so to set everything up, but that's about as baller of a portable smartphone gaming setup as we can imagine.
The question of usability for the second display is still very much relevant. The way Asus has things set up right now, you basically get two independent environments, complete with their own app launcher, that can run two apps at the same time. In most cases, the apps themselves won't even realize they are running in an odd configuration. That limits functionality in some sense, but also delivers the most versatile setup possible, given the current state of Android and its app ecosystem, in relation to second displays for both productivity and gaming.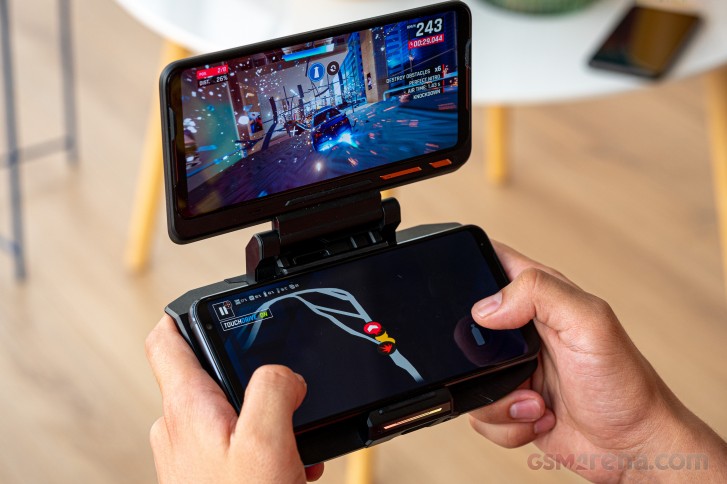 That being said, things are getting better and Asus is working hard on that front. Second-screen gaming might still have a bright future ahead of it, but it will require the right kind of effort. Developers can already make use of the second display on the TwinView Dock via APIs openly available in Unity. There are a growing number of actual experiences that can be had today.
ROG Gaming Clip
The ROG Gaming Clip is a bit simplistic at first glance, but it could hold a great deal of potential. Plus, it shows admirable flexibility on Asus' part and desire to deliver solutions that work in the real-world.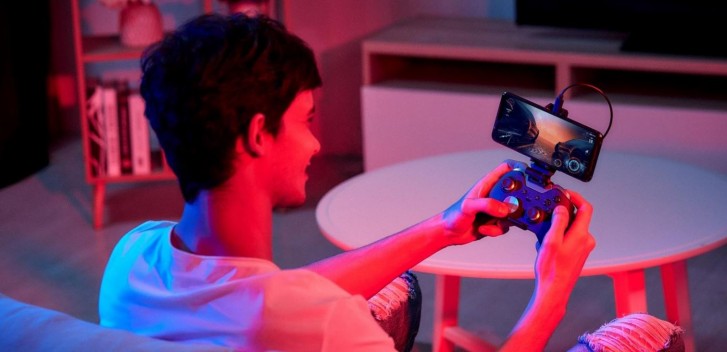 The ROG Gaming Clip is just an adjustable phone mount, that can fit any device between 69mm and 80mm in width. It can then be attached to a number of popular controllers, like the XBOX controller, PlayStation DualShock, and the Google Stadia controller. In the box, you also get two short USB cables (micro USB and Type-C) to connect the controller and the phone. The whole thing is foldable and easy to carry around.
Asus is clearly attempting to branch-out, even if just slightly here, since the ROG Gaming Clip can, theoretically, work with many third-party phones, as long as you are certain that you can hook-up one of the mentioned controllers to it in a wired or wireless manner and have it work. There are certain nuances to that task.
However, to get the true potential of the clip, you definitely want to make use of an upcoming ROG Keymapping update, which promises to enable its awesome versatility and powerful key-mapping for the XBOX controller, PlayStation DualShock, and Google Stadia controller.
Making a controller and actually doing a good job of it is surprisingly hard. It's no wonder that pretty-much every console controller, current or old, has a dedicated following of users and fans for one reason or another. Usually, it boils down to ergonomics and a familiar feel. Being able to just carry that over to your ROG Phone, along with seamless key mapping is potentially huge.
Mobile Desktop Dock
Like we said, we won't dig too deep into older devices, like the Mobile Desktop Dock, since it is just getting carried-over from the ROG Phone II. You can head-on over to that review for more details.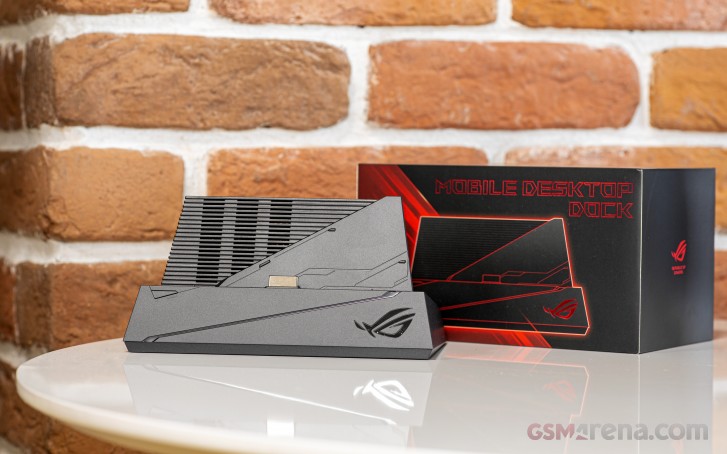 It still remains the most versatile solution of its kind, we have seen to date. As far as straight-up gaming use is concerned, the most obvious way to use the Mobile Desktop Dock is to hook the ROG Phone 3 up to a big monitor, with a proper keyboard and mouse combo and use the amazing Asus keymapping software to almost seamlessly map controls to those superior inputs. You can even get a camera panning and aiming to work with a mouse in most shooters. There are only a few titles that have protection against that. Most are outright oblivious to the fact, since the software solution Asus has developed works at an impressively low system level. Honestly, this works so well that it is outright cheating.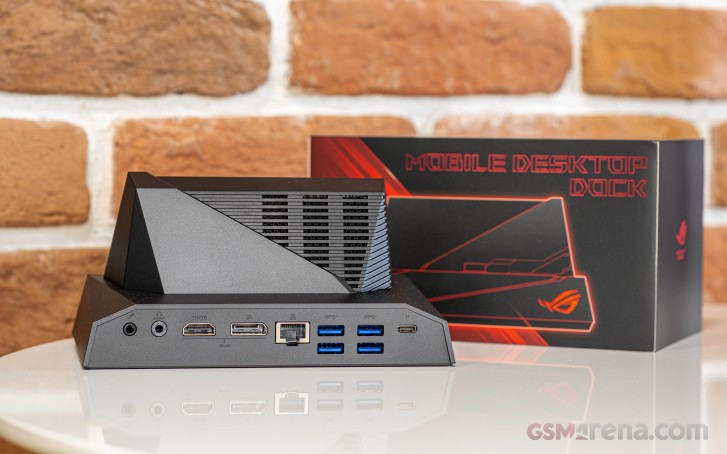 Mobile Desktop Dock is equipped with both an HDMI 2.0 port and a Display Port 1.3, you don't have to limit yourself to FullHD, like some of the competing mobile docking solutions. 4K is easily attainable. There are two modes to choose between - mirroring the main phone display or extending it. The latter can make proper use of the full resolution of your monitor and even initiates a slightly tweaked version of the app launcher on the monitor and a fully functional UI on the phone display.
This means you can multitask or simply fire up Game Center on the phone while gaming on the monitor to keep an eye out on performance stats. It's not a full-blown alternative desktop environment, like Samsung's DeX, but is still set-up in a versatile and usable way.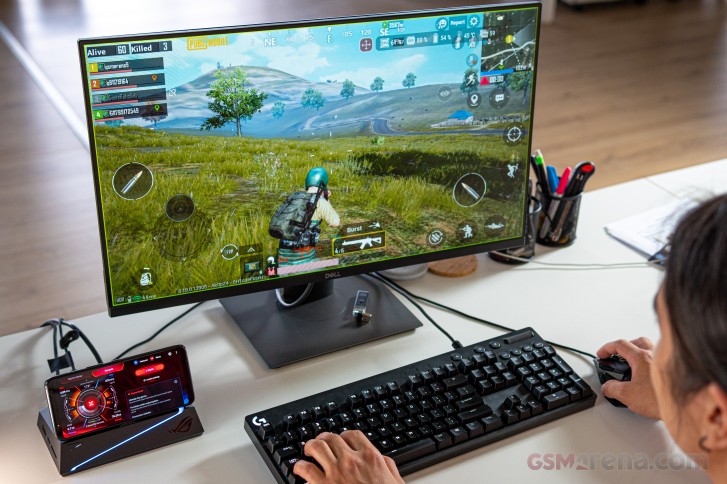 The impressive port selection on the Mobile Desktop Dock offers some clues to one other feature it possesses. It is a potent and extensible KVM. Yes, a 4K KVM! Well, one of the devices needs to be the phone, but still, anybody familiar with a KVM will know just how much a good 4K one costs.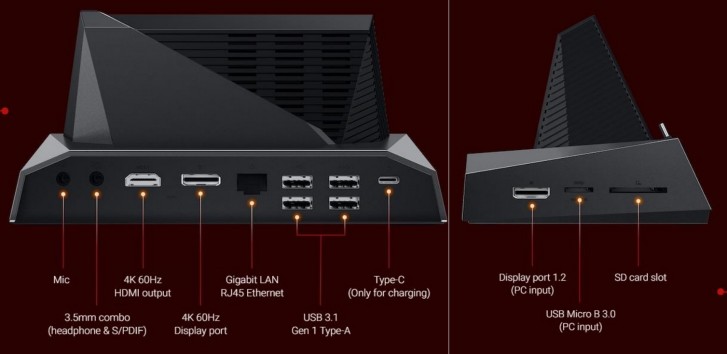 All you need to do to make this work is get a DisplayPort cable running from your PC to the port on the left side of the dock, along with a slightly odd, but functional USB-A to micro USB 3.0 cable for data. Then you can go ahead and unplug all of your peripherals from the PC, plug then in the back of the dock, slap the ROG Phone 3 on the dock and you only have to press a single button on the front of the dock to switch everything over from one device to the other.
ASUS Professional Dock
The Asus Professional Dock has been part of the ROG accessory ecosystem, unchanged, since the original ROG Phone. It is kind of a stripped-down version of the Mobile Desktop Dock. It also plugs into one of the Type-C ports of the ROG Phone II and offers a couple of USB 3.1 Type-A ports, Gigabit Ethernet, and an HDMI out, capable of up to 4K resolutions. Crucially, it is still supported by the Asus Key Mapping software, which is not necessarily true for other, third-party Type-C hubs that might offer the same hardware functionality.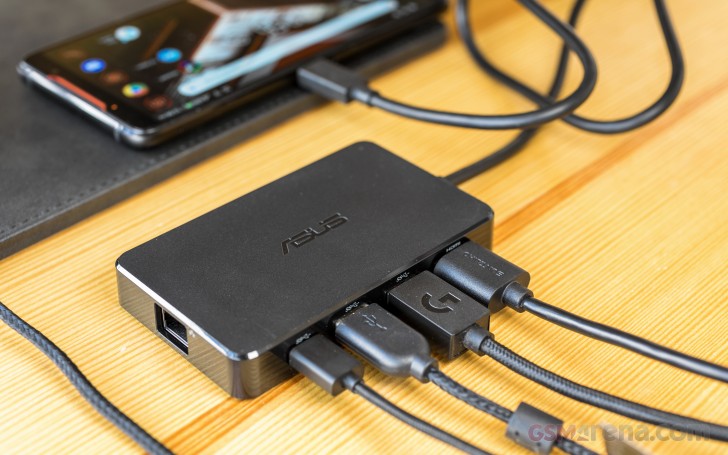 If you don't have a use for the KVM functionality of the Mobile Desktop Dock, then you can have all the rest, including the ability to play mobile games with keyboard and mouse on the cheaper Professional Dock.
ROG Lighting Armor Case 3
The Lighting Armor Case is another older ROG Phone concept, carried over for the ROG Phone 3 to use. The main party trick of the Lighting Armor Case line is the built-in LED light guides and a reflector window, which aligns with the second LED near the main camera of the phone. Yes, that odd-looking, smaller LED, beneath the camera flash on the back of the ROG Phone 3 is an illuminator and its sole purpose is to bring such cases to life. Embedded in the case itself, there is also an NFC chip, which automatically triggers a prompt, asking the user if they want to download and enable a there, matching their new Lighting Armor Case.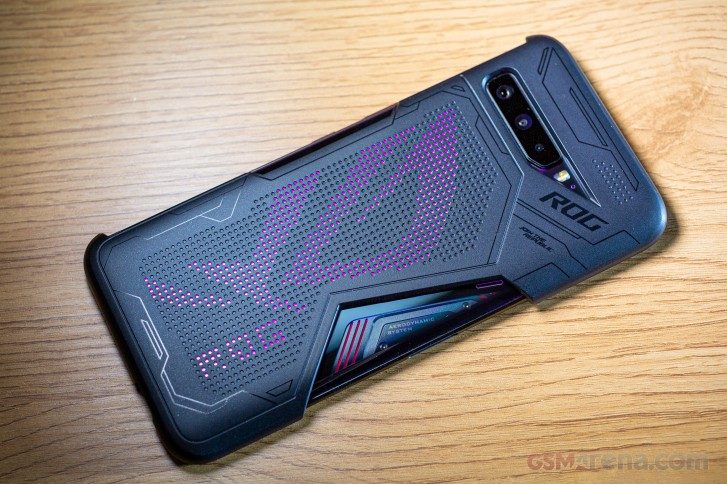 In the past, we have mostly seen ROG-branded cases and some that are styled after a number of popular gaming IPs. Quite an interesting promotional tool with a dash of personalized, "gamer" styling. We can't say how extensive the selection of Lighting Armor Case 3 cases for the ROG Phone 3 will be, but Asus did send over its own, interesting model. It features a toned-down design, modeled after the particular light-pattern on the back of the company's Zephyrus G14 gaming notebook. The latter is an amazing piece of kit which is now, sadly, almost impossible to find. As a fan, this particular reviewer would have liked to check it out and see how to two go together. But, we digress.
Asus also sent over one of its Neon Aero cases for the ROG Phone 3 in what can only be described as an acquired taste, particular kind of transparent orange, with writing on top.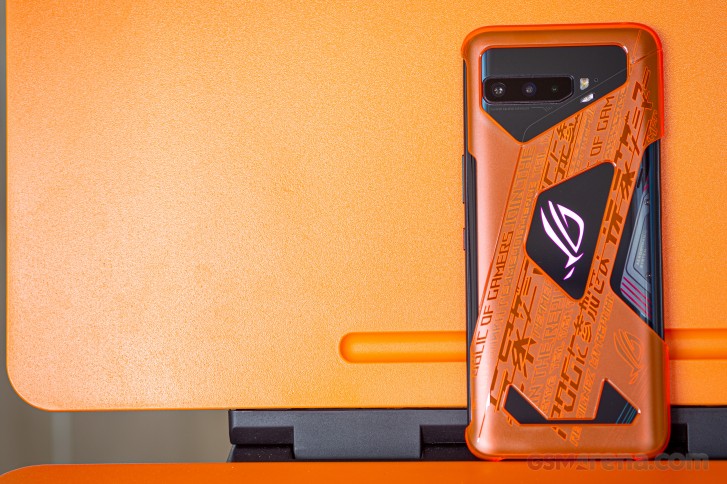 And also, an Antibacterial glass screen protector. The ongoing COVID-19 pandemic is leaving its mark in all sorts of off and unexpected places. The back of the packaging says that the protector has silver ions, which destroys enzymes in bacteria upon contact.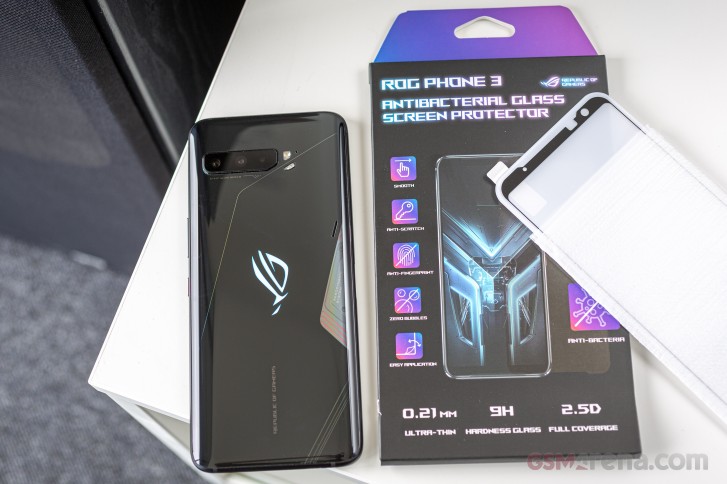 Antibacterial properties aside, this is an official tempered glass protector, with a 9H rating, 2.5D curved edges and 0.21mm thickness. That's one more advantage of having a flat display design - you can easily get great-quality glass protection for it. If you are so inclined, that is.
I bought the rog phone3 in 2020 and since then no software update it is still android 10 and even I have tried manually still the same after factory reset still the same, now I am encountering issues like video is not recorded and incoming mute calls...
Anonymous
25 Oct 2022
uSg
I've used Android 12 and there are no problems with this. I just found 1 issue about system lighting not perfectly working after getting Android 12.
Anyone received and updated Android 12 stable update, if so howz it,,, any probs like battery drain etc. Plz respond, thank you