Asus ROG Phone 5 review
GSMArena Team, 10 March 2021.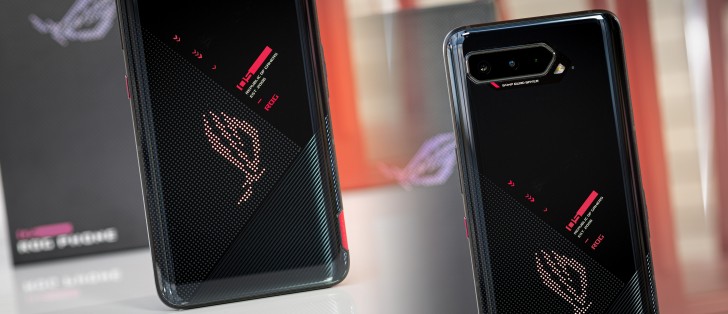 Design
It's hard to mistake a ROG Phone. And this is still true for the ROG Phone 5. Though with that said, four iterations in, its styling is very different from the original ROG Phone. Asus has clearly been working towards less-bold and eccentric looks overall. Gradually toning-down the "gamer" aesthetic, if you will, on most of its ROG Products, including phones.
We already deemed last year's ROG Phone 3 slick and "low-key" enough to confidently take into a boardroom. The ROG Phone 5 takes this trend one step further still. The key elements are all there, like the big ROG RGB logo, now off-center a tiny bit, as well as the sharply-angled camera island.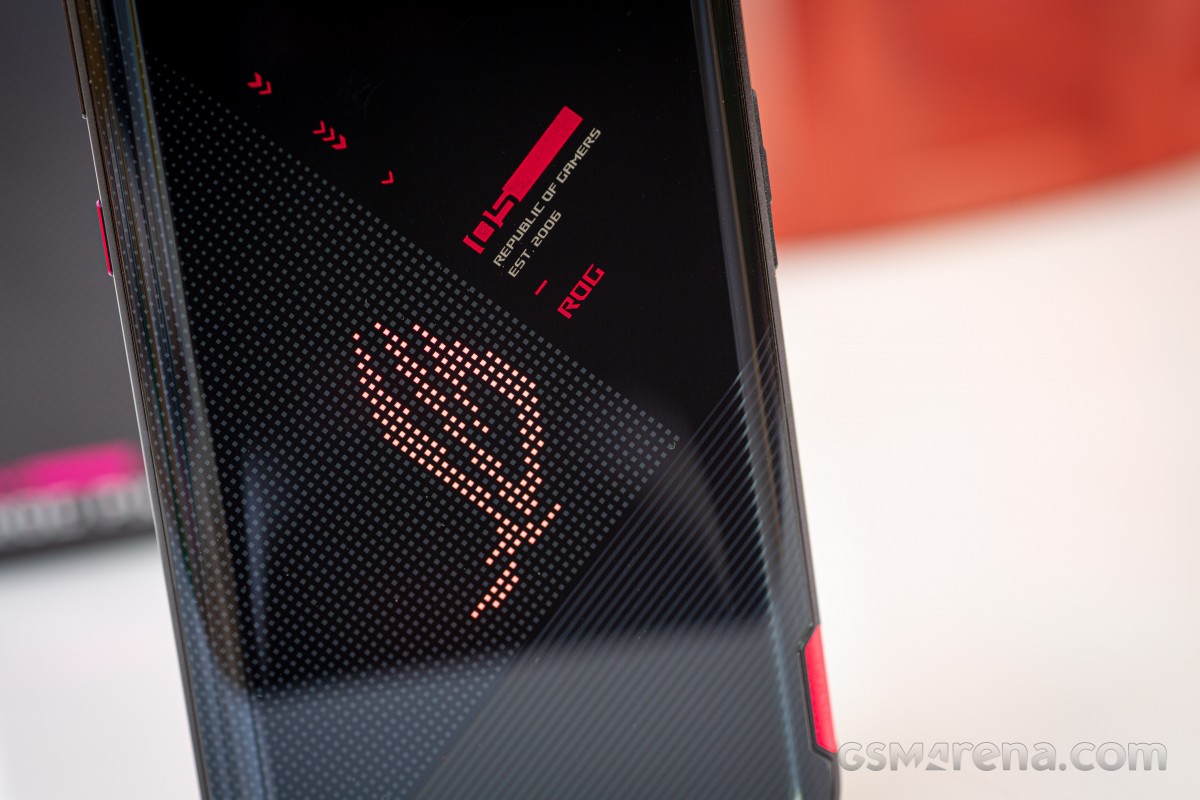 No exposed inner cooling surfaces or even enclosed windows with shiny metal showing through this time around. There are fewer "fighter jet/alien" shapes and lines as well. Instead, a much tamer and stylish assembly of text and branding elements, paired with a geometric match in one bottom corner and a "dot-matrix" style background around the centerpiece ROG Logo. One that instantly reminded us of the distinctive back design on the ROG Zephyrus G14 laptop. There is clearly some design synergy going on, and we love it.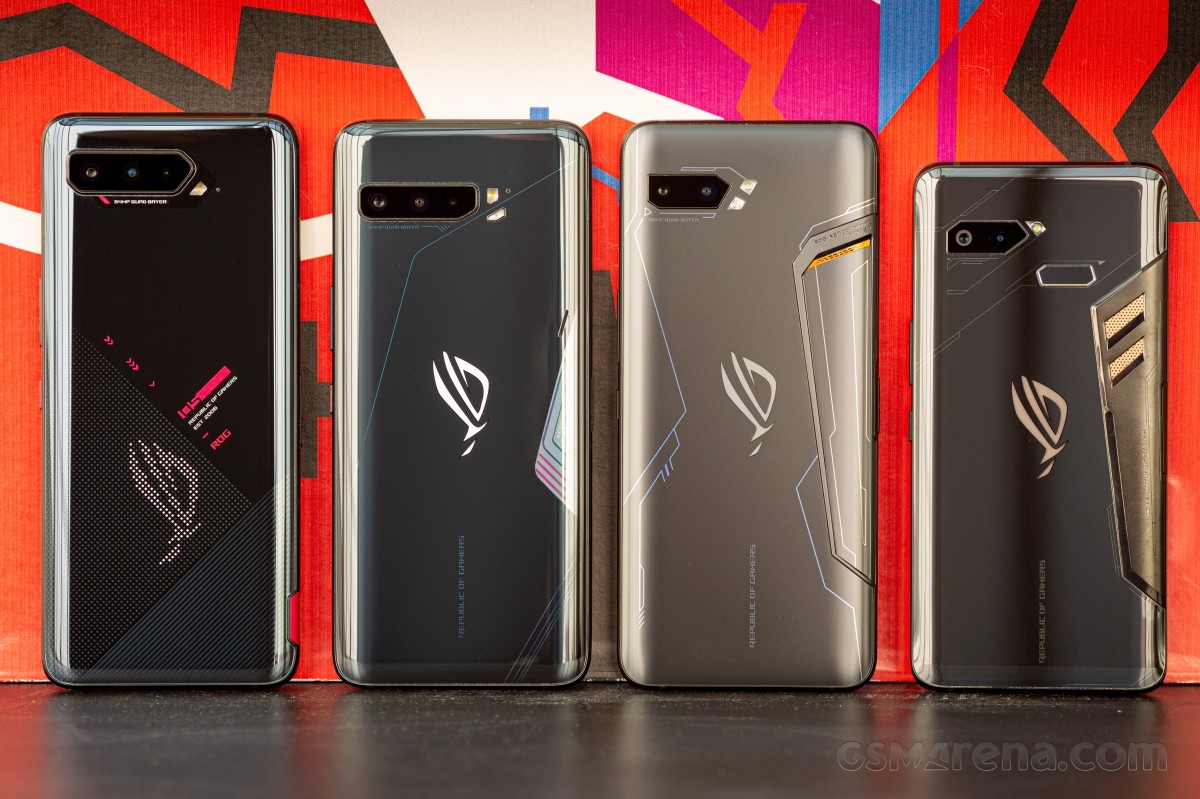 Speaking of the ROG Logo, it has a new trick this time around - simply put, there are now two distinct RBG LEDs for you to control. This allows for some eye-catching shades to be achieved. Of course, you can still choose from a wide selection of effects and animations (8 different lighting schemes in total) and also sync-up the pattern with other ROG Phones.
On the Pro and Ultimate version of the ROG Phone 5, the ROG RGB Logo is swapped for an actual display, dubbed ROG Vision. Color in the former and monochrome on the latter to better fit the black and white aesthetic. Like the logo, the display can be used to react to certain events, like incoming calls and notifications or X-mode being enabled, and you can use it to display both static images and animations. Those are available via download from Asus repositories, or you can make your own using a built-in editor.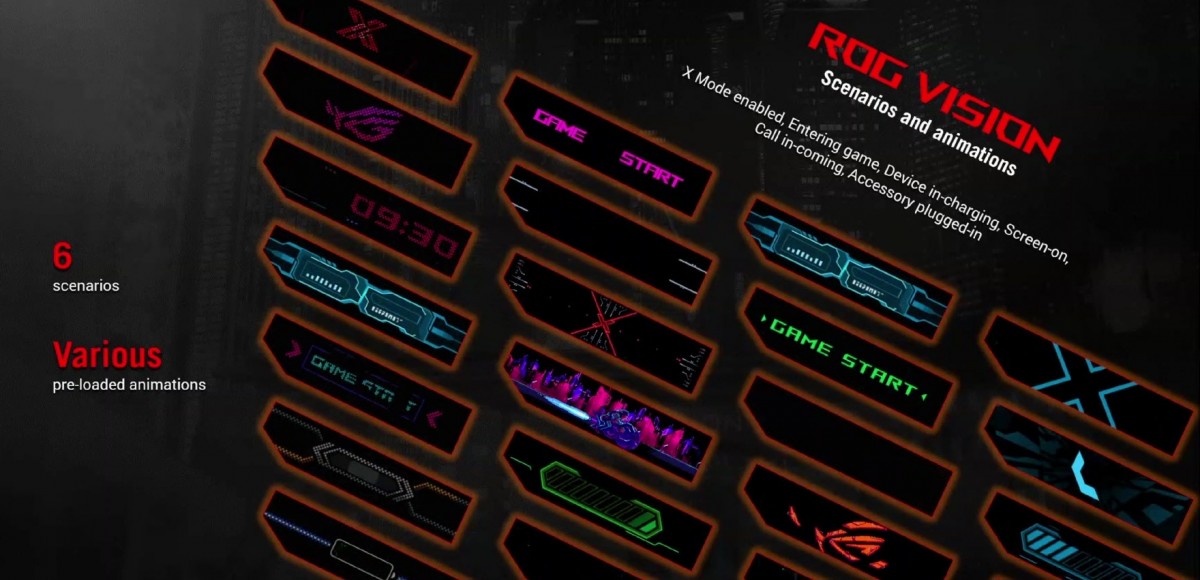 Asus is even partnering with game publishers to have certain titles show relevant content on the rear display during gameplay.
There is still an RGB Notification LED on the front side of the ROG Phone 5, above the display, as well. It is great to see that Asus doesn't think one is a substitute for the other.
That's probably enough beating about the bush, though, unlike both of its predecessors, the ROG Phone 5 does not retain the same body dimensions. Well, to be fair, the ROG Phone 3 did get 0.4mm wider and thicker than its predecessor, but, crucially, it was exactly as tall, making it compatible with many of the existing ROG Phone II accessories. This is no longer the case for the 172.8 x 77.2 x 10.29mm, 238-gram ROG Phone 5. That's thicker and taller than the ROG Phone 3, while a bit narrower.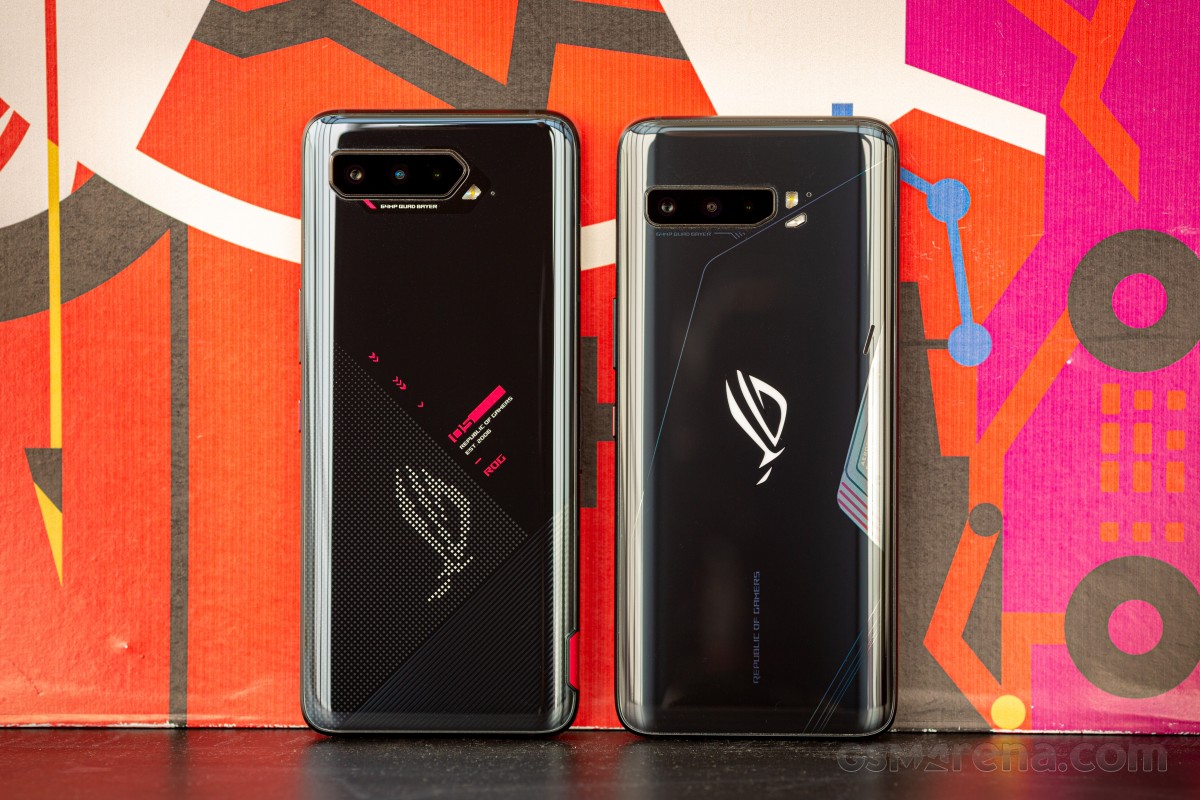 Of course, the biggest consequence of this dimension change is the loss of compatibility with some existing ROG Phone accessories. These are notably the TwinView Dock II and 3 and the Mobile Desktop Dock. Arguably - the two most sophisticated and unique gadgets one might already have or want to get. Asus is yet to announce replacements. Perhaps there wasn't enough interest in them.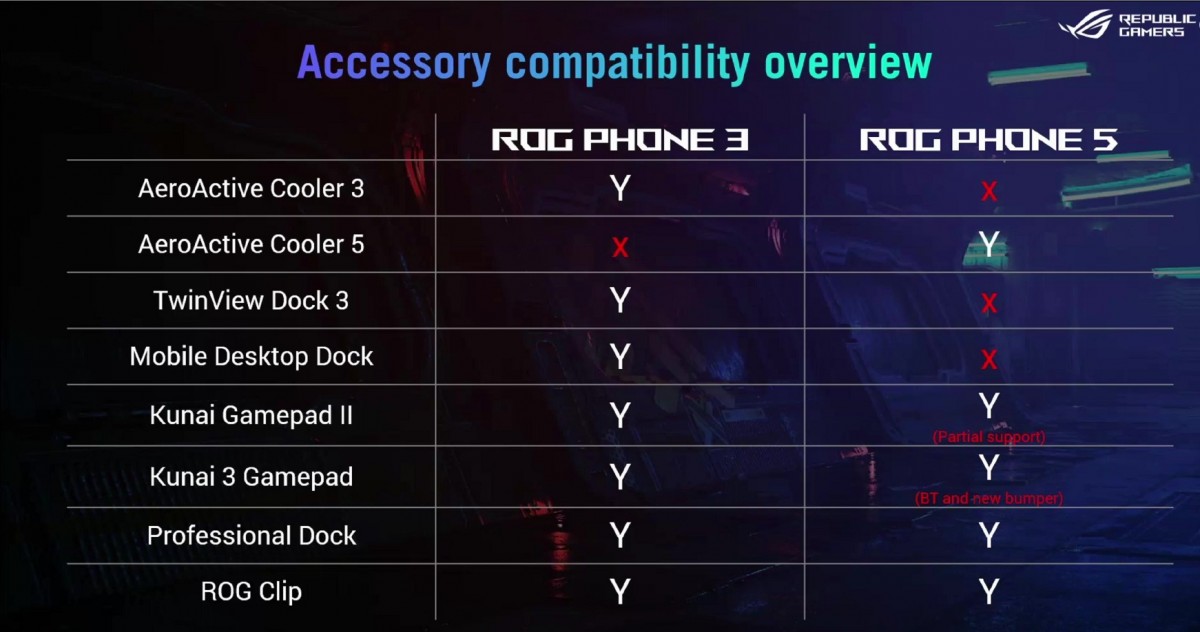 On the plus side, the ROG Phone 5 now has notably thinner bezels than its predecessor - 25%, as per Asus' own numbers. Thinner bezels in term allowed for a slightly bigger 6.78-inch display, up from the ROG Phone 3's 6.59 inches. Slimming down the top and bottom bezel also involved a reduction in the selfie camera diameter by 27%.
Asus actually has a brand-new internal layout for the ROG Phone 5 - quite unusual at that. It's based around a central-positioned mainboard and chipset, flanked by two 3,000 mAh batteries and then two symmetrical speakers - bigger than on the ROG Phone 3. The on-board 3.5mm audio port is also making a triumphant return, along with a high-end DSP to go with it. All of this definitely requires extra space, so it's easy to see Asus' justification for going bigger this year. Even if that meant losing some accessory compatibility.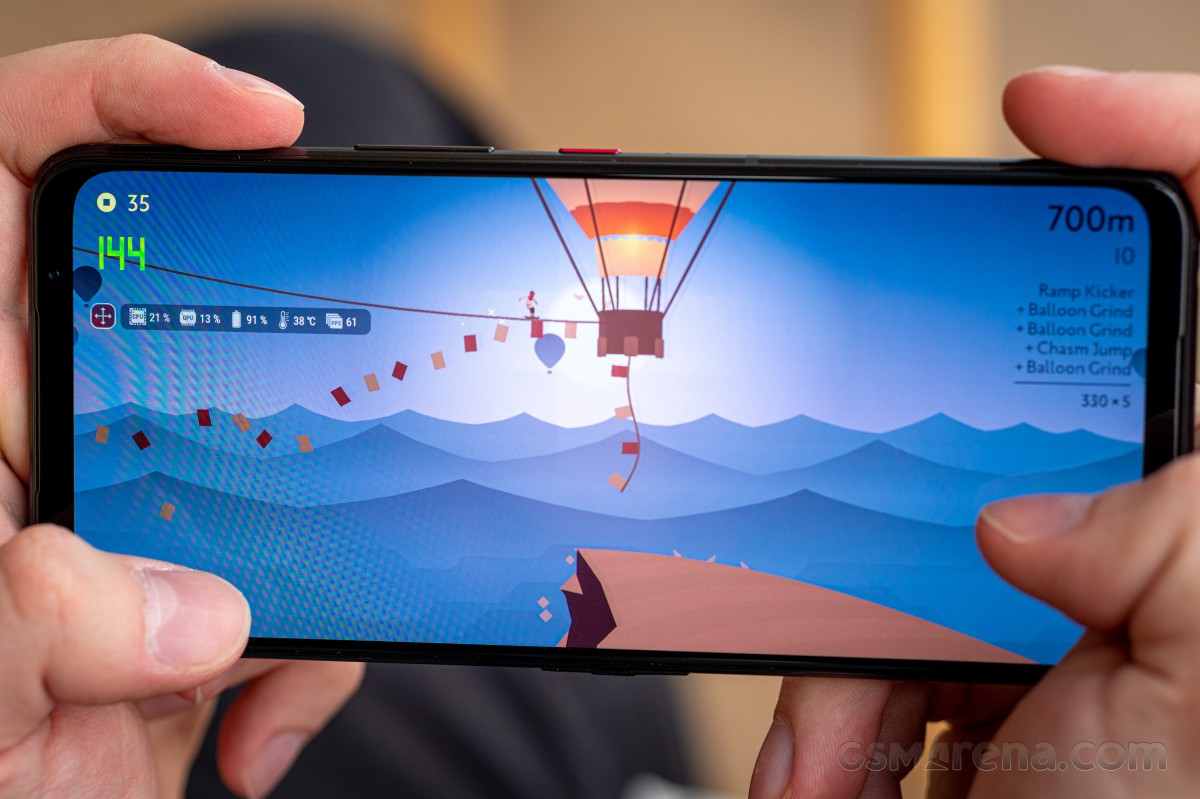 It comes as no surprise that the ROG Phone 5 is extremely well put together. The only notable omission being a formal ingress protection rating, which we definitely get with all of the additional side connectors and exposed pins. It is basically built like a rock and features an extremely rigid middle frame, with practically no flex, sandwiched between two glass surfaces. The front one is Corning Gorilla Glass Victus, which promises increased drop resistance, up to 2 meters and twice the scratch resistance of Gorilla Glass 6.
On the back - there is a nicely-rounded sheet of Gorilla Glass 3. The black finish on our review unit looks great but is a fingerprint magnet. Also, it is smooth and provides little grip, making the ROG Phone 5 a very slippery device while being held and while lying on a table. A case is highly recommended.
Thanks to its curved back, the ROG Phone 5 sits very comfortably in your palm. As long as you have a fairly large one, that is. It is a chunky phone, no question about that. However, compared to the ROG Phone 3, which has always felt uncomfortably top-heavy, the ROG Phone 5 is surprisingly balanced and more comfortable. This is mostly down to its totally re-designed internal layout.
Internal design
Cooling a phone is no easy task, especially when you cram the most powerful chipset around and then overclock it, like Asus does for its ROG Phone models. The ROG Phone 5 is no exception.
The keen-eyed among you, however, might have noticed that unlike all previous ROG Phone models, this new one has absolutely no obvious exposed internal cooling elements or air ducts on its surface. This time around, the back of the ROG Phone 5 is a solid piece of glass. What gives?
Well, Asus engineers have completely redesigned the internal layout of the phone. It all revolves around having the main PCB on the phone and the chipset it houses positioned in the center of the device. This has more than a few benefits, just one of which is the improved weight distribution, which we already noted.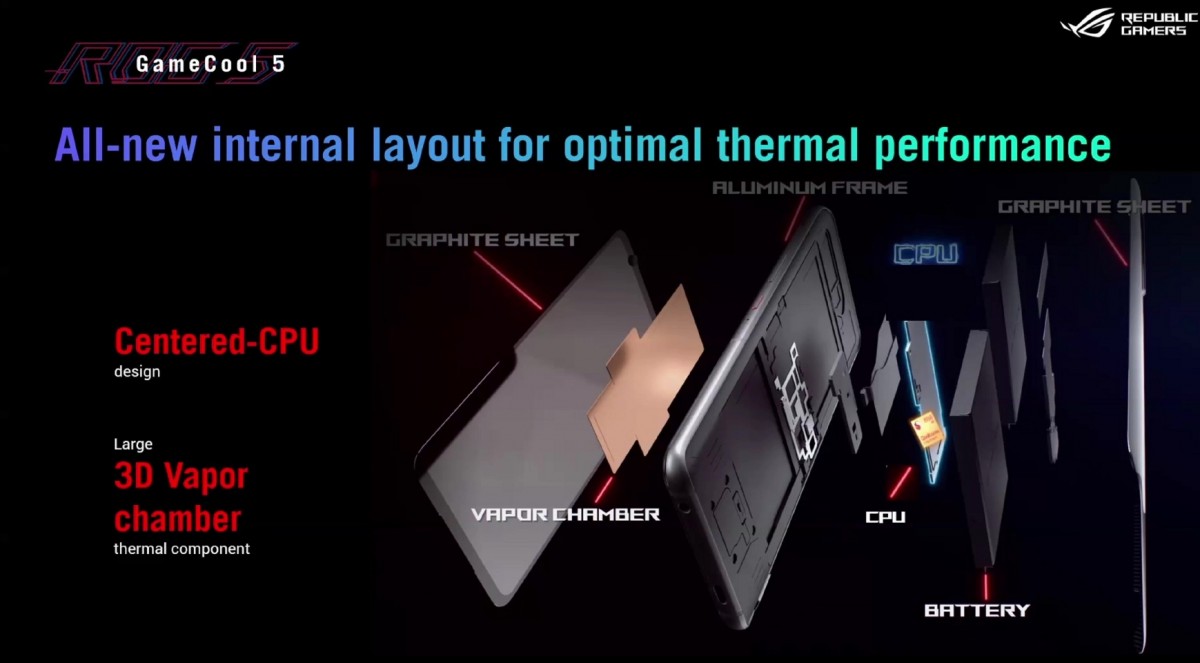 Having the biggest heat-generating components in the middle means that the entire middle frame can be used for heat dissipation more efficiently. Plus, the heat is kind of naturally kept equally distant from both hands while holding the phone horizontally. Asus also reshaped the internal vapor chamber and the large graphite sheets that are typically found inside ROG Phones in such a way as to better dissipate heat and also focus it upwards through the back panel.
As per the company's own numbers, all of these changes, combined with the fact that the new and also redesigned AeroActive Cooler 5 sits right above the main heat source in the phone, allows for improved cooling efficiency and up to 15 degrees drop in surface temperature and 10 degrees to CPU temp. Simply put - the ROG Phone 5 should handle heat better both with and without the AeroActive Cooler 5.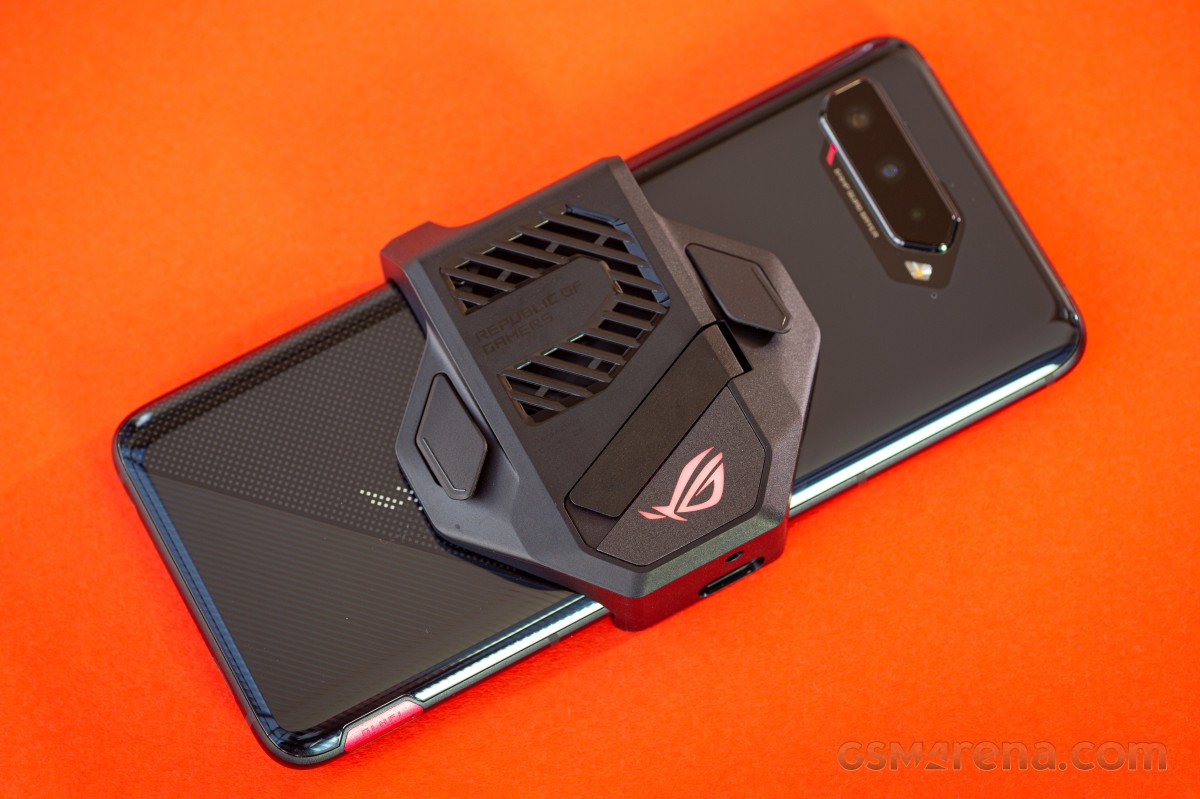 Having a central-mounted CPU PCB also allowed or necessitated, whichever way you choose to look at it, the use of two separate symmetrical 3,000 mAh batteries, instead of one big 6,000 mAh one. This has its positives and negatives, which we will cover in the battery section.
Internal symmetry extends one step further still, with the dual front-facing stereo speakers. These are now both bigger and more powerful than even in an ROG Phone.
The main theme here is that clearly there have been more than a few internal changes with the ROG Phone 5. Easily enough to justify its increased footprint, regardless of whether you personally think the tradeoff of diminished accessory compatibility was worth it or not.
Controls
Asus is well known for its deliberate control design and placement on the ROG Phone line, with plenty of consideration for gamers and their needs. In no particular order, we can start with a great example in the signature Asus Side port. At its core, it is a convenient way of hooking-up extra accessories to the ROG Phone 5 and is placed in such a way as to be as least intrusive as possible.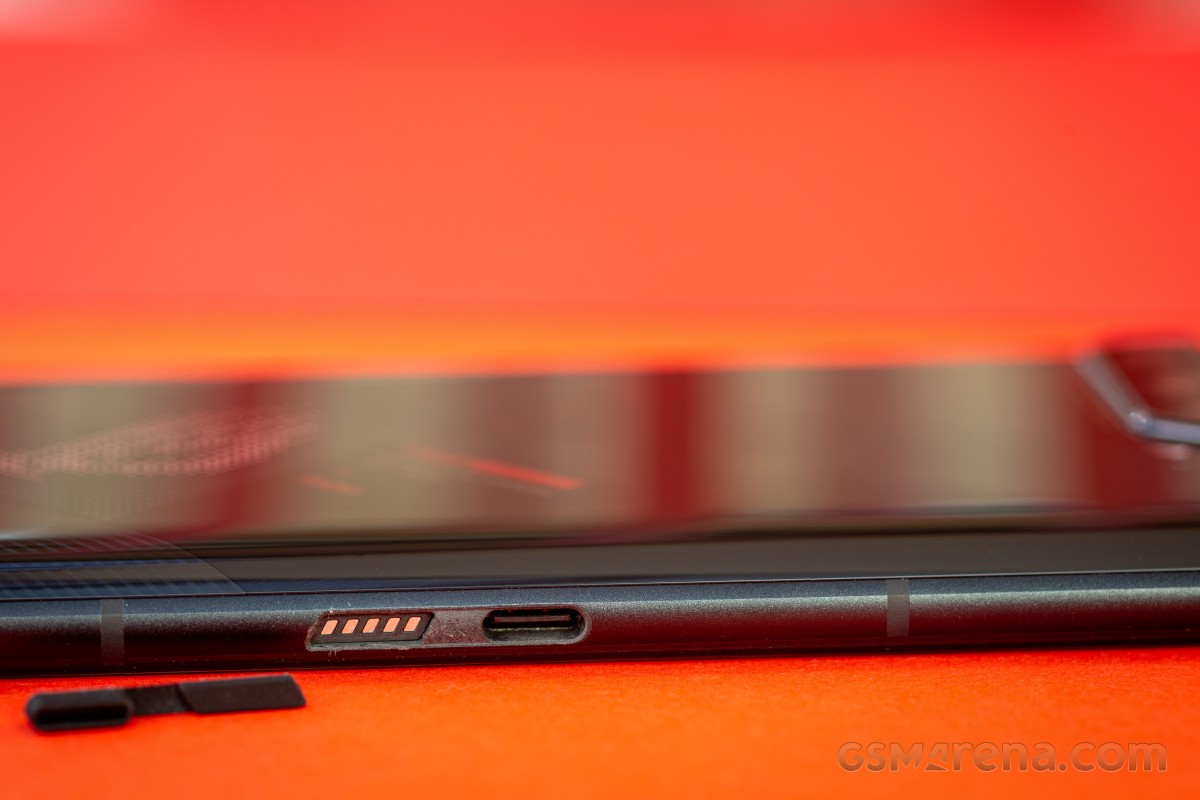 Seeing how the ROG Phone 5 is expected to spend most of its time in a horizontal orientation, doing heavy and battery-intensive gaming tasks, it only makes sense for to have a cable or other attachment handing out of the bottom side, where it won't interfere with your hands. That, indeed, is one great use for the Side port, which consists of a full-featured USB Type-C in one half and a newly-redesigned set of custom pogo pins filling the rest of its length. On the one hand, the switch to shallow pins eliminates any confusion as to which side of the port is the normal Type-C one. On the flip side, however, the little plastic dust cover tends to come off quite a bit easier on the ROG Phone 5 than the deep one on the ROG Phone 3. Since there are no spares in the box, we thought this was worth mentioning.
The Type-C port, part of the Side port on the ROG Phone 5 is actually more potent than the other Type-C port, located on the bottom frame of the phone. While both handle charging just fine and support the same Asus HyperCharge/Direct Charge and PD + QC 5.0/3.0 protocols at up to 65W, the side port is USB 3.1 gen 2 in terms of transfer speed. That means theoretical speeds of up to 10Gbit/s. All the while, the bottom Type-C comes with a simple USB 2.0 data link. The side Type-C is also the way to get video out - DisplayPort 1.4, in particular. That means 4K@30Hz, 144p@75Hz or 1080p@144Hz without any chroma subsampling. Theoretically, that is, since your best chance to use it is with the Asus Professional Dock accessory, which can get you 4K@30 and no higher refresh rate beyond that.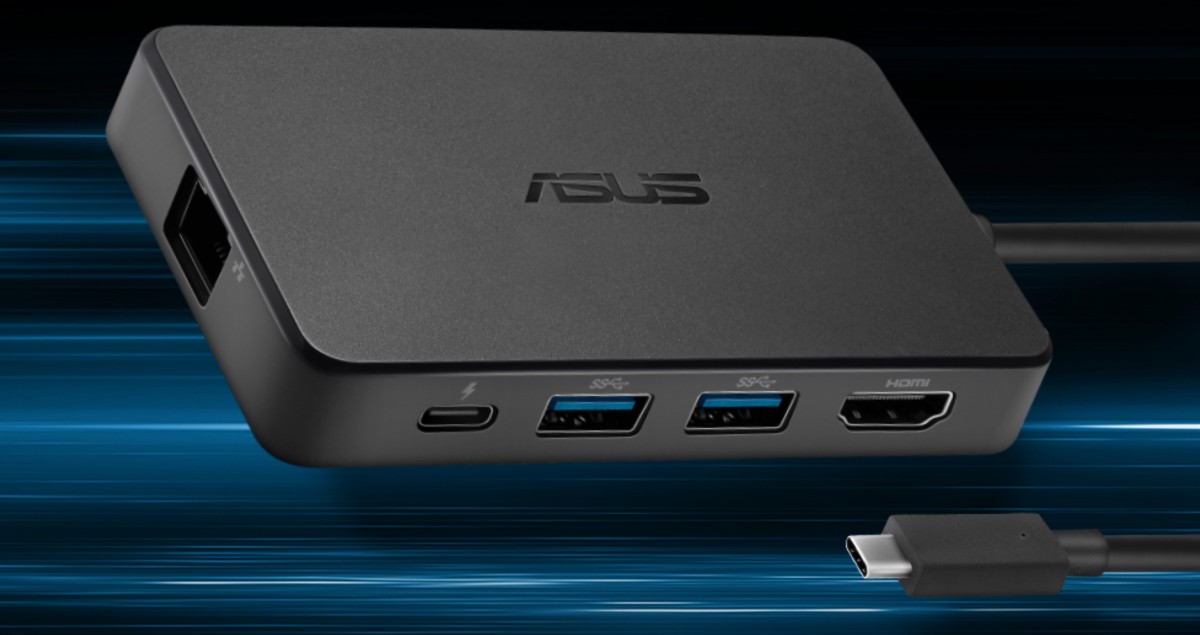 Circling back to that second or rather first, depending on how you look at it, USB Type-C port, you will notice that it is also deliberately tucked-away as far to one side as possible. The same goes for the 3.5mm audio jack, which is making a triumphant return to the ROG Phone 5. Both of these are placed so as to be as out of the way as possible. The same goes for the 24MP selfie camera, which now has a smaller lens, measuring just 2.7mm. It is pushed nicely to the side to make covering it up or smudging it during gaming that little bit more difficult. We also have to praise Asus for still finding space for the said camera in the now narrower top bezel and leaving the gorgeous 6.78-inch AMOLED panel uninterrupted by notches or punch holes. And let's not forget also managing to fit the two symmetrical and identical front-facing speakers.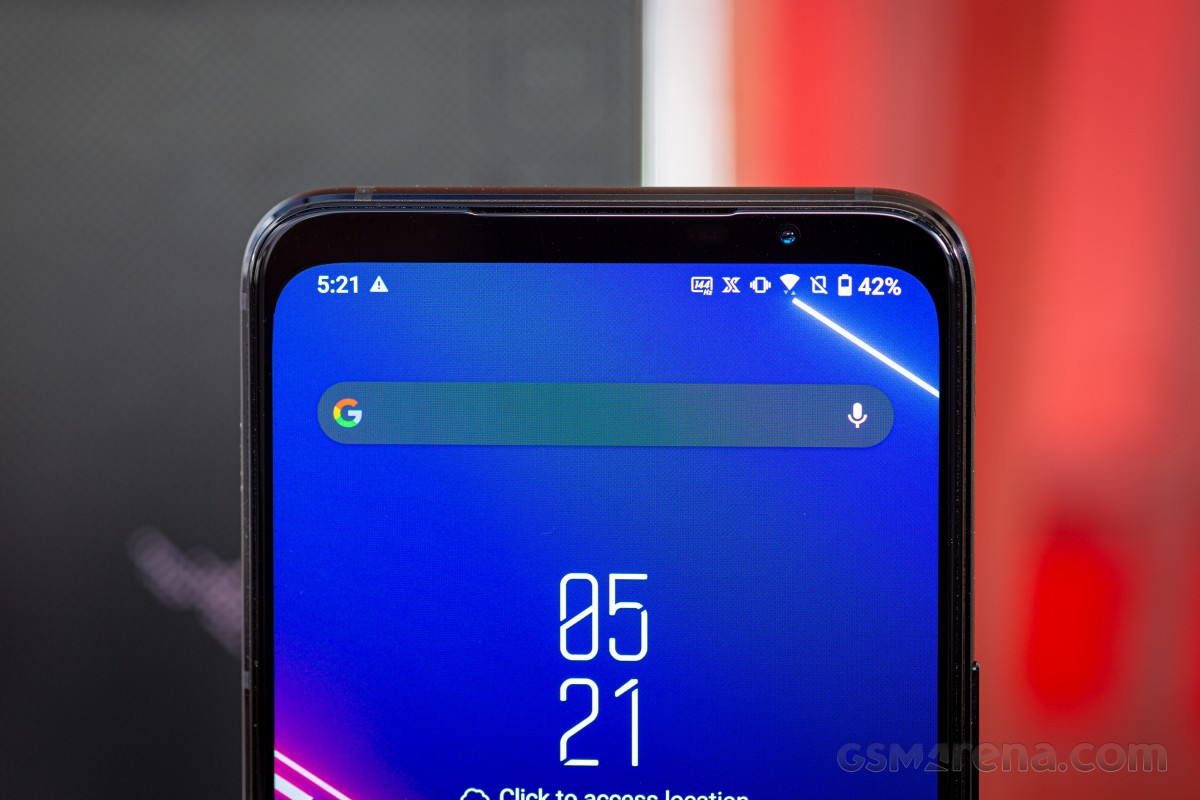 On the flip side, the top and bottom bezels surrounding the now taller 20.4:9 display on the ROG Phone 5 are unquestionably smaller. In fact, the side bezels have shrunk as well. On any other phone, this would be a reason for extra praise. However, Asus has always been very deliberate in its decision to have that empty space there and for a good reason - comfort while gaming. You need to have a convenient place to rest your thumbs and avoid accidental touches. And while there is still some room left, having gamed on every ROG Phone thus far, we can remark that the situation has gotten worse. For the sake of pure gaming comfort, we kind of wish Asus hadn't elongated the panel and slimmed the bezels down.
While we did allow ourselves to be a bit nitpicky about the size of the bezels, there is still no denying that Asus continues to put a massive effort into the proper, functional and non-obtrusive placement of its hardware. Just to give a few more examples, the ROG Phone 5 has three Wi-Fi antennas strategically placed in such a way that the phone can always dynamically switch between them and get a good signal, regardless of your hand position.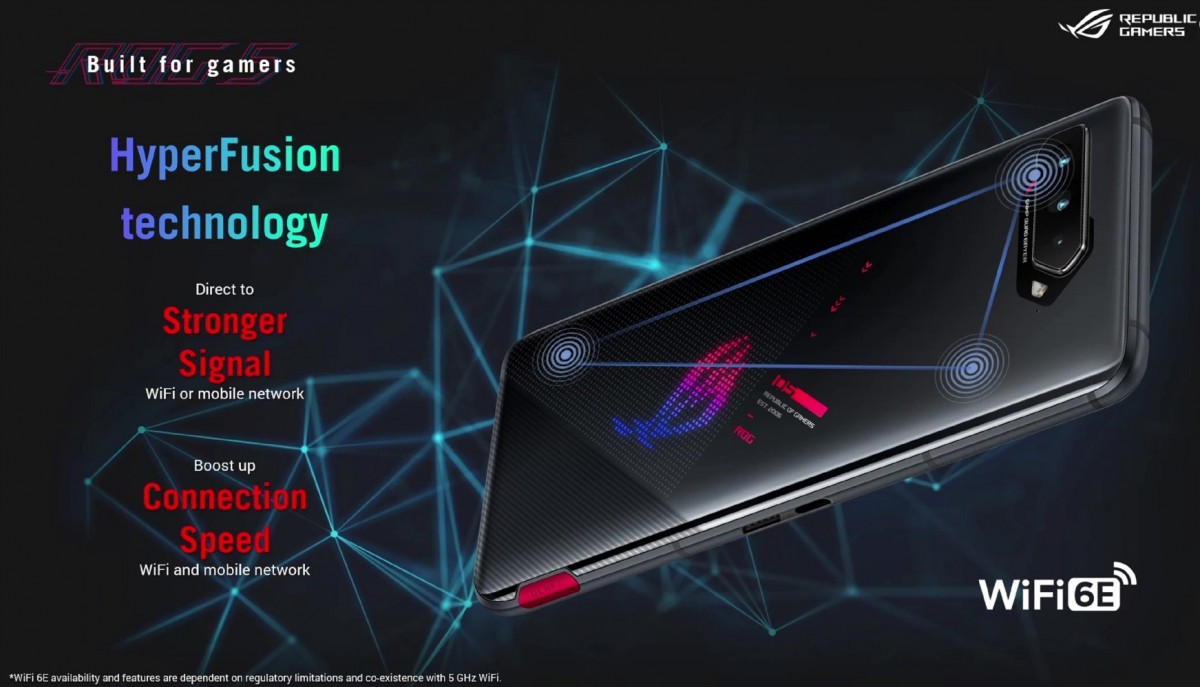 There is also a Quad-Mic Noise Cancelling Array, with the four units, once again, scattered strategically all around the phone so as to never be covered all at once. Having so many microphones also allows for some nifty audio focusing and wind suppression tricks during video recording.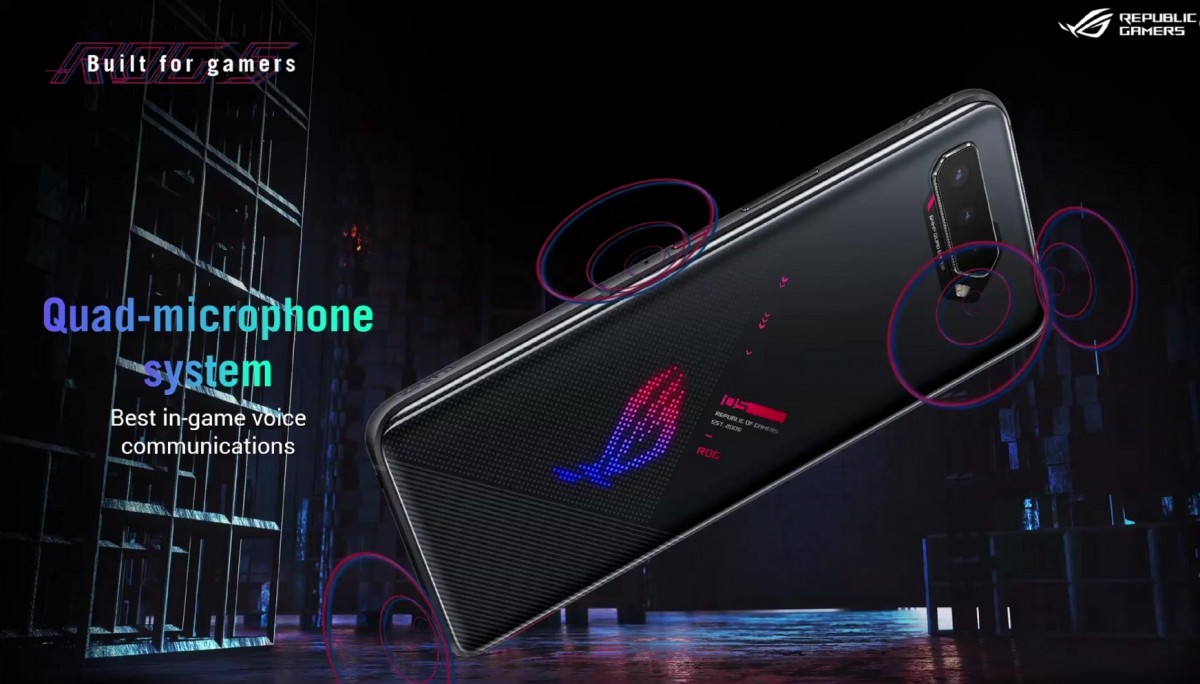 Continuing our control tour with some more-traditional entries, there are a standard volume rocker and a power button right underneath that on the right-hand side of the device. Both are also strategically placed to avoid accidental touches, which has surprisingly also left them in a convenient location for reaching with a thumb.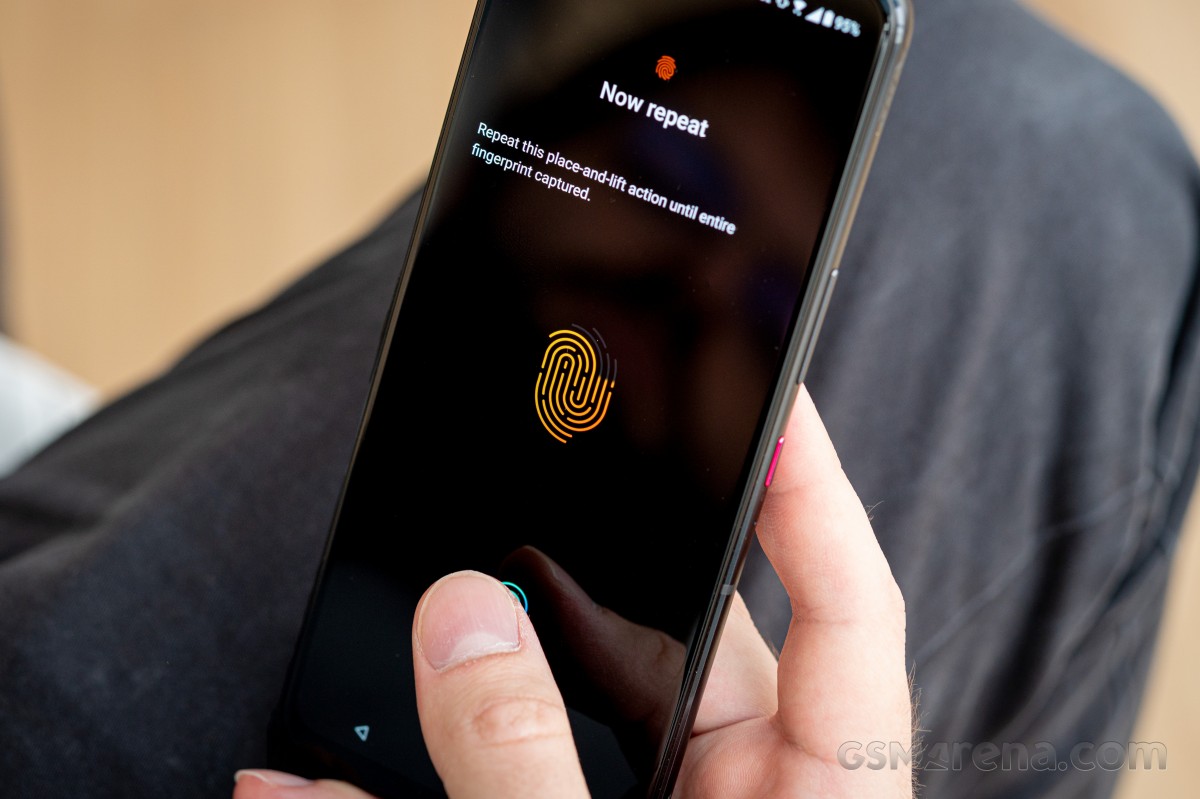 The in-display fingerprint reader on the ROG Phone 5 is nothing fancy in terms of hardware, which we very much appreciate. It is a regular optical module which is snappy and reliable. The tech has matured nicely over the years. Plus, Asus still brings that extra bit of flare to it with a new set of unlock animations.

Apparently, there is some machine-learning smarts under the hood that promise to make reading even faster and more reliable as you use the phone, but we would honestly be perfectly happy if it manages to not mess-up the performance we got from day one.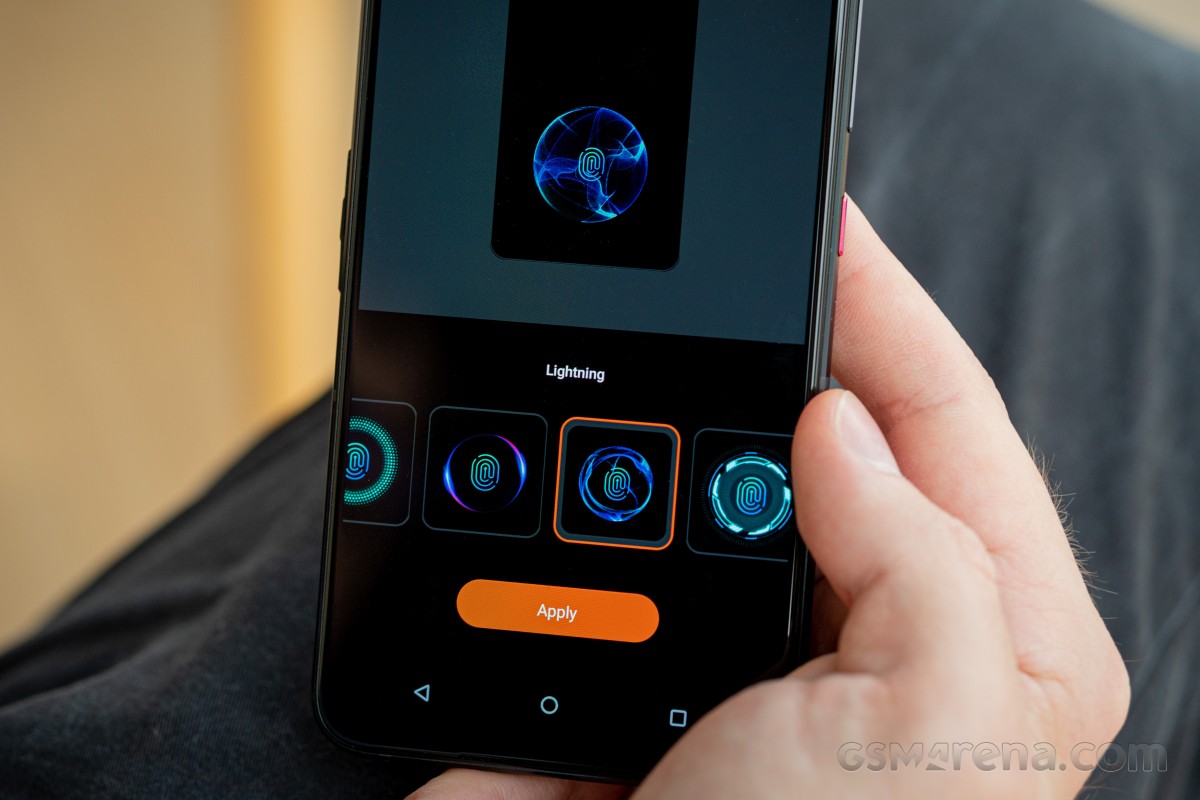 For the last boring bit, we have a dual nano-SIM card slot on the ROG Phone 5, within an eye-catching accented cradle that takes a card on each side.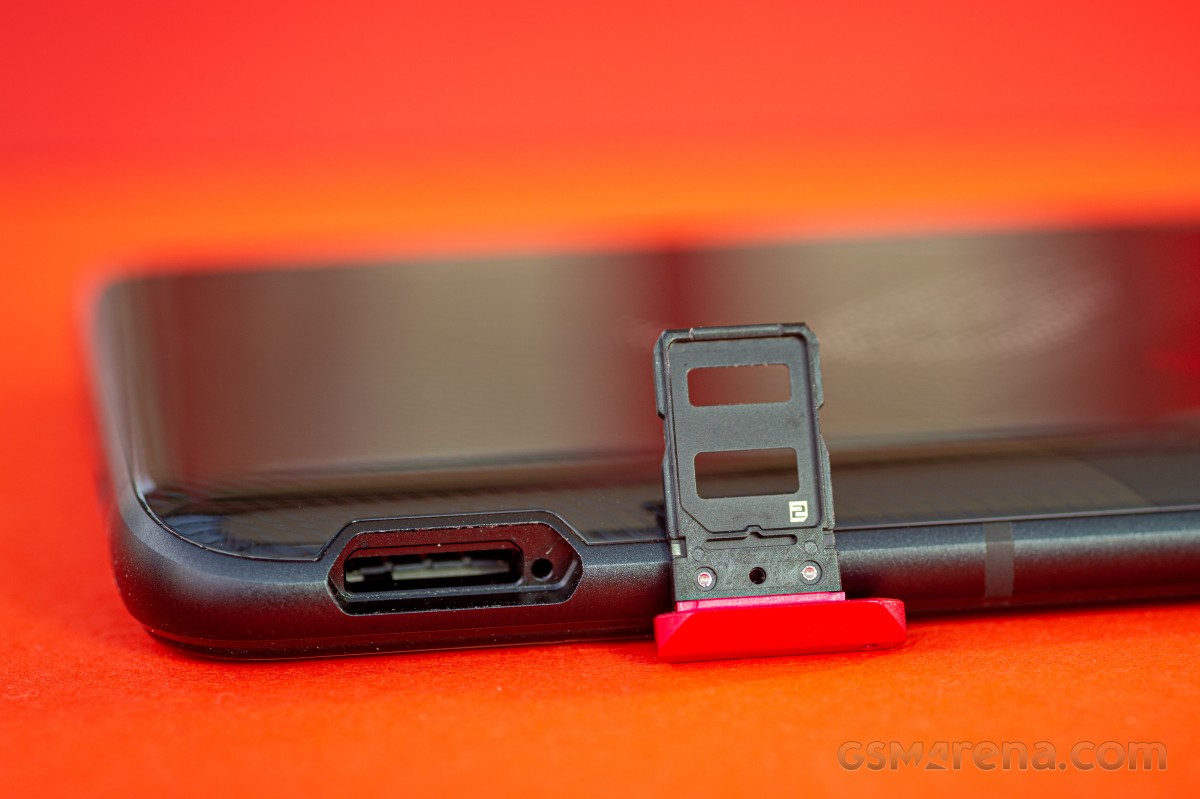 AirTrigger 5 and Ultrasonic buttons are where things get really fun. This supplementary control system has remained a staple of the ROG Phone line and has been continually evolving generation to generation. Two ultrasonic sensors sit at the core of the experience. There are positioned on either end of the right side of the phone. For the ROG Phone 5, Asus decided to move them towards the edges even more, with the claimed intention of making them easier to reach for people with smaller hands and to make gestures easier.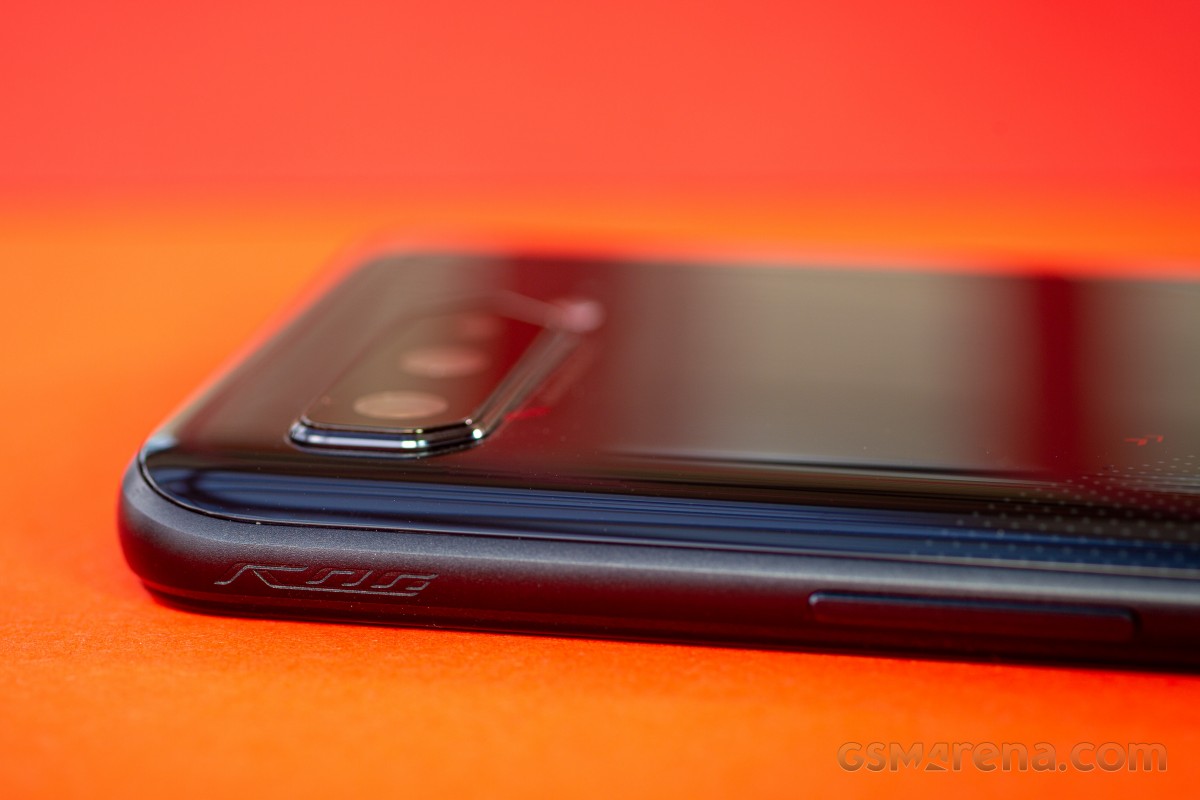 This is going to be a subjective matter, for sure, but we actually find the new position less convenient than the old one. Your mileage may vary, but using the sensors involves quite a bit of finger-flexing for us. Especially if you decide to separate the two sensors into halves and map each one separately. Which is a thing you can do and could also do on the ROG Phone 3, as well.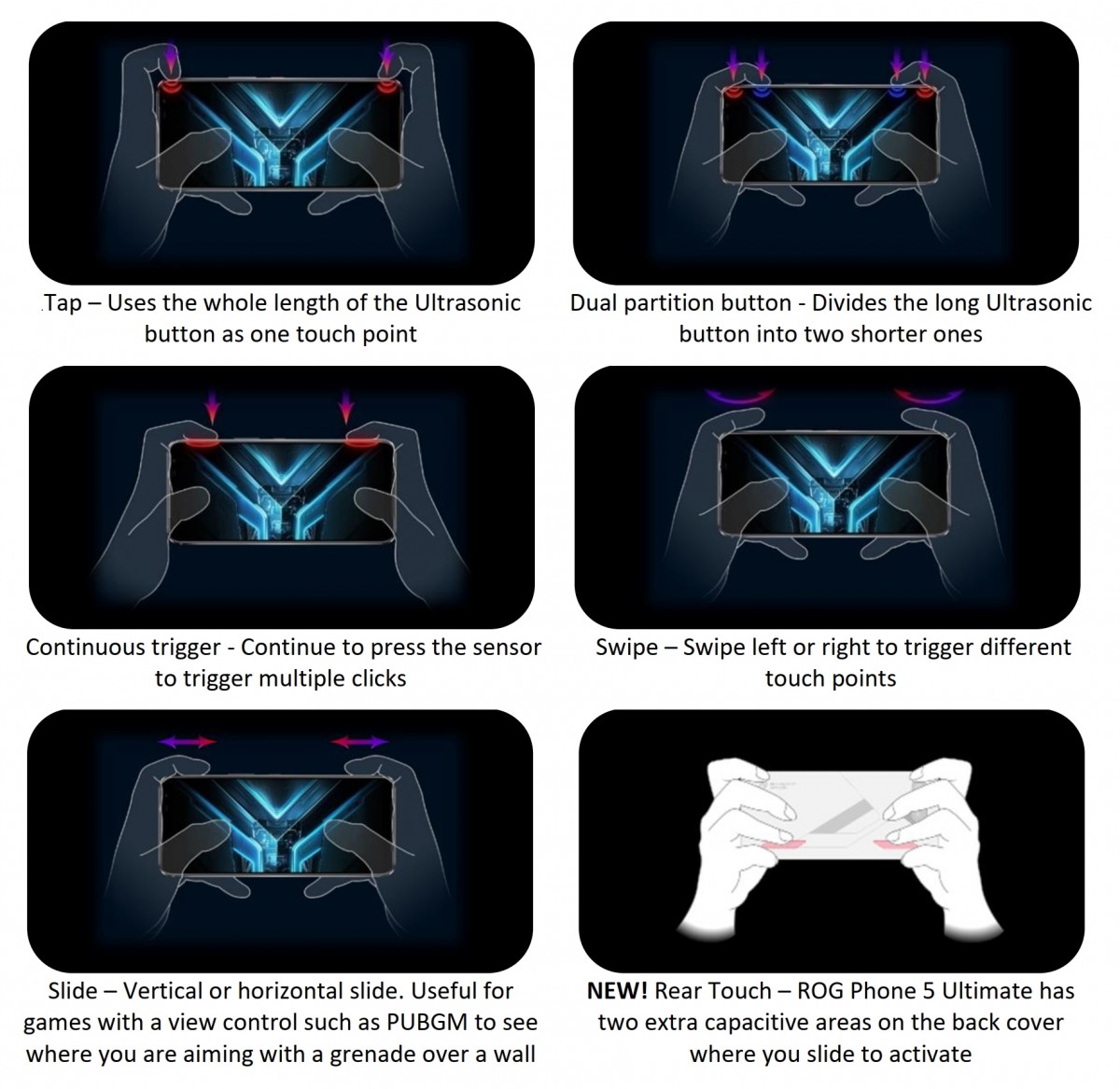 In fact, most of the base input types the system recognizes seem to be carried over from the ROG Phone 3. You can tap on the whole area on half of it, long presses, swipes and slides. Each of these can be individually and meticulously mapped to an on-screen control in-game for what is nothing short of a massive advantage. You can also get pre-made maps for many popular games and even skip some setup steps while still retaining access to an impressive array of tweaks to things like sensitivity, area, trigger distance and distance multiplier. It is an industry-leading system on a level of its own that no other manufacturer has even come close to matching.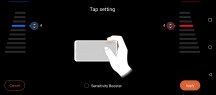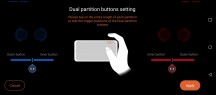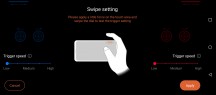 Ultrasonic Trigger tweaks and options
Asus did still make improvements to the new version of the system, though. The regular ROG 5 can be mapped up to 14 specific touch points on the screen simultaneously to ultrasonic controls. The sensors themselves are more precise now, as well.
If you go for an ROG Phone 5 Pro or Ultimate, you also get access to two additional rear capacitive sensors, dubbed Rear touch for mapping. Toss-in the AeroActive Cooler 5, which now has two extra physical buttons of its own, and you get a whopping 18 mappable inputs.
Beyond in-game use, the AirTrigger sensors also provide squeeze detection during the general use of the ROG Phone 5. This aspect of the system is fairly versatile, as well. The phone can differentiate between a short and long press. They can also be assigned different actions depending on whether the phone is locked or unlocked. The list of actions for locked squeezing is understandably shorter and does not include just freely launching any app you want. From an unlocked phone, there are very few limitations to worry about. You can also choose to only have the gesture active when the screen is unlocked, if you are worried about accidental activation. A surprisingly precise force level slider offers another layer of accidental trigger protection. Playing around with this menu is also a great way to appreciate just how precise the Asus ultrasonic sensors are on a hardware level.
Then there are Motion controls, which are now greatly improved since last gen. On top of the shake gesture that the ROG Phone 3 could recognize, the ROG Phone 5 can now distinguish pushing and pulling the phone, tilting it left and right, turning it left and right, sliding it left and right and tilting it backward and forward.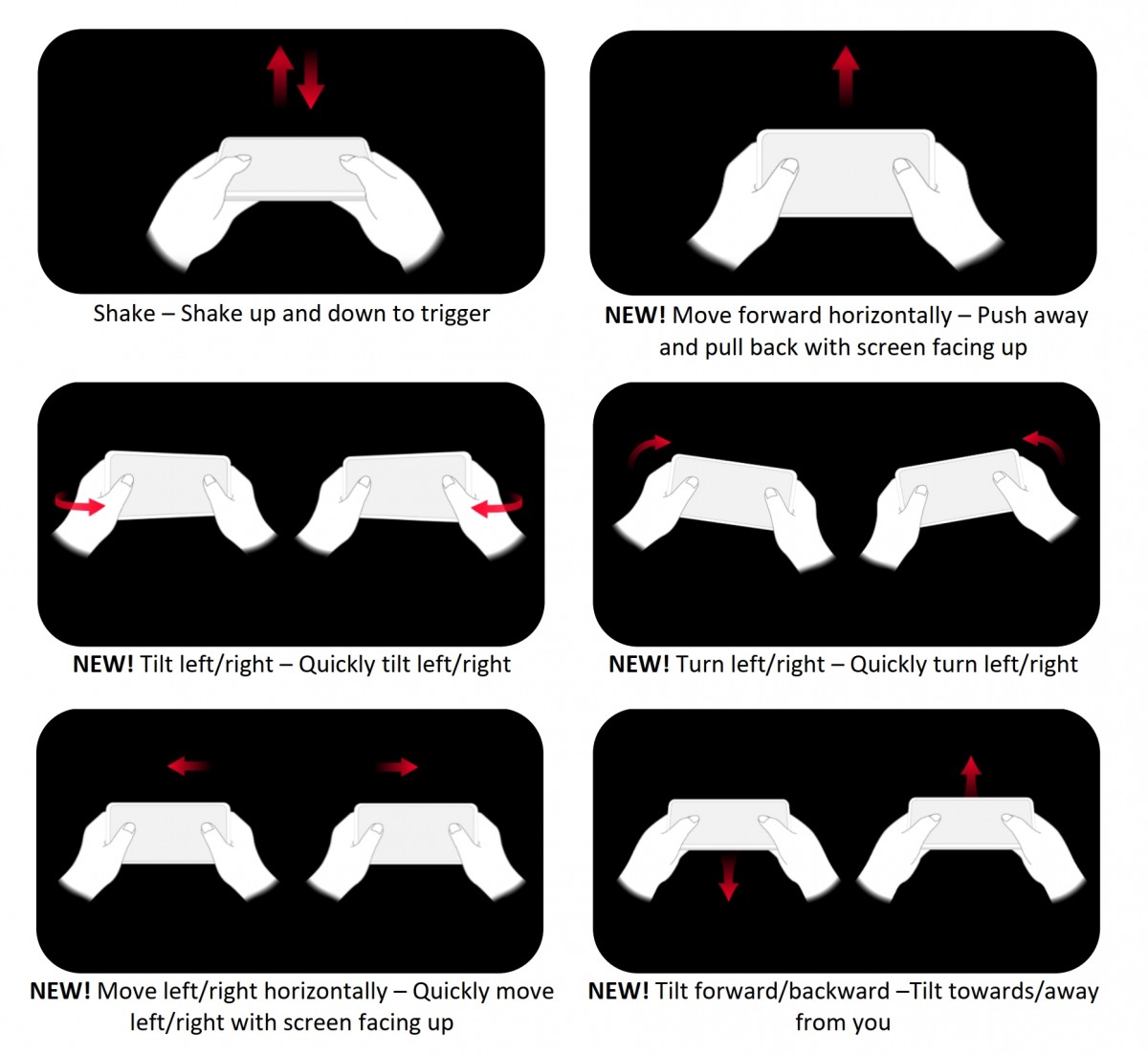 If for some reason you feel like the ultrasonic mapping system does not provide enough inputs for your need, you can map the gestures to inputs, as well. For what it's worth, we did try to test a few of these out and they did seem to work. Ultimately, though, we were way too overwhelmed by the sheer number of things to remember.
This is actually an ongoing trend with the ROG Phone line and the ROG Phone 5 - the sheer depth and scope of the available features and extras are enough to make anyone's head spin. That, however, is the sign of a good and versatile professional tool. It's kind of par for the course, and we respect it for that. And if you don't plan on using these features or you are reluctant to fiddle with them, they stay out of the way.
Connectivity
In terms of network, the ROG Phone 5 has Dual-SIM support, including 5G on either slot, though not concurrently. You can have two concurrent LTE connections, though. There is only 5G Sub-6 support and no mmWave.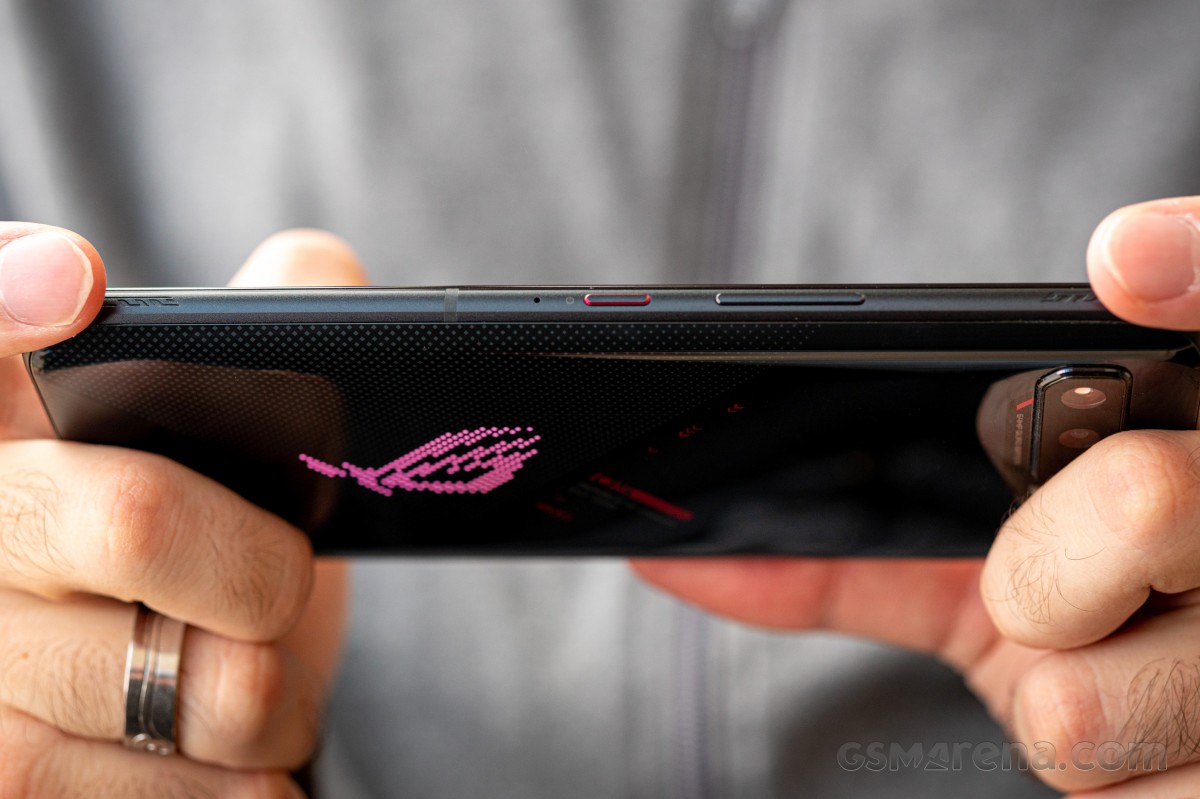 Beyond that, all ROG Phone 3 variants support Dual-Band Wi-Fi a/b/g/n/ac/ax and Wi-Fi 6. Wi-Fi 6E is also available for supported markets. You get a total of three Wi-Fi antennas, with 2x2 MIMO support and intelligent seamless switching for the best possible signal. HyperFusion technology also allows a simultaneous connection to both Wi-Fi and a mobile network, with intelligent detection of quality and switching between the two.
You also get Bluetooth 5.2, along with HFP, A2DP, AVRCP, HID, PAN and OPP as Bluetooth profiles. For Bluetooth audio, there is code support for: LDAC, aptX, aptX HD and aptX Adaptive.
This phone is good for gaming but still think twice before buying it and the reason is after buying this before14 months now the wifi of the phone is gone and now its not even starting. Went to service centre and they said have to change the motherbo...
+ Excellent all around phone for gaming and daily use. Excellent design, very sharp, masculine. No notch or punchole!!! Large but thin, fits nicely in the pocket. DC dimming - no eye sore due to AMOLED. Excellent system (Zen UI) on Android 11 with to...
The Rainmaker
24 Apr 2022
utu
I'm an avid gamer but also a Photographer. While almost every phone is working on improving their cameras these days, it's really sad to see that Asus has done nothing about it. I can live without those stupid lights at the back but I was s...