Asus Zenfone 3 ZE552KL review: More than meets the eye
More than meets the eye
GSMArena team, 16 November 2016.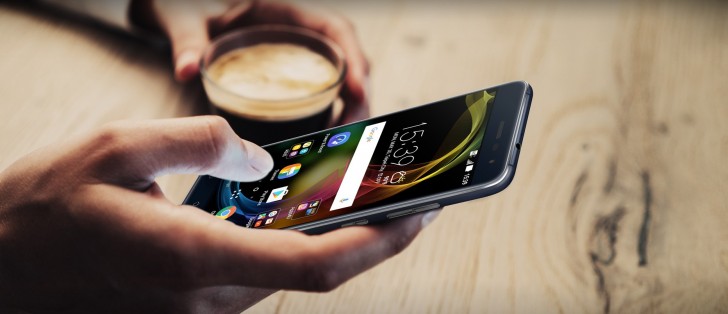 Telephony and phonebook
The Asus Zenfone 3 ZE552KL is a dual-SIM smartphone with support for VoLTE, which enables higher voice quality if your network supports it. Noise reduction is also available. You can chose a preferred SIM for calls, text and data. There's even an option that select a preferred card for the Bluetooth hands-free (i.e. if you hit dial, that will be the card used - it doesn't have to be the same as the preferred card when dialing from the phone).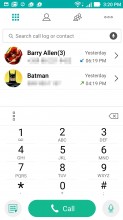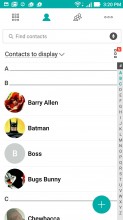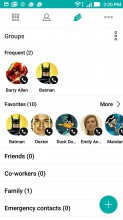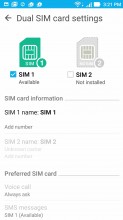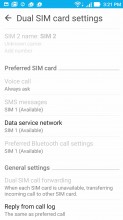 Dialer • Call log • Groups • SIM card settings
The dialer app can record calls and includes a toggle to record all calls (otherwise you have to enable it manually). There's built-in blocker to screen unwanted spam calls and Private contacts. These are similar to the locked apps on the homescreen - you need to enter a PIN to get access to them (once again, the fingerprint reader is not used). If you install the Asus Messenger, you can also text those contacts.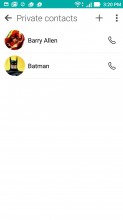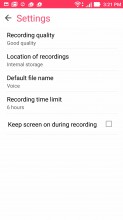 Private contacts • Call recording settings
The app itself has several customization options including a dark mode and wallpapers for its three main tabs.
Loudspeaker
The Asus Zenfone 3 ZE552KL features a single 5-magnet loudspeaker (the Deluxe edition has two). It's powered by an NXP amp and delivers a clean, rich sound even at high volume. Note that the speaker is adjusted differently for different situations. When ringing for an incoming call, it's fairly loud and got a Good score. When playing music, it's optimized for quality which makes it slightly quieter. You can enable Outdoor mode to get back some of the loudness, but even then the quality remains good - if you compare the numbers, you'll see Outdoor mode offers loud vocals (first test) while keeping high-frequency sound in check (third test).
| | | | | |
| --- | --- | --- | --- | --- |
| Speakerphone test | Voice, dB | Pink noise/ Music, dB | Ringing phone, dB | Overall score |
| HTC 10 (Theater mode) | 61.9 | 66.0 | 62.1 | Below Average |
| Samsung Galaxy C7 | 67.3 | 67.8 | 72.8 | Average |
| Asus Zenfone 3 ZE552KL (outdoor) | 68.8 | 70.8 | 71.4 | Good |
| Asus Zenfone 3 ZE552KL (ring) | 65.5 | 70.5 | 76.6 | Good |
| Huawei nova plus | 68.3 | 68.0 | 76.9 | Good |
| Apple iPhone 7 Plus | 68.3 | 72.2 | 72.9 | Good |
| LG V20 | 68.2 | 68.6 | 80.9 | Good |
| ZTE Axon 7 | 66.4 | 72.2 | 84.1 | Very Good |
| Huawei Mate 9 | 83.1 | 74.5 | 85.0 | Excellent |
Messaging and text input
The Zenfone 3 uses Google's Messenger app by default. It's an attractive app that handles SMS and MMS messages, but has no IM functionality like Hangouts has. You can still send stickers, but those turn the message into an MMS (for which your carrier probably charges higher). Attaching other multimedia - photos, voice notes and location - is quite simple.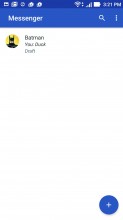 Google Messenger's threaded view • Texting someone • Stickers! • Snapping a photo for the MMS
Asus went for a custom keyboard instead of the Google-supplied one. The ZenUI keyboard features bilingual input (if you need it). The keyboard can be resized in both directions - that is taller/shorter, but also narrower to the left or right, which is great for one-handed use.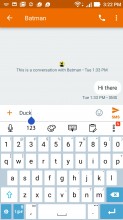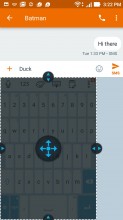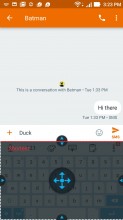 The ZenUI keyboard • Resizing the keyboard horizontally • And vertically
Typing, swiping, hand writing and dictating input modes are supported. As with most Zen software, the keyboard supports themes too.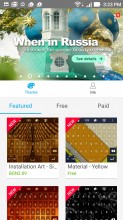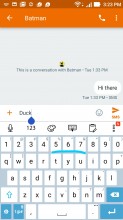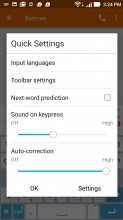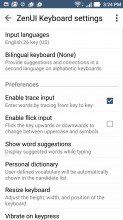 Themes • Swipe input • Voice input • Quick settings • More settings
This is so true. My brother and i purchased this one and rear camera broken.
what phone can change this one in 2020, i'm used this from 2017 until now and i want to retired this one, which one i can choose if i want like this but with bigger batteray, bigger ram and rom, better camera etc ... but not too expensive thanx ...
Asusneveragain
22 Mar 2020
rRT
I have never hated an electronic device as much as this phone. If for some reason you want a phone from 2016, DON'T BUY THIS ONE! Rear camera focus stopped working at one year of use. Bluetooth shortcut sometimes does not function, underpowered pr...