Asus Zenbook 14 OLED UX3402ZA Review
Prasad, 26 May 2022
The Zenbook 14 OLED is Asus' premium thin and light laptop. With me here today is the UX3402ZA, which is the updated 2022 model with an Intel 12th Gen processor.
The Zenbook 14 OLED is designed primarily to be an everyday laptop with a focus on aesthetics, portability, and media consumption. It sits between the more affordable Vivobook models and the more premium ProArt models for creative professionals.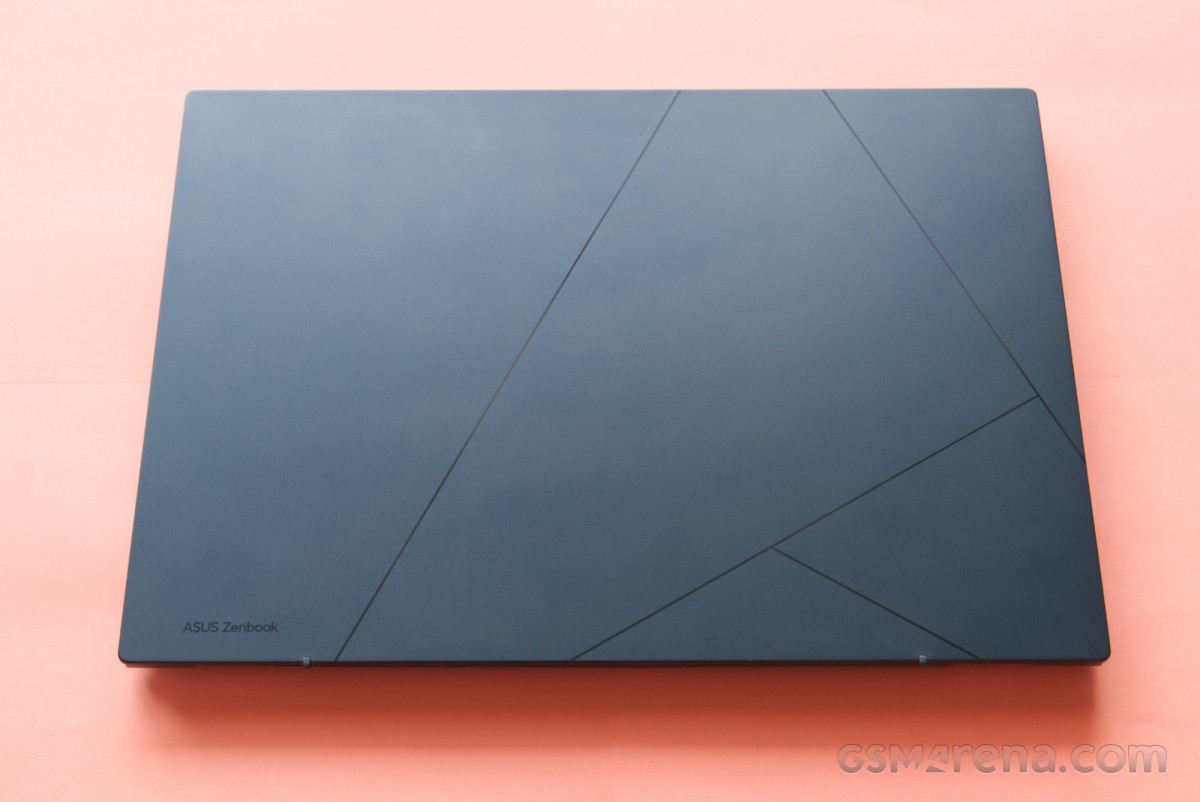 The model I have here features the Intel Core i7-1260P, intended for thin and light ultrabooks with some focus on performance. Other features include a 90Hz 1800p OLED display, 16GB memory, up to 1TB NVMe storage, dual Thunderbolt connectivity, and a 75Wh battery.
Design
The Zenbook 14 OLED has a clean and minimal aesthetic. The back of the display has a large Asus logo etched into it, which is only visible from certain angles. The bottom cover is also relatively empty except for a thin strip of vents.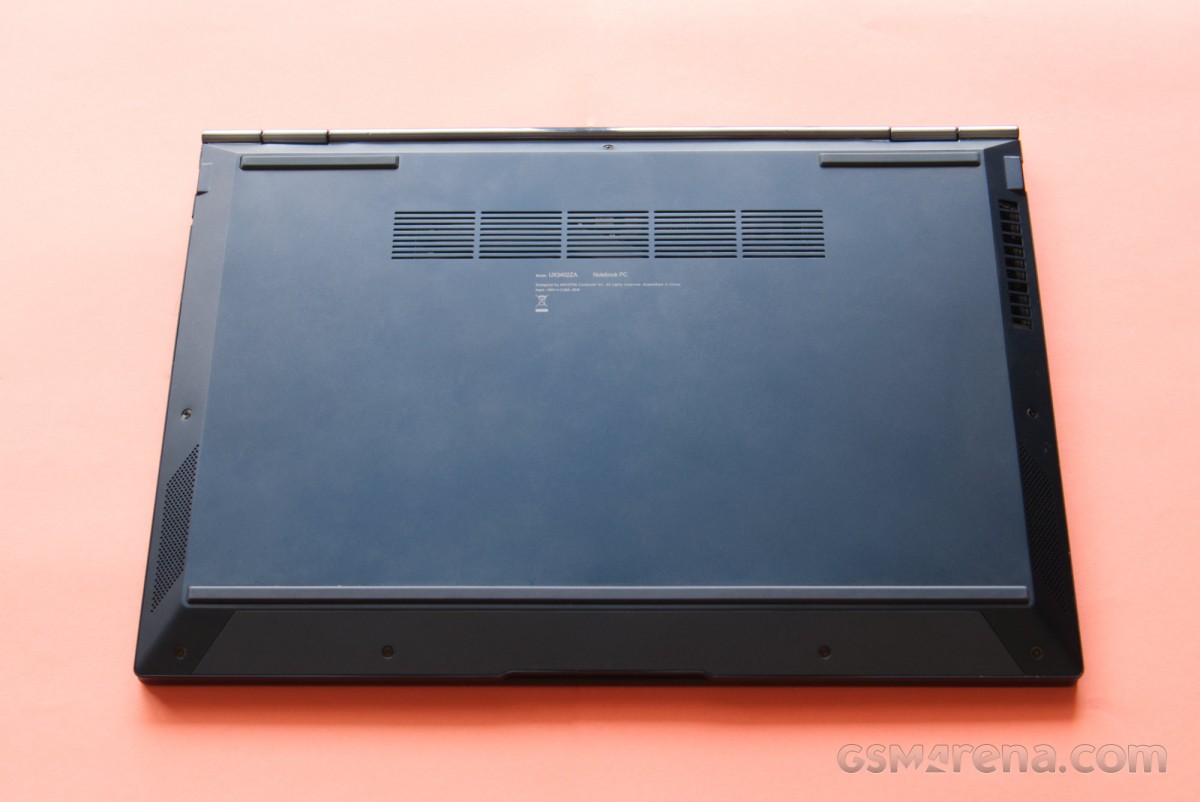 The display has a traditional hinge mechanism but the bottom edge of the display is designed to lift the base slightly for better air intake. The hinge allows the display to open full 180-degrees and lie flat.
The Zenbook 14 OLED has an aluminum body. The only bits of plastic are around the display and the hinge. The aluminum has a soft-touch matte finish that is unfortunately very difficult to keep clean. Within moments of touching it, the entire surface gets covered by very obvious smudges.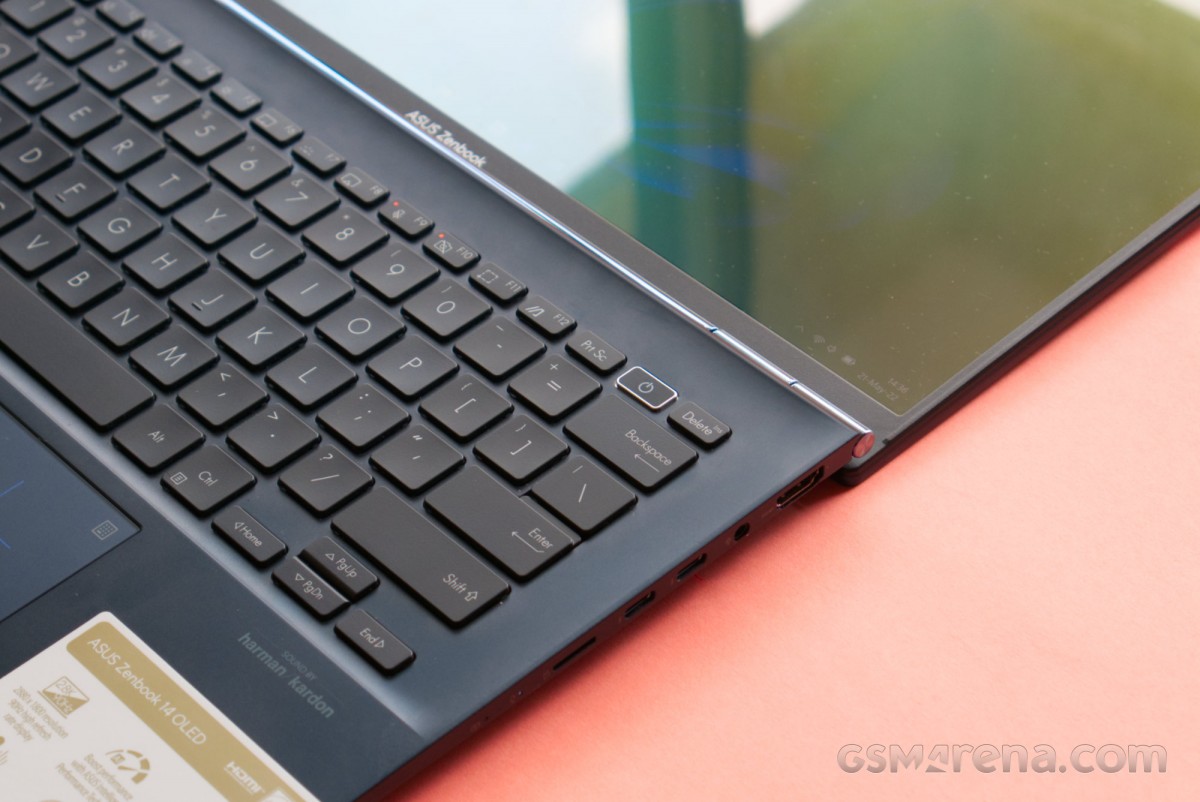 The build quality was subpar. There was an audible creaking every time I picked up the device. Since this is not a retail unit and had been used by others before me, it could be that the issue was limited to this particular unit.
Another issue I had with the design was the way the display opened. The divot made in the base is too small to provide enough of a lip to lift the display, and your fingers keep slipping on the edge of the screen as you struggle to pry it apart. Once lifted, the display can be opened with one finger without lifting the base with it.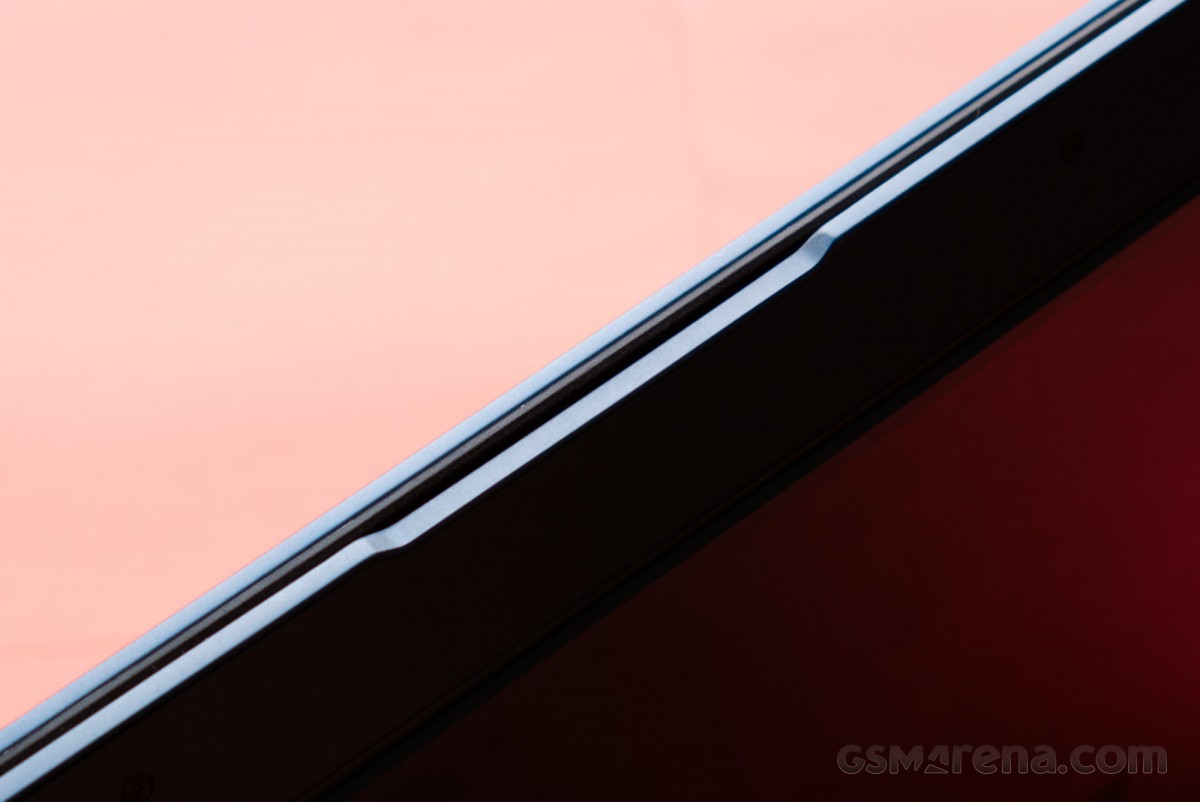 The Zenbook 14 OLED comes in two colors, a greenish Aqua Caledon and the blueish Ponder Blue I have here. Both shades are rather subdued, with Aqua Caledon looking more silver and Ponder Blue looking more black. I would recommend going with the former as the darker blue model would show smudges more readily.
Display
The Zenbook 14 OLED has a 14-inch, 2880x1800 resolution, 90Hz OLED display. The display supports 10-bit color and HDR10 content.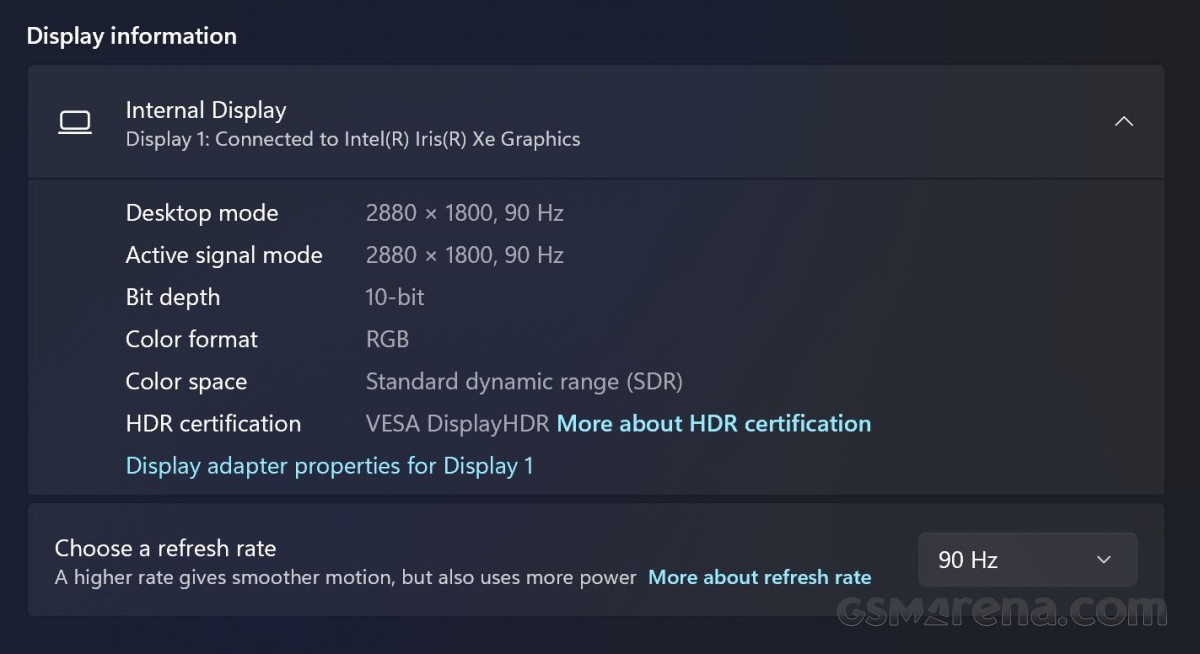 As with most OLED panels, the Zenbook 14 OLED display has an incredibly wide color gamut, with full coverage of the sRGB and DCI-P3 color spaces, and 97% Adobe RGB coverage.
Out of the box, the display is set to a more vibrant color profile with a cool color temperature. Through the MyASUS software, the user can switch the display to sRGB, DCI-P3, or Display-P3 color spaces, along with adjusting several other settings.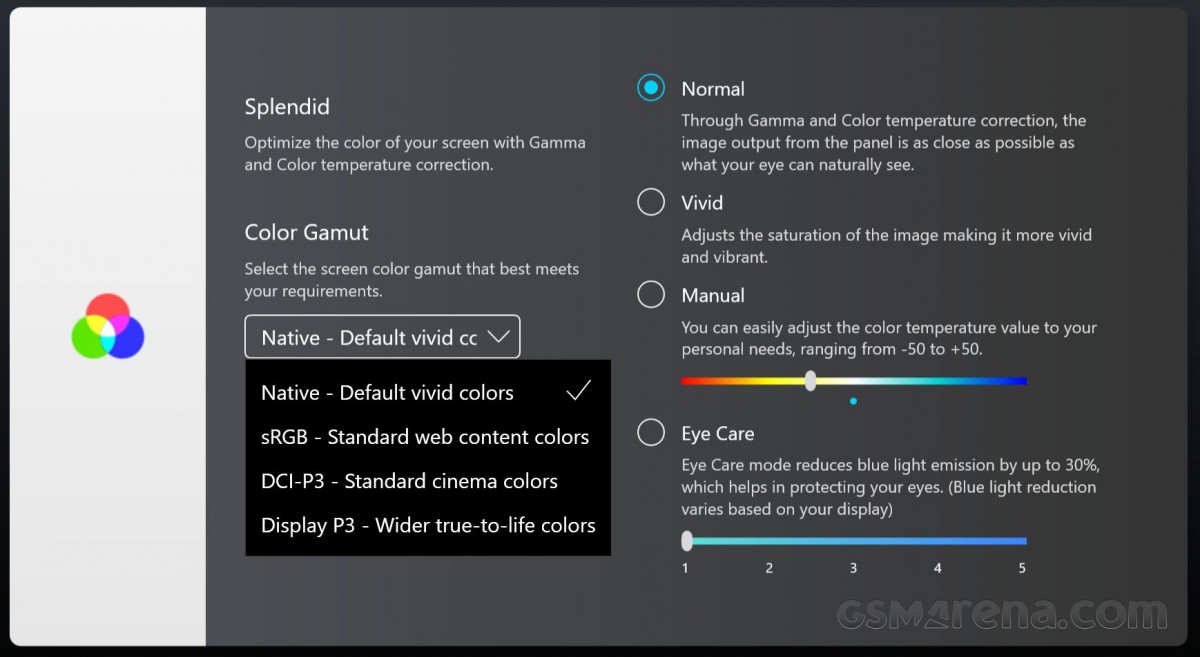 While these profiles can be helpful, they weren't color-accurate in my testing. The sRGB profile, for example, had a cooler white point with undersaturated greens and reds. Similar inaccuracies were seen in the other profiles as well. The profiles are good for clamping the gamut to a particular color space without doing a full calibration but if you are intending to perform any color-sensitive work then it is highly recommended that you do a full hardware calibration.
Fortunately, the panel on the Zenbook 14 OLED is very good, so it responds well to calibration and you can achieve excellent results with it. Being an OLED panel, you also get the advantage of an infinite contrast, with perfectly deep blacks. The added contrast adds depth and dimensionality to the image that is difficult to describe but easy to see, even on this relatively small panel.
The viewing angles are decent. OLED panels don't have luminance shifts when viewed off-angle but there is a visible change in color temperature, with off-angles looking much cooler than head-on. It's not a major issue but something to keep in mind while doing color-sensitive work.
The 90Hz refresh rate offers a relatively modest boost in fluidity over 60Hz but is appreciated nonetheless. Being an OLED panel, the display has exceptional response times, which incidentally tends to exaggerate motion clarity and can make lower refresh rates look more stark compared to an LCD.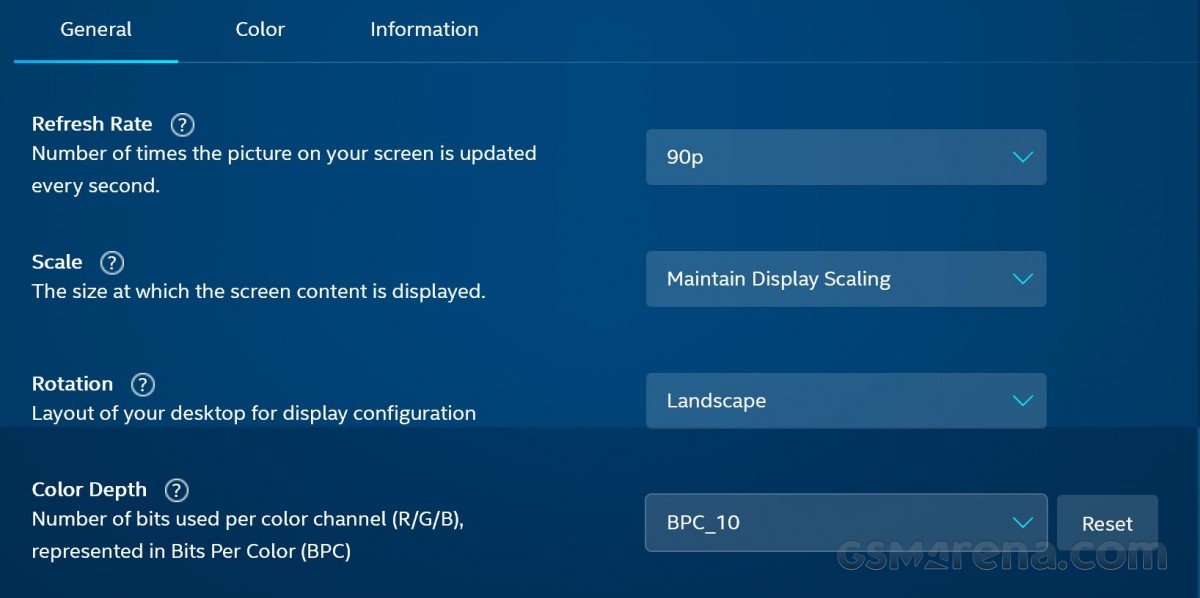 Asus sets the display to 60Hz out of the box, which some users may not realize. You will also have to go into the Intel Graphics Command Center to change the bit-depth from 8-bit to 10-bit.
A major cause for concern with OLED panels is image retention and burn-in, especially on monitors that tend to have a lot of static elements such as window chrome and taskbars. Fortunately, the newer generation of OLED panels is much better in this regard.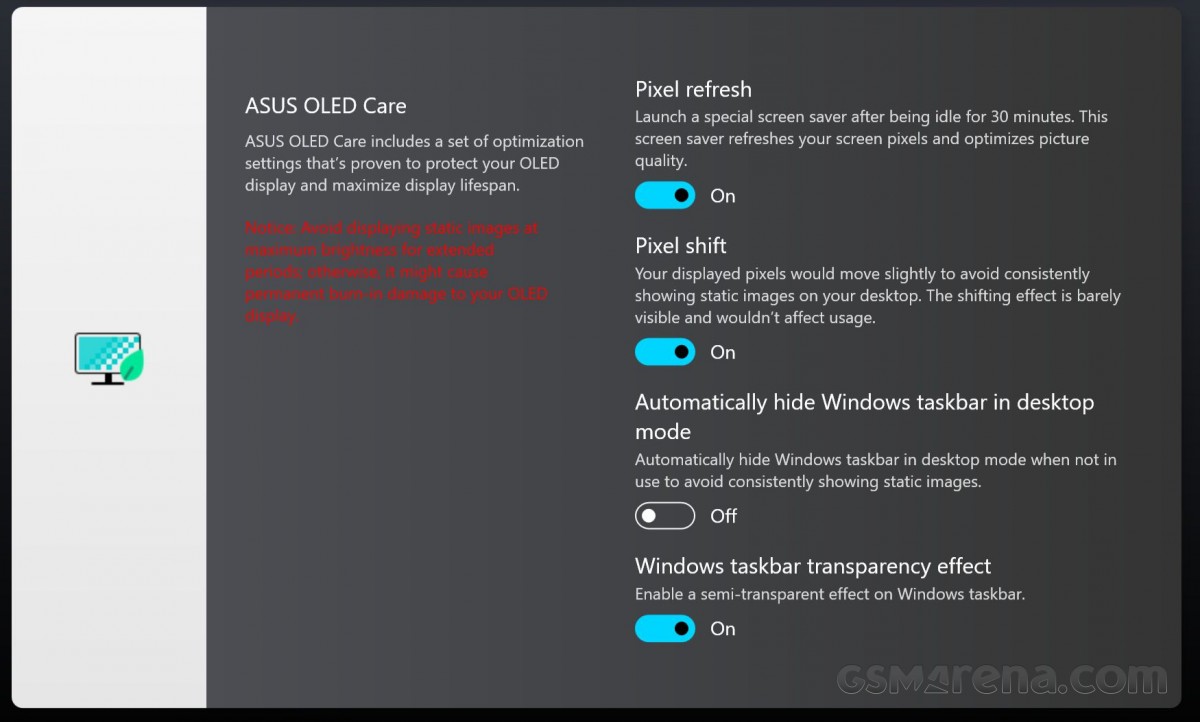 On the Zenbook 14 OLED, I didn't notice any image retention from things like the taskbar, even after being on the screen all day. Application windows also leave no traces after they've been minimized. Keeping a bright 10% window in HDR and following it with a gray screen also didn't show any retention.
That isn't to say retention and burn-in are impossible on this display. Even with enabling the OLED burn-in prevention features in MyASUS app, you may still end up with some burn-in a few years down the line. As the user, employing a few extra tricks, such as setting the taskbar to hide automatically, changing window positions, keeping a stricter display off timer, enabling a screensaver, and using lower brightness can help prolong the inevitable.
The MyASUS app has a Target mode feature that is designed to dim parts of the desktop that are not the active window. For some reason, it would dim the entire desktop even when the desktop was the focus and there was no way for it to stop doing that other than turning the feature off, so it didn't see much use.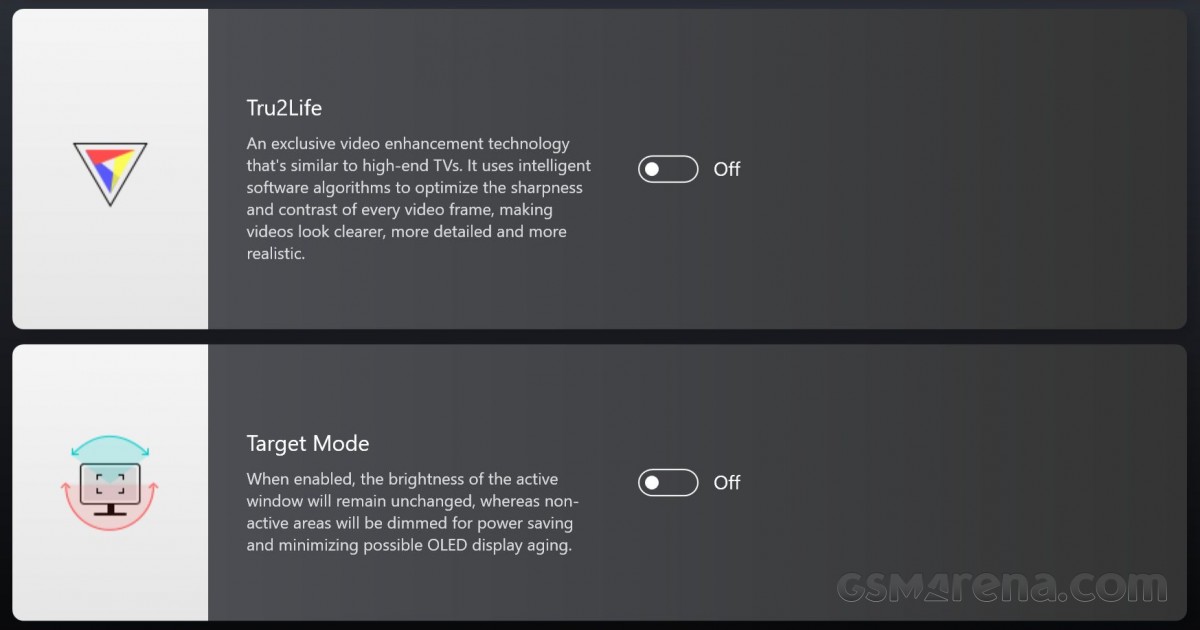 The HDR performance on the Zenbook 14 OLED display is exceptional. While the display can only hit about 330nits in SDR, it can go up to 600 nits in HDR. Unfortunately, HDR playback isn't quite plug-n-play, as you do first need to enable it through Windows settings and also calibrate it, as the default peak luminance causes the screen to overexpose and hard clip highlights.
However, once the peak luminance is dialed back a bit, HDR content looked incredible on the display. However, there was once again a bit of a snag; I was only able to play HDR content locally and on YouTube. Netflix refused to play HDR in Edge as well as in the Netflix app.
The display on this particular model is not a touchscreen, which feels like a missed opportunity. There is, however, a version with a touchscreen available, that has a slightly lower 550 nits of brightness.
Finally, being a glossy panel, reflections and glare is an issue. The panel is very reflective and can be hard to see in bright environments, even if the display itself is pretty bright.
Overall, the Zenbook 14 OLED has an excellent quality display and is one of the highlights of the device.
Keyboard and trackpad
The Zenbook 14 OLED has a standard TKL layout with each key having a distinct, chiclet-style design. The top row is assigned shortcuts by default but you can access the function keys by pressing the Fn key below. You can also swap the row entirely to function keys and then press Fn to access the shortcuts.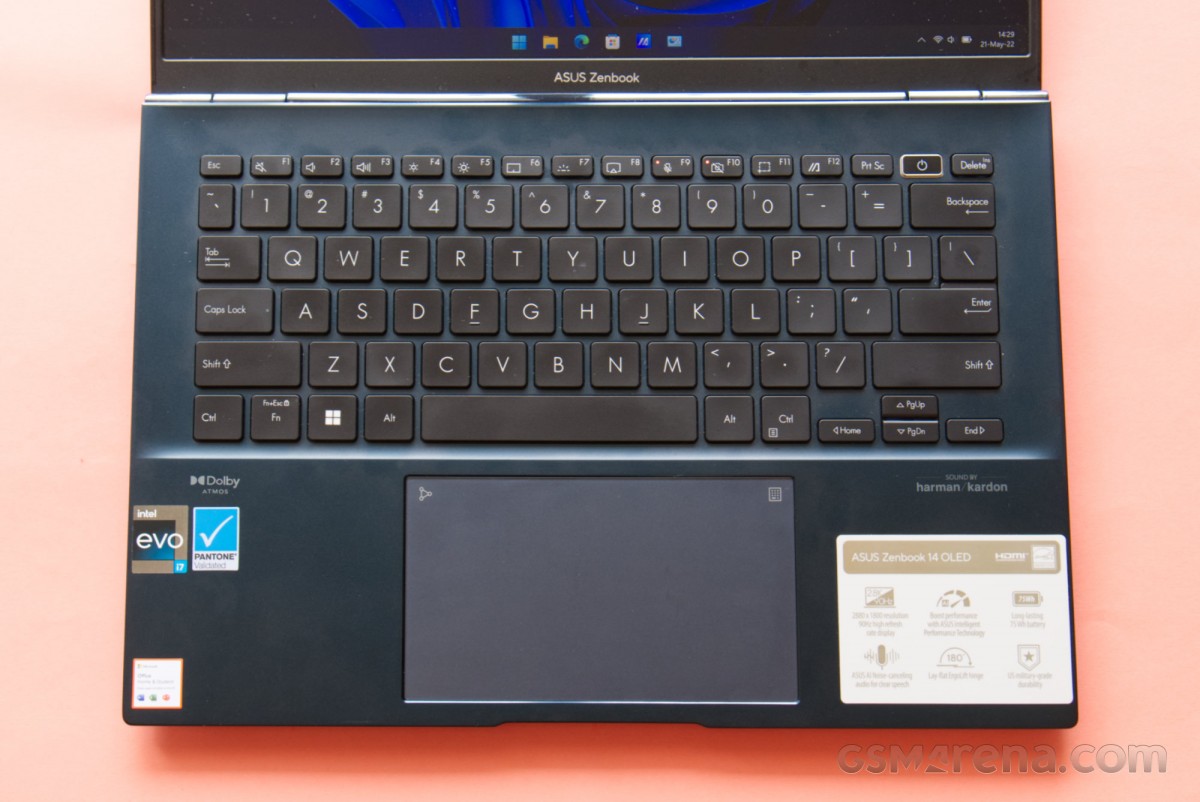 Also in the top row is the power button, which has a capacitive fingerprint sensor built-in. The fingerprint sensor isn't super fast but does work reliably. In the bottom right corner, Asus has used an inverted T-shaped layout for the arrow keys, which makes them much easier to tell by touch while navigating.
The keyboard is comfortable to type on with good spacing and decent tactile feedback. Most keys are where you expect them to be so there is a very little learning curve here. The keyboard is also backlit and the brightness can be adjusted in three steps. The backlight is even and legible in the dark. However, the visible LEDs on some keys don't look very nice.
Annoyingly, you cannot have the keyboard light stay on at all times, as it automatically turns itself off after a few seconds of inactivity.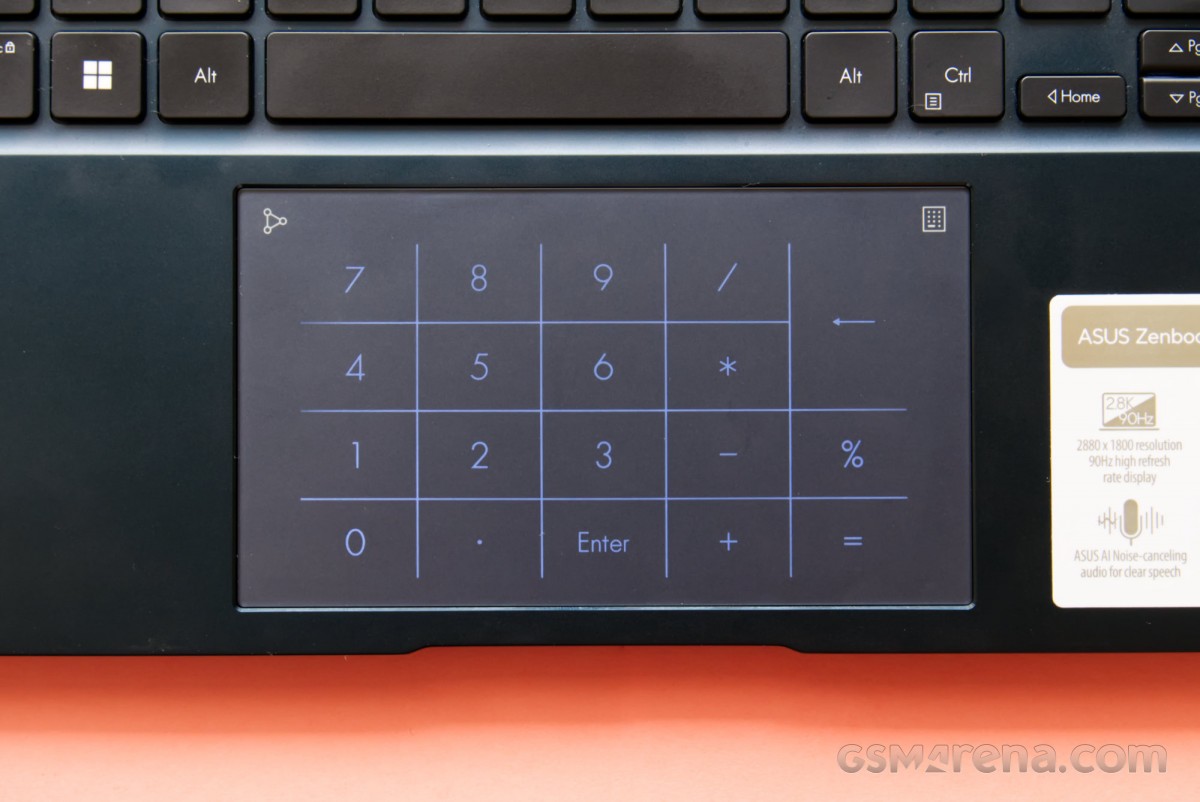 The trackpad below is spacious with a relatively smooth surface that isn't too grippy. It's comfortable to use and all the gestures work reliably. Of course, the party trick here is the Asus Numberpad feature, which projects the numeric keypad, allowing you to quickly type in some numbers without needing a separate numeric keyboard. This function can be toggled with the button in the top right corner of the trackpad.
Speakers and webcam
The Zenbook 14 OLED has a pair of bottom-firing speakers on either side. By themselves, the speakers sound awful and are also not particularly loud.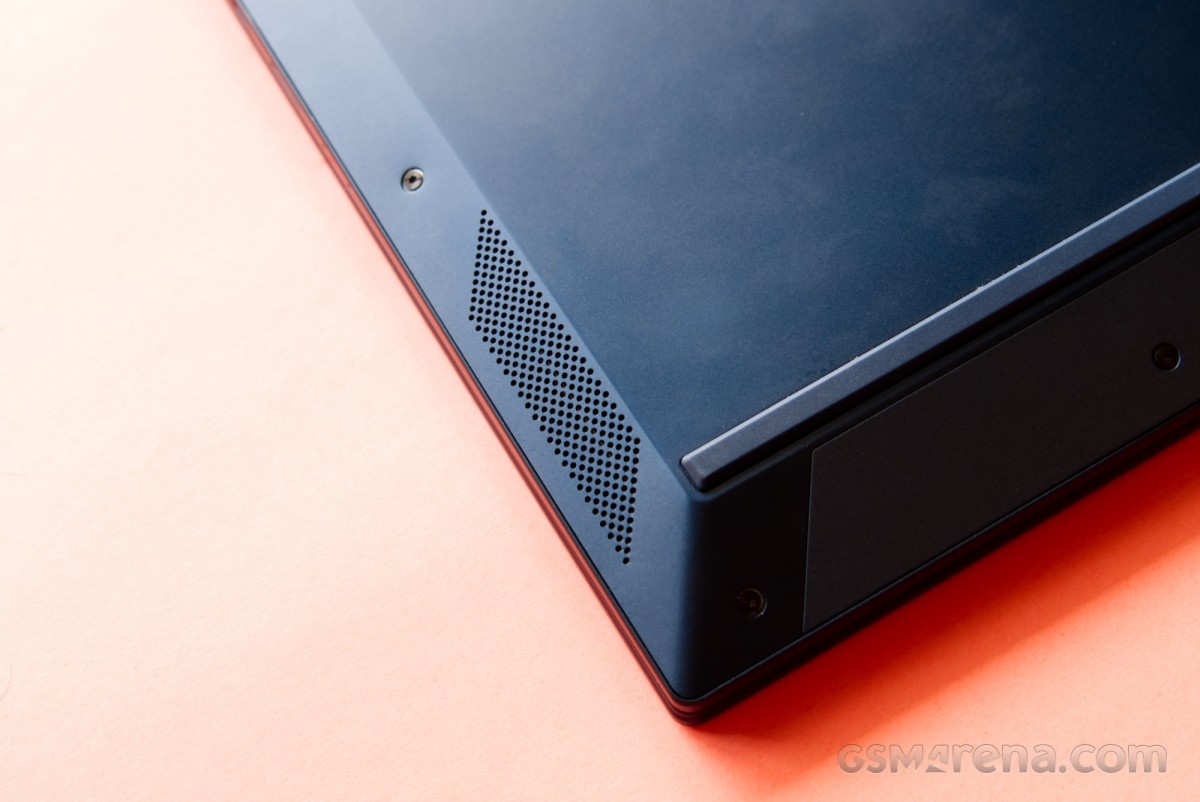 Thankfully, the pre-installed and activated Dolby Atmos app comes to the rescue and significantly improves the speaker quality, to the point where they actually sound fairly decent, at least for things like watching YouTube videos. I would still recommend using headphones whenever possible.
The Zenbook 14 OLED also has a 720p webcam. The image quality isn't very good and the low resolution hurts the image further. Moreover, the webcam doesn't support Windows Hello, so you can only use the fingerprint sensor.
Connectivity
The Zenbook 14 OLED has most of its ports on the right side. Here, you will find a full-size HDMI 2.0b port, a headphone jack, two Thunderbolt 4 USB-C ports, and a microSD slot. On the left is a single USB-A 3.2 Gen 2 port.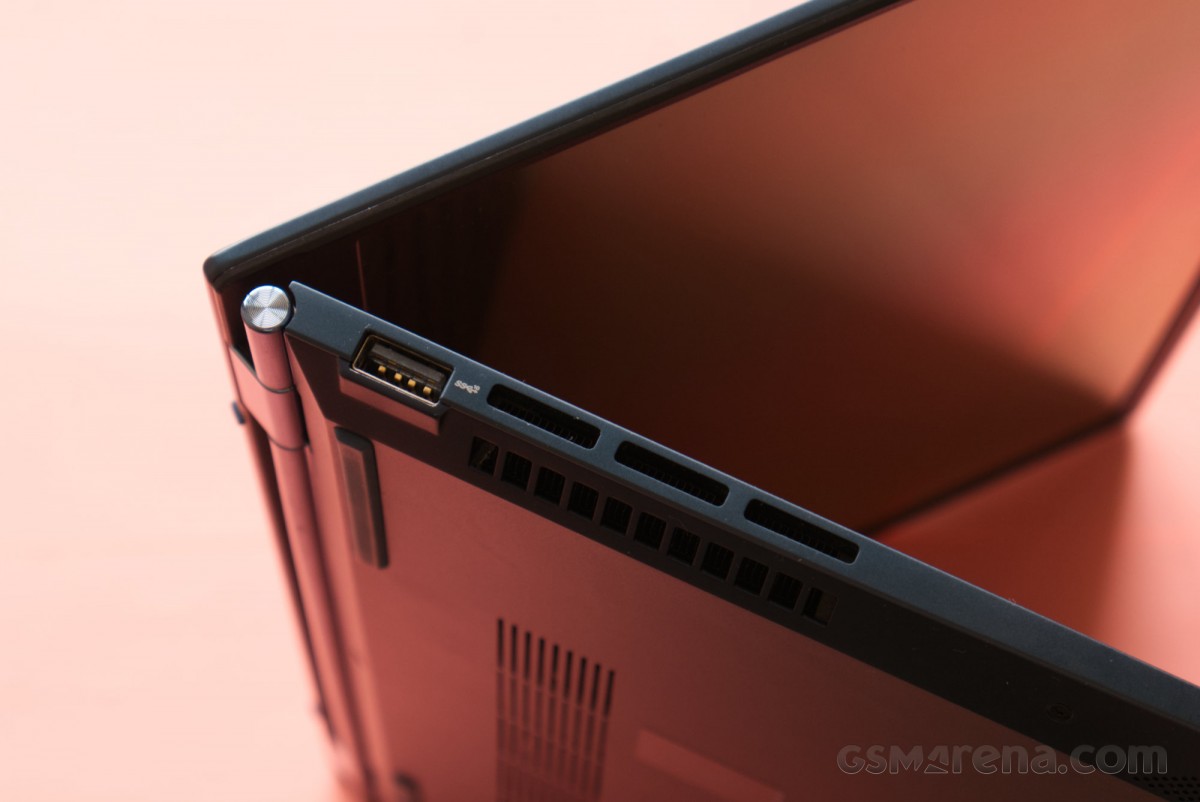 The Thunderbolt 4 ports also double as the charging port for the notebook, so it's unfortunate that both of them are on the same side as you are restricted to charging from one side only. Also, since one of them gets reserved for charging, you are effectively left with just one USB-C port.
The USB-C ports are also very close to each other and also the headphone jack, and do get a bit in each other's way. A full-size SD slot would have also been preferable, as the only devices using microSD these days are action cameras and drones.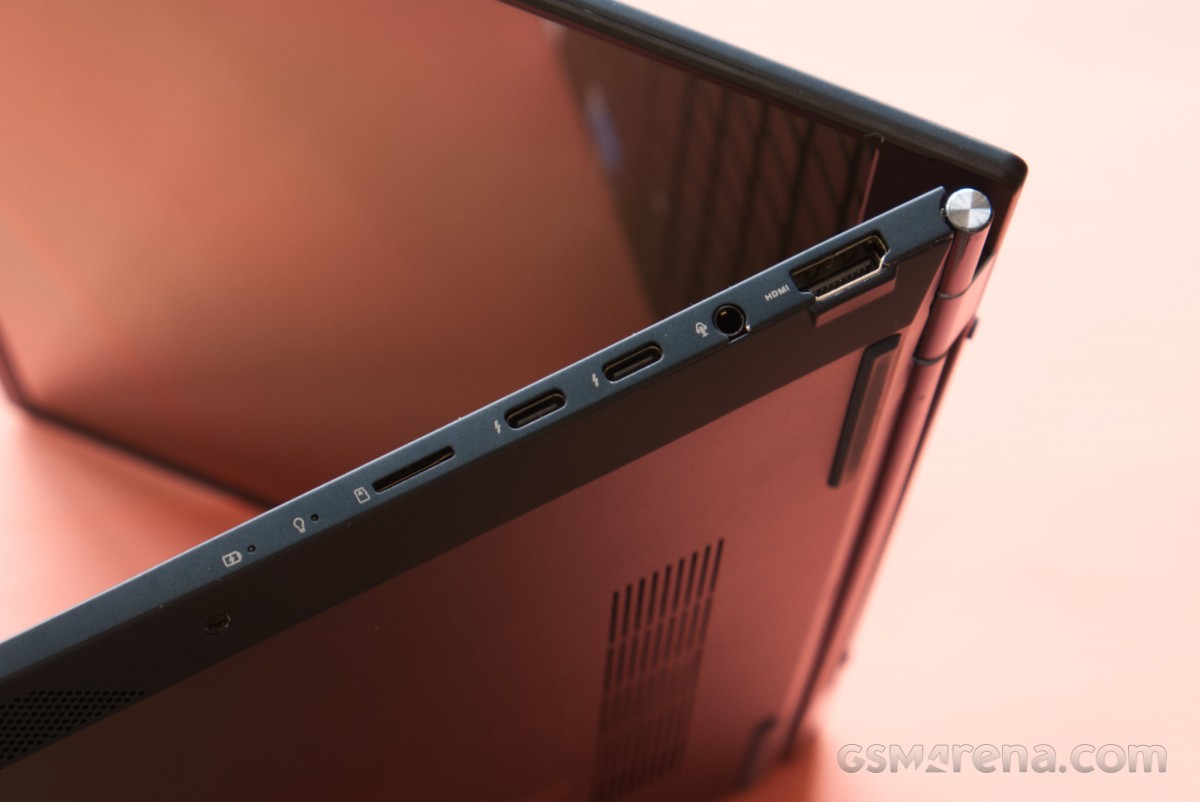 Aside from the wired options, you also get dual-band Wi-Fi 6 as well as Bluetooth 5.2 connectivity.
Software
The Zenbook 14 OLED comes with Windows 11 Pro out of the box. I've come to really dislike this version of Windows. It is full of bugs and bad design ideas with many features that either work worse or don't work at all compared to Windows 10. No amount of words can convey my disappointment with this release and how much of a downgrade it is from Windows 10.
If this was running AMD Ryzen or an older Intel generation of CPUs, I'd recommend installing Windows 10 and never looking back. Unfortunately, while Windows 11 is optimized for the hybrid architecture of Intel's 12th Gen processors, Windows 10 is not, which could cause some issues in certain applications and games. It's an unfortunate situation, which means you are stuck dealing with Microsoft's incompetence and stubbornness for the foreseeable future.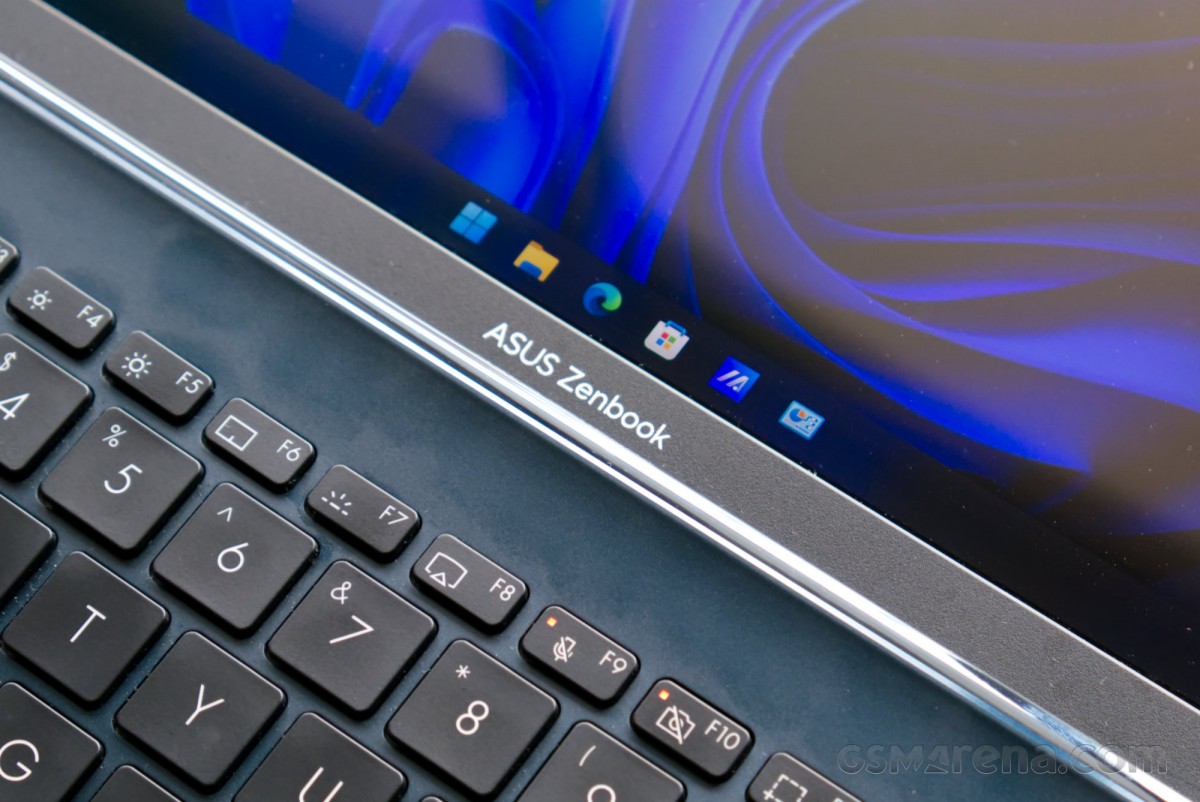 For its part, Asus has kept the Zenbook 14 OLED relatively free of bloatware, with the only offending piece of software being McAfee anti-virus. There are also a couple of Asus apps, including GlideX, which is a paid app that lets you use a smartphone or tablet as a second screen. Everything else is actually just the junk Microsoft forces into every fresh install of Windows.
Regardless of where it comes from, it can all be removed with relative ease. The only annoyance is that some of it can be removed from the new Settings screen while others only from the old Control Panel, but that is once again an issue with Windows 11, not the Zenbook 14 OLED per se.
One piece of software that you should definitely keep installed is the MyASUS app, which gets its own dedicated shortcut on the keyboard. Through this app, you can control the battery charging settings, fan profiles, OLED pixel refresh settings, display color profiles, and webcam and microphone settings. You can also update the drivers for your machine and check out the promotional offers Asus has available on various software and services. It's reasonably well-designed and easy to use.
Performance
My review unit of the Zenbook 14 OLED came with an Intel Core i7-1260P. It has 4 P-cores and 8 E-cores, which results in a total of 16 threads. The P-cores/E-cores have 2.1GHz/1.5GHz base clocks and can boost up to 4.7GHz/3.4GHz. The base power is 28W but can boost up to 64W.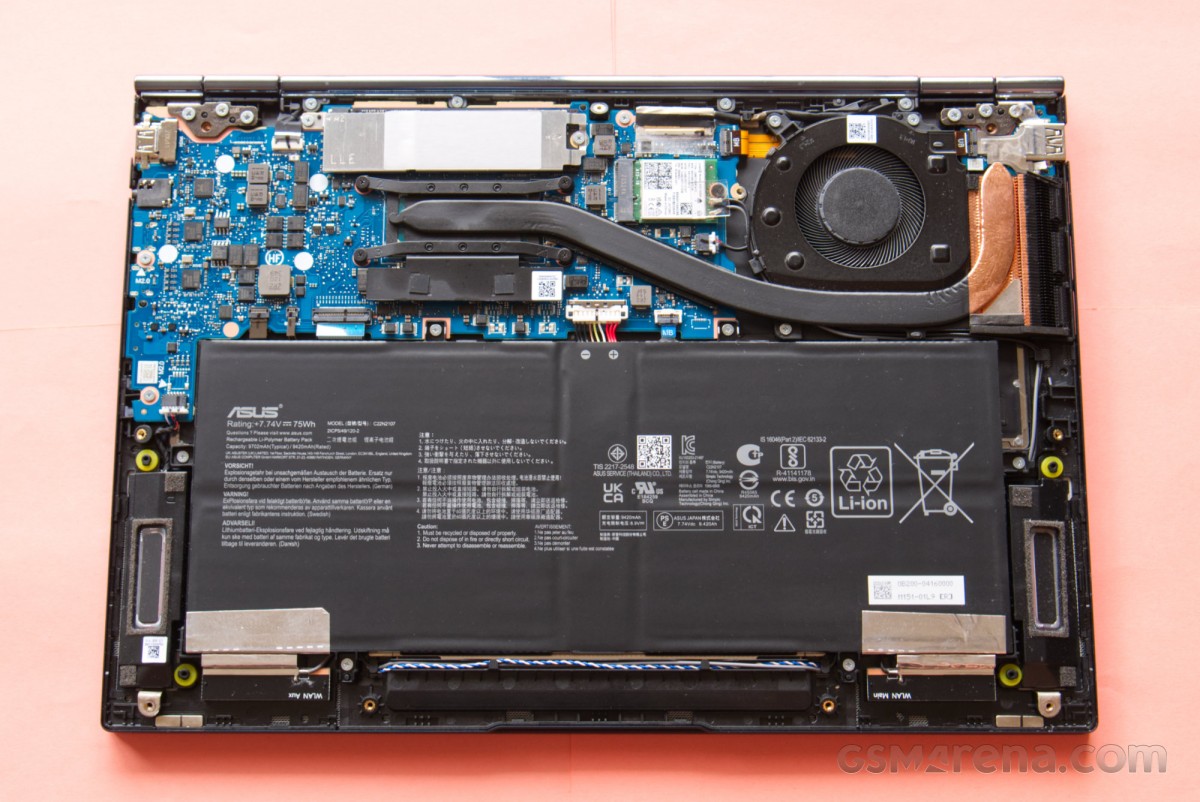 Also included is the Intel Xe integrated graphics, which is the only GPU on this machine. It has a max frequency of 1.4GHz.
The MyASUS application lets you adjust the fan profile, which in turn also adjusts the performance of the device. There are three modes: Performance, Standard, and Whisper.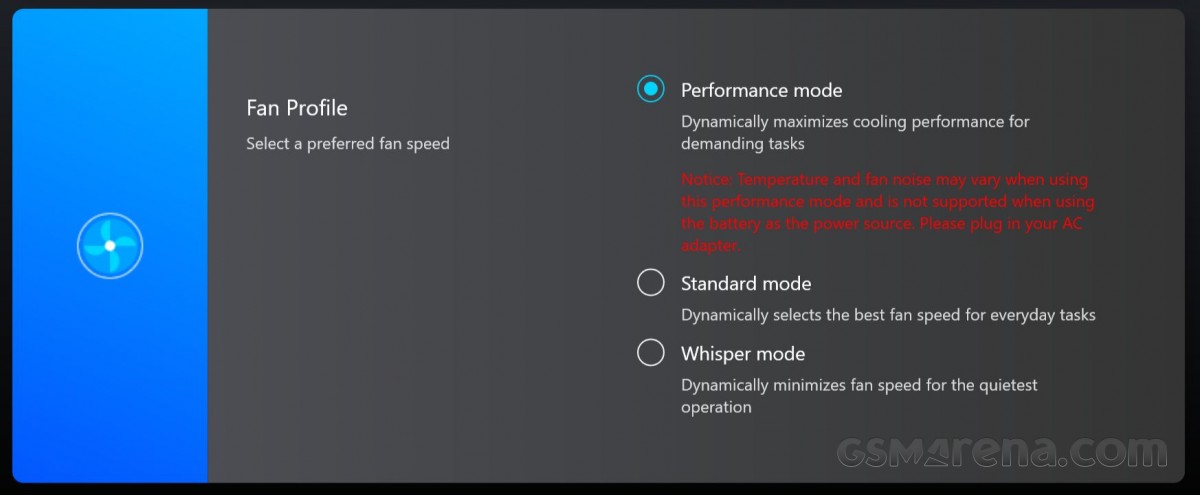 The Performance mode has the fan spinning at its fastest. It spins up quicker under load and also more frequently and can get fairly loud. The Standard mode spins the fan a bit slower and it also ramps up more gradually. Under load, however, it sounds almost as loud as in Performance mode.
In terms of clock speed, there is no major difference between these two modes. While the aforementioned boost clock speeds are achievable under quick bursts, the CPU spends most of its time at much lower speeds under extended load, namely around 2.5GHz for the P-cores and 2.2GHz for the E-cores. This is the same for the Performance and the Standard mode.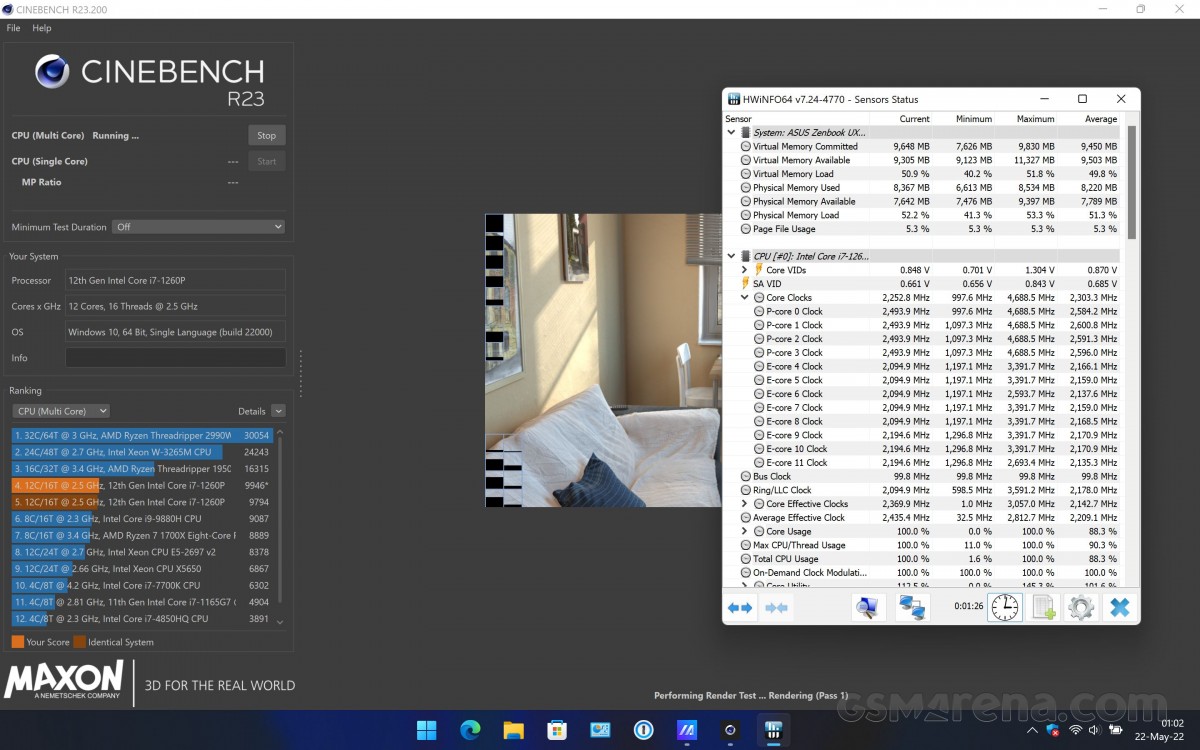 The Whisper mode starts out the same but after a brief period drops down clocks to 1.5GHz on the P-cores and 1.2GHz on the E-cores. This 40% reduction in clock speeds results in about a 35% reduction in performance.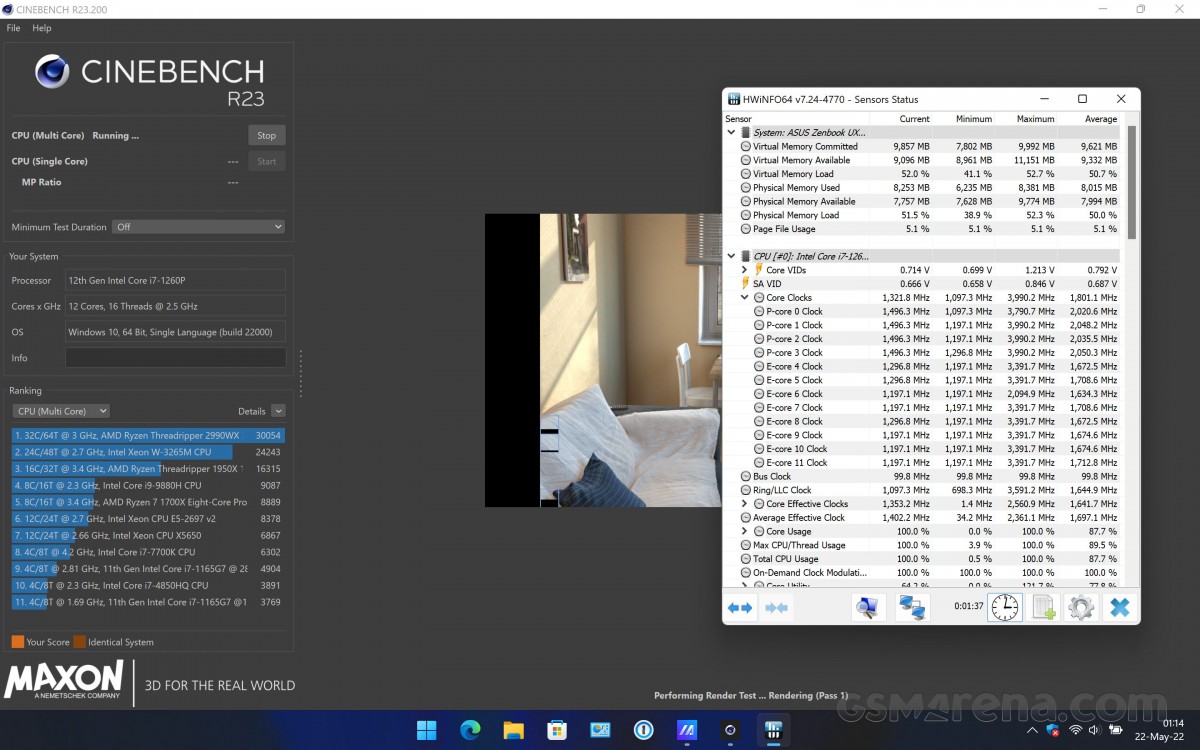 For that loss, Whisper mode is pretty much exactly what it says on the tin. The fan is barely audible unless you are in an extremely quiet environment and never ramps up no matter how much load the system is under. If things get too hot it just keeps clocking the system down to keep things quiet.
When left to run in the Performance mode, the 1260P performs well. The high thread count is beneficial for multi-threaded applications like Cinebench and Blender, which spawn one tile for each thread count. The high IPC performance of Alder Lake also benefits single-threaded tasks.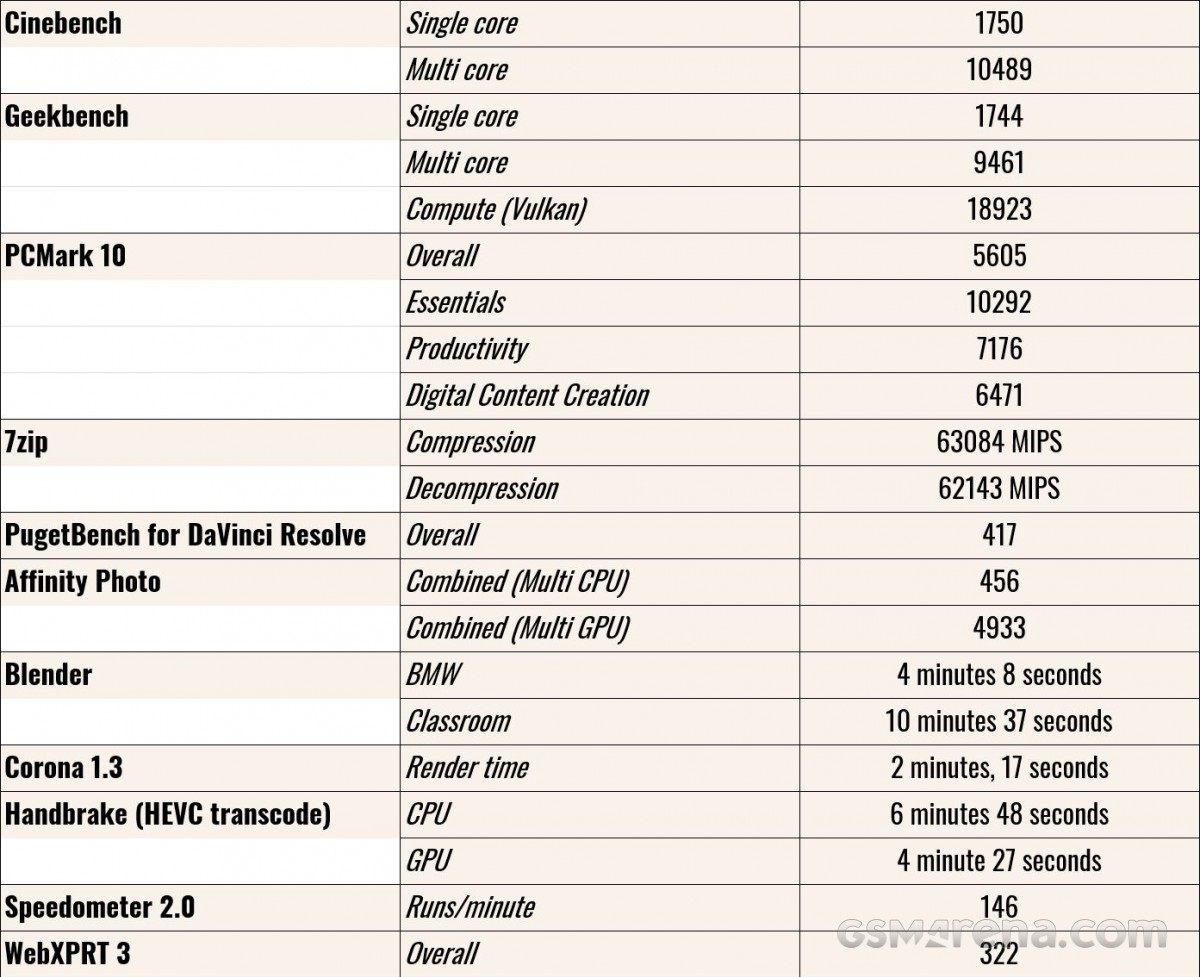 Media encoding and decoding performance was decent but not quite at workstation levels. Attempting to decode 4K ProRes 422HQ in DaVinci Resolve provided good results, with good timeline performance even with color grade and a few edits applied. This, however, was only true for 24p and 30p content. 4K 60p videos in ProRes were not handled well. Similarly, BlackMagic RAW performance was fine for 4K at lower frame rates but quickly fell apart at 6K or higher frame rates. You also run out of the 16GB memory quickly for larger projects.
If you are just working on small projects with less demanding codecs and resolutions, the transcoding performance here should be sufficient for occasional use. For larger workloads, you should be looking at a workstation laptop or a desktop.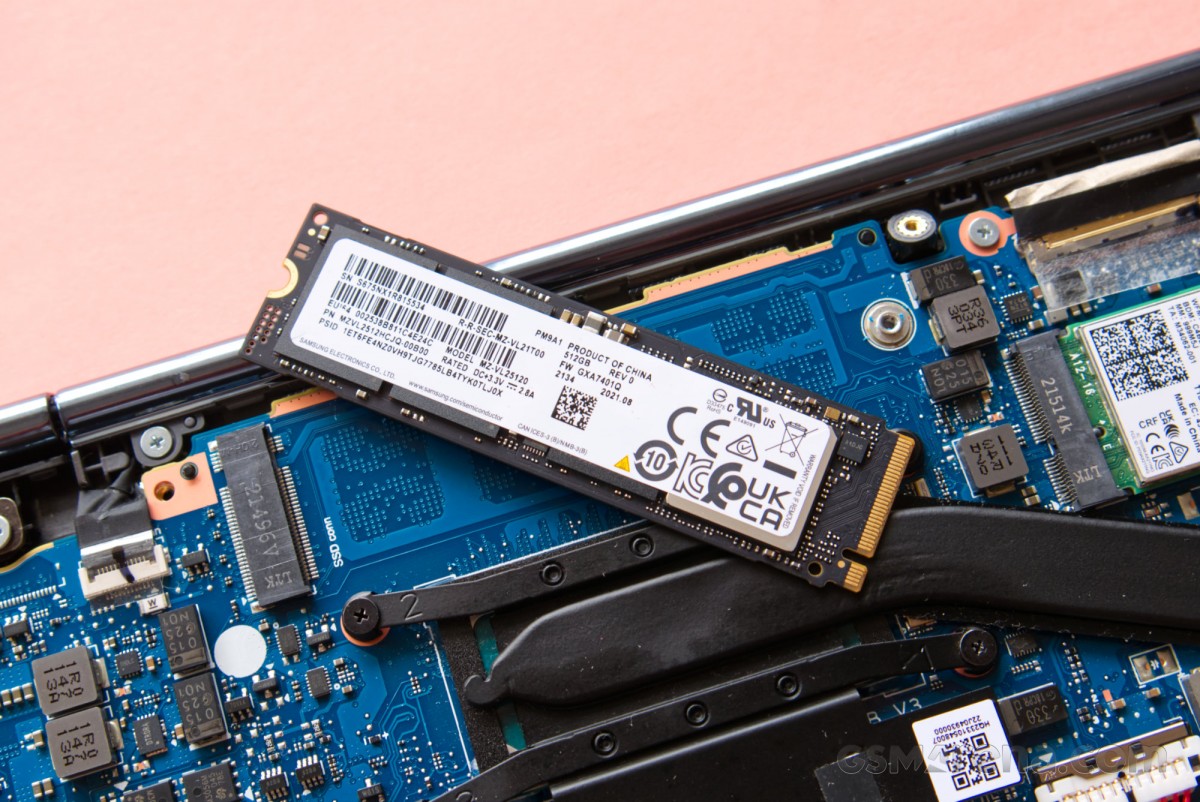 The storage performance is excellent. The included 512GB Samsung 980 Pro PCIe 4.0 SSD performs very well, producing strong read/write results.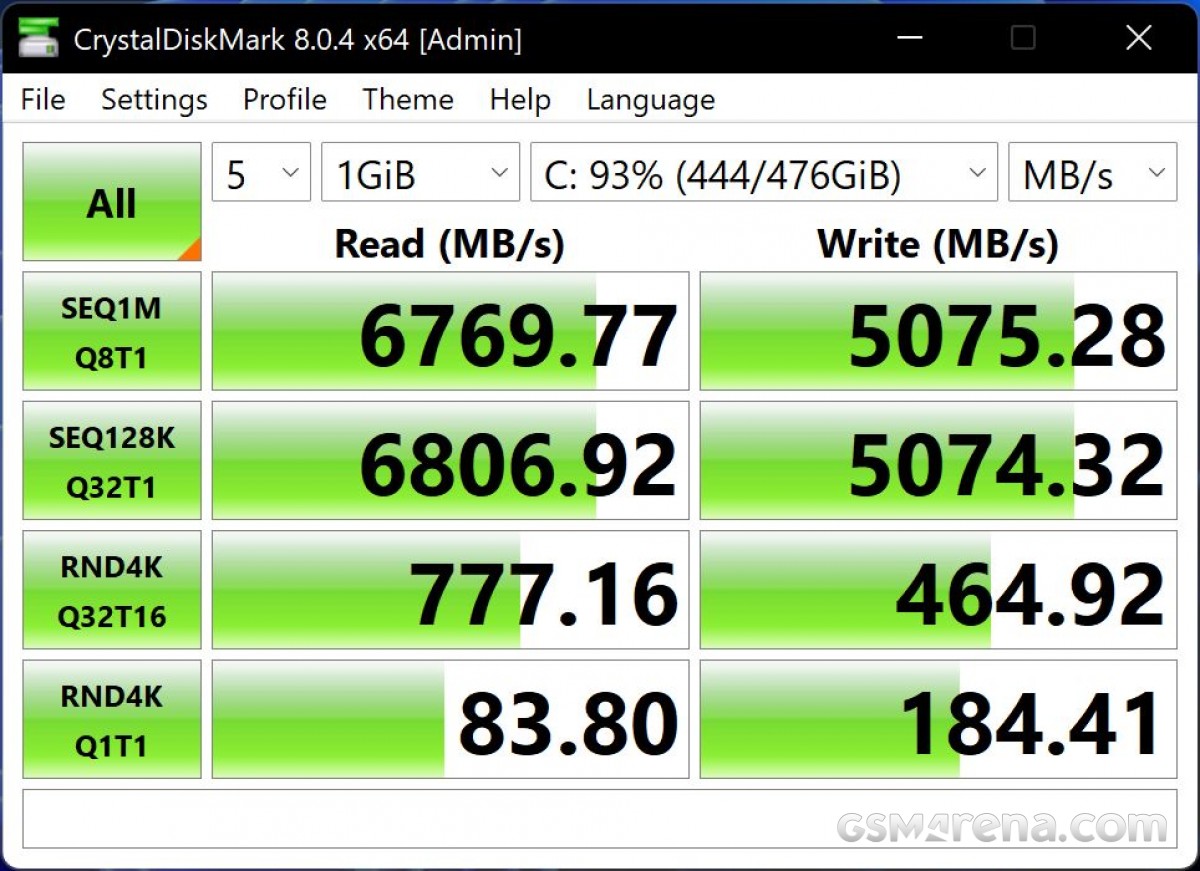 Gaming performance is understandably lackluster. The integrated Xe graphics is simply too weak to run most recent AAA titles at 1080p 30fps even at their lowest settings. The best you can do is very old 3D games, some competitive multiplayer titles, and 2D games.

The thermal solution feels a bit inadequate at times considering how hot Intel's 12th Gen chips can get. The 1260P frequently slams against its 100°C thermal limit even with less demanding applications, which eventually causes it to throttle down if the ambient temperature is too high. The single fan with a small heat sink has to work too hard and can often get a bit loud as a result, unless it's in the Whisper mode.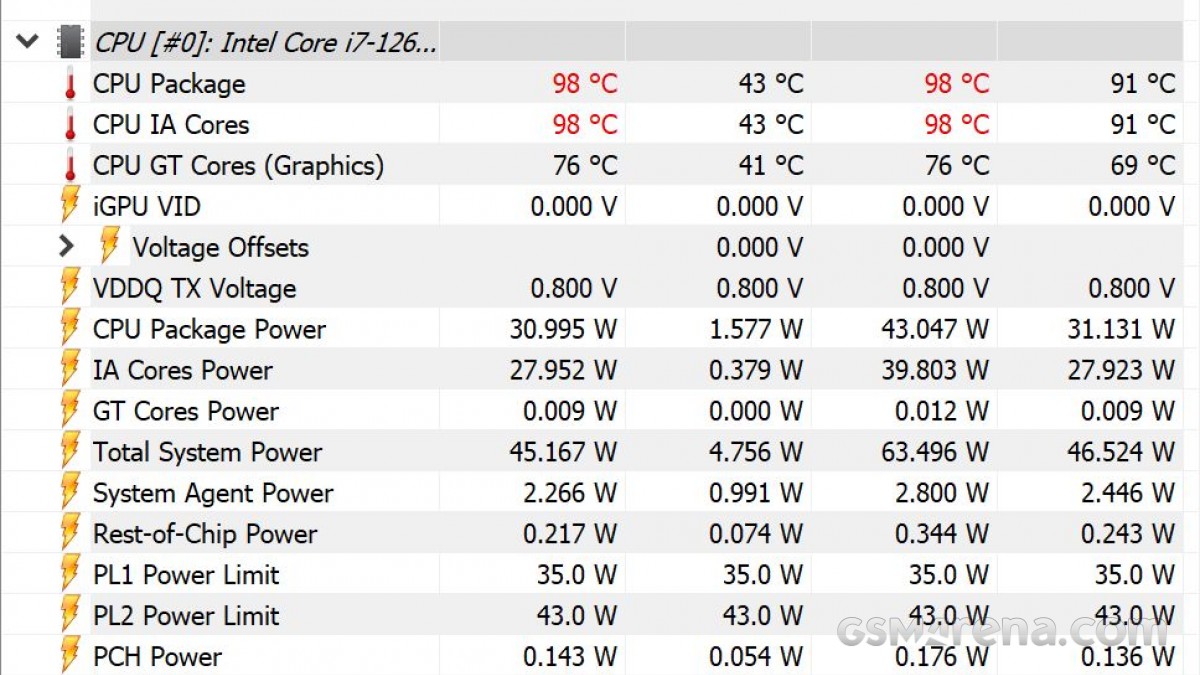 The back of the laptop also tends to get extremely hot under load, which is not bearable for actual lap-top use. Fortunately, the area around the keyboard and trackpad remains at a comfortable temperature so if you're using the machine on a desk, you don't feel too much of the heat.
Overall, the Zenbook 14 OLED offers good performance for everyday use for a thin and light machine. However, gaming performance is basically non-existent and the machine can get quite hot under load.
Battery
The Zenbook 14 OLED has a 75Wh battery. The laptop comes with a 65W USB-PD charger that claims to charge the battery to 60% in 49 minutes.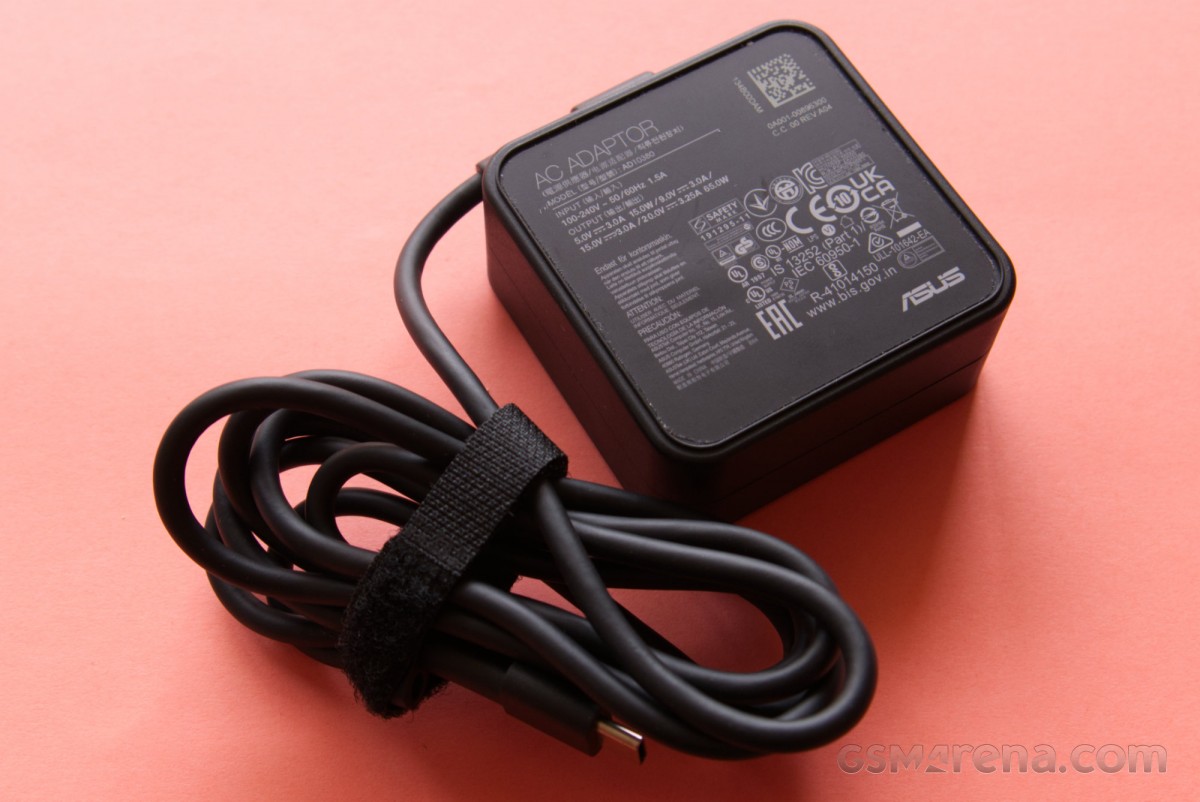 In mixed-use consisting of web browsing, document editing, and video playback with the display set to 90Hz and 250 nits brightness and performance set to the Standard/Balanced mode, the Zenbook 14 OLED provided around 5-6 hours of battery life. This could be improved further by using the Whisper profile, reducing the brightness, and keeping the display to its default 60Hz mode. Still, the overall battery life is underwhelming.
Unfortunately, as nice as the OLED display is, it can consume much more power than a typical LCD, especially at higher refresh rates while viewing predominantly bright content. Things like documents and web pages can end up being much more power-hungry on an OLED than on an LCD.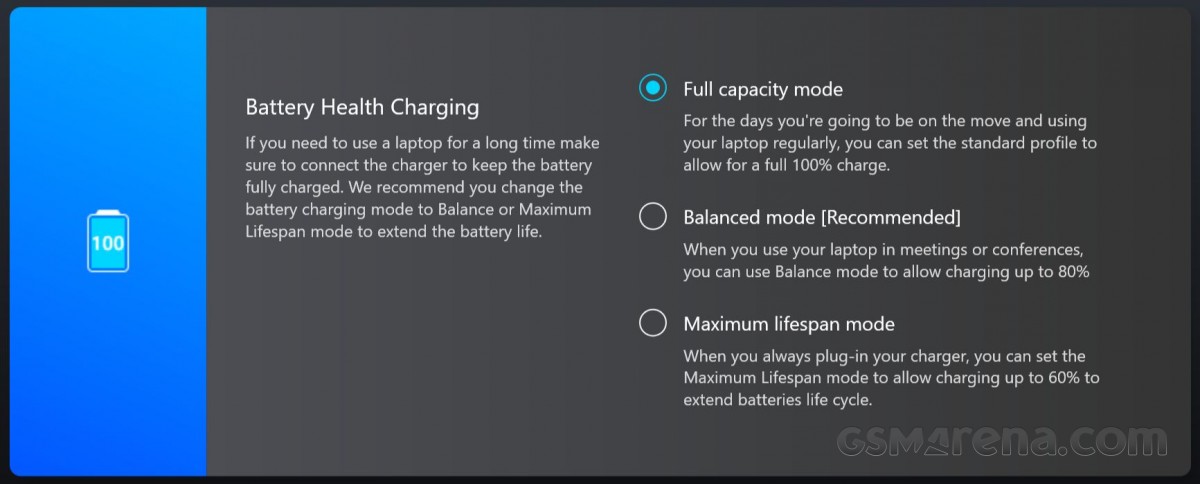 The MyASUS app has options to let you select how much of the battery you want to charge. You can choose from 100%, 80%, or 60%, and the lower the figure the longer the theoretical lifespan of the battery will be. It's a good option, especially for those who don't necessarily use their notebooks outside that much.
Conclusion
The Zenbook 14 OLED is a good thin and light laptop. The crown jewel is the OLED display, which looks stunning. Aside from that, the performance is good for office, school, and occasional media creation use, the keyboard is comfortable, the trackpad works well, and has the cool number pad built-in when needed. Windows 11 is what it is but the software otherwise is relatively clean and the Asus apps that come bundled are well-designed and useful.
On the downside, the Core i7-1260P tends to run hot and the Zenbook 14 OLED's cooling can't always keep up. The port layout is a bit awkward and the webcam quality is mediocre. The battery life is also underwhelming.
The Zenbook 14 OLED starts at around $1000 for the Core i5 model, although the Core i7 variant tested here is about $1300. I think the i5 model would be a good sweet spot and should alleviate some of the issues with the cooling and battery life. It's a great option and one I would recommend for most users. The i7 model makes less sense to me and if you must have a powerful notebook then a thin and light may not be the right form factor for you.
Pros
Great OLED display
Comfortable keyboard
Good trackpad with clever built-in number pad
Good performance from the i7-1260P
Cons
Limited ports with awkward location
Mediocre webcam
Unimpressive battery life
i7 model runs hot
Related
Gates, 1981: "640K ought to be enough for anybody." 1x photoshop, 1x PDF Editor, 1x chrome with 40 tabs open, 1x android studio
Anonymous
29 May 2022
7kk
so upgraded cpu/gpu, efficiency, display, portability, etc arent enuf reasons alone, u need more RAM!🤦🏻‍♂️ 16GB is enough for vast majority of users especially since this laptop doesn't even have a dGPU, why would u need >16GB!?
Popular articles
Popular devices
Electric Vehicles