Asus Zenbook 14X OLED Space Edition review
Sagar, 17 December 2022
Asus sent its first laptop - the P6300 - into space to MIR Space Station 25 years ago, and to commemorate this achievement, the Taiwanese tech giant launched the Zenbook 14X OLED Space Edition (UX5401ZAS). It is basically a version of the regular Zenbook 14X OLED (UX5401) coming with a Space-themed design, accessories, and packaging.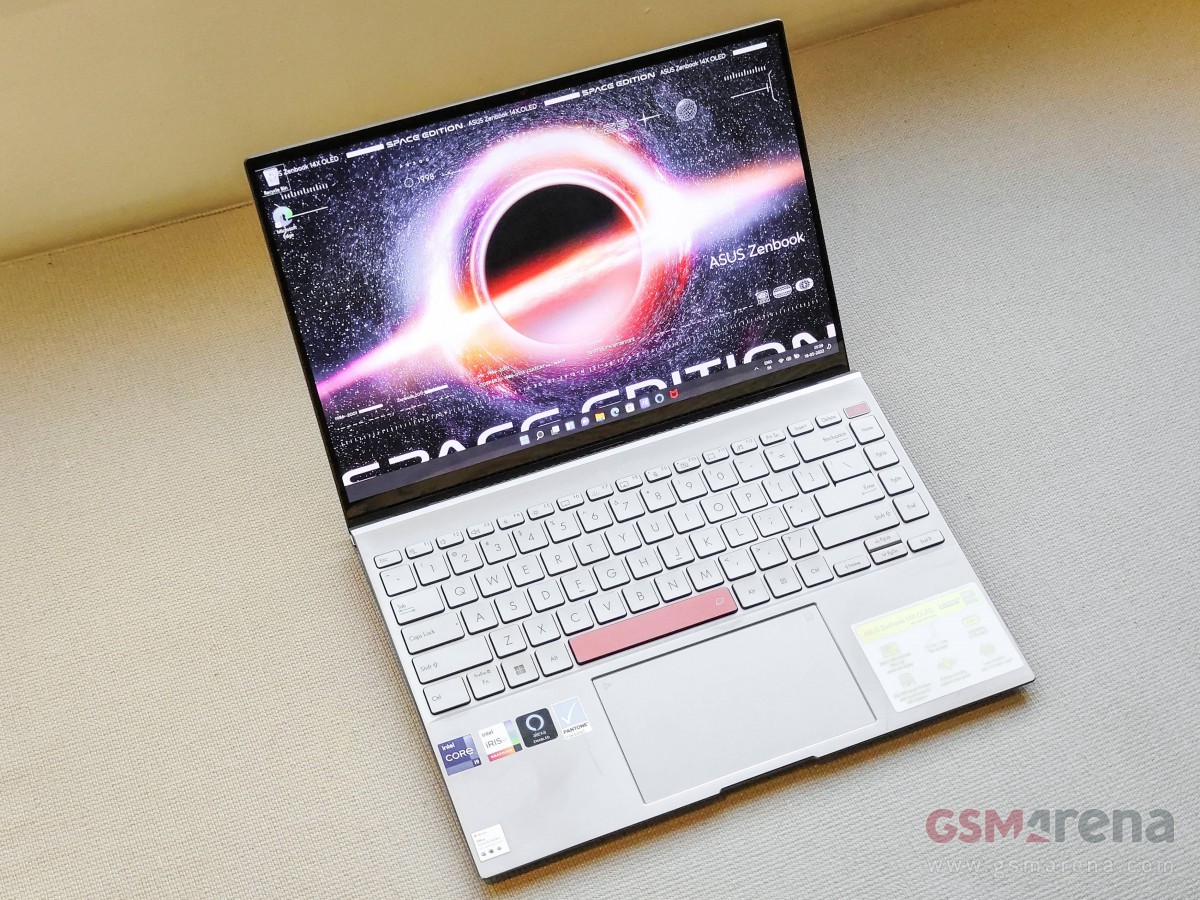 Those extras also mean you pay more for the Space Edition than the regular model. And while that futuristic design and fancy accessories may appeal to Space enthusiasts, is it good enough to entice mainstream users? I used the Asus Zenbook 14X OLED Space Edition as my primary machine for a few months to find that out, and here's our review to tell you how this high-end laptop holds up after months of usage.
Packaging and Accessories
The Asus Zenbook 14X OLED Space Edition's retail package is quite intriguing. It comes in a big, black box sporting a schematic based on the MIR Space Station that's also on the laptop's touchpad. It also has a good-quality handle, which is confidence-inspiring and makes it easier to carry around.
Inside this box is yet another box housing the Zenbook 14X OLED Space Edition itself. It reflects different colors and looks metallic. It is inspired by a metallic spaceship door after all. The box has a circular "window" on the lid, which, Asus says, is "like a peep hole on a space capsule," allowing you to see the Space Edition's ZenVision Display before opening the box. It also lifts the laptop up when you open it, making the Space Edition easier to take out.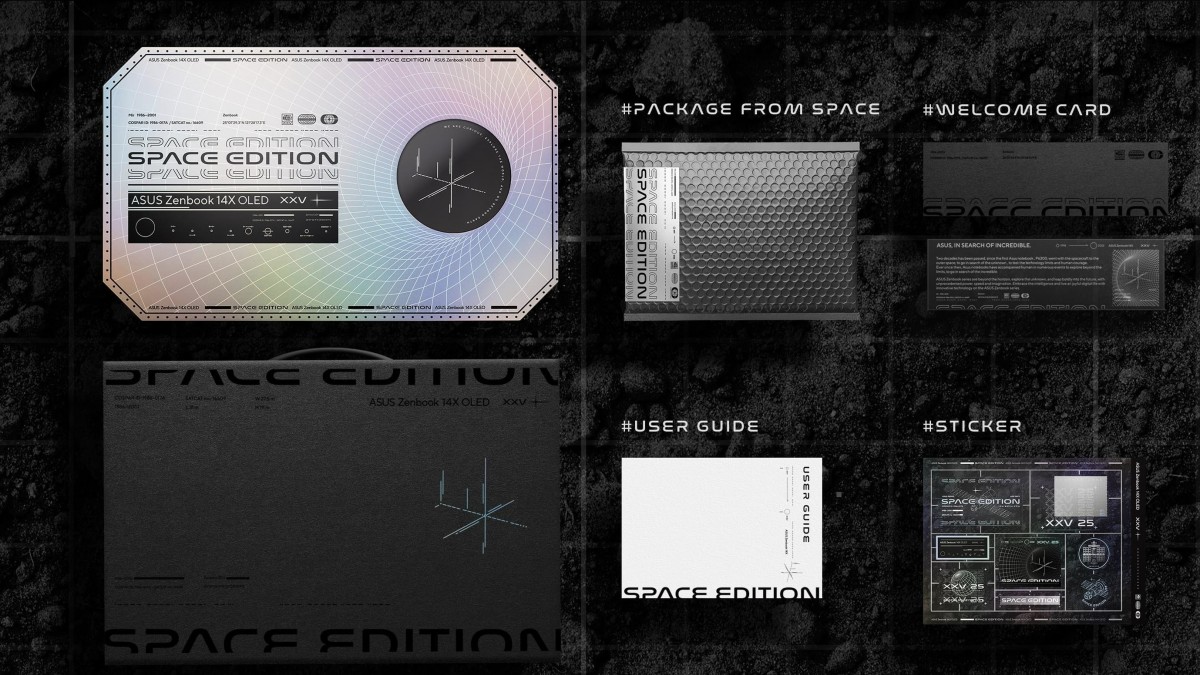 There's one more box inside the big box, which houses the Zenbook 14X OLED Space Edition's charger. Asus has designed it in a way that allows you to use it as a laptop stand when folded for a better typing experience since it lifts the laptop at a 23° angle. Asus deserves some appreciation for designing a box that can be repurposed for a better user experience and for making the package a tad more sustainable.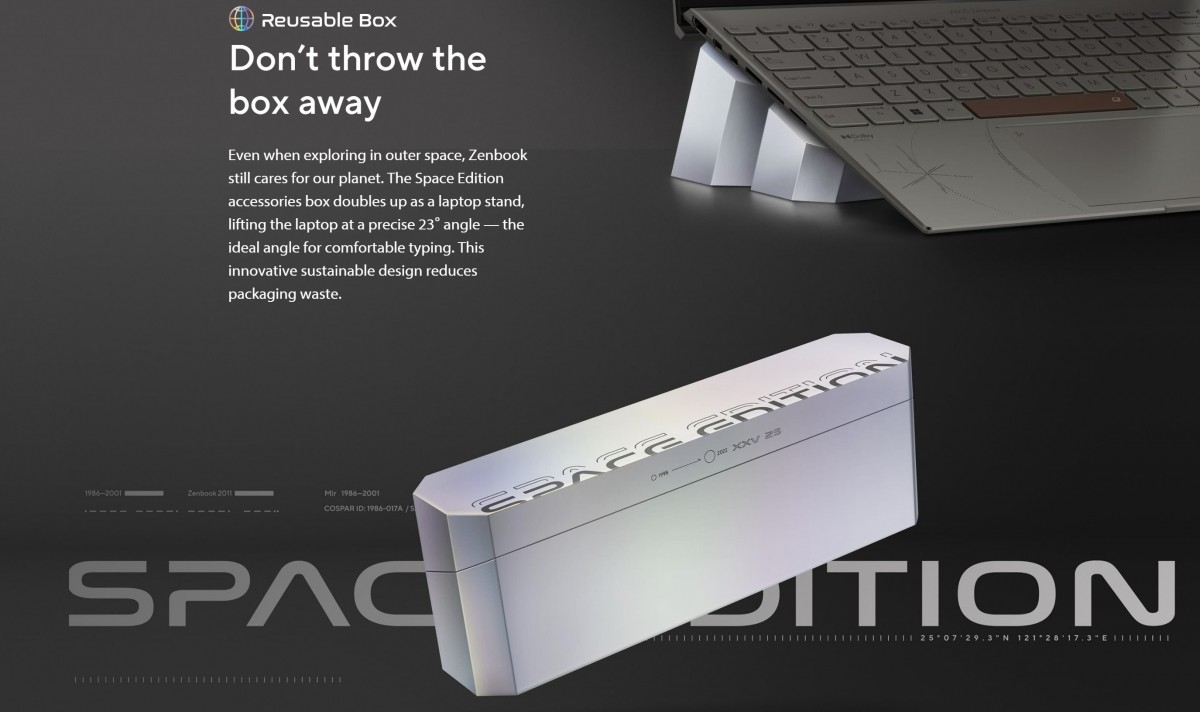 The retail package also includes a user guide, a welcome card, some stickers, and a package that is also following the space theme.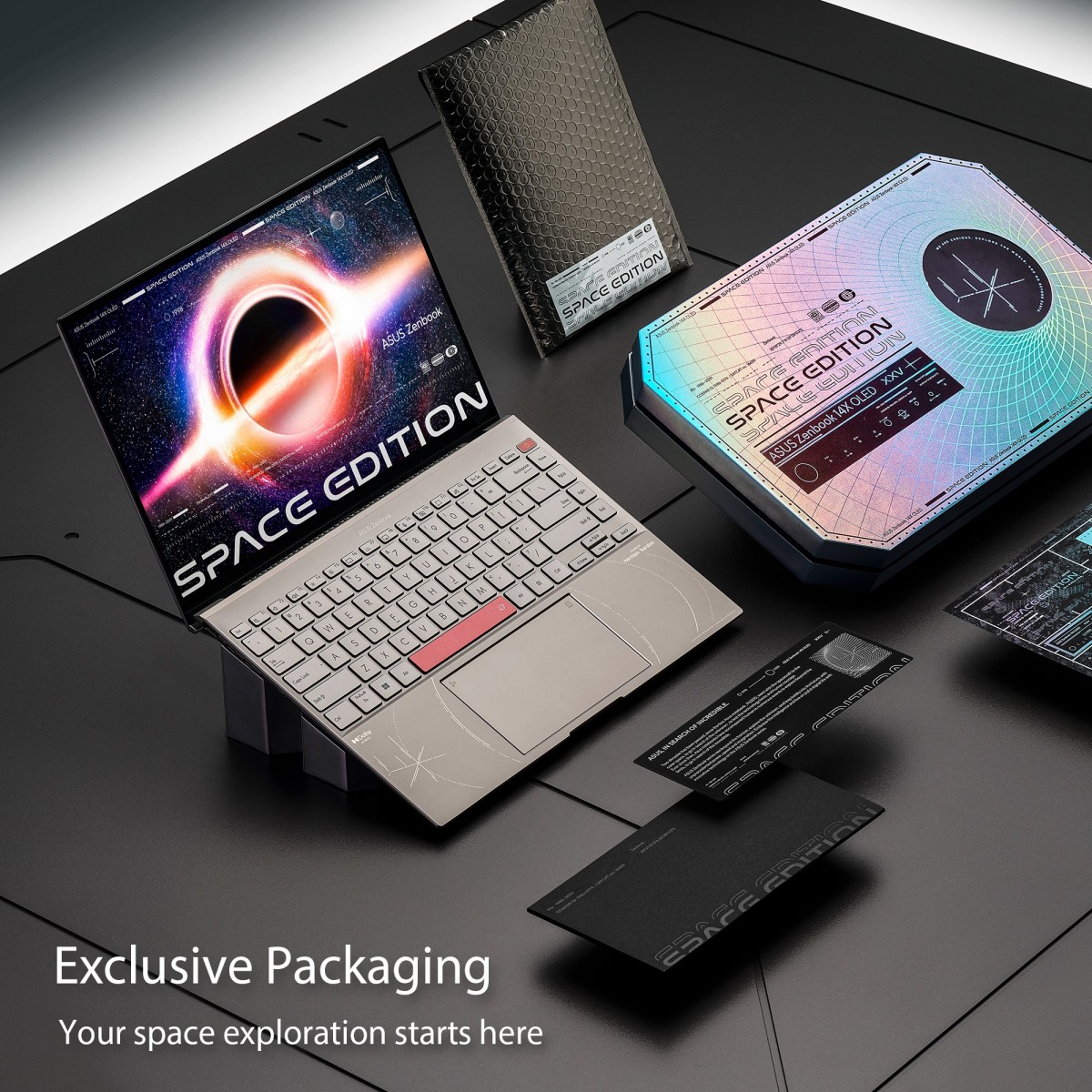 Aside from that, the Asus Zenbook 14X OLED Space Edition's retail box comes with a laptop sleeve, USB-A to RJ45 gigabit ethernet adapter, and a stylus. However, the availability of these accessories varies by region. For example, customers in India only get the sleeve. In all cases the Zenbook 14X OLED Space Edition has a solid retail package.
Design and Build
The Asus Zenbook 14X OLED Space Edition is 15.9mm thick and weighs 1.4kg. It's made of aluminum alloy and comes in a Zero-G Titanium finish, which Asus says is similar to the material used on space crafts.
The Zenbook 14X OLED Space Edition's design elements are influenced and inspired by the history of space travel, including the MIR Space Station and a space shuttle's control deck.
The Space Edition's lid has arched lines as a reference to the space capsule, where one of the lines is a symbolic morse code of the Latin proverb "Ad Astra Per Aspera," meaning "Through Hardship To The Stars." It also sports the ZenVision Display, which is arguably the highlight of the Zenbook 14X OLED Space Edition.
Moving on to the bottom side of the laptop, we once again have the Latin proverb "Ad Astra Per Aspera," above two rows of air vents for heat dissipation. These are flanked by more vents placed alongside the edges, next to the speakers tuned by Harman Kardon.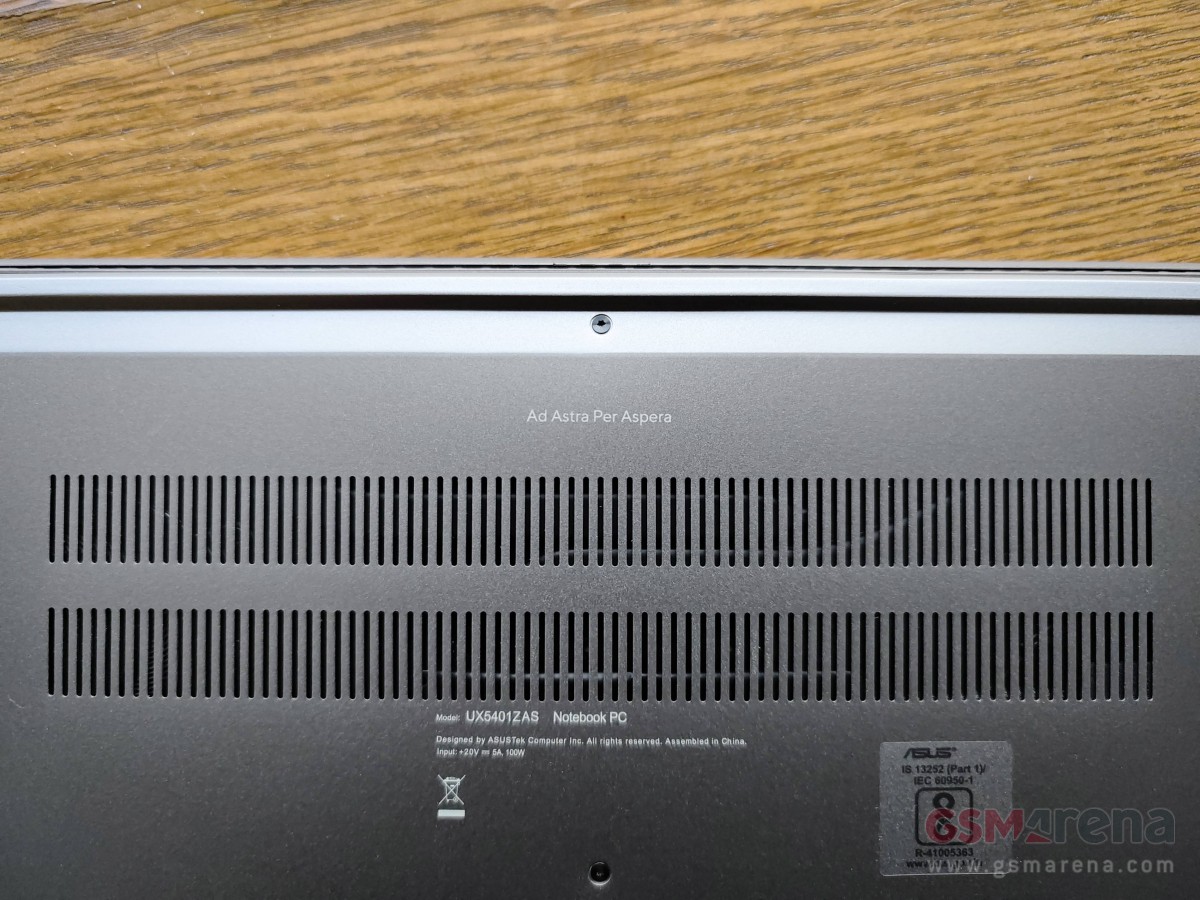 "Ad Astra Per Aspera" is a Latin proverb, which means "Through Hardship To The Stars."
The Zenbook 14X OLED Space Edition's panel at the bottom also has four rubber cushions to provide grip to the laptop. And behind the panel is the dual-fan cooling system that Asus calls Dual-fan IceCool. It comprises two heat pipes (6mm and 8mm each) and two 87-blade fans, allowing the notebook to sustain 45W TDP continuously in performance mode.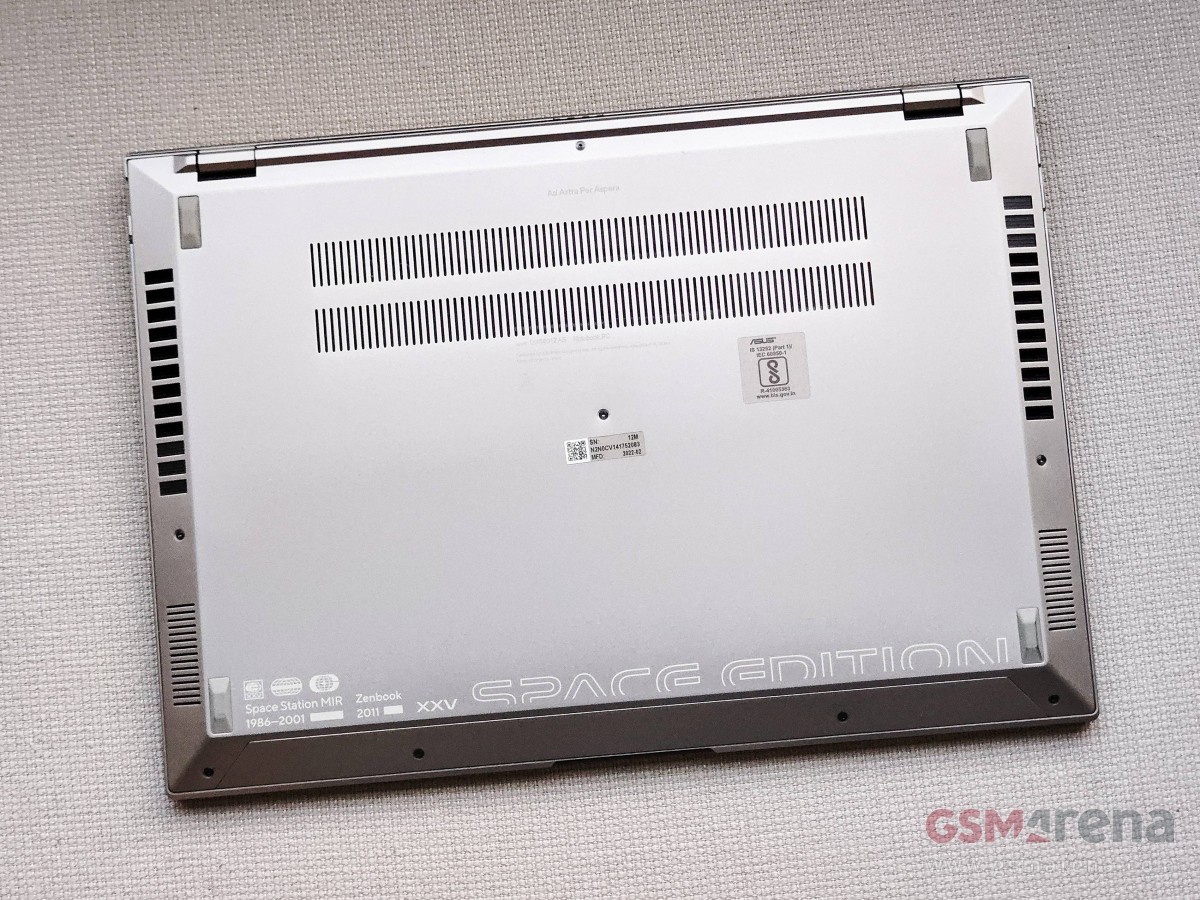 On the left side of the Asus Zenbook 14X OLED Space Edition is the HDMI 2.0 port, joined by two Thunderbolt 4 USB-C ports for data transfers and battery charging (also support 4K/8K display output). And on the right side is the USB 3.2 Gen 2 Type-A port accompanied by a 3.5mm audio combo jack and a slot for the microSD card reader (the one placed near the LED indicators).
I appreciate Asus including an HDMI port, but I'd have liked to see the Space Edition with at least one more USB-A port because I usually use a mouse with the laptop, which keeps the USB-A port always occupied with its connector. So when I have to transfer data through the USB-A cable, I have to remove it and rely on the trackpad for navigation, which isn't ideal.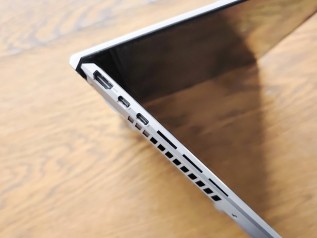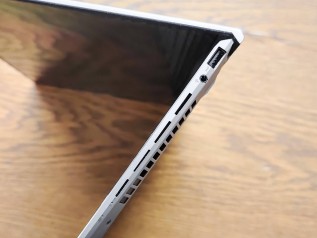 Two Thunderbolt 4 USB-C ports and an HDMI port on the left, with a USB 3.2 Gen 2 Type-A port and 3.5mm audio combo on the right
The Asus Zenbook 14X OLED Space Edition comes with an ErgoLift Hinge, which raises the laptop's chassis by 3° when the lid's opened up to 150° (the regular model opens up to 180°) to serve two purposes. One, it tilts the keyboard at an optimum angle for a better typing experience. Two, it provides better ventilation under the chassis for improved heat dissipation and a better audio experience.
And while it somewhat accomplishes those goals when placed on a desk, it does nothing to help the experience when keeping the laptop on your lap. It's also worth mentioning that the hot air flows sideways when the Space Edition is on a flat surface in an elevated position, and if you are someone like me who keeps the mouse right next to the laptop, it will come directly onto your hand which is not ideal, especially in summers.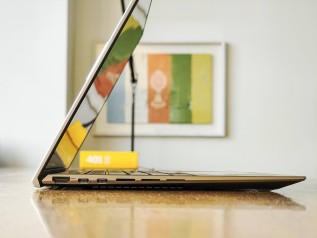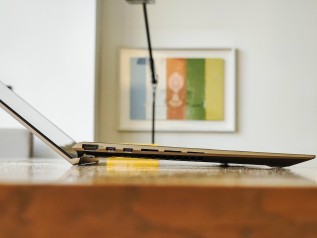 Laptop lid partially opened • Laptop lid fully opened, which raises the Space Edition for a better typing experience
The hinge itself is sturdy and has retained its stability after months of usage while doing an impressive job of preventing the screen from wobbling. It also makes it easier to open the lid with one hand easily without pulling up the laptop's base.
Once the lid is opened, you see the 14" 2.8K OLED touchscreen, surrounded by slim bezels with a web camera mounted on the top one. We also have a backlit ErgoSense Keyboard and trackpad here, but more on these in their dedicated section.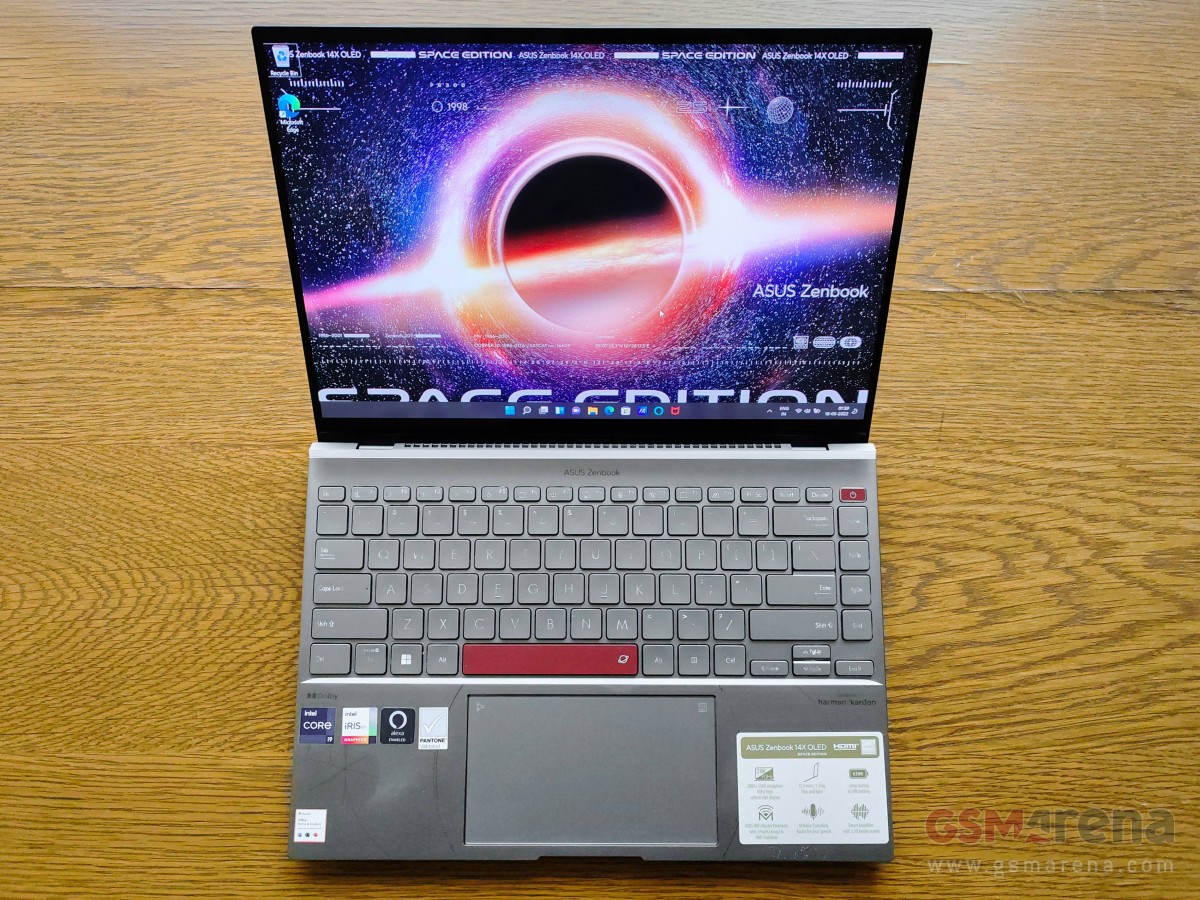 In the top-right corner is the power button with the fingerprint reader embedded. It's fast and accurate and signs you in directly to the system after booting up if you press the power button with the registered finger.
The power button has a red accent matching the Space Bar, which sports a planet icon. These accented keys add character to the overall look of the keyboard, but the planet icon doesn't light up like the numbers, letters, and symbols on the rest of the keys, which is somewhat puzzling - did Asus forget about it?
The area surrounding the Asus Zenbook 14X OLED Space Edition's keyboard has the same finish as the laptop's lid and never picked up smudges. Asus also claims that the heat is directed to the region above the keyboard to keep the palm rest area cool for a comfortable typing experience.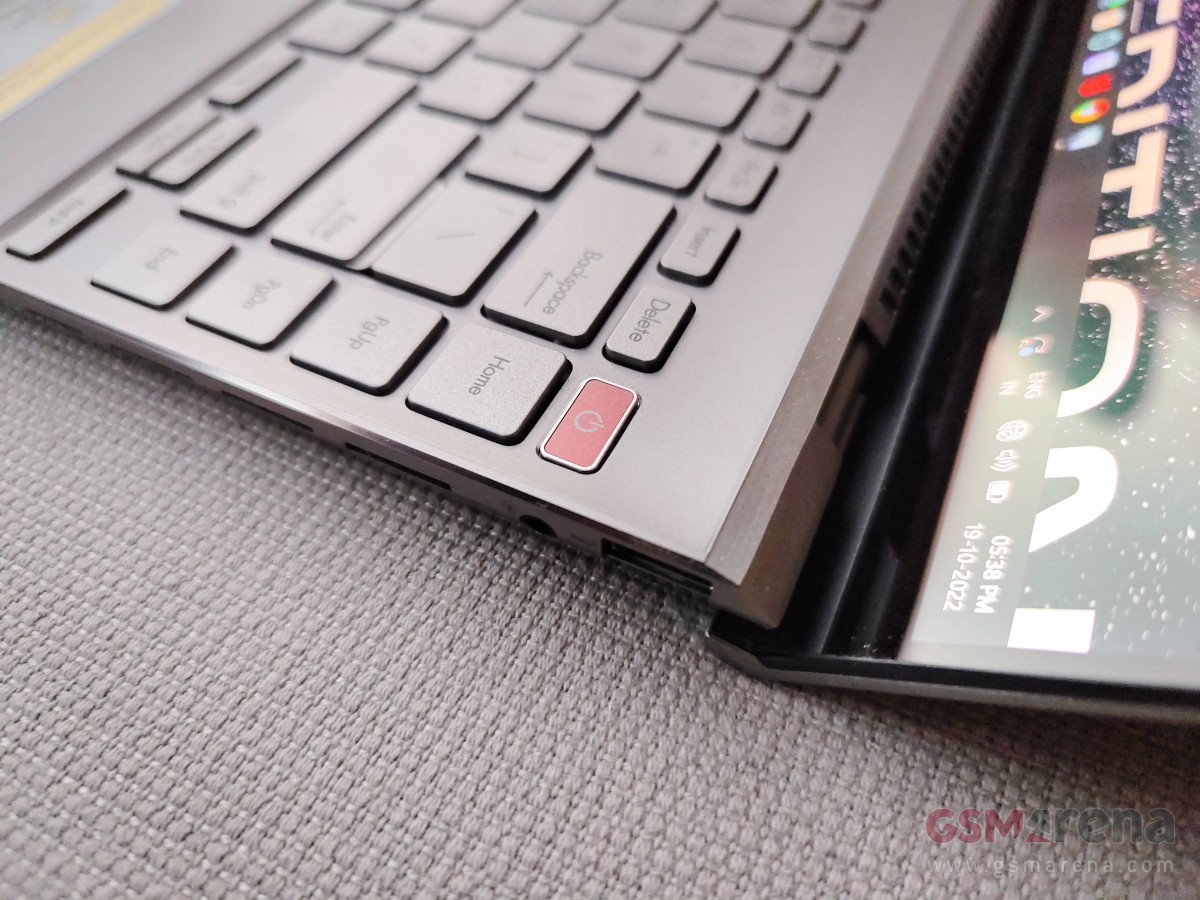 However, the palm rest area does get hot (if not as much as the other side of the keyboard) when the Space Edition's charging, and the fans don't spin faster to keep the laptop cool despite switching to Performance Mode. It appears Asus has programmed them to only start spinning at max speeds when the Space Edition's carrying out demanding tasks. It would have been great if Asus had put that dual-fan cooling system to use during the charging process as well since heat is heat, no matter the source.
The design language we see on the Asus Zenbook 14X OLED Space Edition's lid continues on its palm rest area. The lines on the left are a reference to the MIR Space Station and the P6300 laptop. You can also see the MIR Space Station's schematic on the left edge of the palm rest area, whereas the line on the right edge is a reference to the 2011 Zenbook.
The Space Edition's retail unit comes with stickers on both sides of the trackpad, though, which spoil the show since they hide the design. Of course, you can always remove those yourselves but it would have been better if Asus had put those on the laptop's back panel so the users don't have to go through the hassle of removing them and clearing the residue adhesive.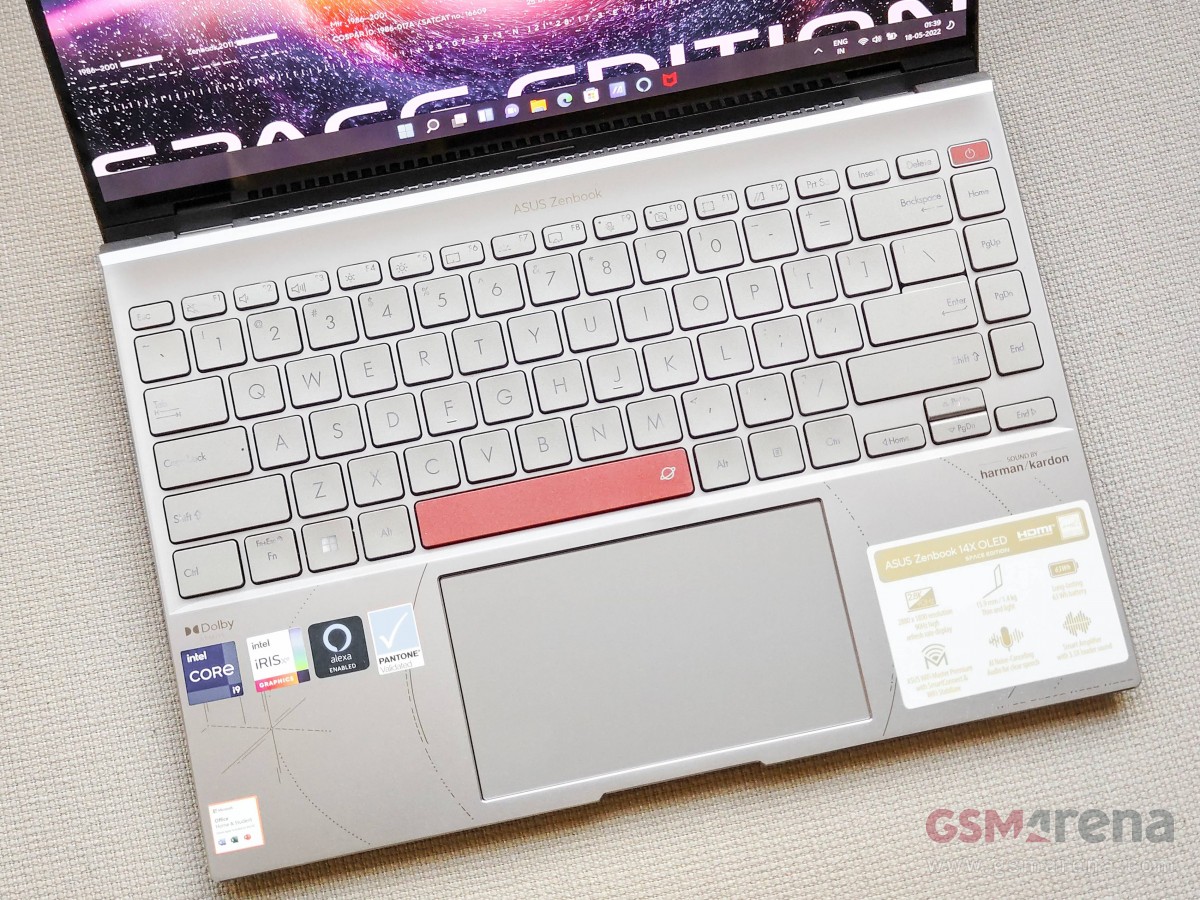 The Asus Zenbook 14X OLED Space Edition meets the MIL-STD- 810H durability standards and isn't called a Space Edition simply because it has a Space-inspired design, but also because it complies with the US Space Systems Command Standard SMC-S-016A testing protocols for space missions equipments, meaning the laptop can withstand extreme vibrations of up to 2,000Hz and temperatures in the range of -24°C and 61°C.
Overall, I'm really impressed with the Asus Zenbook 14X OLED Space Edition's design and its superb build. It's easily one of the best laptops in the market right now in those aspects.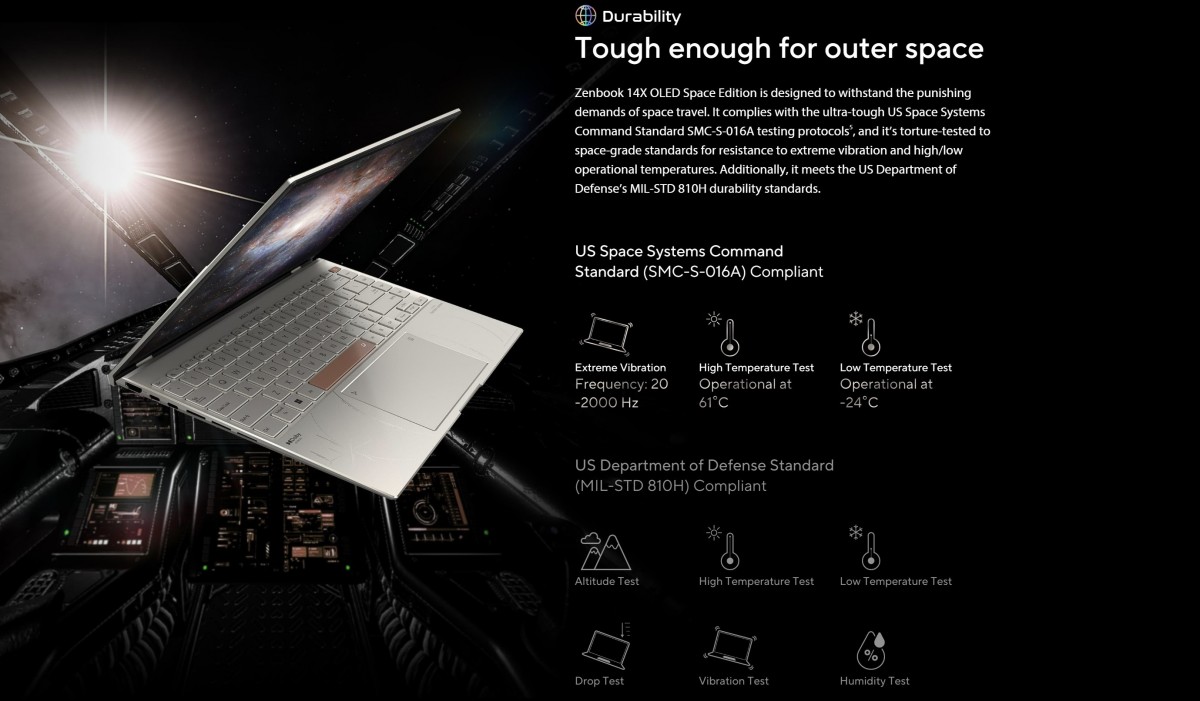 Display
The Asus Zenbook 14X OLED Space Edition packs a Samsung-made 14" OLED touchscreen with a 2,880x1,800 pixel resolution, stylus support, and 550 nit peak brightness. It has 90Hz refresh rate, 0.2ms response time, and supports 10-bit color.
The panel also covers 100% of the DCI-P3 color gamut, and its color accuracy is validated by Pantone. The screen's HDR support is certified by VESA's DisplayHDR 500 True Black stamp of approval.
The Zenbook 14X OLED Space Edition's panel has a 16:10 aspect ratio and 92% screen-to-body ratio, thanks to slim bezels on the top (5.86mm) and sides (3mm) for an immersive visual experience. This combination offers more screen real estate than the 16:9 panels, making it more suitable to productivity related tasks as it reduces the need for scrolling.
Asus claims that the Zenbook 14X OLED Space Edition's screen emits 70% less blue light than LCD panels, and it's TUV Rheinland certified for low blue light emissions.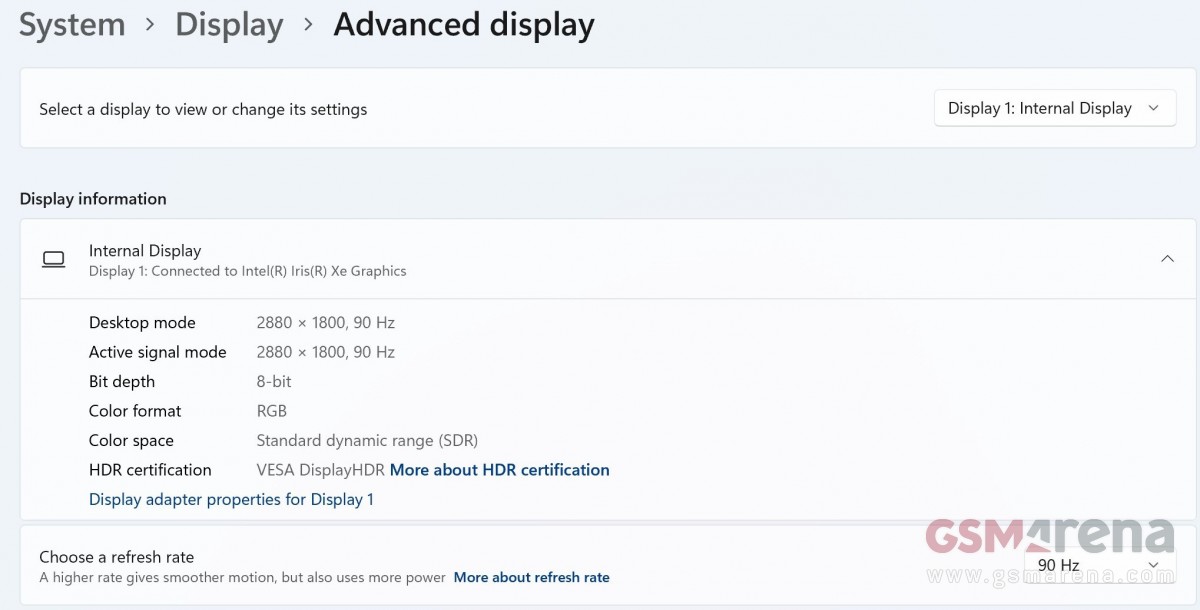 In real life use this is one impressive OLED panel with great viewing angles. It produces vivid colors, displays sharp text, and the HDR videos I played on YouTube looked really nice. However, it's advisable to calibrate the display if you are going to use the laptop for photo and video editing as its out-of-the-box calibration isn't stellar.
It's also worth mentioning that HDR playback isn't enabled out of the box, and you have to enable it manually from the Windows settings (just like you have to change the color depth from 8-bit to 10-bit from the Intel Graphics Command Center manually since the panel is configured to 8-bit depth by default).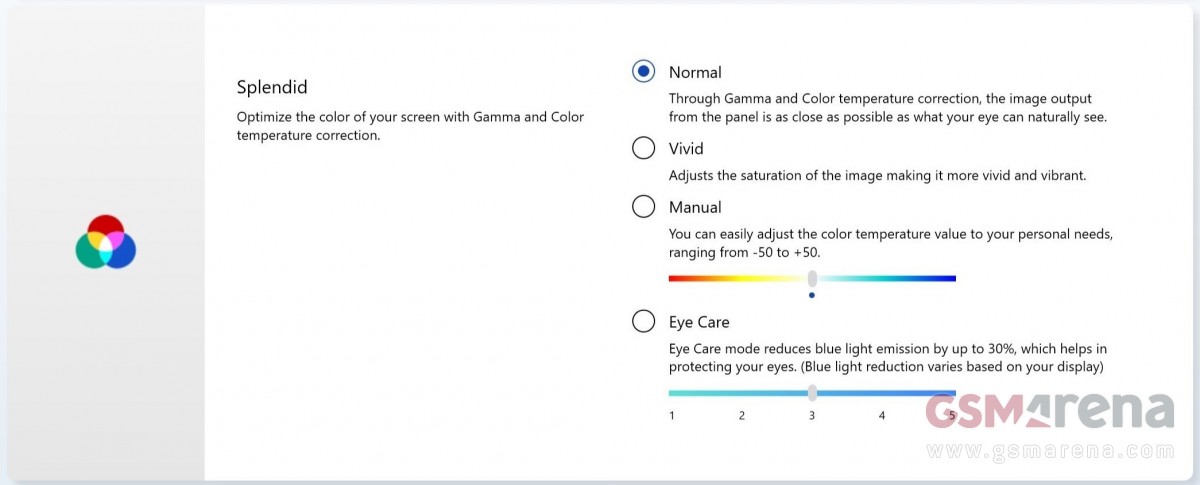 The luminance of the screen expectedly increased when playing HDR videos. Indoors, under artificial lighting, I found the panel's brightness to be sufficient and never had to move the slider beyond the 15% level. But if you intend to use this laptop outdoors, you might be left wanting for higher brightness, more so since this is a glossy panel and as such quite reflective.
The Asus Zenbook 14X OLED Space Edition's 90Hz touchscreen is nicely responsive and smooth, and the difference between 60Hz and 90Hz refresh rates was noticeable if not major. The panel is set to a 60Hz refresh rate by default, though, so you'll have to change it to 90Hz from the Windows settings or the MyASUS app, which also offers the option of a dynamic refresh rate.

The Space Edition doesn't come bundled with the stylus in India, and I didn't have one around at the time of testing to try with the laptop, so I just used my fingers to operate the screen and the experience was still good enough. The touchscreen also supports some gestures, such as long-press to mimic the right click.
Since we are talking about an OLED panel here, we also need to talk about the issues related to this screen type, such as burn-in and image retention. I didn't face either of those during the review period, and Asus has also taken some measures to prevent those in the long run.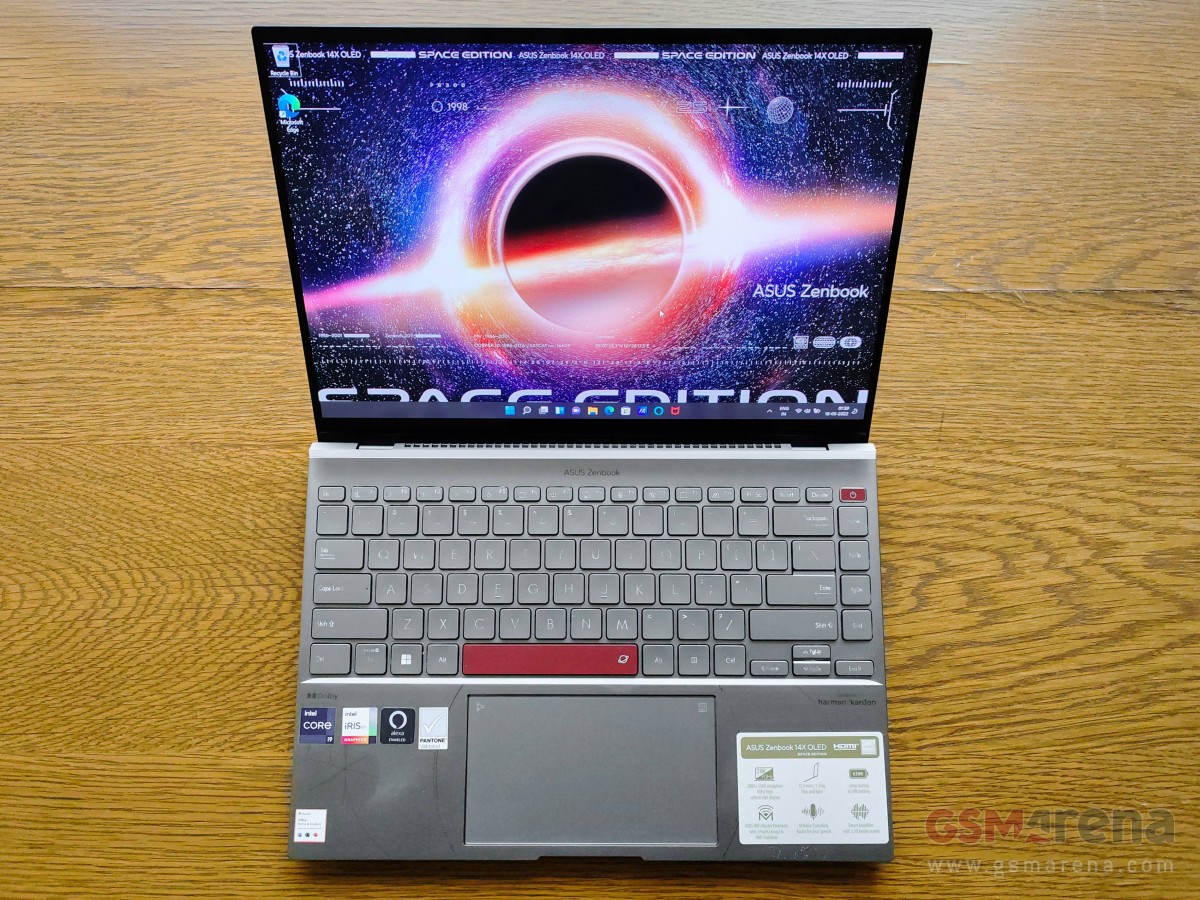 For starters, Asus ships the Zenbook 14X OLED Space Edition with the Windows Dark Theme enabled out of the box, and the screen is dimmed after remaining idle for five minutes. The laptop also uses Samsung's OLED algorithm that detects aging pixels and enhances the current passing through those pixels. This enables the degraded pixels to display brighter colors and retain their accuracy.
Moreover, the Space Edition comes with Asus OLED Care - a set of optimization settings to protect the OLED display. You can find it under the MyASUS app's Customization > General > Audio & visual menu with four options, including two for Pixel refresh and Pixel shift.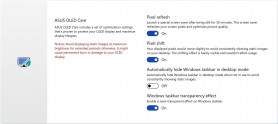 Asus Zenbook 14X OLED Space Edition comes with Asus OLED Care settings to protect the OLED display
The MyASUS app has more display-related settings and features, including a Target Mode, which keeps the brightness of the active window unchanged and dims the inactive areas for power savings and minimization of OLED display aging. It worked as advertised and I really liked it.

The OLED panel comes with a 7,000 hours warranty at 200 nits brightness, which would be good for two an a half years even if you used it non-stop for 8h every day.
Before I wrap up my impressions of the Space Edition's main screen, I'd like to mention the grainy texture on it, caused by its overlays. It's noticeable when viewing content at higher brightness, especially on white backgrounds, and could be a deal-breaker for some, so I'd really suggest checking it out in a store if you are intent on buying the laptop.
ZenVision Display
Moving on to the Asus Zenbook 14X OLED Space Edition's secondary display, which is called ZenVision Display and is one of the stand-out features of the special edition laptop. It's a 3.65" PMOLED screen with a 265x64-pixel resolution and 150-nit brightness.
This monochrome screen can be customized to display Space Theme animations, texts, and personal tags. You can also customize it to display smart notifications, including time, date, and battery life in addition to showing music equalizer, custom messages, Microsoft Teams status, and even business cards.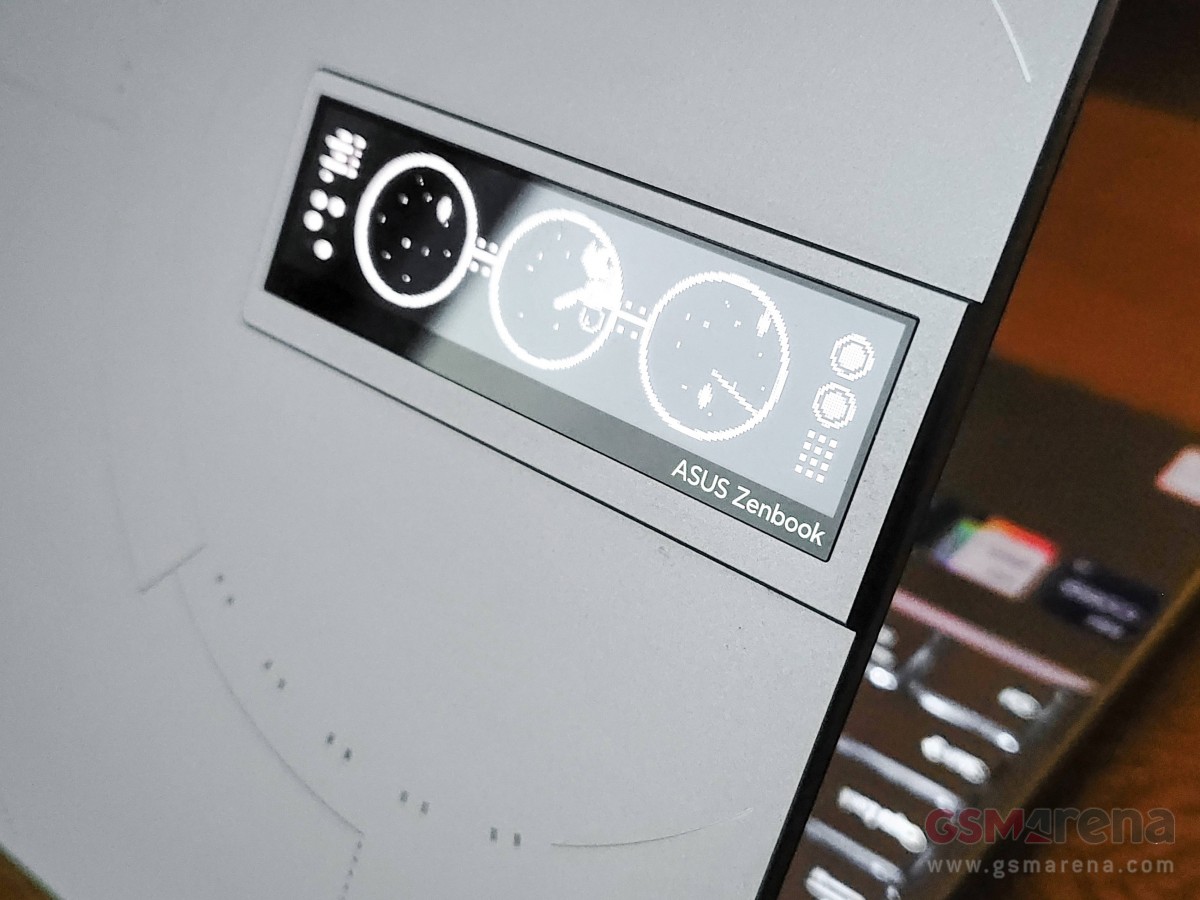 Asus Zenbook 14X OLED Space Edition's ZenVision Display
It's customized from the MyASUS app's Customization > Exclusives menu. There, you'll find several animations, text templates, and personal identity tags provided by Asus that you can customize to your liking. You can also create your own if you want for more personalization.
The MyASUS app also lets you adjust the brightness of the ZenVision Display, and if you want, you can turn it off.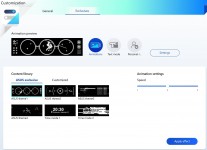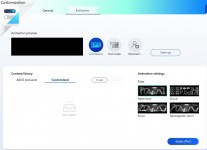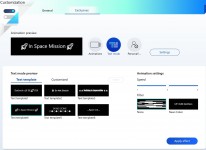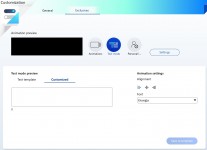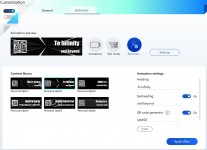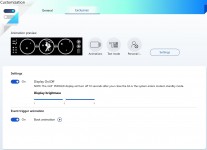 ZenVision Display's customization settings in the MyASUS app
The ZenVision Display makes the laptop look cool, but I don't find much use for it. I mean, I won't be looking at some information such as time, date, and battery status when I'm using the laptop because I can see that on the main screen and I'm not sure how it's going to be useful to the other person looking at it.
Besides, the ZenVision Display will consume battery when it's turned on, even if only a fraction of what the main screen needs. But maybe some of you will find some use for it, such as displaying a DND when working on something important so others know it's not the time to discuss that latest review that popped up on GSMArena's homepage.
Asus could've perhaps displayed the battery level on the ZenVision Display when the laptop's lid was closed and it was charging to make it more useful.
Speakers and Web Camera
The Asus Zenbook 14X OLED Space Edition features a pair of bottom-firing stereo speakers tuned and certified by the audio specialists Harman Kardon. It also comes with Dolby Atmos support for an immersive audio experience through the built-in speakers as well as the headphones and home theater systems connected to the laptop.
The Space Edition comes with the Dolby Access app that lets you set up these devices and also lets you switch between five audio profiles - Dynamic, Game, Movie, Music, and Voice. If you don't like these, you have the option to create custom profiles to your liking.
The laptop also has a Smart Amplifier, advertised to deliver up to 350% more volume than a standard amplifier. And to prevent any long-term damage from playing audio at high volume levels, Asus has equipped the Smart Amplifier with a DSP chip, which aims to deliver clear audio by boosting volume across the entire audio spectrum and not just at certain frequencies.
The speakers are loud enough for casual movies and music, but the quality wasn't that great. And I say that because there were times when the audio, especially the vocals, sounded cracked and distorted - whether it was music or videos. It was the kind of sound you'd hear from damaged speakers. But I do suspect that's what happened with the speakers on my review unit. It wasn't a sealed, brand-new unit after all.
That said, the Asus Zenbook 14X OLED Space Edition comes with AI Noise-Canceling for the speakers and microphones. When turned on from the MyASUS app, it can filter out all the noise from the human speech coming from the speakers, making it easier for you to hear what the person on the other side of the call is saying. And when AI Noise-Canceling is enabled for microphones, it suppresses ambient noise from your side so the person on the other end of the call can hear you clearly with minimal background noise.
There's also a feature called Multi-Presenter mode developed for conference calls. It filters the ambient noise, identifies individual voices from multiple directions, and relays them at the same volume level to improve the group call experience. You can find it in the MyASUS app's Customization > Audio & Visual menu.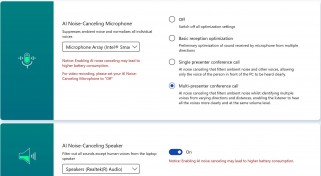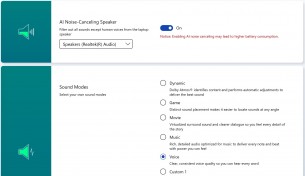 The Asus Zenbook 14X OLED Space Edition comes with AI Noise-Canceling for speakers and microphones
Talking about the web camera, we've got a 720p 3DNR unit here with an Electric Webcam Shield which instantly blocks the camera upon pressing the F10 key on the keyboard (F9 to block mic), preventing people with unauthorized, remote access to the laptop from spying on you through the camera. It's also a nice, quick way to block the camera for websites and apps of video conferencing services such as Zoom and Meet when you forget to disable camera access to them.
I found this privacy shutter to be a very useful feature and would really like to see it on all laptops, but it didn't work reliably on the Space Edition. There were times the shutter didn't close and the camera could actually be used to take photos and videos. And at the time of publishing this review, pressing the F10 key disables the camera, but the physical shutter remains open.
The web camera's picture quality is decent enough for occasional video calls in good lighting conditions, and there's nothing to write home about. The default Camera app has a Pro Mode for photos and videos and lets you turn on the framing grid lines. You can also take timelapse photos if you are into that sort of thing.
Keyboard and Trackpad
The Asus Zenbook 14X OLED Space Edition comes with a chiclet-style keyboard, called ErgoSense Keyboard by Asus. It has a key pitch of 19.05mm and a key travel of 1.4mm with the keycaps having a 0.2mm dish-shaped indentation.
I found the keyboard's layout to be comfortable.It has a really nice, matte-ish finish resistant to smudges, which, paired with the impressive feedback, provides a very enjoyable typing experience.
While the keyboard is fairly compact, it doesn't skimp on the Home, End, Page Up, and Page Down keys - something I personally find very useful for my workflow. There are also arrow keys in an inverted T-shape formation, which ensures you don't end up pressing nearby keys when navigating without moving your eyes from the screen to the keyboard.
Like most other laptops, the Asus Zenbook 14X OLED Space Edition's keyboard has Function keys at the top with shortcuts assigned to them by default. For example, pressing the F5 key increases the screen brightness instead of refreshing the system or a webpage, so you have to press the "Fn" key placed between the Ctrl and Windows keys together with the F5 key to refresh. Some Windows shortcuts such as Alt+F4 do work without the "Fn" key, though.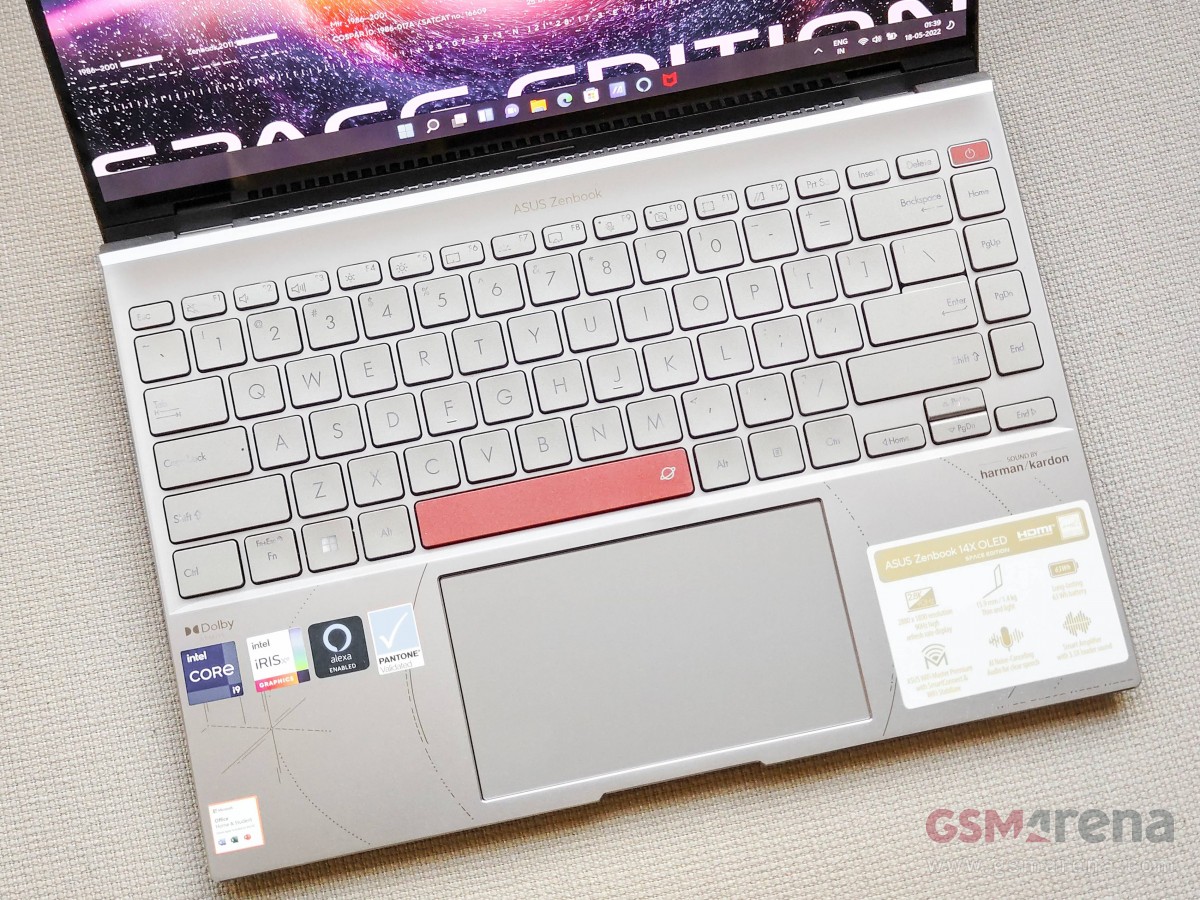 Therefore, if you want a more consistent experience with the shortcuts, you can change the Function keys' behavior from the MyASUS app, and Asus definitely deserves praise for that since you don't have to go through the hassles of entering the laptop's BIOS to toggle the Function key behavior.
That said, while I like the Space Edition's ErgoSense Keyboard, I have a few complaints about it. First, the keyboard's backlight allows you to type with ease in dim lighting conditions or in a pitch-dark room, but the lights don't remain on at all times. They turn off automatically after a minute of inactivity, which is quite annoying since it happens regardless of what power mode you have set and whether the laptop is on charging or not.
Moreover, some keys also have visible LEDs and the light is emitted unevenly through some buttons, which isn't anything I expect from a laptop in this price range. It takes away from the premium build significantly.
I'd have also liked the power button to be placed a tad farther from the Delete and Home keys since there were times I pressed it by accident. Fortunately, the button is flat and sits at a lower level than the other keys, so this didn't happen too often.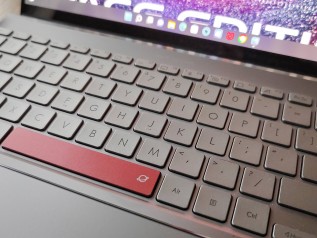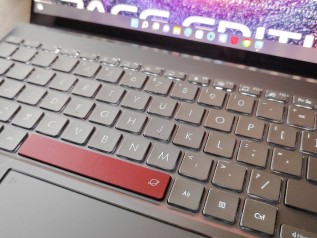 ErgoSense Keyboard with backlit turned off • ErgoSense Keyboard with backlit turned on
Like the ErgoSense Keyboard, the Asus Zenbook 14X OLED Space Edition's touchpad also performed well. It's spacious, accurate, smooth, and nicely responsive. It also supports multi-touch gestures, which worked well.
We don't get the left and right split keys on the trackpad, but you can press the left and right areas in the trackpad's bottom portion to perform left and right clicks, respectively.
Asus says it has applied a hydrophobic coating to the touchpad with a high water-contact angle to provide smooth scrolling. It also comes with a high-end PVD anti-fingerprint coating, making the surface easy to clean, but also boosting resistance to wear and tear.
The touchpad's smoothness and accuracy are something I can attest to, but what I like the most about it is the Asus NumberPad 2.0 - an integrated LED-illuminated numeric keypad that makes up for the lack of a dedicated numpad. It can be turned on/off by touching the icon in the top-right corner of the touchpad.
On the opposite side is another icon that lets you adjust the number pad's two-level brightness while also serving as a shortcut to quickly launch the Calculator app when you swipe from left to right on it. This illuminating numpad is something I'd like to see on all laptops that don't come with a dedicated number pad.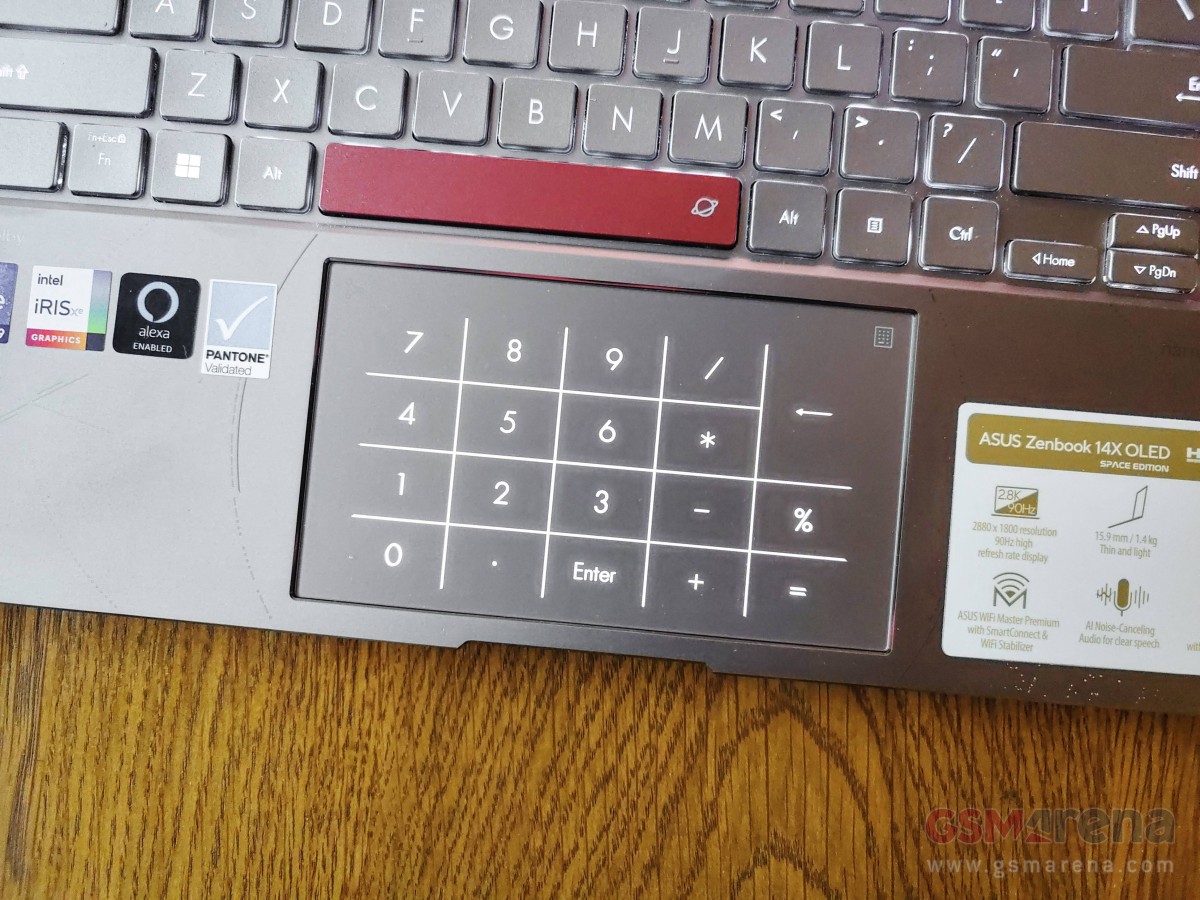 Asus NumberPad 2.0 on the Asus Zenbook 14X OLED Space Edition
Hardware and Performance
The Asus Zenbook 14X OLED Space Edition comes with up to 32GB RAM, up to 1TB storage, and three CPU options - Core i5-12500H, Core i7-12700H, and Core i9-12900H. My unit is the maxed-out, top-end model having the Core i9-12900H under the hood with 32GB RAM and 1TB storage. None of the models have a dedicated GPU onboard, though. You only get Intel's Iris Xe Graphics.
The Core i9-12900H has a 45W TDP and consists of 14 cores - six Performance (P) cores designed to maximize performance for tasks such as gaming and 3D design, and eight Efficient (E) cores delivering battery savings when the system stress is low.
Asus has used the LPDDR5 type RAM for the Zenbook 14X OLED Space Edition, having a maximum frequency of 4,800 MHz. And, while some hardware check softwares and benchmarks say the Taiwanese brand has used eight RAM sticks of 4GB each to provide a total of 32GB RAM, the notebook actually has two 16GB RAM sticks under the hood.
For storage, Asus packed the Zenbook 14X OLED Space Edition with a Samsung-made 1TB M.2 NVMe PCIe 4.0 SSD (MZVL21T0HCLR-00B00), advertised to offer up to 6500 MB/s read speeds. The drive comes with a single partition out of the box as most laptops do these days, but and I'd have liked Asus to ship the machine with at least two disk partitions.
The MyASUS application that comes pre-installed with the Asus Zenbook 14X OLED Space Edition has a Fan Profile section under the Customization > Power & Performance menu that lets you adjust the laptop's performance by offering three fan profile modes - Performance, Standard, and Whisper.

If you want the absolute best performance from the Asus Zenbook 14X OLED Space Edition, I suggest you select the Performance Mode. It spins the 87-blade fans at their fastest speeds to maximize cooling for demanding tasks and sustained performance. And these actually did a good job at maintaining performane under sustained load. It does get loud when the fans are spinning at their fastest, though.
It's also worth mentioning that the Performance Mode is only available when the laptop is on AC power and doesn't work when the machine's running on battery power.
The TDP drops to 35W in Standard Mode, which spins the fans slower than Performance Mode, but you can hear them if you are in a reasonably quiet environment. I didn't notice any significant difference in performance between the Standard and Performance Modes in daily usage, but some synthetic benchmarks did yield slightly better scores when Performance Mode was enabled. We'll get to those in a minute.
The Whisper Mode, as evident from its name, offers the quietest experience since the fans' speed remains the lowest. However, that also means the performance you get isn't as good as the other two modes since the clock speeds are reduced with an increase in temperature.
Let's now see how the laptop fared in synthetic benchmarks.
CrystalDiskMark: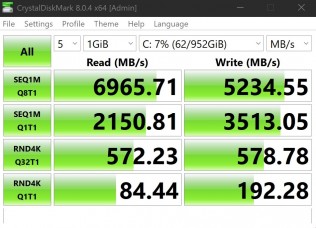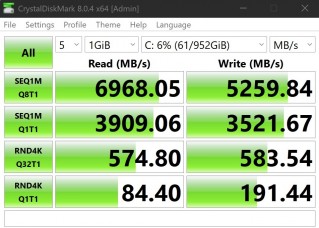 Standard Mode • Performance Mode
GFXBench:


DirectX 12 (Standard Mode) • DirectX 12 (Performance Mode)



Vulkan (Standard Mode) • Vulkan (Performance Mode)
Geekbench, Cinbench R20/R23, 3DMark, PCMark 10, and PugetBench: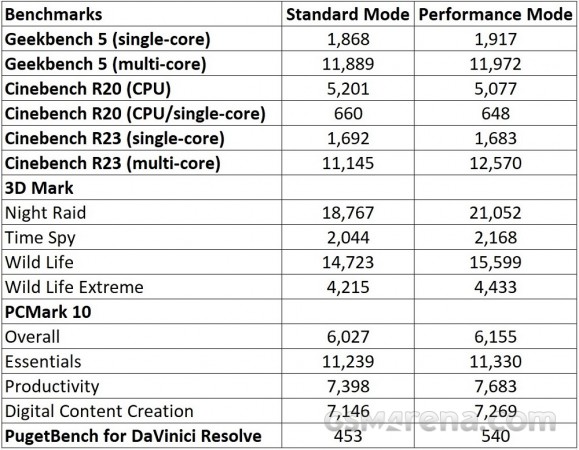 With the synthetic benchmarks out of the way, let's talk about the Asus Zenbook 14X OLED Space Edition's real-world performance. I used the laptop primarily for office work, which mainly included working inside Google Chrome with an average of at least 10-15 tabs open in multiple windows at all times, document editing in the office suite, basic photo editing, and watching YouTube videos.
The Zenbook 14X OLED Space Edition performed well in that scenario, but there were some hiccups. The laptop stuttered multiple times when typing in Notepad and froze when using Google Chrome. Fortunately, this didn't happen often enough to be an issue, but it wasn't anything I expected in everyday usage from the unit I received considering its specs.
The Space Edition will handle casual gaming and basic editing fine, but if you are planning to do advanced photo/video editing or play high-end games on it, you might want to look elsewhere since this laptop doesn't come with a dedicated GPU. In my opinion, that's the only thing lacking in the version I have.
I asked Asus about the omission of dedicated graphics on the Zenbook 14X OLED Space Edition, and the company cited space constraints as the primary reason for not including a dedicated GPU while also mentioning the need for bundling a bigger power adapter.
The Taiwanese brand also said that a dedicated GPU would have increased the laptop's weight and price, but when you are already spending so much on a machine like the Zenbook 14X OLED Space Edition, especially the top-end model that's the subject of this review, I wonder how many would worry about shelling out extra money to get a better overall package.
Asus suggests checking its Zenbook Pro or Vivobook Pro lineup for those who want a dedicated GPU since the Space Edition isn't meant for photo/video editing or gaming, which makes me question the rationale behind going with an H series Intel CPU intended for gaming.
Overall, the Asus Zenbook 14X OLED Space Edition performed well in everyday usage. It did get hot sometimes despite the fans spinning at full speed in Performance Mode, but fortunately, the keyboard and the palm rest area remained cool enough to keep the machine usable when placed on a flat surface. However, you may not have a comfortable experience when it's placed on your lap.
Software
The Asus Zenbook 14X OLED Space Edition runs Windows 11 out of the box, but the actual version varies depending on the region. For example, in India, the Space Edition comes with Windows 11 Home, but some other markets get Windows 11 Pro, which could be a cost-cutting measure.
There's nothing new to talk about Windows 11 here, but the Zenbook 14X OLED Space Edition comes pre-installed with a licensed version of Microsoft Office Home and Student 2021 and a bunch of third-party apps, including Alexa, Dolby Access, GlideX, McAfee, and ScreenXpert which can all be uninstalled. It's worth mentioning that McAfee and GlideX come with a year's subscription.
The Asus Zenbook 14X OLED Space Edition also comes with the MyASUS app, which can be quickly accessed with the F12 key. The app provides access to customization settings for battery charging, fan profiles, AI Noise-Canceling, display refresh rate, color profiles, and more in a single place. You can also customize the 3.5" OLED ZenVision display on the laptop's lid through this app.
Additionally, MyASUS lets you diagnose and update your laptop and check promo offers from Asus on various softwares and services. More importantly it lets you transfer and access files wirelessly between the laptop and your phone with the Link to MyASUS feature, which also lets you make phone calls and send SMS from the laptop when your smartphone is connected via Bluetooth.
MyASUS is a really useful app, and it's something you wouldn't want to uninstall from your machine.
Battery
The Asus Zenbook 14X OLED Space Edition packs a 3-cell 63Wh Li-Ion battery with 100W Type-C fast charging support. Asus hasn't advertised any battery endurance numbers, but in my daily routine, the Zenbook 14X OLED Space Edition lasted me four hours on average on a single charge with the power mode set to Best performance.
I used the Asus Zenbook 14X OLED Space Edition for office work, which included working inside Google Chrome with an average of at least 10-15 tabs open in multiple windows at all times, document editing in the office suite, and some basic photo editing. During this, I had the keyboard's backlight at the highest brightness level and Bluetooth and Wi-Fi always on. The display resolution was set to 2,880x1,800 pixels with screen brightness at 15% and refresh rate set to 90Hz. I also had Windows Dark Mode enabled.
However, your mileage will vary depending on your usage and other settings, including the power mode, display resolution, and screen refresh rate.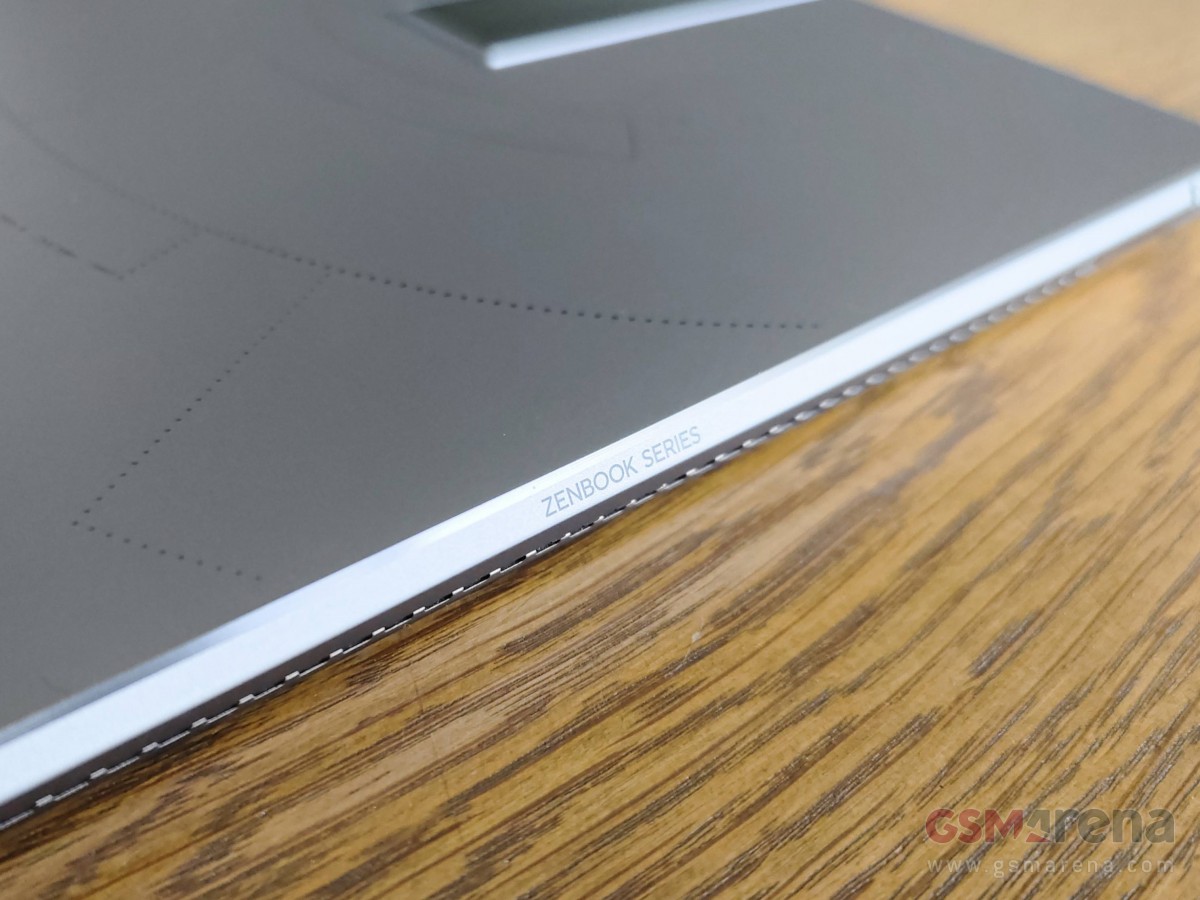 Once the battery is drained out, you can juice up the cell with the bundled 100W Type-C fast charger. Asus isn't marketing any numbers for the charging time either, but in my testing, the Zenbook 14X OLED Space Edition went from 3% to 40% in 30 minutes, 50% in 42 minutes, 65% in 1 hour, and 100% in 2 hours and 32 minutes when in use.
Asus told us the laptop can also be charged with a power bank, provided it supports USB PD 3.0. The MyASUS app allows you to limit the charging of the Zenbook 14X OLED Space Edition to 60%, 80%, or 100% depending on your use case. Asus recommends selecting the Maximum Lifespan Mode or the Balanced Mode to extend the notebook's battery life.

Verdict
The Asus Zenbook 14X OLED Space Edition is space-tacular. It is a really cool laptop, but it's not for everyone since Asus says it's not a mainstream product. The Zenbook 14X Space Edition is aimed at enthusiasts who want to own a collectible item related to space.
But even putting the futuristic design and fancy packaging aside, the Zenbook 14X Space Edition has a lot going for it. It's solidly built and packs an amazing screen with a 90Hz refresh rate. You also get a customizable secondary screen located on the laptop's lid to display information such as time and battery level.
The Space Edition's backlit keyboard offers an enjoyable typing experience, and the trackpad is also nicely responsive. It's integrated with an LED-illuminated numeric keyboard, which, like the Electric Webcam Shield, is something I'd really like to see on more laptops.
The Intel Core i9-12900H CPU with 32GB RAM, and 1TB SSD offer excellent performance, but the lack of a dedicated GPU is a deal-breaker for those who are into gaming and advanced-level photo/video editing. The Space Edition will handle basic multimedia editing and some games at lower settings, just don't expect the performance to be the same as something that would also have a dedicated graphics chip.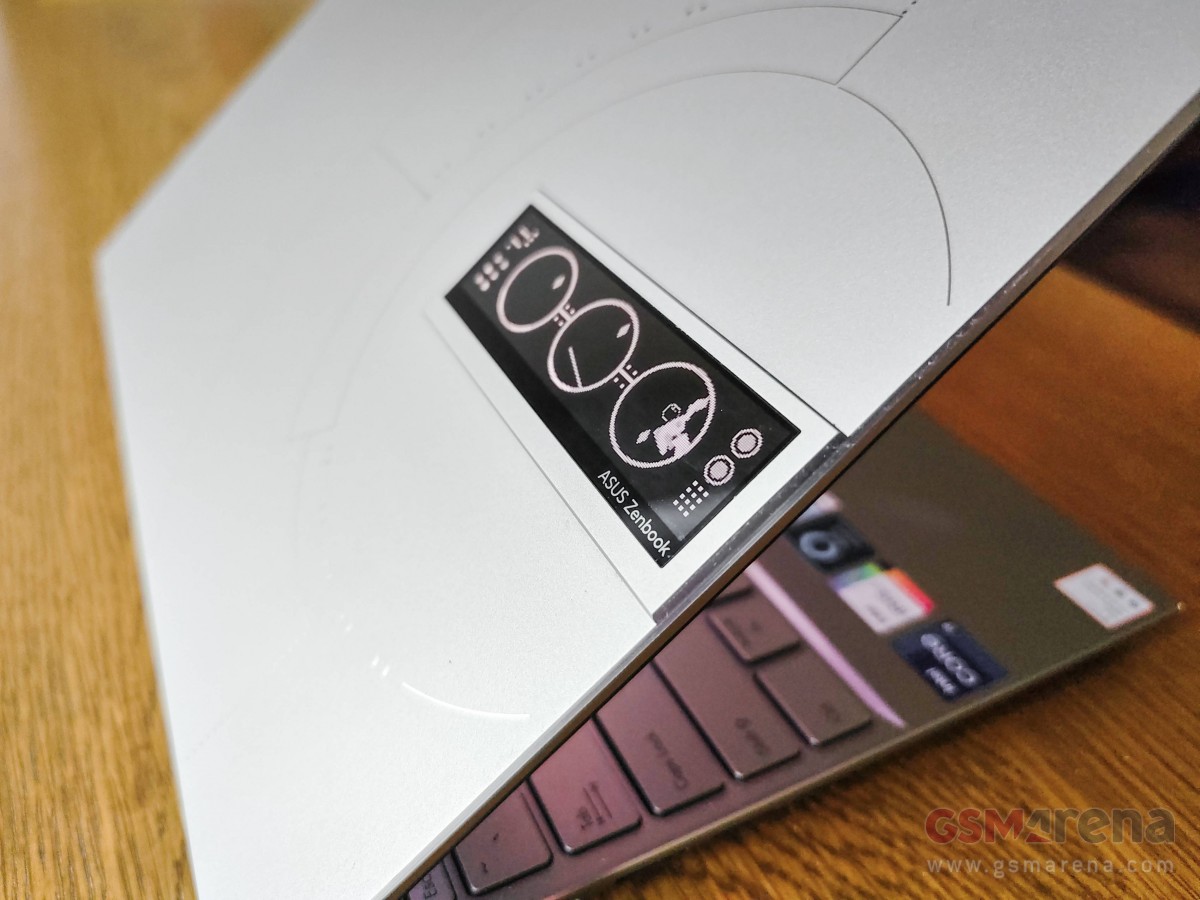 The Asus Zenbook 14X OLED Space Edition is space-tacular
On the opposite end of the spectrum the battery life is not good enough to make this a preffered option for mainstream office users. So the Zenbook 14X OLED Space Edition may be a really nice overall package, but it's really only suitable for a small niche of users.
In India, the Asus Zenbook 14X OLED Space Edition comes in three configurations - Core i5-12500H/16GB/512GB, Core i7-12700H/16GB/1TB, and Core i9-12900H/32GB/1TB currently priced at INR114,990 ($1,395/€1,325), INR129,990 ($1,575/€1,495), and INR159,990 ($1,940/€1,840), respectively. In the US, you only get the Core i9-12900H/32GB/1TB model, which is priced at $1,999.99 (INR164,840/€1,895).
Asus also sells a regular version of the Zenbook 14X which doesn't come with the fancy Space-themed design, packaging, accessories, and ZenVision display, but features a 180-degree hinge (opposed to Space Edition's 150-degree hinge) and costs less. That one seems to have better potential for mainstream adoption. Something that the limited edition we reviewed today never strived for, admittedly.
Pros
Cool, premium design
Impressive, sturdy build
Amazing screen
Backlit keyboard with impressive feedback
Lovely trackpad with integrated LED-illuminated numeric keypad
Snappy performance for everyday use
Fast, accurate fingerprint scanner
Electronic webcam shutter is a really useful feature
Space-themed retail package bundled with cool accessories
Cons
No dedicated GPU
Skimps on stylus in some markets
Uneven keyboard backlighting
Electronic webcam shutter doesn't work reliably
Battery life could've been better
Related
intel has fallen asleep or rather hibernated. Intel has been with its integrated Xe graphics for 4 years without evolving, while AMD has gone from Zen 2 with Vega 8 --> Zen 3+ with RDNA2 and now with Zen 4 --> RDN3 + AI Just read The graphics ...
Anonymous
21 Dec 2022
nem
That "old school chip" is still a beast and better than most desktop CPUs dude. And it's not exactly a freshly released laptop so it makes sense there's nothing newer inside. Unlike Intel laptops, AMD ones are good even on a last ...
Popular articles
Popular devices
Electric Vehicles