Asus Zenfone 5, 5z, 5 Lite hands-on review
GSMArena team, 28 February 2018.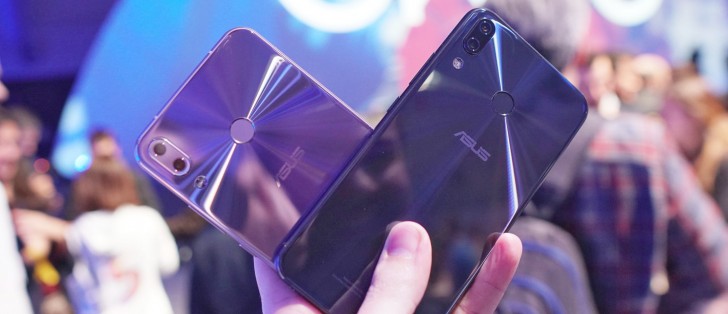 Asus Zenfone 5 Lite hands-on
The Zenfone 5 Lite might have been the less impressive sibling of the Zenfone 5 series, but originality is what it makes it as interesting.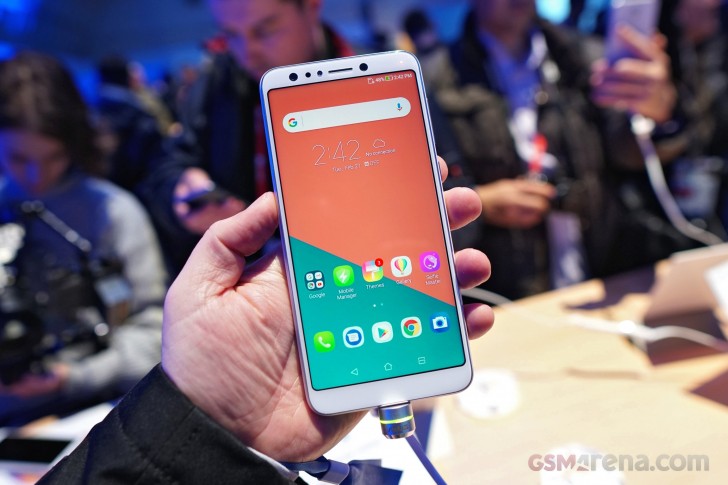 The Lite model comes with a 6" screen with 18:9 aspect and 1080p resolution. The screen-to-body ratio is 80.3% which is an excellent score for a Lite model. Our first impression with the screen is equally impressive as the flagship model - high brightness, sharp, great contrast, and wide viewing angles.
While Asus likes to call it bezel-less, it's not, obviously. But for a cheap smartphone Asus has trimmed the side bezels almost out of existence, while the slim top and bottom bars won't disturb anyone.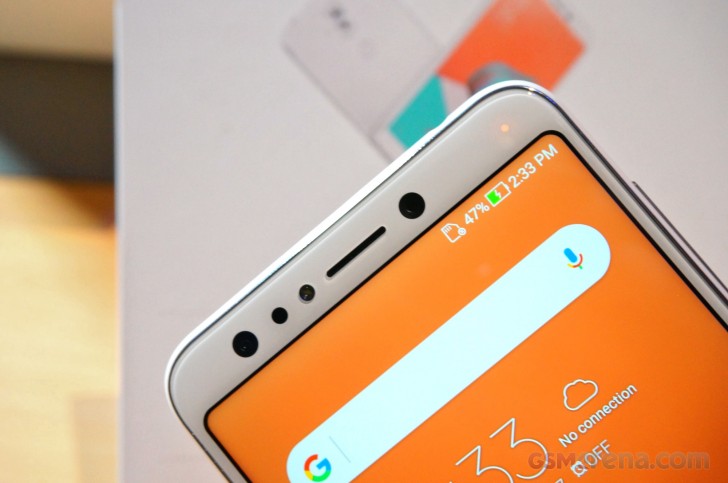 And speaking of the top bar, Asus has put two selfie cameras and a LED flash in there - a 20MP main selfie shooter with Sony IMX376 sensor, and a secondary 8MP wide-angle cam with 120-degree FOV.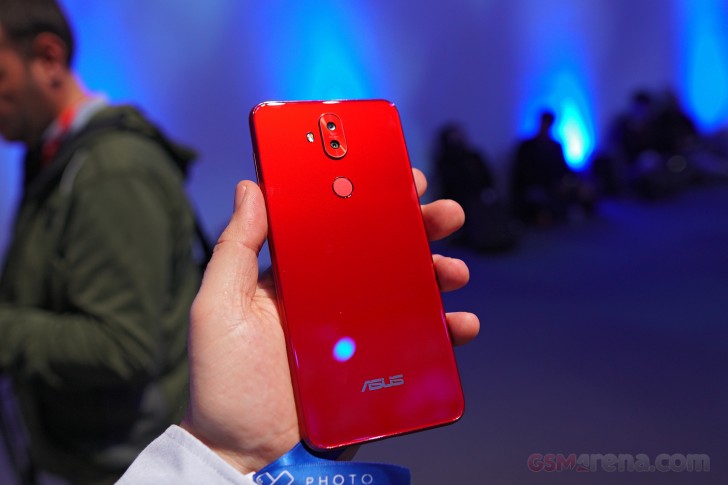 The Zenfone 5 Lite is also a glass-sandwich phone with an aluminum frame. The 2.5D-shaped front and rear glass pieces are pretty much the same, sans the different caveats. There is another dual-camera on the back - centered above the fingerprint scanner. Its main sensor is a 16MP one behind f/2.2 lens, while the wide-angle one is the same as the one at the front. There is another single LED flash here.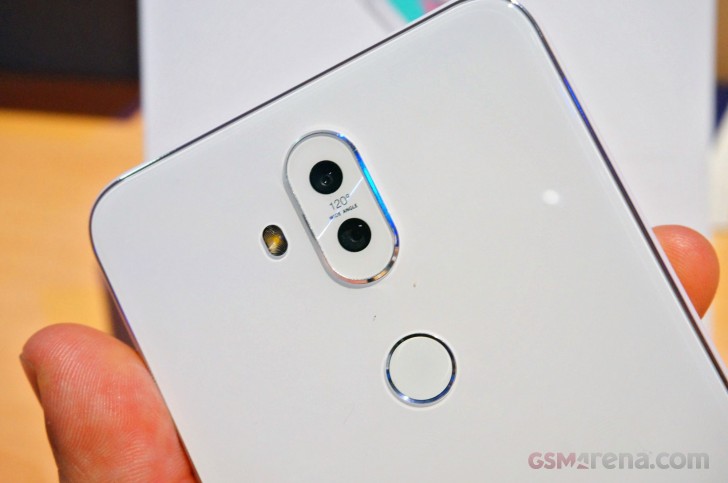 There are no visible antenna lines at the back of the Zenfone 5 Lite. There is no need of such as the back is all glass, but we are glad Asus didn't paint them over as some other makers do.
The metal frame between the two glass panels has chamfers for comfort and with its matte finish it's the only thing to gives a secure grip of the Zenfone 5 Lite. It's enough though and we can't complain - the Lite is as slippery as any other glass phone - no more, no less.
The Lite will be available with different chipsets on different markets - you will get either Snapdragon 430 or 630. The latter has better graphics, 4K video recording, and we expect it will cost more than the 430 model. It will launch running on Oreo this March in Midnight Black, Moonlight White, Rouge Red.
Asus Zenfone Max (M1) hands-on
The Zenfone Max (M1) is a smaller sibling to the Max Plus (M1) from last year. It's a rather entry-level smartphone but jam-packed with features with a tall screen, a dual-camera, and a large battery being its highlights.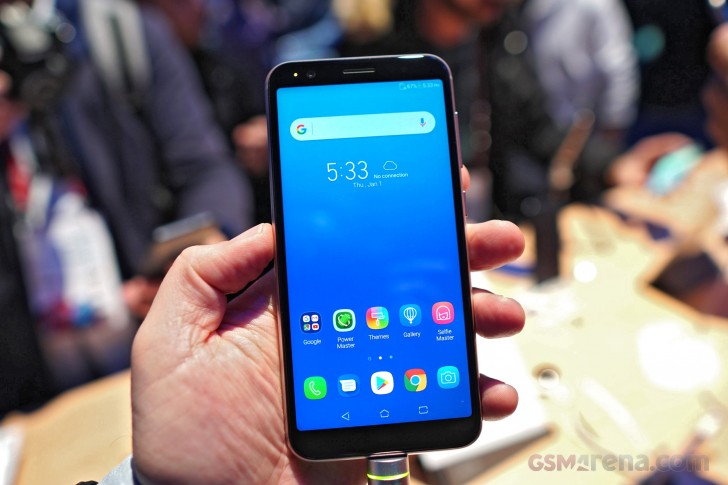 The phone's body is made entirely of plastic, while the screen glass is curved with the usual 2.5D effect. Remember how we said we applaud Asus for not painting antenna lines on the Zenfone 5 Lite? Well, it did that on the Max (M1), even though the phone is fully plastic despite what the metallic-finish PR statement is trying to say. We can't say if those are the real deal or not, but Asus went to great lengths to mimic a metallic feel and those trendy-shaped antenna strips help build that impression.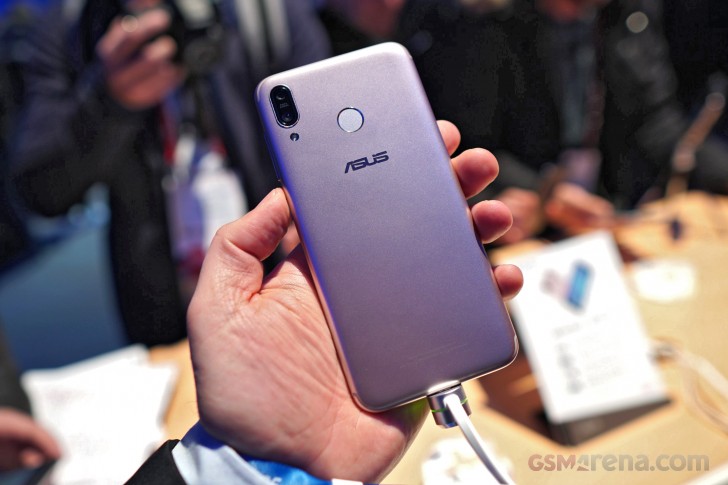 But the we'd be lying if we said the phone feels metallic. The whole Zenfone Max (M1) looks and feels plastic and there are no two ways about that. Which doesn't make the Zenfone 5 Lite bad at all, it's an entry level phone and it's quite good looking at that.
The 5.5" screen at the front is 18:9 in aspect ratio but comes with 720p resolution. The colors are duller than the rest of the Zenfones we saw today, the contrast is lower and the screen is dimmer overall. But once again - it's an entry-level and we are yet to test the final unit, so those are only first hands-on impressions.
We are not big fans of the model fragmentation Asus does to everything, but the Max is not spared. Some markets will get it with Snapdragon 430 and a 13MP selfie cam, others will get the Snapdragon 425-power version with 8MP selfie cam. Go figure!
The dual-camera setup at the back stays the same across all models. It's a 13MP main cam with f/2.0 lens and an 8MP wide-angle sensor for panoramic pictures. LED flash is available, PDAF and EIS for the 1080p videos.
The Zenfone Max (M1) seems like a very thoughtful device, fits well in hand and has a promising battery autonomy with that 4,000 mAh cell inside. It's already available for purchase for $229 in the USA and we expect about €220 for Europe. Deepsea Black, Sunlight Gold, Ruby Red are the colors you get to choose from.
Conclusion
Tempting pricing is what probably raises the potential for success of the new Asus Zenfones. The Zenfone 5 and 5z impress with notched full-screens and well-specked main camera, while the Lite model has not three but four cameras and a trendy screen. The Max (M1) brings long-lasting Oreo experience and dual-camera on the cheap.
It seems Asus is pretty well set for this year, we can only wait and meet those devices personally in our office.
very mediocre phone with very bad camera and sound, but good battery. looks like a pro, very nice manufacter but evrything else is poor. i'm very dissapointed. i buy a samsung s 51 and the diffrence si gorgeous.
It's a good phone and been using it for almost 2 yrs now... I bought this on May of 2018 and still has its gorgeous and classy looks...I love everything about it..i use it as my portable computer ..so helpful for a teacher like me...