The story behind the Asus Zenfone 6's design
Chavdar, 16 May 2019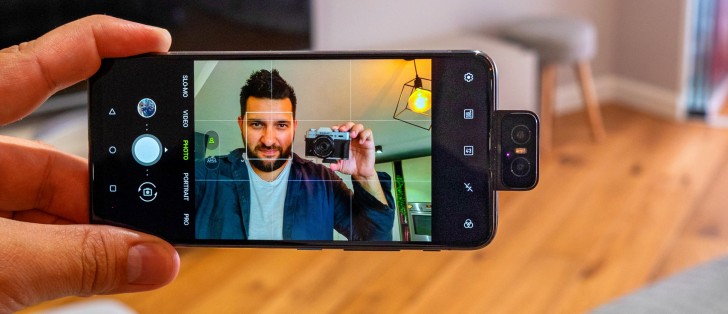 Asus has just announced the Zenfone 6, which combines a tempting price tag with high-end features such as the latest Snapdragon 855 chipset, a huge 5,000mAh battery, a flip-out 48MP camera, and stock Android experience.
Asus held its launch event in Valencia, Spain, as the EU is the first region to get the phone. We attended the event and got an opportunity to sit down with Chih-Hao Kung, the Global Technical PR Director for the company's smartphone division. He was eager to tell us more about the challenges the team had to overcome on its way to making this smartphone a reality.
With OnePlus gradually exiting the budget flagship segment and moving to the upper market segment, this opens up the space for motivated new players, and Asus means to have a go there.
And while Asus is a well-known enthusiast's brand in the computer hardware, it is yet to establish itself as one in the smartphone market. So as Chih-Hao tells us, the company planned the Zenfone 6 so that it combines features which major smartphone makers readily omit - all the necessary convenience ports, an extra large battery, etc. It also had to beat the majors in pricing, so this added extra pressure to the already mounting pile of requirements.
Hardware-wise, the Zenfone 6 was conceived with a few key features in mind – a 6.4-inch all-screen, a 3.5mm jack, a Dual SIM slot with a dedicated microSD slot, a 5,000mAh battery, and fast and fluid performance.
Asus was not willing to sacrifice any of these product requirements, so it had to think out of the box to achieve them.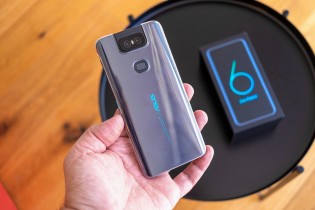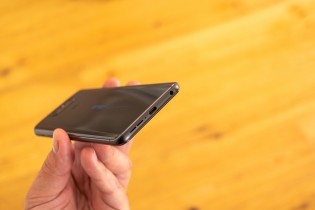 Asus nailed the ergonomics • No port left behind
The designers started with the desired size of the screen, which dictated the overall size of the phone. They came up with the 6.4-inch screen size as they thought it's the current sweet spot between having a large screen and comfortable handling experience - particularly when it comes to the width.
They chose not to have the trendy under the screen fingerprint reader as it requires a lot more space and it calls for using an AMOLED screen, which would have driven the price up.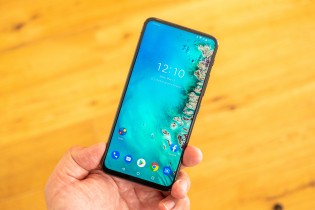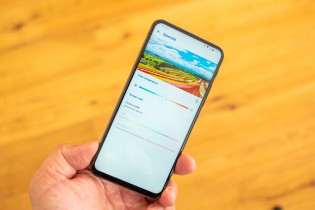 Excellent IPS panel • Tuning the screen
Then, they continued with fitting the extra large 5,000mAh battery. User feedback from the Max series led them to believe that battery life is still a substantial drawing factor, so Asus wanted to have that headline feature for the Zenfone 6. This one is meant to last even power users at least 24 hours. For regular users – even more.
Not only that but when you have a large battery, it has better longevity overall as you need to charge it less frequently – so it goes through less charging cycles than a smaller battery.
So now that the two main components of the phone were defined, they started fitting those together. The physical size of any battery is not set in stone. If you want to charge your battery with super-fast charging – say, 27-30W, then the battery will be physically bigger for the same capacity as it needs to be less dense and also the short-circuit protection inside it needs to be thicker.
But since the size was a huge constraint on this phone, which was already defined by the 6.4-inch screen, the team had to make the trade-off of not offering the fastest possible charging solution. Instead, they've settled on 18W QuickCharge 4.
Of course, there is a convenience factor which could have been added by the Super fast charging, but they considered the tradeoff was not worth it in this case. Additionally, Asus engineers considered that the Superfast charging affects battery longevity negatively due to the increased heat.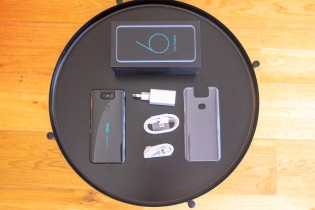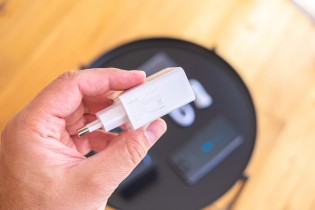 Asus settled for 18W QC4 charging to optimize the phone's size and the battery's longevity
Again size (or rather thickness) and battery longevity were the considerations, which called for NOT including wireless charging. Adding that would have meant either a thicker phone or a smaller battery. Additionally, the heat which is generated during this type of charging also affects battery longevity in the long run.
Then continuing with building the mockup for the Zenfone 6, they were sure they didn't want to sacrifice the 3.5mm audio jack or the dedicated microSD slot on a Dual SIM device (essentially a triple slot). They also insisted on having a notification LED on board as well.
So when it came to fitting the processor inside the phone, they didn't have much room left. And they didn't have just about any chipset in mind.
This time around Asus isn't planning on having different versions of the Zenfone 6 with different processors. The Zenfone 6 was meant to be a single device powered by the top performer in the class – the Snapdragon 855 – and it was not a small PCB that needed to fit in there.
So leaning on their experience with manufacturing computer hardware, Asus was able to come up with a new motherboard design for the Snapdragon 855. It's a two-piece design with some with extra insulation in between. They were able to make the two PCB pieces much thinner as well, which yielded a 50% less thickness than what it would have taken them with a conventional double-sided design.
Apple's iPhone series also employs a two-piece PCB design, but Apple's integrated modules are all custom-built. The General Manager of the Asus phone department pointed out that "Apple is making its own furniture. We use a lot of public components. The biggest challenge is to put the large common furniture in the small house!"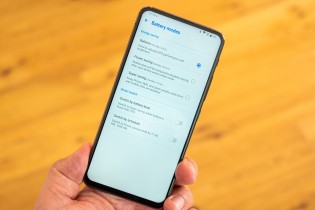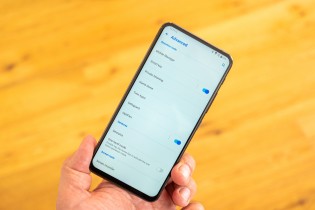 Picking a performance mode • Game Genie and Twin Apps
Now, once the chipset design challenge was solved, the last component that had to be fitted was the camera. There really wasn't much space left inside the phone, and since the designers were after an all-screen front, there was no space left for the selfie camera. So it was obvious they had to use an unorthodox solution - a solution which would ideally provide not only great main camera performance but also great selfies.
They went through as many as 70 different design mockups in the process - some of those you've seen leak online ahead of the phone's launch.
At first Asus considered pop-up cameras but they thought it would limit them in terms of the size of camera modules they could fit. Then they studied a sliding design, but having two parts sliding against each other meant that each piece is thinner than the whole so this would have caused many thickness constraints. They would have to sacrifice the 3.5mm jack or the large battery.
So when someone came up with the motorized flip camera design mockup, it clicked. It appeared to be the ideal solution for their design. It was sturdy enough, and it provided for great selfies as users would be using the main camera for these.
It was also different enough, so it allowed the phone to stand out. You may have seen a similar implementation on the Samsung Galaxy A80, but Chih-Hao says that at the time they didn't know Samsung was developing a phone with this form factor.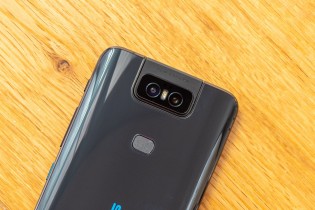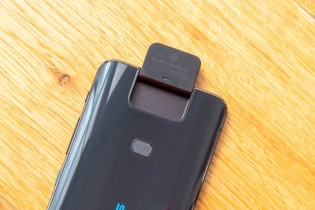 The camera body is made of Liquid Metal, has a stepper motor, which can speed up and slow down
With this new design, the metal piece, which is housing the camera, was not merely pushed up and down but was instead flipped from a position facing the back to a position facing the front. This motion required a higher amount of torque at the beginning but finer power control after that.
The flip-up camera also required a stronger and sturdier design. To achieve that, Asus made the metallic piece housing the two cameras from Liquid Metal – an alloy which is reportedly 4 times as strong as stainless steel, while at the same time being lighter. Asus says there were numerous production challenges in using this type of alloy and no one else has used such a big piece of it in a smartphone yet.
Once it finalized the design, the company tested its sturdiness rigorously as it would with its regular phones. The special mechanism didn't get any special treatment in this respect. It subjected the test batch of phones to numerous trials, including hundreds of drops from as high as a meter while the camera was flipped up just so the team was sure it wouldn't snap.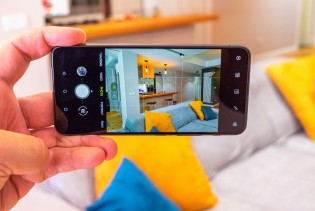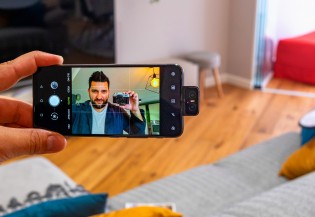 The flip-up camera is a space saving measure, but it makes for awesome selfies too
Another interesting bit about this design is that this flipping camera module is motorized and the user can control its position. So instead of having only a starting position as a back-facing main cam and an end position as a selfie cam, the camera can be stopped midway to shoot from any angle you would like not unlike what Oppo did back in the day with their N3.
So you can switch between back-facing and front-facing positions with just a tap on the screen in the camera app, or you can use the volume keys or the slider in the camera app to angle the camera any way you like. The camera can even take automated panoramic images by sweeping the scenery from the start to end. It also allows for shooting at some interesting angles.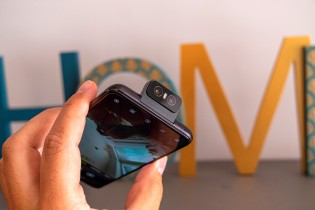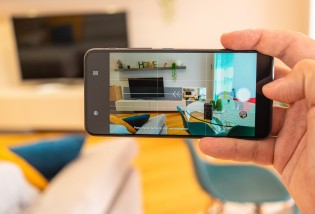 You can rotate the camera to any angle • It can take panoramas automatically
Best of all, Asus has found a way to control the camera motor from within third-party apps - think Snapchat, Facebook, or Instagram. The way it has done this is by providing a control overlay in the camera UI of these apps.
The Zenfone 6 will be launched in the EU first at the same price point of the Zenfone 5z - €499, which is rather uncommon, as we see all other phone manufacturers release their current phone models at a higher price point than their last year's. The phone will be available through Asus's online shop as well as through some of their retail partners throughout Europe starting from May 23. Other markets will follow not long after.
Be sure to also check out our Zenfone 6 hands-on review.
Related
Flagship killer without amoled is nothing else as just flagship, no amoled go home
Seriously? It's smaller yet has a way bigger battery, has triple slot, has notification LED, has a 3.5mm. Has Snapdragon 855. Has 8GB RAM option. Has a flip cam that actually can function manually instead of just front and back. Has IMX586...
Popular articles
Popular devices